NAI'A Family & Crew
Meet the owners and staff onboard NAI'A as well as on shore in Fiji.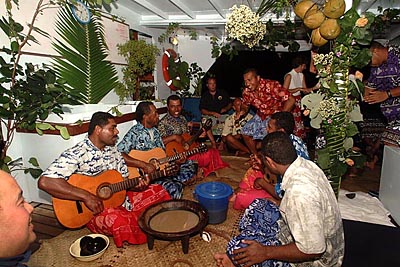 NAI'A is owned and managed by Rob Barrel and his sister and brother-in-law, Alexx and Todd Edwards. Rob and Alexx's formative years were spent languishing amid Hawaii's island treasures before attending college on the mainland. After two years on the pre-law track at Harvard, a serendipitous confluence of coincidence led Rob to take a one-year leave-of-absence to sail around the world. He didn't make it past the South Pacific and the one-year leave stretched into 11 years as opportunities more enticing than study and politics kept breezing in.
Rob finally returned to college in 1988, this time at the University of California, Santa Cruz, where he studied dolphin behavior with Dr. Ken Norris. Although his return to college was interrupted by several 6-month yacht deliveries, he eventually graduated with highest honors in anthropology. NAI'A was conceived as part of that graduation thesis: the ideal floating laboratory from which to apply anthropological tools to observe and understand a community of wild dolphins or other cetaceans. There are many elements involved in making that dream come true, only two of which are a University degree and a 120ft ship.
Meanwhile Todd and Alexx married, built their home on an island in a lake in the middle of nowhere and began raising two children, Brigg and Wrenn. Thus perfectly suited for a hectic life in a third-world country, Todd and Alexx came to Fiji shortly after NAI'A did in 1992 to help rebuild her. They have been running the shore side of the project ever since our first charter in July 1993.
Next came the final ring-in for the NAI'A home team, Cat Holloway. An Aussie water-baby, Cat learned to scuba dive in PNG when she was 17 and she has been working in or around the dive industry ever since. Previous to joining NAI'A she was editor of  Scuba Diver Australasia. After exploring many of the Asia-Pacific's hottest destinations, including Indonesia, Papua New Guinea, the Great Barrier Reef, Vanuatu, Tonga, Thailand and the Solomon Islands, Cat finally visited Fiji in January 1996 to write about NAI'A and the Fiji experience. She was so taken with it all, she never went home except briefly to pack up her dog, Levi, before returning to settle in Fiji with NAI'A, her beloved marine creatures and Rob.
During the 10 years that Cat and Rob ran NAI'A, some said they were irreplaceable. But when they started a family ashore and hired good people into their jobs on the boat – what do you know – they did just fine! Even better in many ways, though they hate to admit it! NAI'A looked for the best Cruise Directors in the industry and found them.
Amanda and Joshua, from the southwest of England and Chicago, respectively, are extremely experienced divers and hosts who have landed in Fiji after extensive dive employment around the world. Joshua has 3,600 dives and 420 certifications in 17 countries (and passport stamps from 50 more countries where he didn't dive) while Amanda has been instructing since 2000 in Indonesia, Thailand, Australia, Zanzibar, South Africa and Mozambique. Both are fluent in French and Spanish with conversational German and, after only two months on NAI'A, they've nearly nailed Fijian.
They say that working on NAI'A is a special treat because the professional crew know their jobs and don't need to be constantly managed, which allows the Cruise Directors to focus on the passengers and on finding new and interesting critters.
The core of the NAI'A family is her Fijian crew. On each charter, you'll be cared for by the friendliest and most able sailors anywhere. Fijians are among the warmest, most welcoming people on earth, so it is no wonder that NAI'A's clients consistently rate the crew as the very best in the business. Among the crew members are John - Captain, Keni - Chief Officer, The Mo - C/O & Dive Master, Mita - Chef, Suliana - Pursor/asst. chef, Waisake - Steward/asst. chef, Kuini - Stewardess, Lai - Chief Engineer, Peni - 2nd Engineer, Mosese - 2nd Engineer, Koroi - Dive Master/Bosun, Joji - Dive Master/AB, Moji - AB.
Vanessa & Chad -- Cruise Directors

Keni - Captain

The Mo - Chief Officer/Dive Master

 Lai - Chief Engineer 

Mita - Head Chef

Suli - Pursor

Mo - Engineer

Koroi - Bosun/DiveMaster

 

Joji - Skiff Driver 

Moji - Skiff Driver
Back on shore, our office staff keeps the business and travel logistics aspects of NAI'A running smoothly, ensuring NAI'A passengers are handled with care from start to finish along with the unpredictable details that crop up in between. When you contact us in Fiji, you'll likely first meet Mike - Sales and Administration Manager, Joeli - Travel Coordinator or Roneel - Accountant. Behind every delicious meal, full SCUBA tank and flushing toilet is our SOS ship maintenance and turn-around team led by Mohammed Hussain - Provisions and Purchasing Officer.
Finally, but just as crucially, are Jane Titley, who handles our US office in Arizona, and our webmasters Lisa and Jan, keep this enormous and beautiful site in check as a resource for clients all over the world.
About NAI'A
DIVING LOGISTICS
UPCOMING TRIPS