A Mantastic Time
Destination: Bligh Waters & Namena & Gau
Trip Date:
Mar 26th - Apr 5th, 2022 -
Comments
Author: Bel & Mike
Welcome Back: Gilda, Warren & Marten
Congratulations: Gilda on her 800th dive and Marten on his 300th dive!
What a week we had, once again! Curious Hammerheads and Mantas dancing for us, Inquisitive groupers and Spinner dolphins. To finish with a BAM, Pilot Whales! We had an incredible time with great people once again, showing them our beautiful home and we are now back to doing village visits again, which we were very much looking forward to!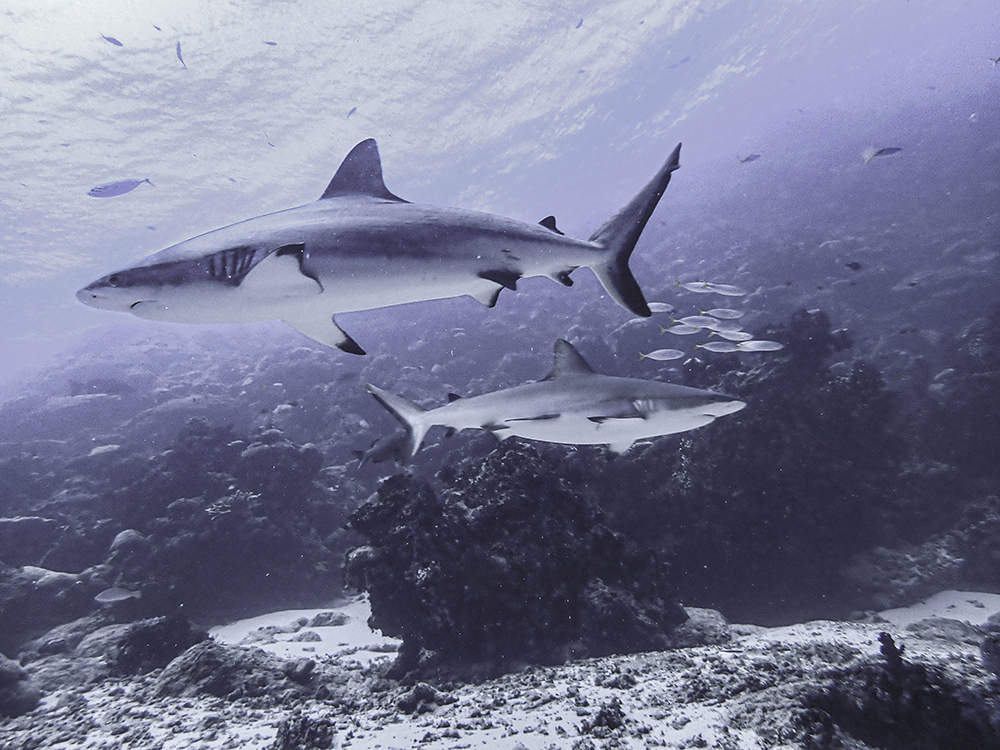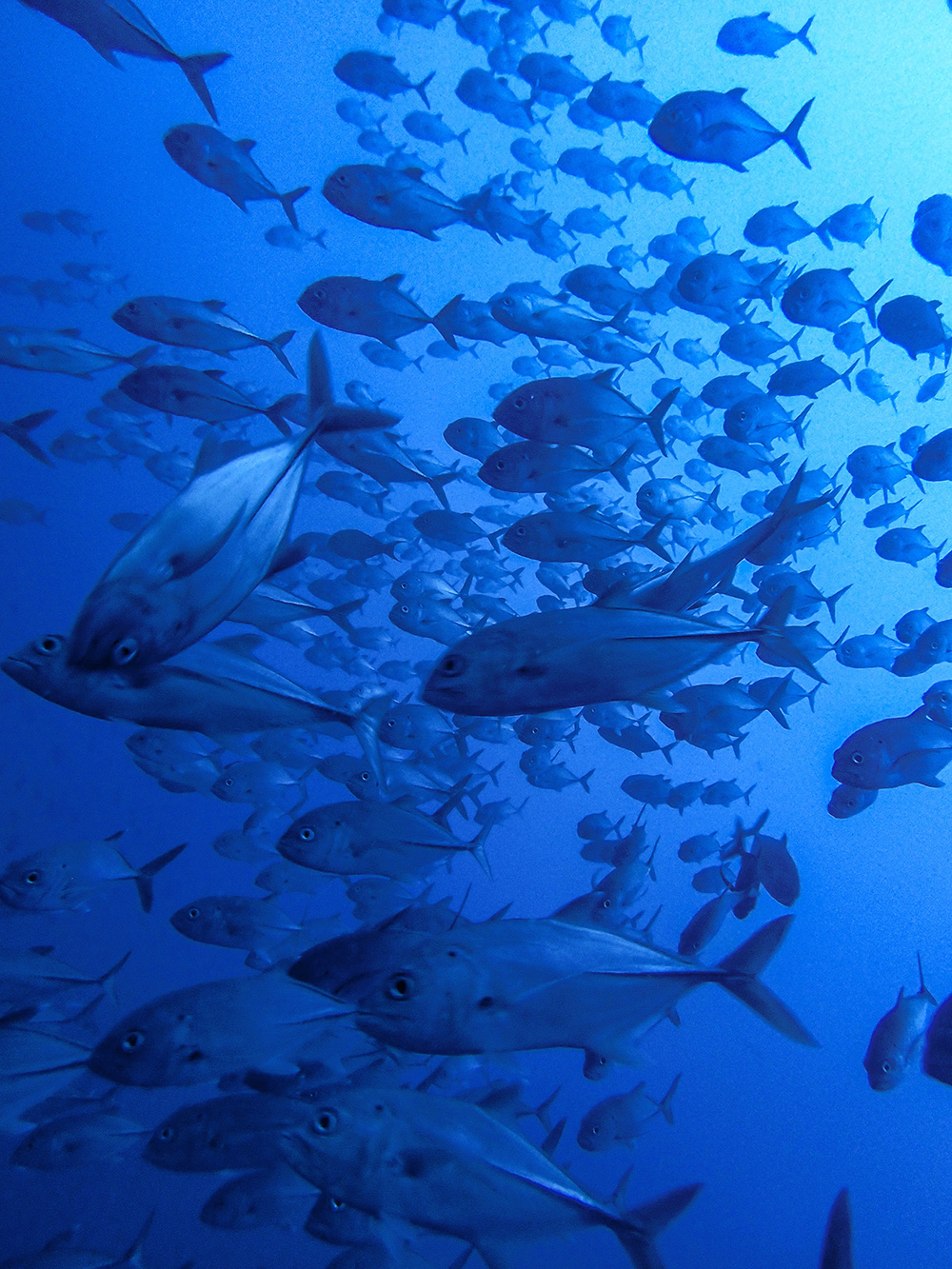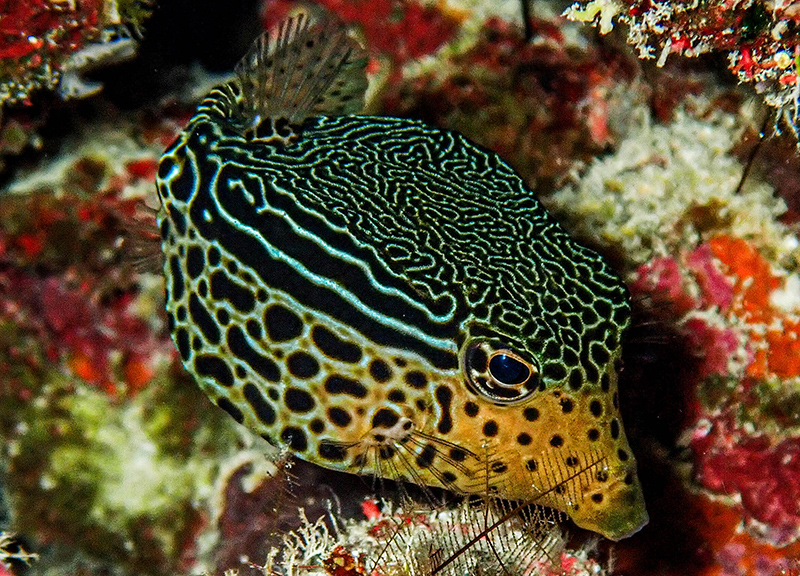 We started our trip welcoming back NAI'A friends Gilda, Warren and Marten, as well as another 11 guests from different parts of the world. Our most international trip so far, we had 7 nationalities on board amongst the guests. Mariana , the Brazilian, told us a lot of the guests had Brazilian connexions. As it turned out, Rich & Aline and Michael have sons named Mike dating Brazilian girls. What a small world. Our checkout dive was smooth, Vicki spotted a nudibranch and Mike found a Blue-Spotted Ribbontail Ray for the group.
We had a calm night sailing across to Vatu-i-ra and spent the following morning diving sheltered sites to get everyone ready for the more challenging dives ahead of us. Mariana saw her first Crinoid Shrimp and most divers saw a Blue Dragon nudibranch. In the afternoon we faced the current at Mellow Yellow and Coral Corner and Nancy saw a Slingjaw Wrasse. For our 4th dive, the Coral Corner crew saw White Tip and Gray Reef Sharks and the Mellow Yellow crew enjoyed a Giant Moray and a chilled dive… until the current showed up out of nowhere and swept everyone to a safety stop. It was so sudden even the fish looked confused! On the night dive divers spent their dive with 5 White Tips. Not a bad first day!
We spent the next day at Wakaya, in the company of Manta Rays (8 sightings throughout the day), White Tips an Gray Reef Sharks, Leaf Scorpionfish, Green and Hawksbill Turtles, Ribbon Eel, Decorated, Fire and Helfrich Dartfish, Solor Boxfish, nudis and much more. Mariana and Gilda had a close inspection inside the butt of a Sea Cucumber to find a Crab with a weird home… makes you think twice before complaining about your neighbourhood! At night we encountered juvenile lionfish and every shrimp, crab and squatlobster we could think of!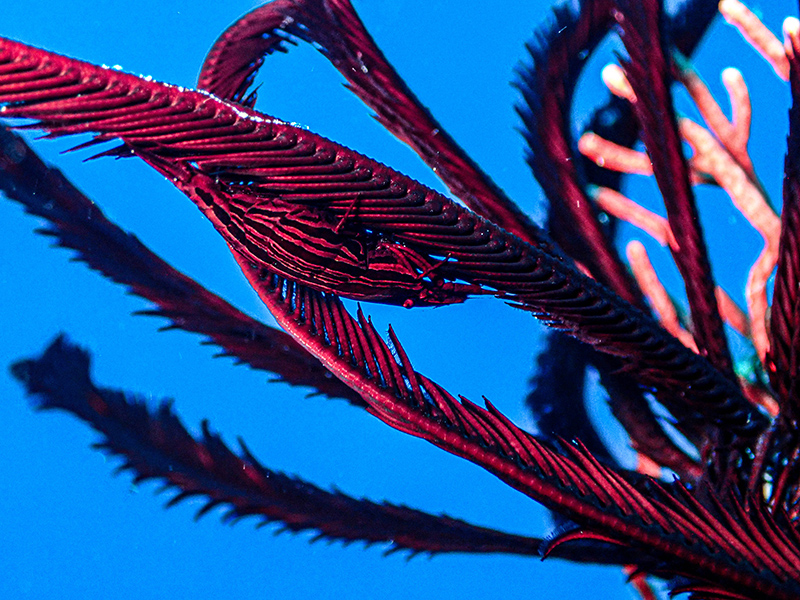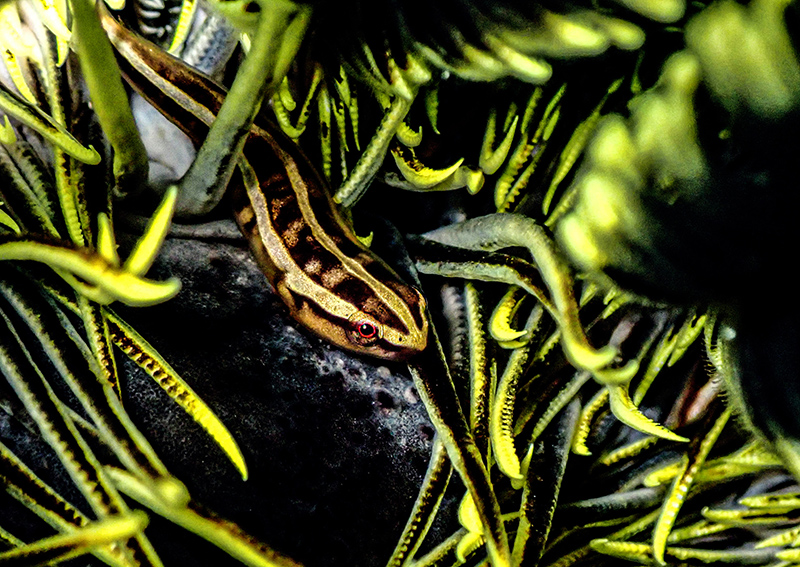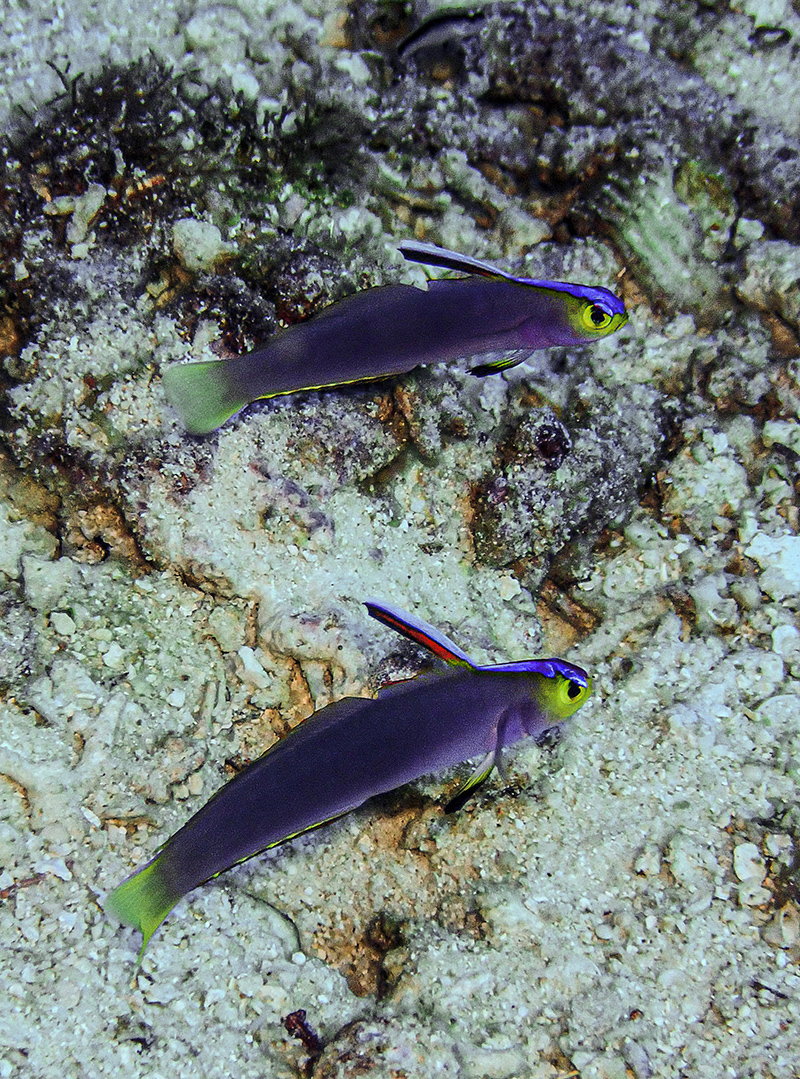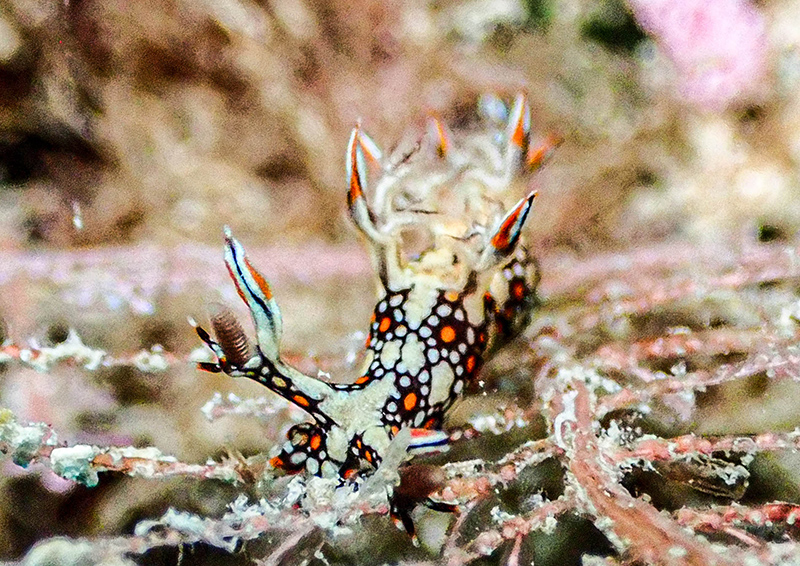 The next morning we arrived at Gau and dived Nigali Passage and saw tons of barracudas, snappers and jacks, as well as reef sharks and a juvenile eagle ray. In the afternoon dive we saw yet another manta and a banded sea krait. We then headed to Somosomo Village for our first visit since the pandemic started. We have been waiting for this since we arrived and the visit did not disappoint. We were warmly welcomed, walked around and got to know more about the Fijian culture. Ariane was charmed by the kindergarten and Arline was enchanted with the view. Also, Bel found some puppies to squeeze, so that's always a good day! And to top it all off Big Mo, Ave, Vernon, Koroi and Mo sang for us after dinner.
We started our next day at Nigali again, and saw a lot of shark action, as well as big schools of snappers and barracudas. We then explored Jungle Jig (saw yet another manta and a Sea Krait) and headed to the other side of Gau to dive Jim's Alley and Anthia's Avenue alongside some nudis, Blue Triggerfish and a White Tip Reef Shark. Mike got his private parts serviced by 2 cleaner wrasse and Gilda completed her 800th dive!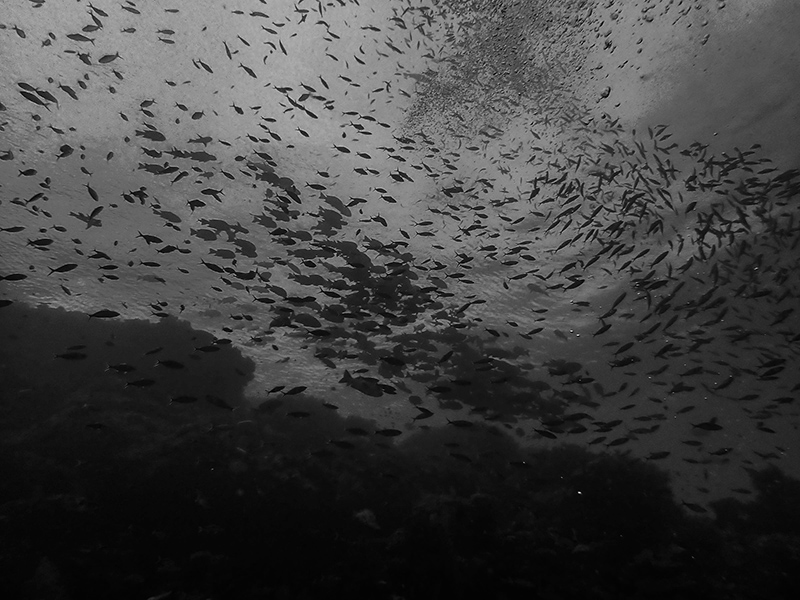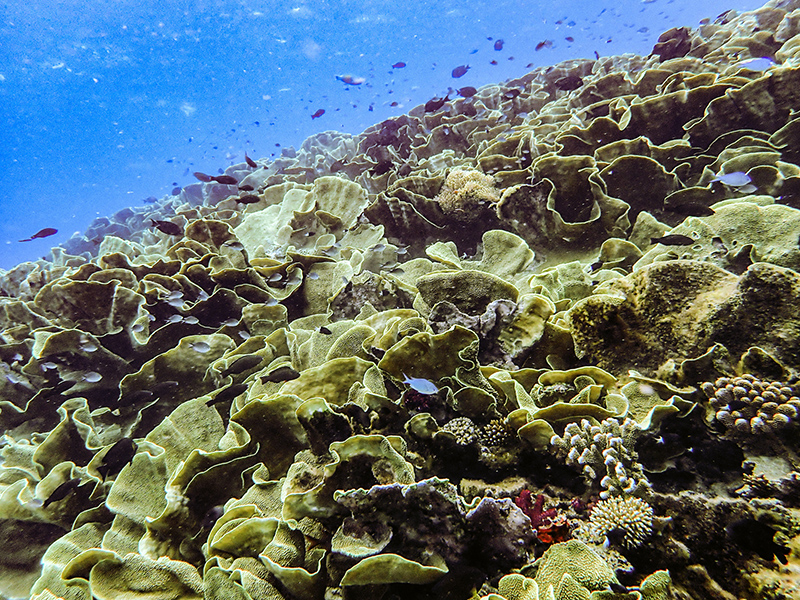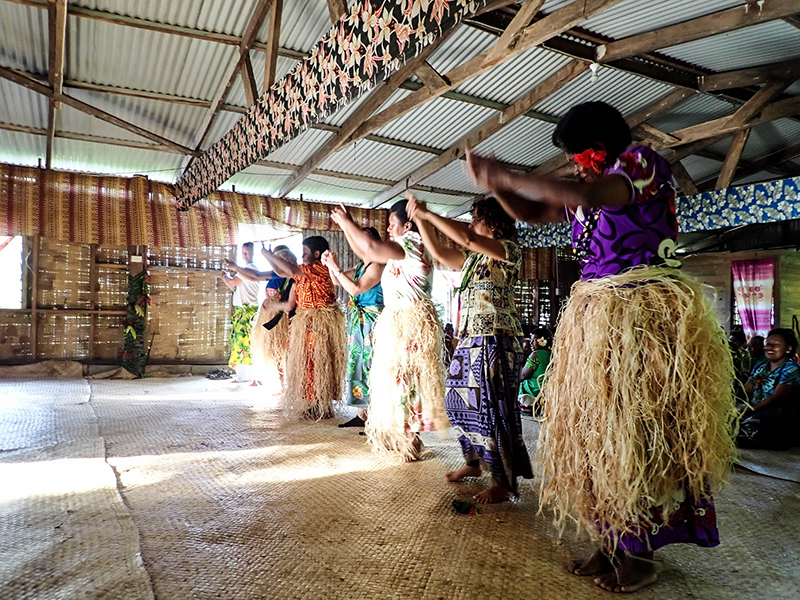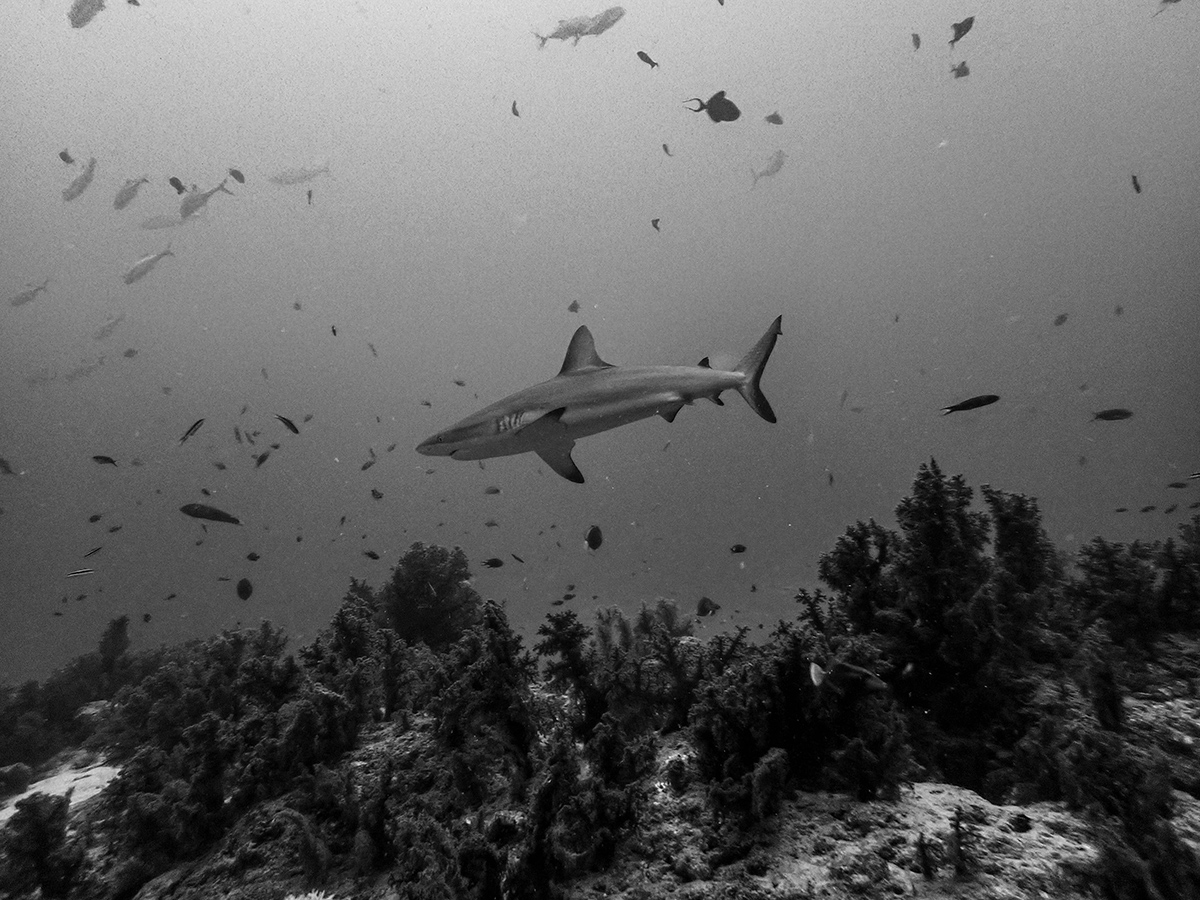 After a very smooth but long passage, we woke up at Namena Marine Reserve and started our day diving Tetons 1 and 2 on South Save-a-tack. A Square Spotted Anthias and a gazillion cleaner shrimp were the highlights. Gilda got her manicure 3 times and Dominic found a massive pufferfish. The current picked up for the second dive and our divers enjoyed our best fish soup of this trip. In the afternoon we moved to North Save-a-tack where Rich saw a HUGE grouper on the run and Koroi found a Nurseshark. Those who powered on and did the 4th dive did not regret it, as we had plenty of shark, jack and tuna action.
After such a lovely day, nothing better to finish it than a Kava Party. Mariana, Dominic, Bart and Markus we the Kava champions.
The next morning we dived Grand Central Station and the current changed early, so that meant not a lot of jacks… but we got 2 hammerheads in exchange! Then we went to Two Thumbs Up with some strong currents and an absolutely stunning reef top with fully open soft corals in pinks, purples, yellows and oranges… just wow. Warren and Gilda chose to drift along and ascended somewhere close to Hawaii, but our skiff drivers got to them, no problem!
We finished with a dusk dive at Namenalala followed by a night dive on the same spot. Vicki found a crawling crinoid crawling, we saw a gazillion skeleton shrimps and Nancy saw a small man when Bel showed her a nudibranch. On the night dive our team saw pleurobranchs, pipefishes and Nancy spotted a massive snail. Warren had dental floss for dessert (you had to be there to understand this one!) and learned not to mess with Bel.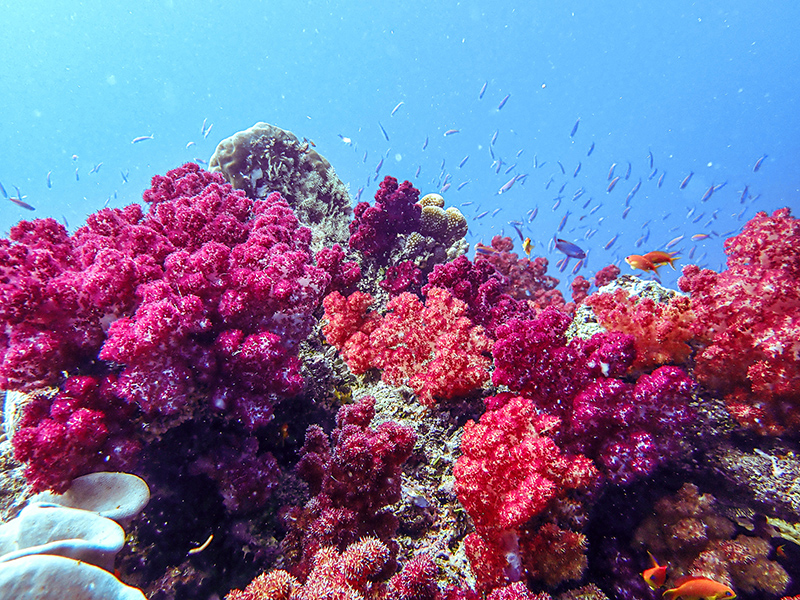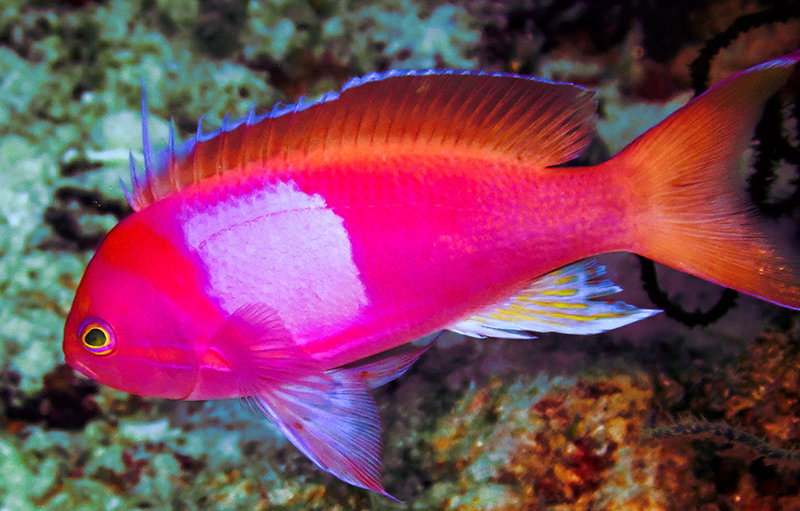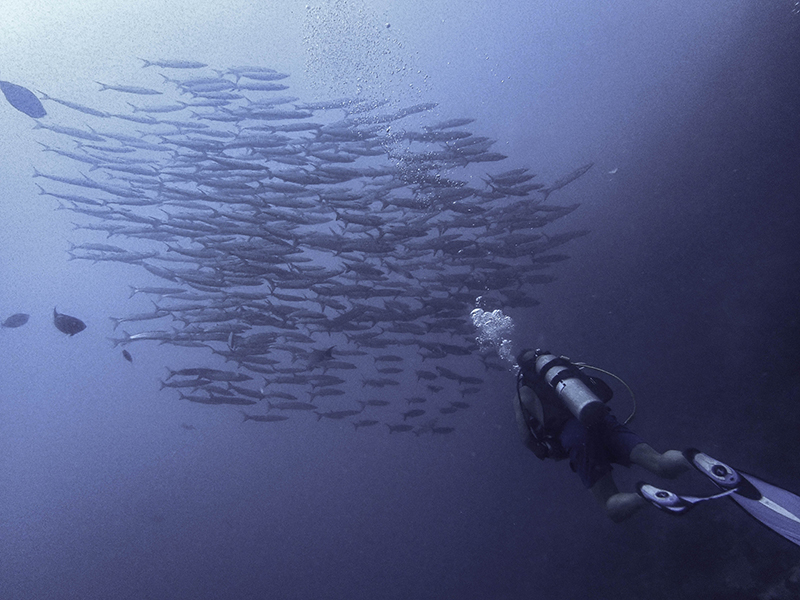 We woke up in Vuya the next day and dived UndeNAI'Able with a squid squad, scorpionfish and many different nudibranch species. Then we went to Cat's Meow and Humann Nature and saw whitespotted groupers, nembrotha nudis, white tip reef sharks and a sleeping turtle. After surfacing we got to hang out with a pod of spinner dolphins, the perfect way to end the day!
We started our next morning diving Mount Mutiny and its Rainbow Wall of Chironephthya soft corals as well as gorgeous hard coral gardens on the shallows. Koroi found a Robust Ghost Pipefish and spotted a Hammerhead right next to Markus… who missed it entirely being so focused on the beauty of the wall! Michael got to see orange soft corals and Nancy found a turtle.
Then we dived E6 and the stunning Cathedral, filled with blue dragons and scorpionfish, hard and soft corals, black snappers and unicornfish. It was then time for a night dive at Howard's Diner and the group had a full menu of shrimps, crabs (including a few hydroid crabs) and squat lobsters. Mariana was disappointed the current wasn't present, so she (and everybody else) got their fill of it the next morning at Bondage Bay. Sharks, snappers, fusiliers and jacks out-swam us as each buddy team at a time did their drifting safety stop. Well… we all woke up after that!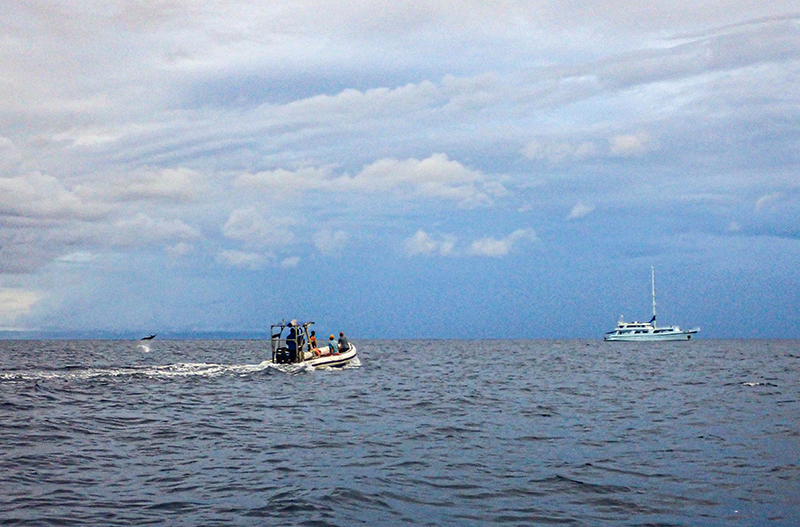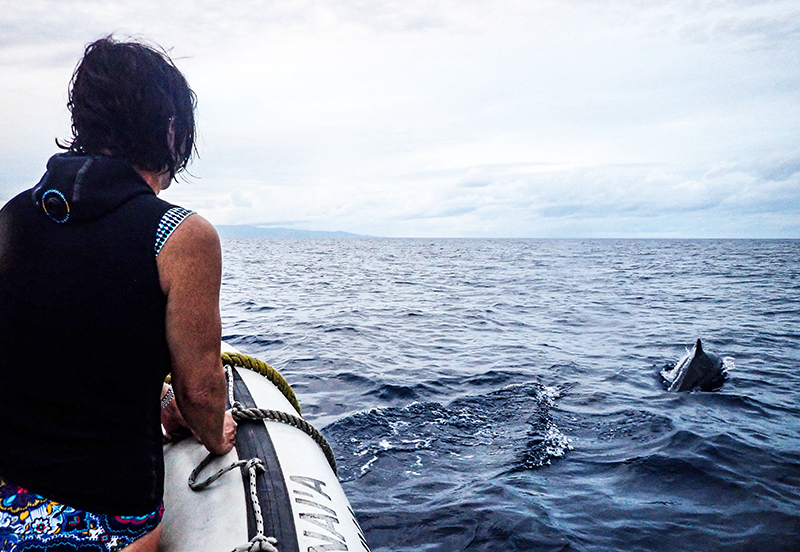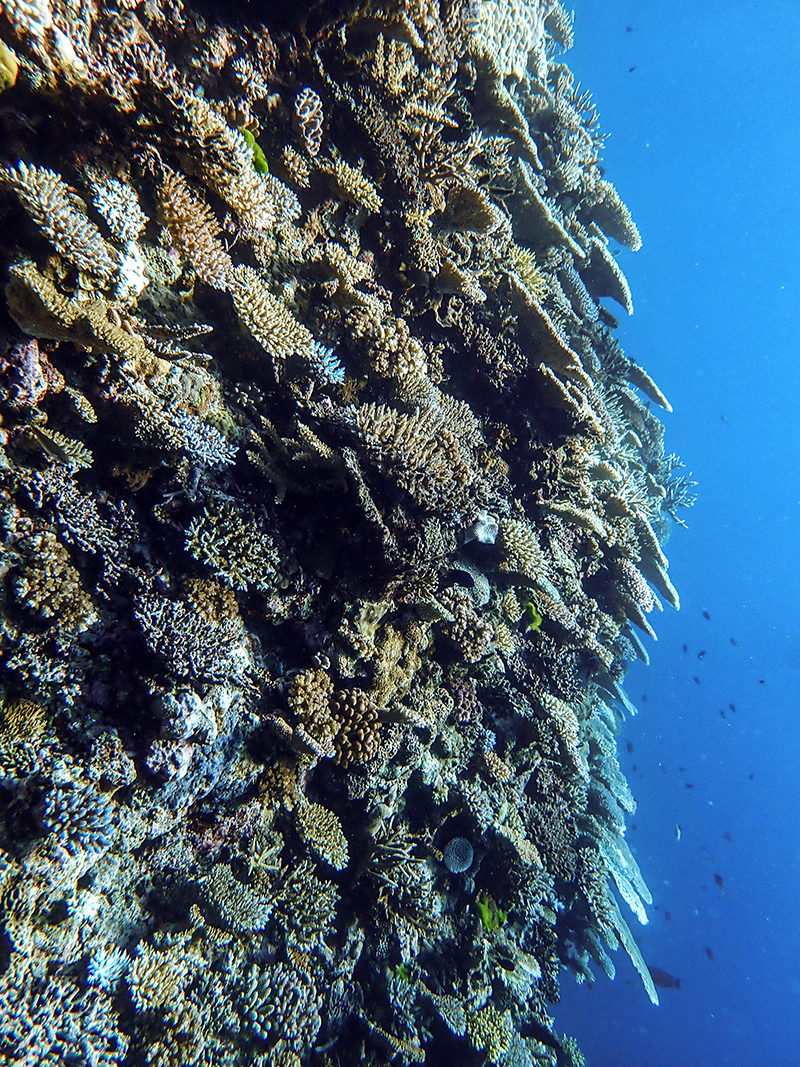 Next we went to Mellow Yellow and GoMo to an explosion of fish everywhere and, upon surfacing, the guests were told Big Mo spotted pilot whales around. We took the two skiffs near them and spent time having them get used to us until they got very close and a little playful. As if that wasn't enough, on the ride back to NAI'A we saw a pod of spinner dolphins. No better way to end a trip and to celebrate Marten's 300th dive!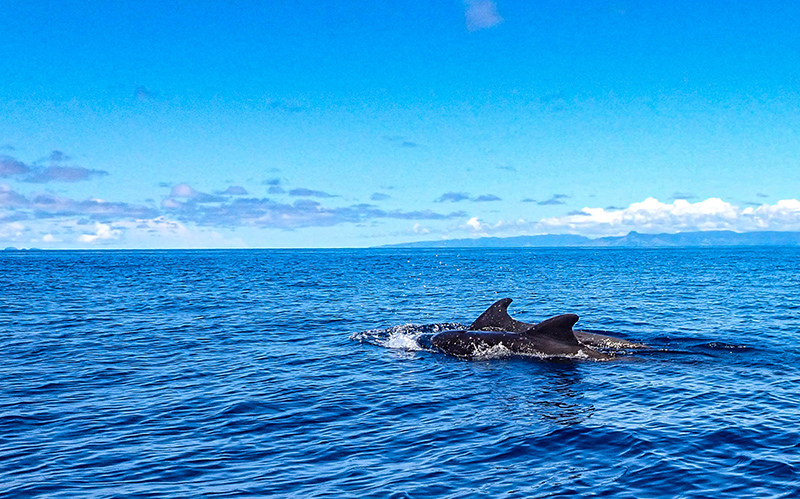 The more eager went on the last dive to Whole Shebang and had the grand finale with the beautiful coral heads filled with stunning hard corals and colourful fish just chilling, no current to be seen. Back on board, it was time to rinse gear, put everything away and take our group photo (finally!). This is our favourite part of the trip. We love to chill with our guests on the sun deck having a drink and reminiscing about the adventures we had and the ones ahead of us. We're already looking forward to our next trip!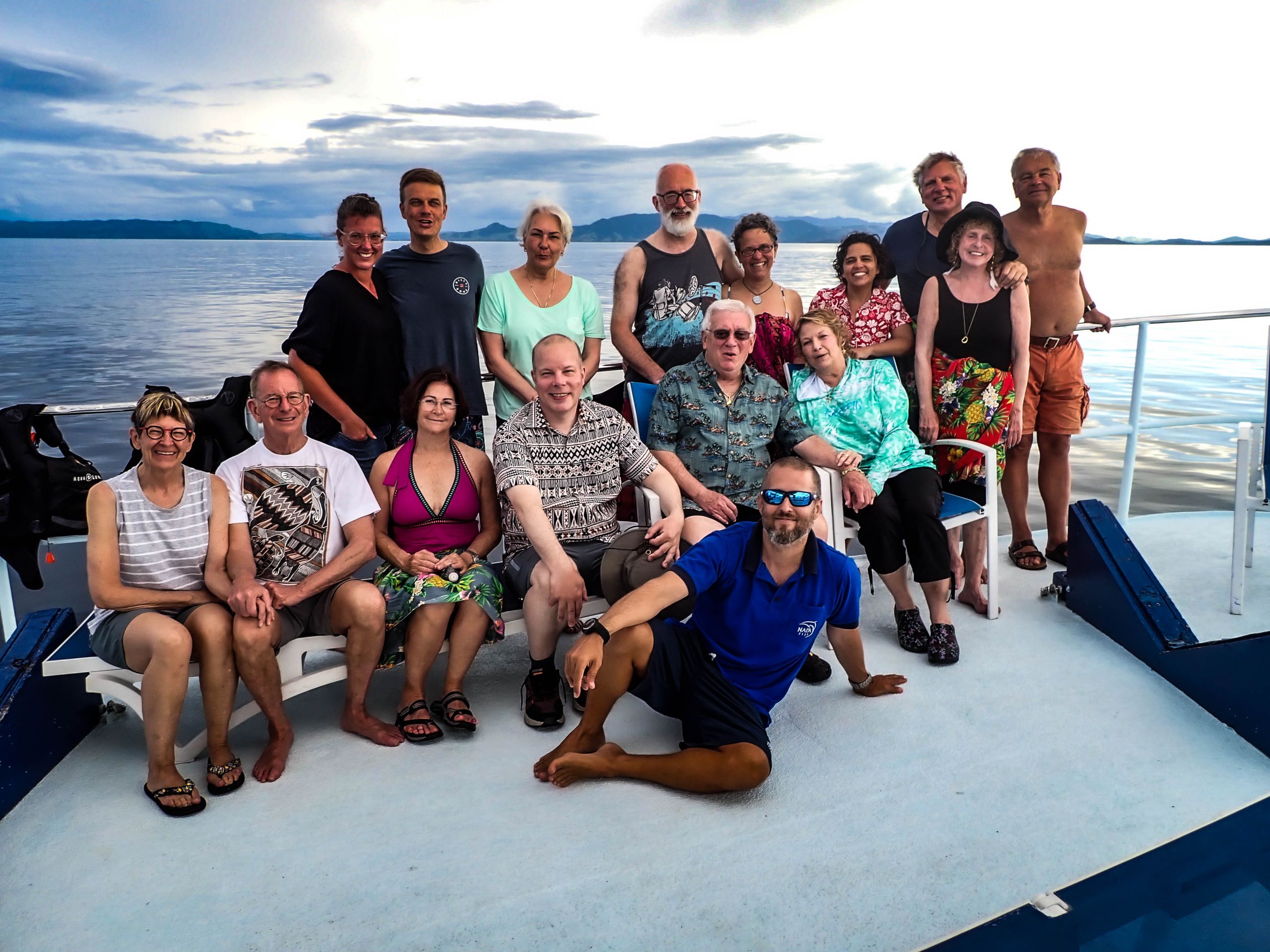 Comments
"Any country with coral reef like this has a national treasure that should be protected. Fiji is one of the few lucky countries."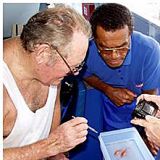 ~ Roger Steene, photographer, author, naturalist