Lau, Manta Science and Boobie Cruises
Destination: Southern Lau, Gau, Wakaya, Makogai, Bligh Water
Trip Date:
Aug 13th - Aug 27th, 2022 -
Comments
Author: Bel & Mike
There are no words to describe how incredible our last charter was. A magnificent tour of Southern Lau, in the company of a remarkable group of individuals, swimming with mantas, watching manta science, diving the best of Fiji and having the Boss Man on board. Just as an added bonus, we saw a few humpback whales and a few lucky individuals got to swim with three of them. If you thought it could not get any better… we also had a ton of boobies!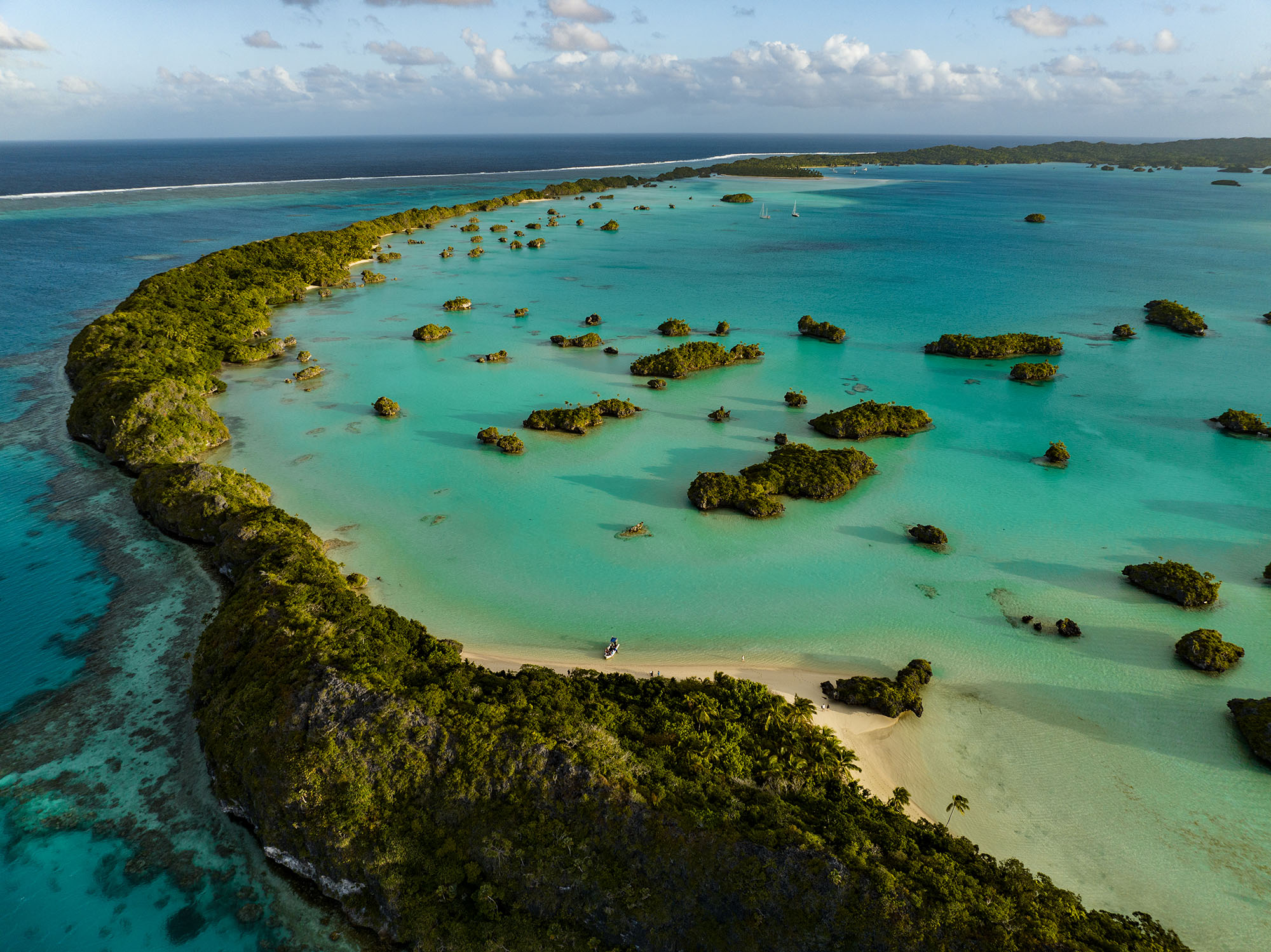 Photo by Mark Erdmann: Stunning Fulaga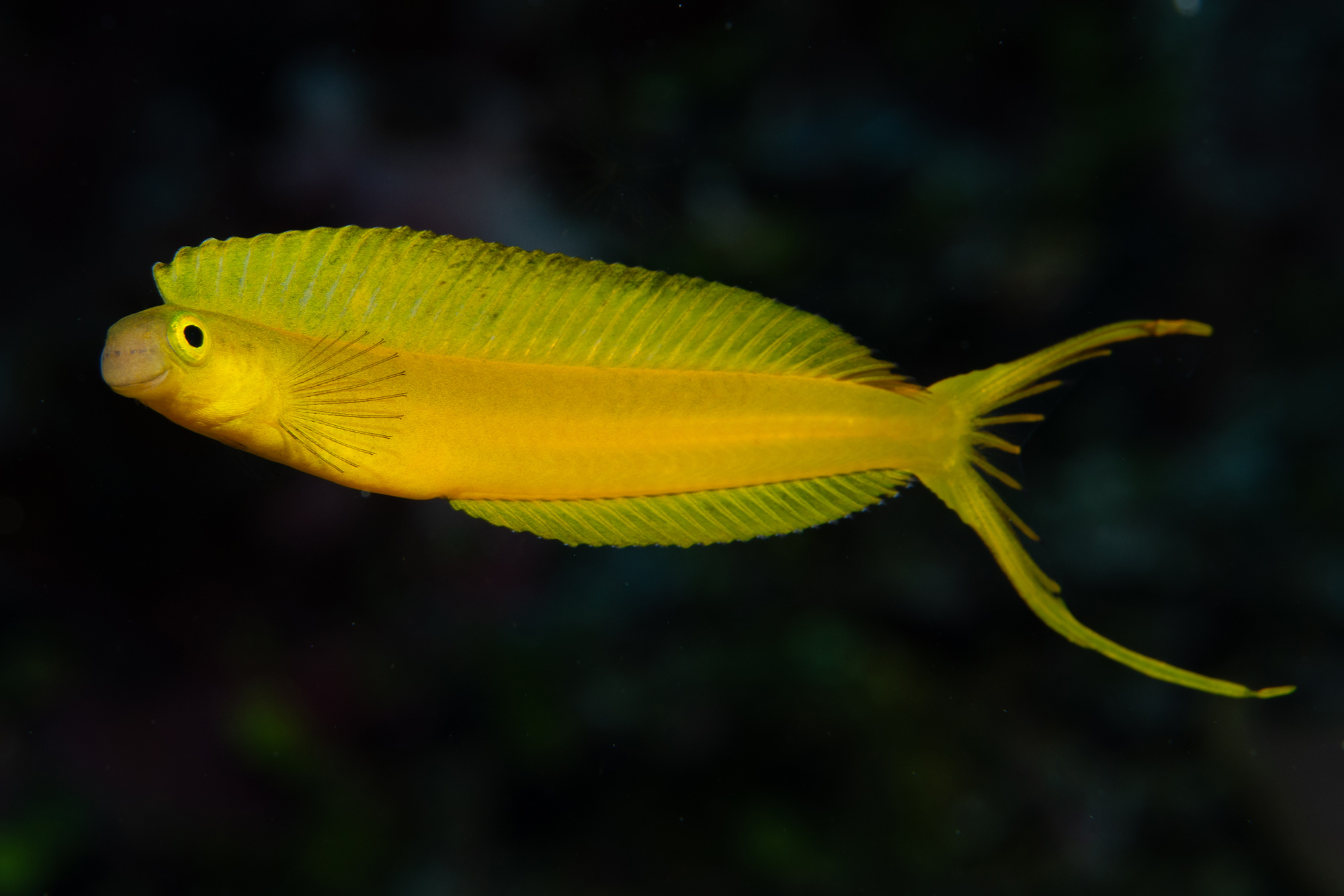 Photo by Mark Erdmann: Fiji Fangblenny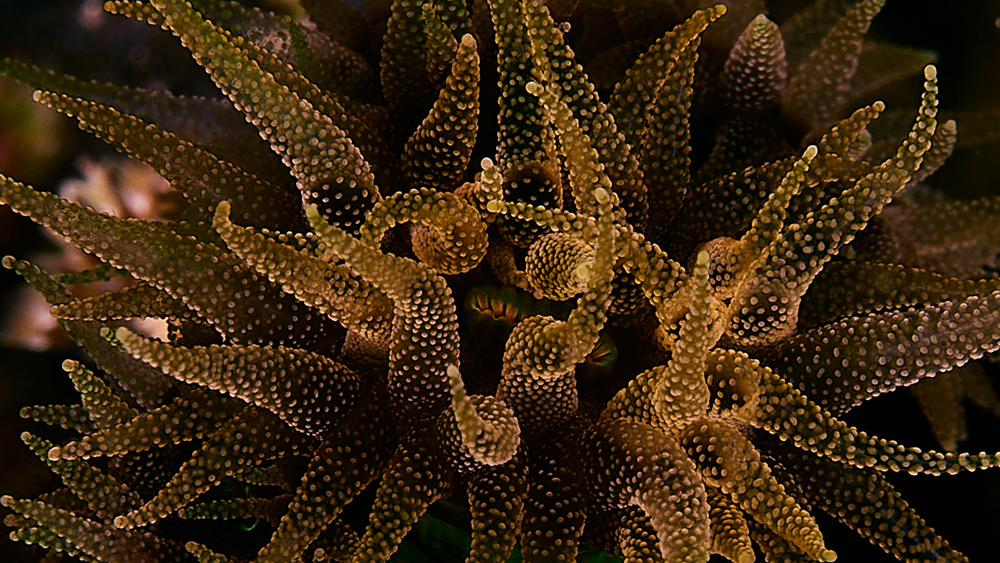 Photo by Hayley: Coral polyps at night
This latest adventure started in a very unusual way as we welcomed Rob (The Boss Man) back on board and spent the following 40 hours bouncing in rough waters making our way to Lakeba where we were to meet our guests. We talked about our last 6 months, dear return guests he missed and how his favorite dive sites are doing. Once in Lakeba, we prepared to receive our very special guests for an incredible Lau expedition followed by some of the best diving we have in Fiji.
The forecast showed we were to be cursed with Bogi Walu (8 days of shitty weather) for the first days of the trip. We started exploring Bukatatanoa Reef looking for Humpbacks but found none, so we headed to Oneata where we did our first dives at the Bay and also returned to the Mago Wreck (still surrounded by Spadefish). Mark gave us a very interesting Fish presentation, but the favorite fact of the day came up at lunch, when he revealed that Turtles get high on Soft Corals. As if turtles couldn't get any cooler!
We had a rocky and rolly night, arriving at Yagasa around 7 in the morning. Mark joined us on the Top Deck to ask when we were going to enter the lagoon for calmer waters, only to be informed we had been in the lagoon for 10 minutes… Bogi Mother *&%*% Walu. We saw two adult humpbacks before anchoring, and went exploring after breakfast to see if we could find any more. We had beautiful weather as toured and snorkeled the sheltered areas, but didn't find any whales. In the afternoon we had a lovely dive on Bogi Walu Island where Mark and Janet saw 4 different species of pipefish while snorkeling. Later, Mark went to take boobie photos with Lisa and Katie, and Meo gave us all a great talk about the Lau Seascape.
After a very early mobile breakfast, we moved to Fulaga, where we decided it wouldn't be safe to enter with such strong winds and high surge. So we moved to Ogea, anchored in a protected area and did a quick dive filled with Network Pipefish and Bubble Coral. After lunch our "snorkelling the ancient Porites coral" turned into Whale Watching, and one of the skiffs got a fabulous swim with 3 whales. The second skiff had great views from above water but no in water experience. We headed back to NAI'A as we watched the sunset and some struggling fruit bats.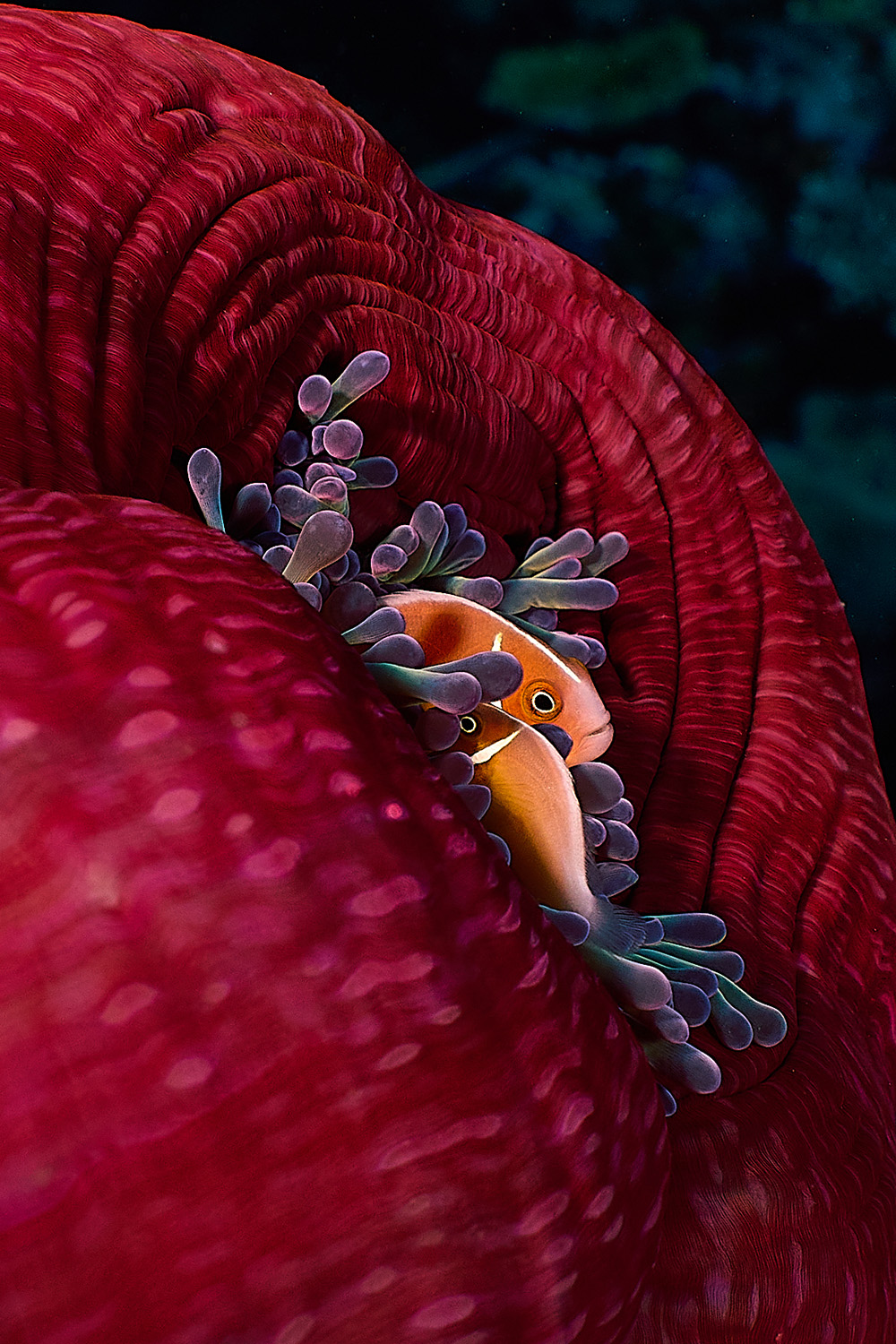 Photo by Hayley: Anemones are her favorite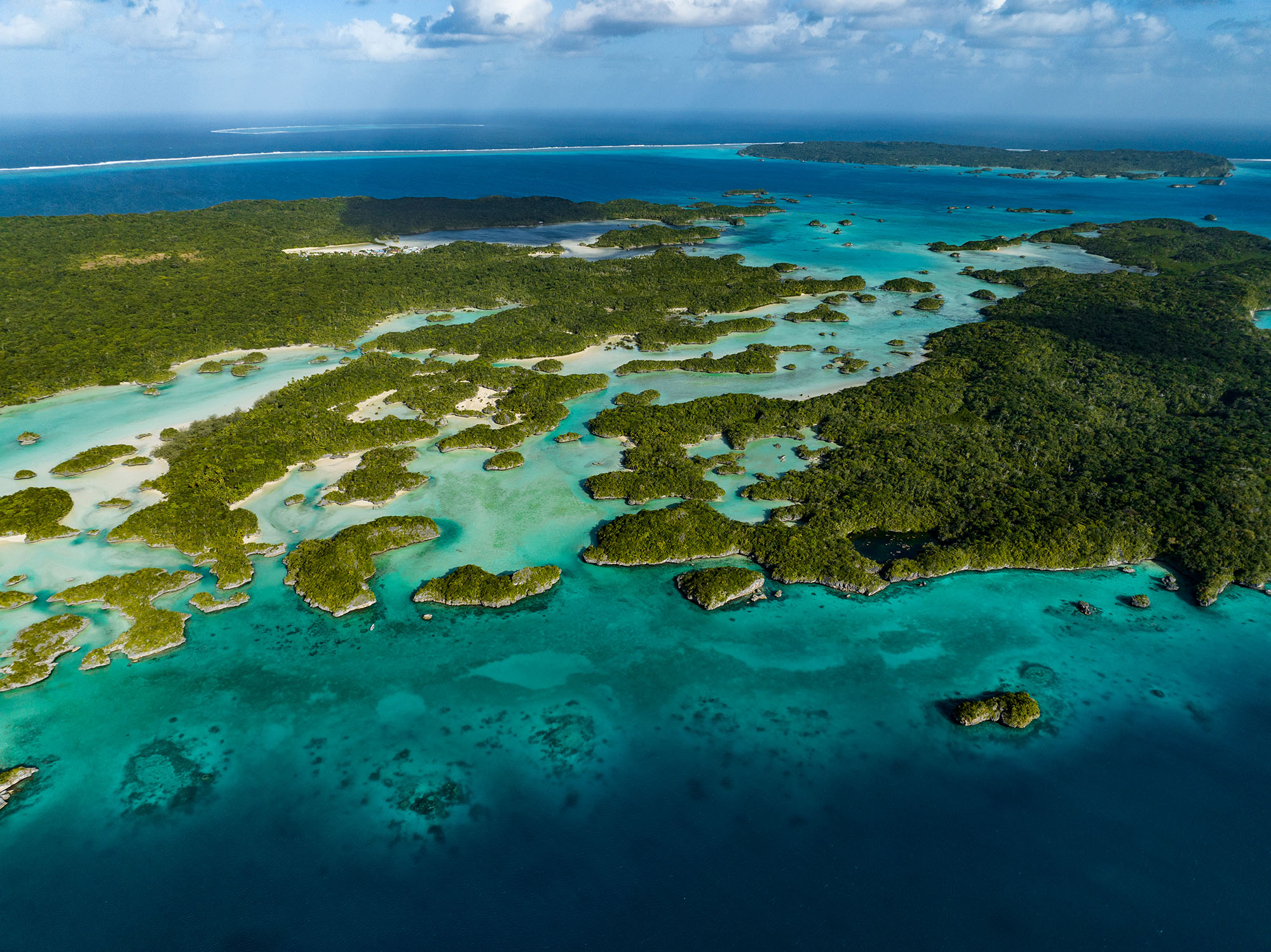 Photo by Mark Erdmann: Ogea from above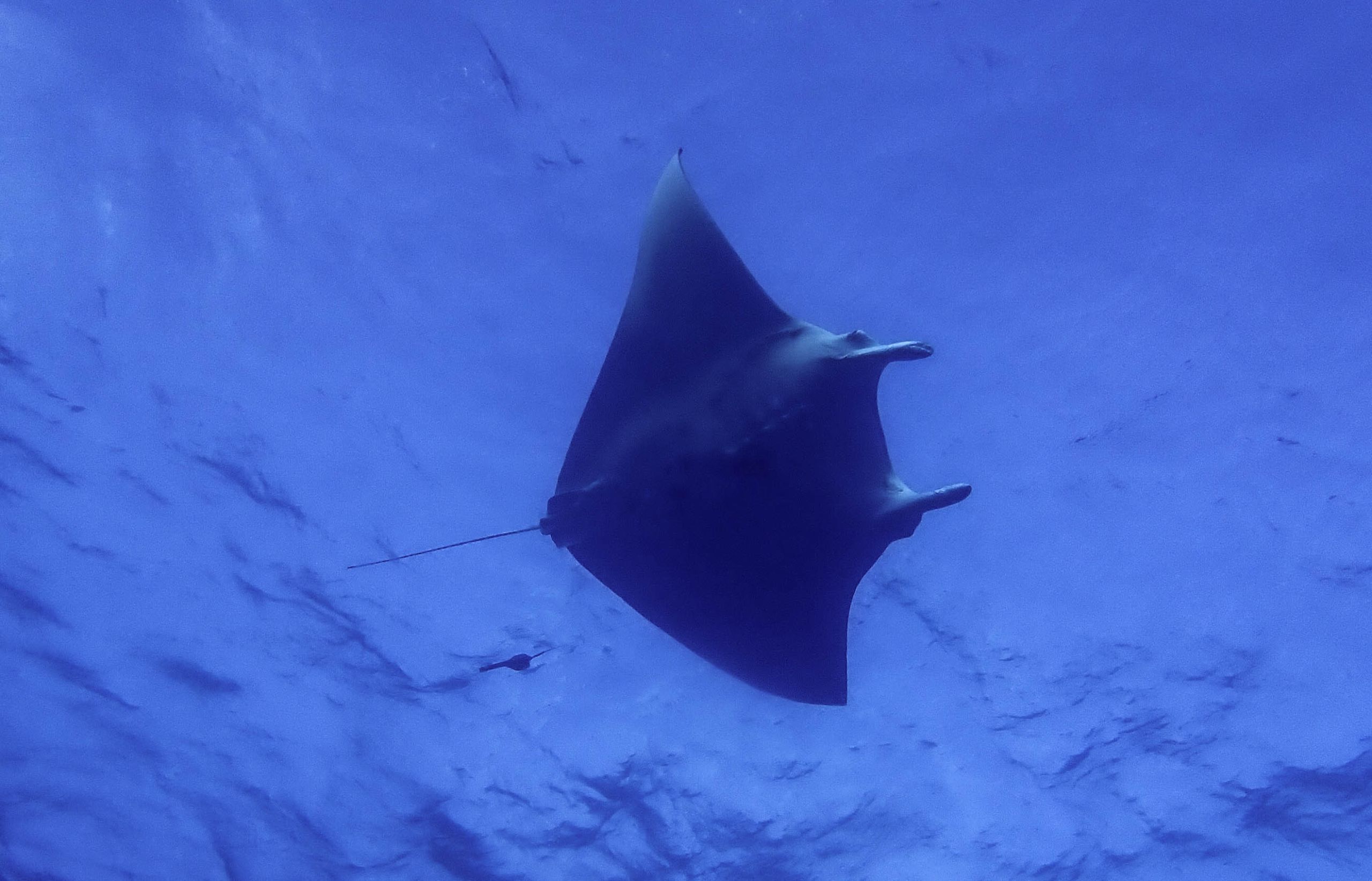 Photo by Bel: Tagged manta... is it Michael Angelo or Manta Lisa?
We had an early start the following day with a 7am dive around Ogea passage and had a magical encounter with some beautiful and curious Manta Rays. Mark gave us a Manta Talk and then we went back to our same dive site to find them so Mark could maybe tag two of them. We failed to find mantas to tag, but ended up finding one during our Sunset cruise. After a gorgeous tour of Bay of Plenty (where Bird Nerd Lisa got to photograph a Kingfisher and the endemic Ogea Monarch), we got back to NAI'A for one of our most lively Kava Parties so far. The goats were happy, and Katie used her outer voice to avoid a Tsunami bowl!
We began the following morning watching Mark tag not one, but two male mantas at Slumberland (Manta Lisa and Mike). They sure did not enjoy it, but the information will be ever so valuable in helping us understand these magnificent creatures. After lunch we headed to Fulaga to attempt entering the lagoon once again. All the guests watched from the bow/deck as we slowly made our way in guided by our talented skiff drivers. Great team work, but even nicer video of Rob doubling back to check how close his Girl was to the edges of the passage. We had a brilliant snorkel session and a Sunset Cruise with Bartender James in charge.
We did 2 fabulous dives the next morning, the second one with incoming current and vast amounts of Trevallies, Snappers, Barracudas and Surgeonfish. One of the groups saw a gorgeous Manta and Bel and John spend some time with two octopuses. Some guests toured the lagoon between dives and the snorkelers hung out at a nice private beach after their water session. We left beautiful Fulaga and steamed back to Yagasa in the hopes of seeing whales there. Since we couldn't find any, we did a Boobie Cruise and finished our day excited about our next destination: Navatu Reef.

Photo by Mark Erdmann: Fulaga from above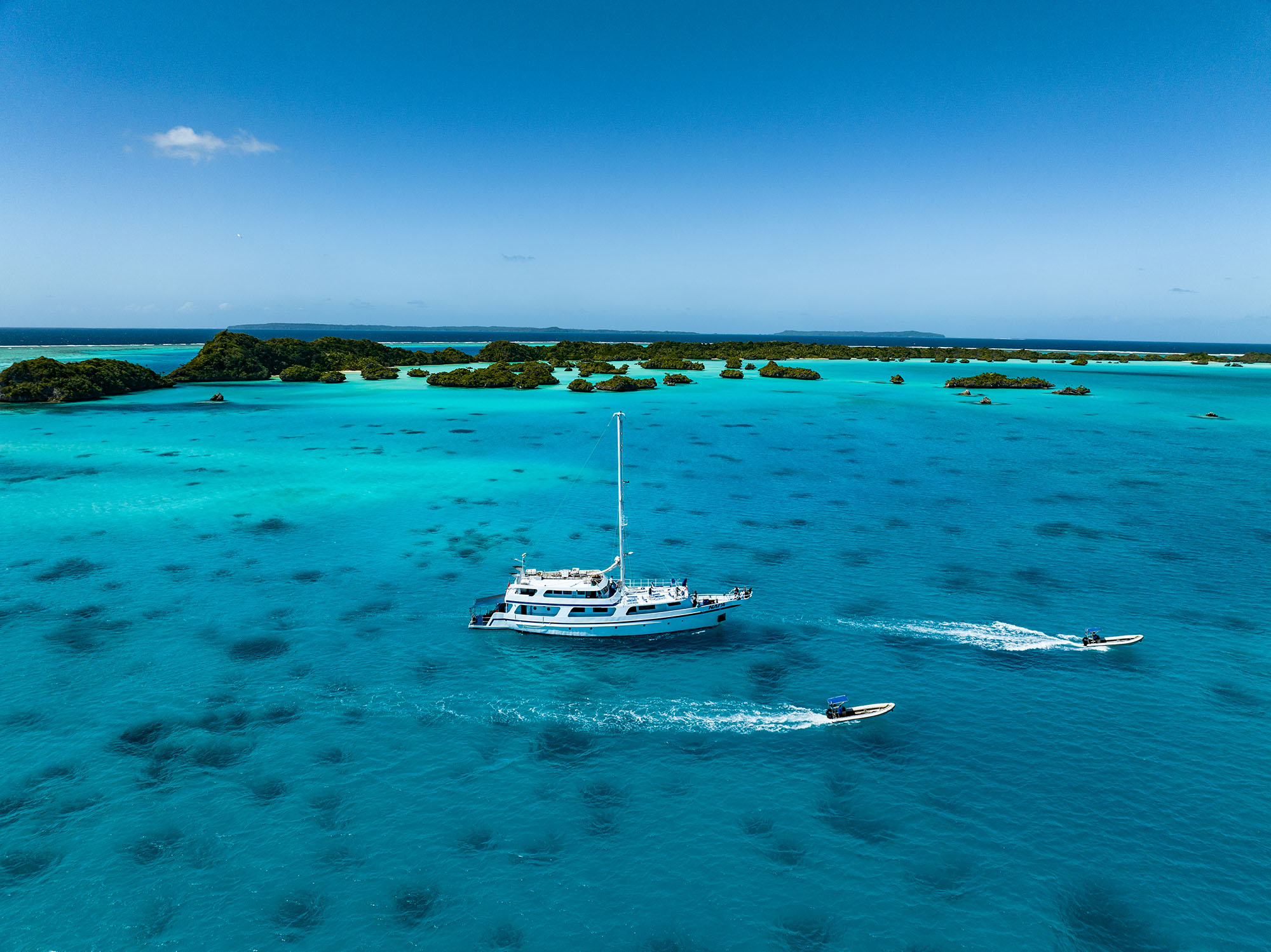 Photo by Mark Erdmann: Skiffs guiding NAI'A into Fulaga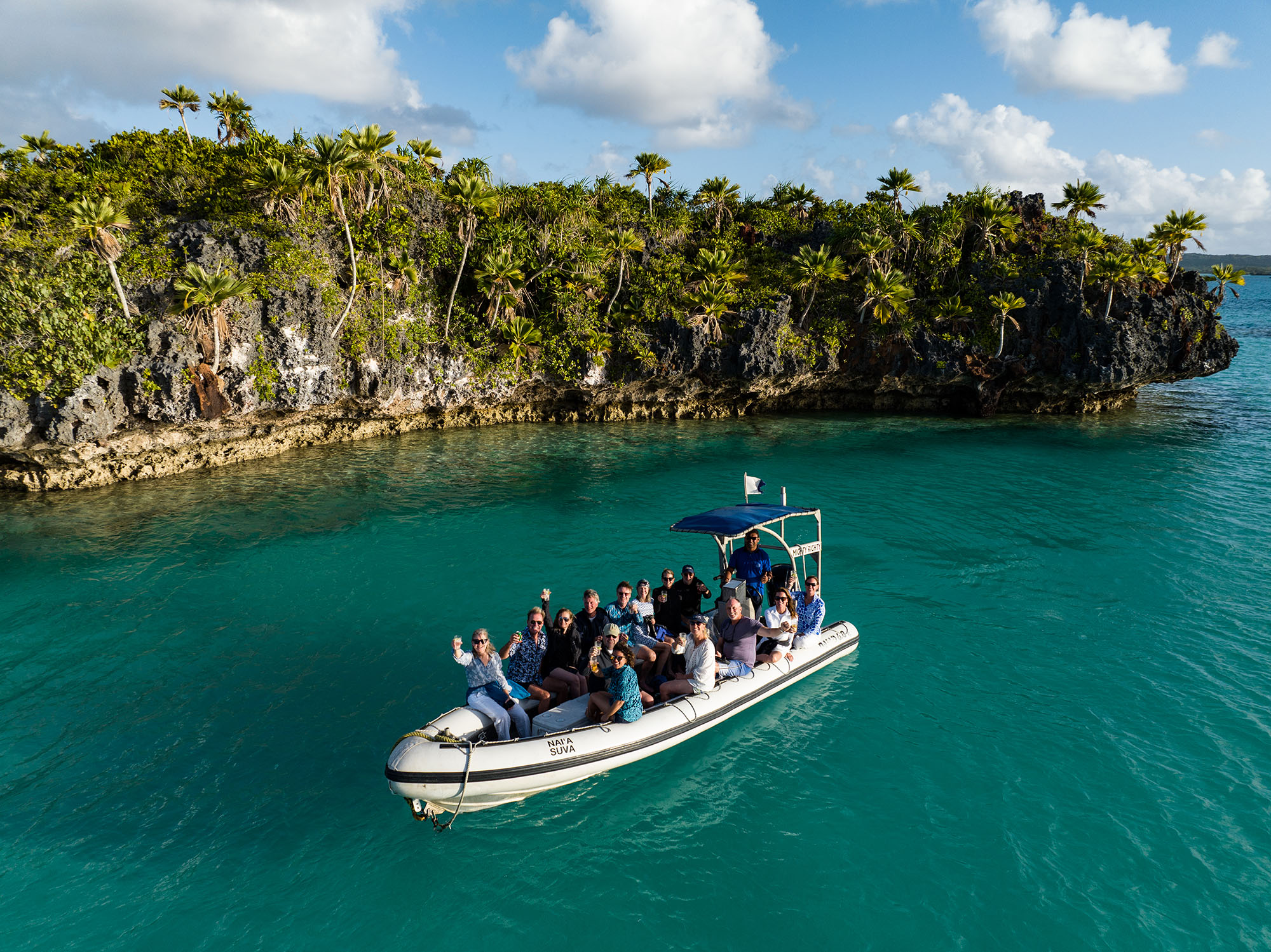 Photo by Mark Erdmann: Sunset Cruise with Bartender James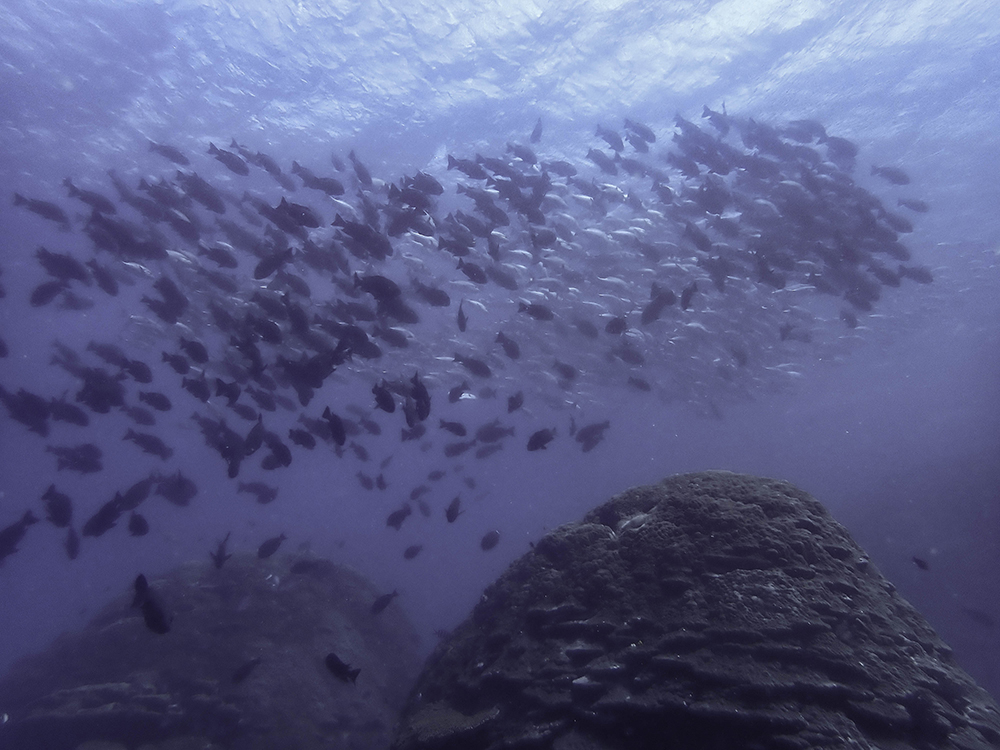 Photo by Bel: Abundant fish life at Fulaga Passage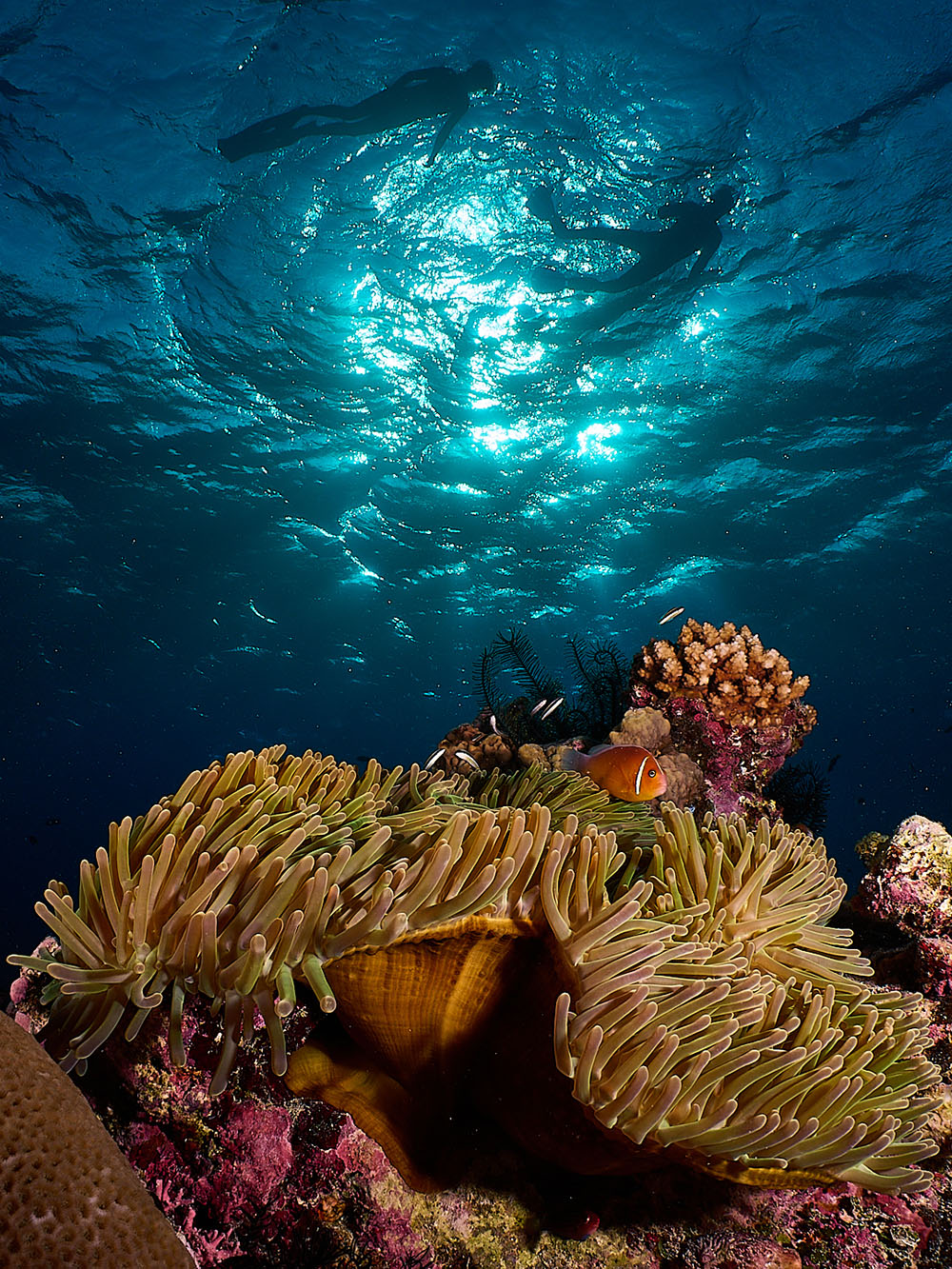 Photo by Hayley: Snorkelers and Anemone
Our following day was spent at Navatu Reef diving and snorkeling. We saw a few White Tip Reef Sharks, a couple of Juvenile Gray Reef Sharks, a few Bumphead Parrotfish, some many species of Barracudas and around 8 Dogtooth Tuna swimming around… their big bad leader was humongous. We steamed straight after the last dive heading back to our backyard and had a perfect day planned for Gau.
Our first dive was at Nigali Passage and it was as beautiful as we have ever seen. We saw around 10 White Tip Reef Sharks napping along the sides of the passage, a gigantic school of Bigeye Barracudas, a ton of Trevallies, a huge school of Midnight Snappers and around 25 Grey Reef Sharks. Our second and last dive was at Jim's Alley/Anthia's Avenue/Rob's Regret (sorry, Boss Man) and Mark decided to Drone after Vernon said he saw two mantas above us during the dive. We ended up swimming with 6 different individuals and getting identification shots for most of them. The day could not have finished any better.
The next morning we woke up at Wakaya, our usual hot spot for mantas. Although we had sightings of at least 3 individuals, they were not in a particularly playful mood. We did see Milkfish (thanks for the photo, Katie. And thank you for the ID, Meo), Randall's Shrimpgobie, Decorated Dartfish and a bunch of Longnose Hawkfish. We moved to Makogai in the afternoon and dived the gorgeous Becky's and Rick's Rocks, where we saw the NAI'A Pipefish again. On the night dive we saw a turtle, a couple of enormous Pleurobranchs and a VERY special Harlequin Shrimp.

Photo by Mark Erdmann: Gau from above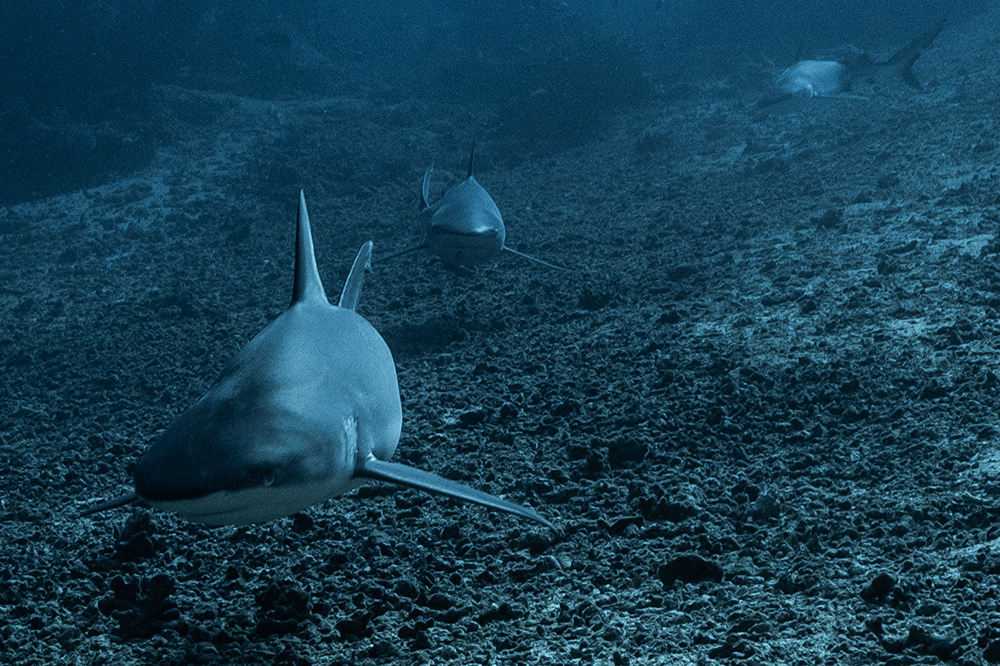 Photo by Katie: Grey Reef Sharks at Nigali Passage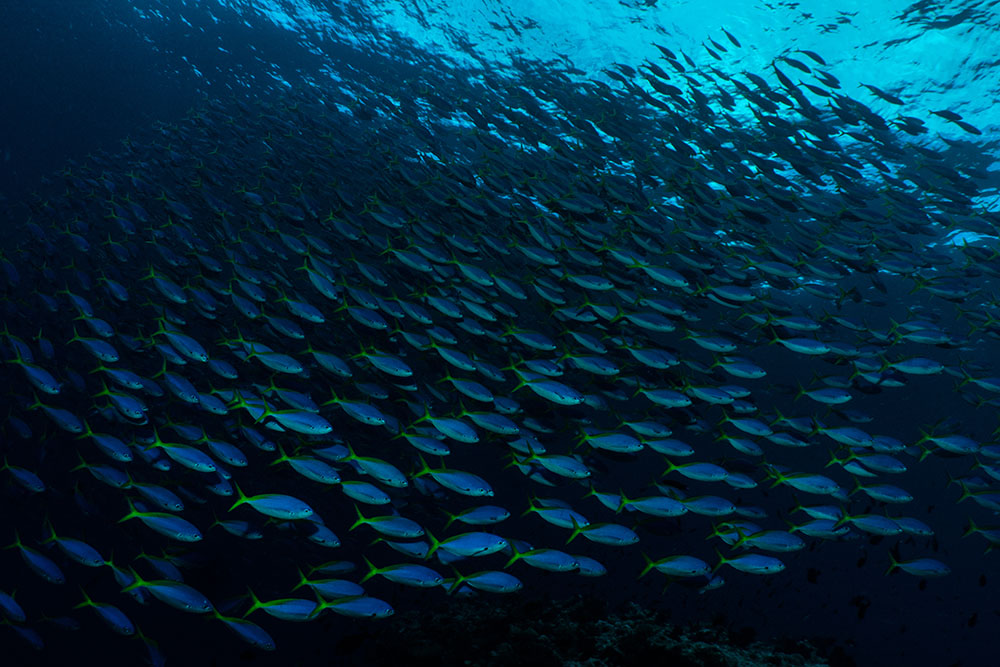 Photo by Mark Erdmann: Fusiliers at Jim's Alley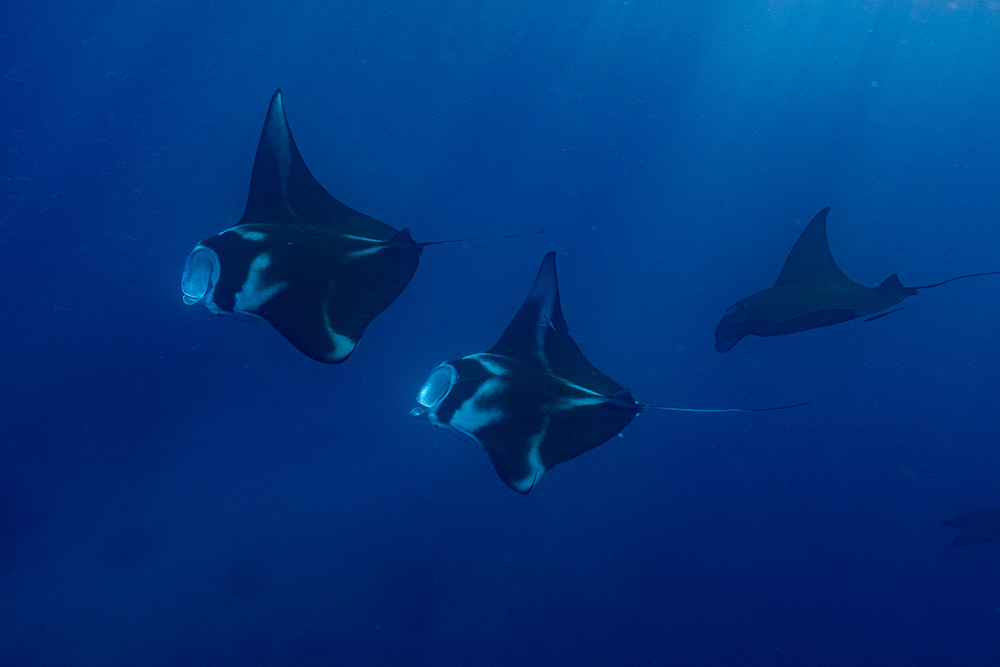 Photo by Katie: Snorkeling with Mantas in Gau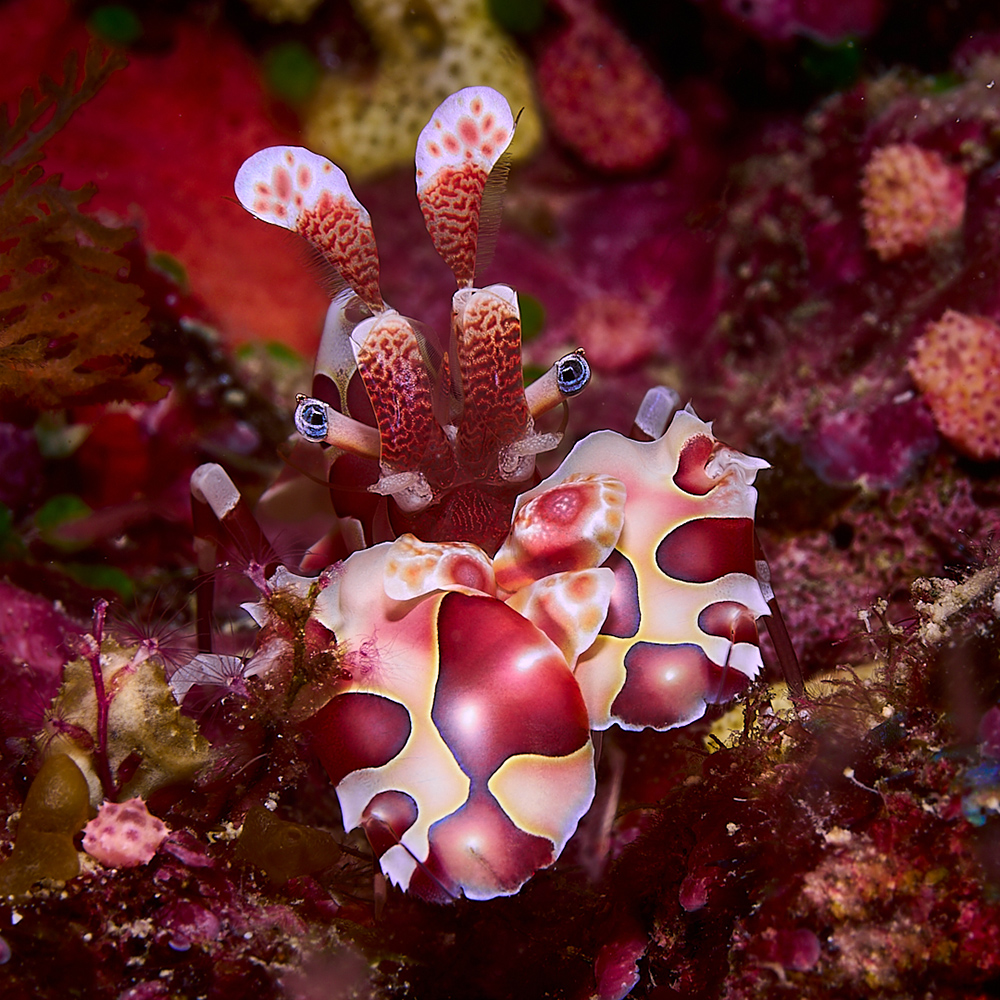 Photo by Hayley: We were told Harlequin Shrimp are not in Fiji... but we have proof (AGAIN!)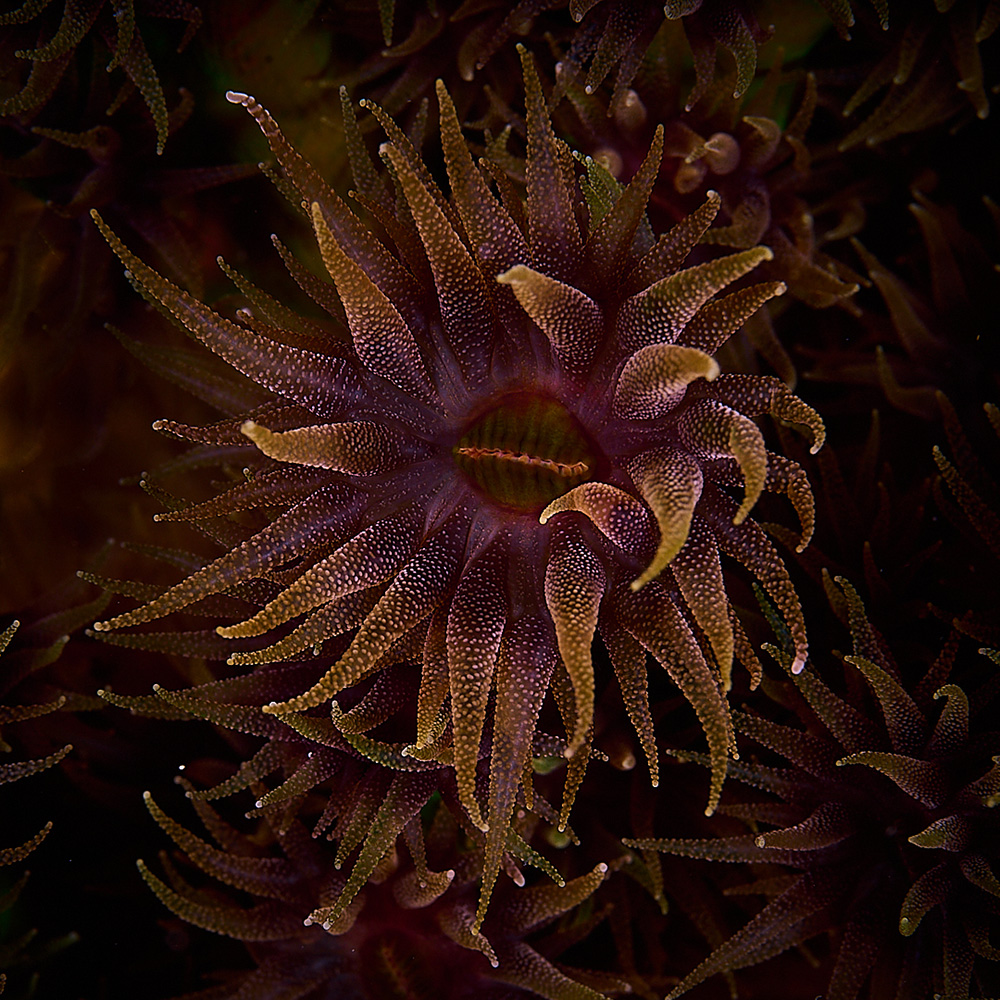 Photo by Hayley: Coral feeding on night dive
We had a late start the next day in order to hit the water at E6 when the sun was high, and what a sight it was! Mark took Cathedral photos of all the guests on his skiff and Hayley and Katie got some lovely shots in there as well. Everyone absolutely LOVED E6… Janet and Mark H had the biggest smiles on their faces. Oh, and James popped his Hammerhead cherry! Mount Mutiny as always enchanted with the Chironephthyas and the Acroporas and Mellow Yellow had the photographers squealing underwater.
Our final morning of diving was a wild one! First GoMo with its multidirectional current and abundant marine life. Grey Reefs, Trevallies, Spanish Mackerel and Schooling Bannerfish just off the wall and a multi-coloured rainbow of dancing fish on the reef top, if you could find a pocket of still water. Then a record 6 minute drift (or fly) on the wall at Whole Shebang that brought us to our calm bommies at the end of the dive... just so peaceful. As we surfaced, a boobie landed right next to some divers, and Hayley (who was snorkeling) came in full speed with her camera. The boobie kept looking underwater trying to figure out what that was all about… Priceless. After that, a few of us went to Vatu-i-ra and saw lots of boobies, tons of frigates and an insane amount of hermit crabs.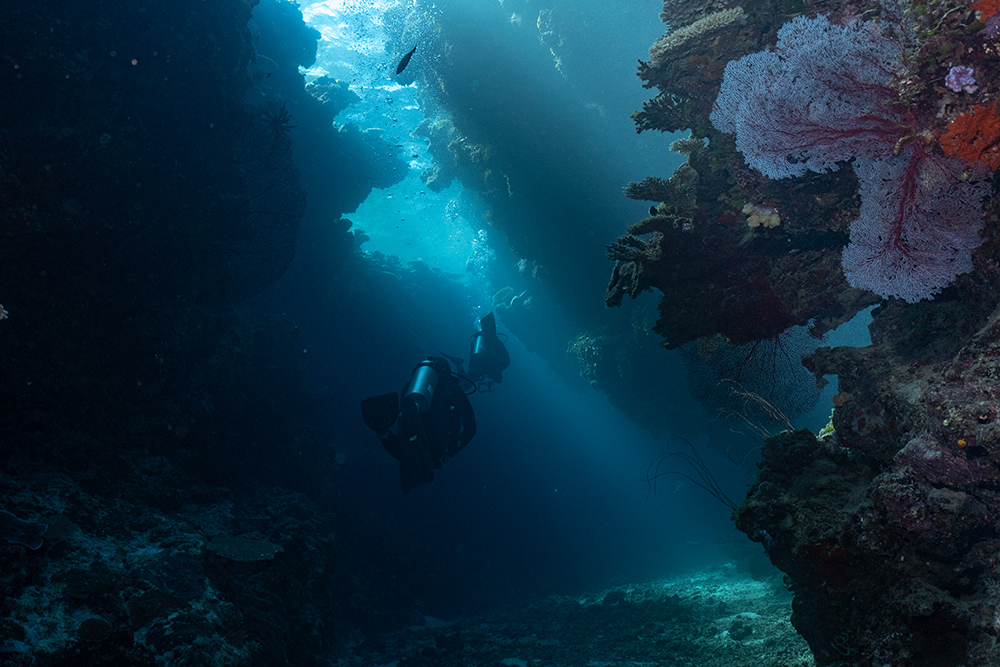 Photo by Katie: Cathedral at E6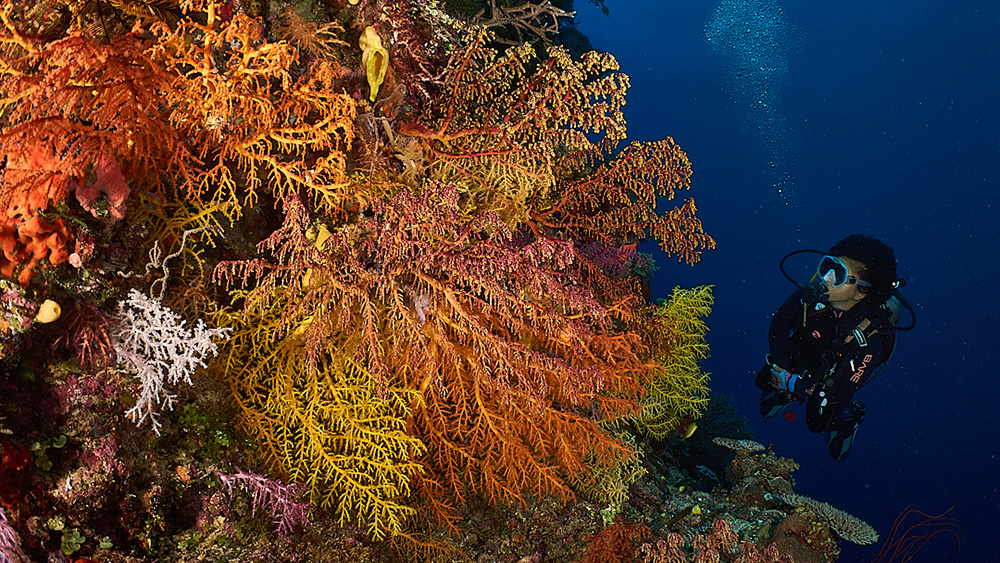 Photo by Hayley: Chironephthyas at Mount Mutiny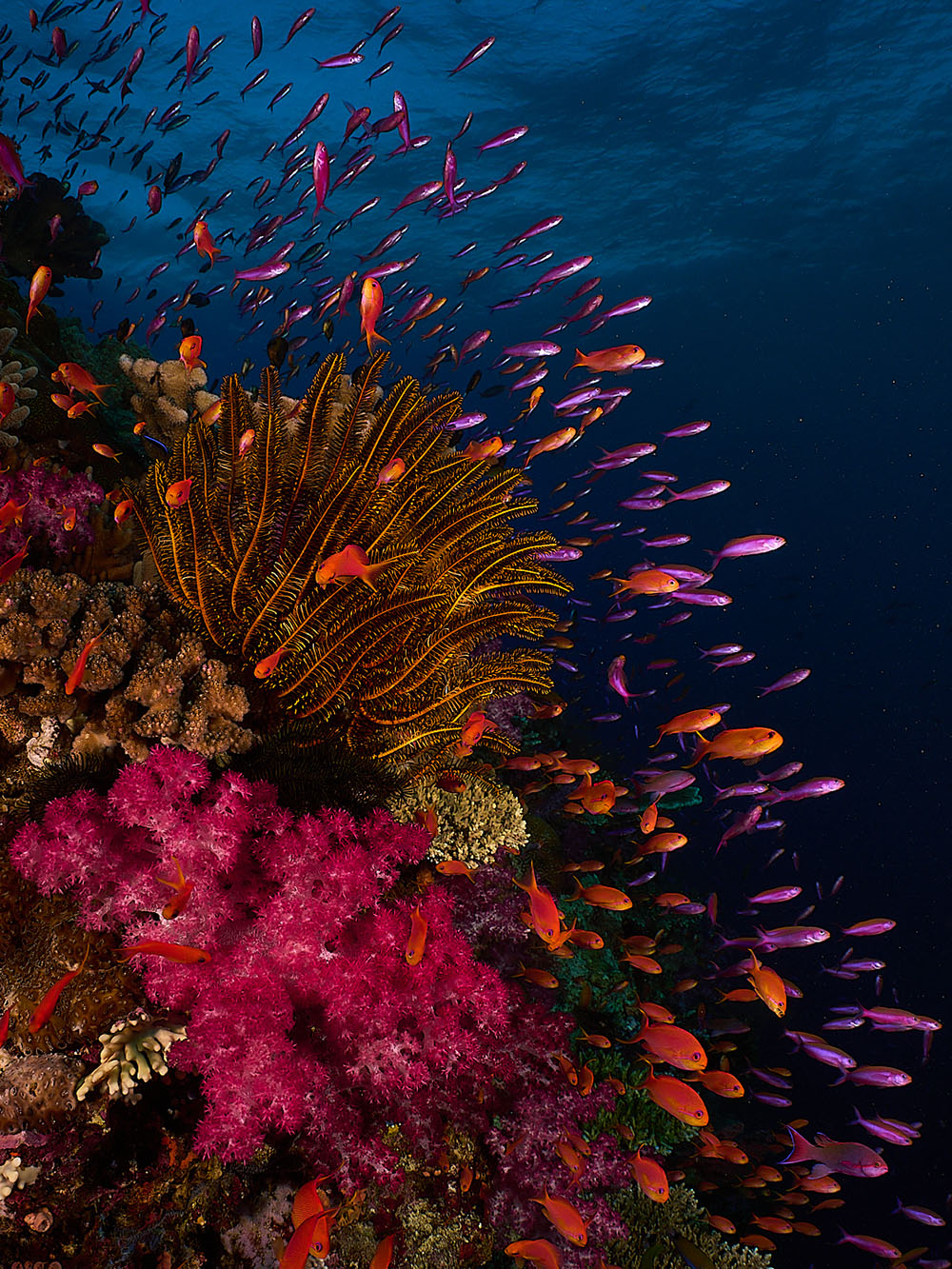 Photo by Hayley: Mellow Yellow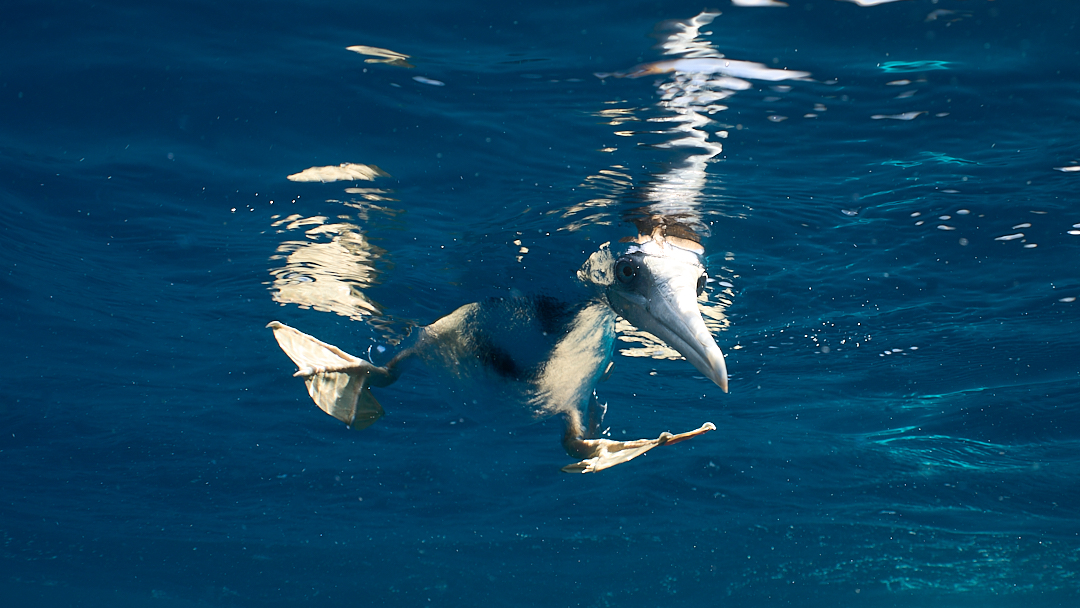 Photo by Hayley: Curious boobie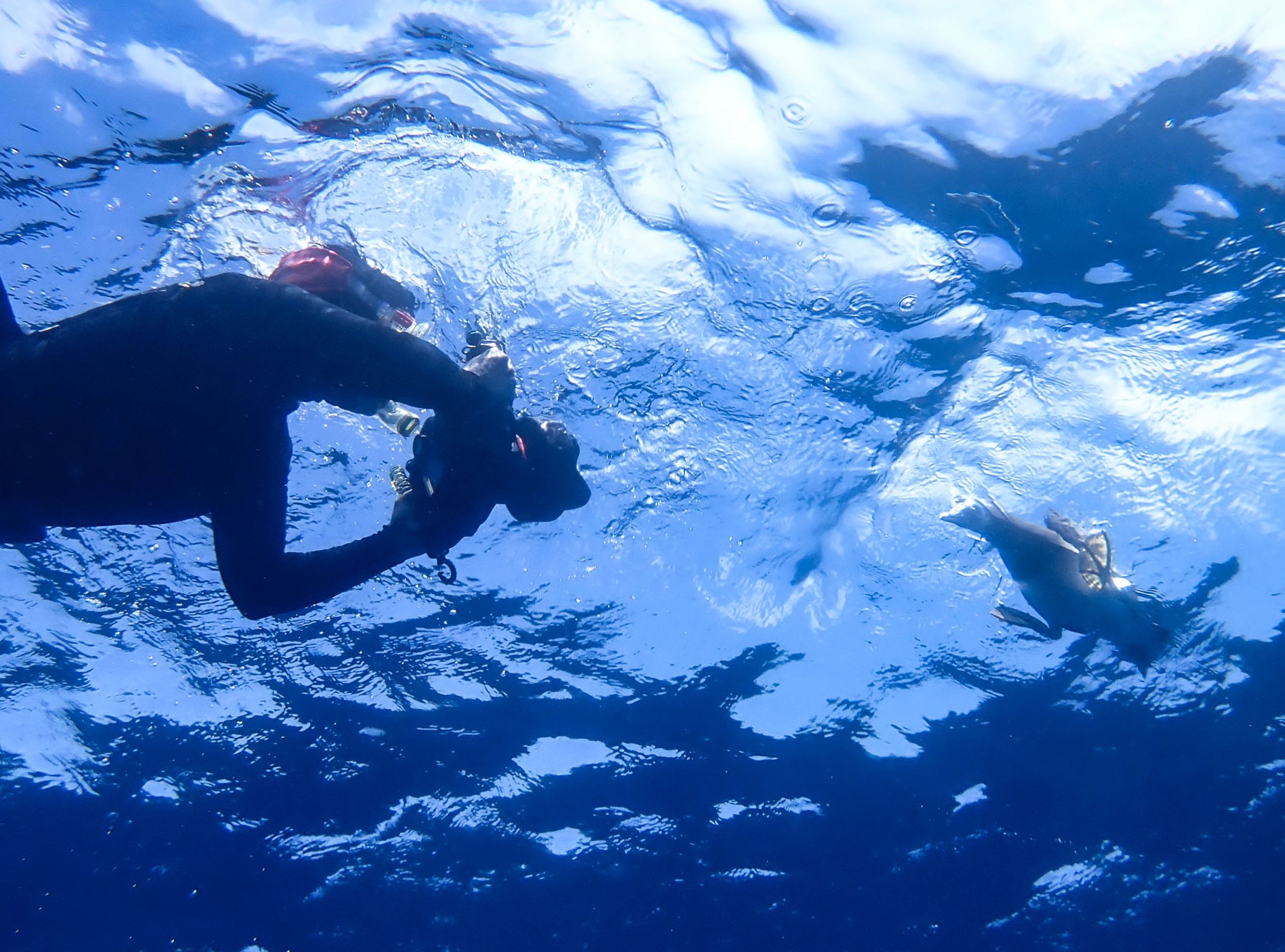 Photo by Bel: Hayley and boobie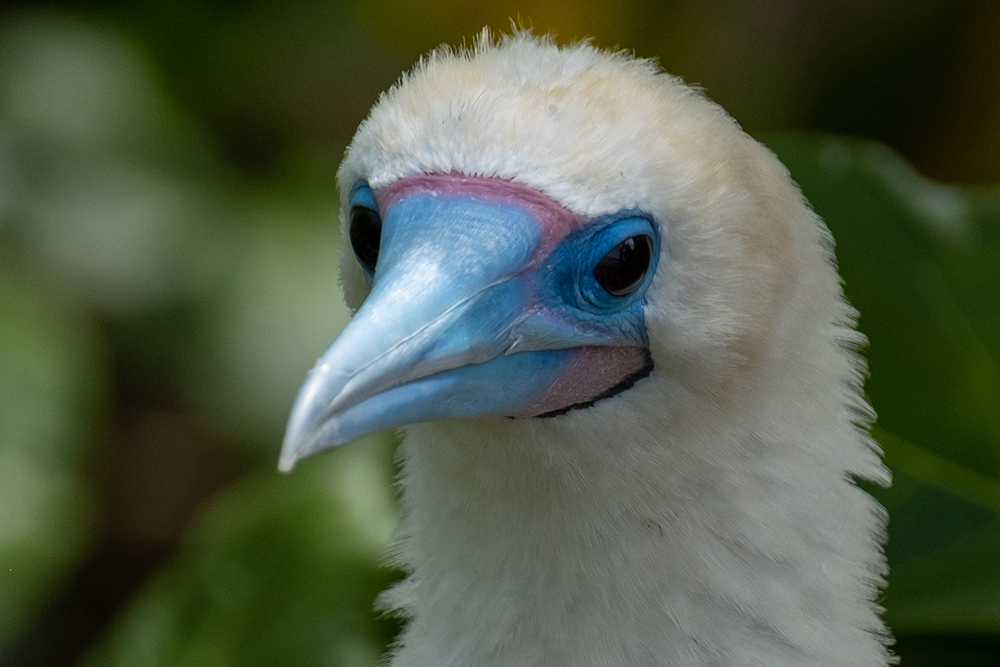 Photo by Katie: Gorgeous boobie
Sunset drinks on the top deck were almost busted by the rain, but James cattle prodded us all to our last cocktail hour of the trip. We say this a lot, but this truly has been one of our most amazing trips on NAI'A. Not only did we get to explore one of the most beautiful places in the world, we did it in great company. Vinaka vakalevu to our guests. You make the world a better place.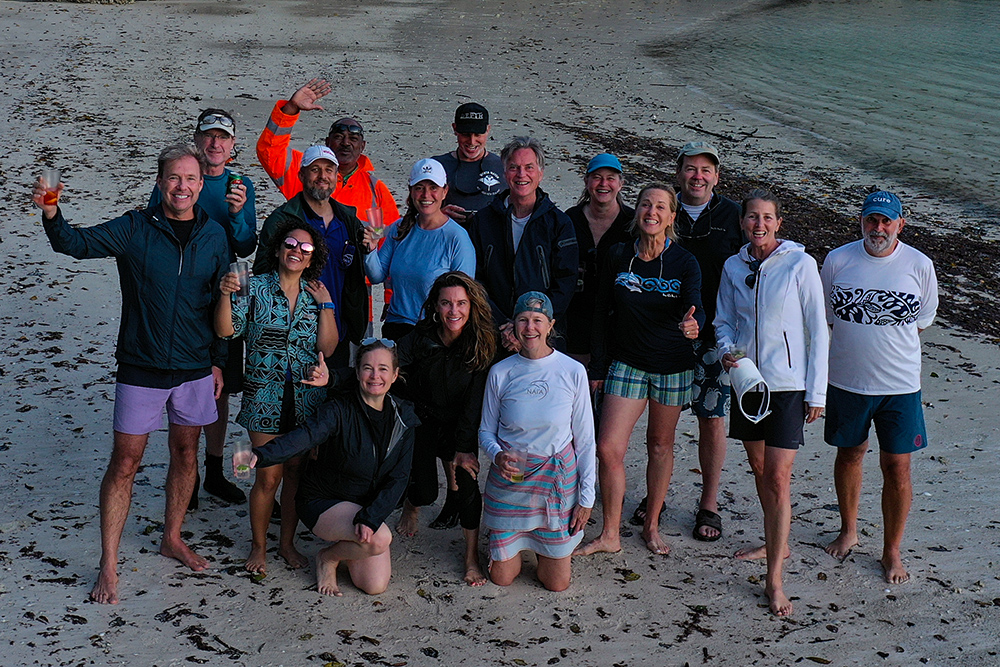 Comments
"We loved every minute of our time with you in Tonga! It could not have been any better. Each and every member of the NAI'A team was outstanding and each of you made our whale expedition unforgettable. The whales, the hospitality, the guides, the skiff driving, the dinners and the singing and kava… Everything was wonderful. It was the best honeymoon ever!"