Roughing It
Destination: Interior Highlands of Viti Levu
Trip Date:
Jun 15th - Jun 20th, 2014 -
Comments
Author: Joshua & Amanda
This is not officially a Divemaster Diary, but a personal travel adventure that we would like to share with you anyway. This trip cannot be arranged through NAI'A.
We have been in Fiji for nine months and, during that time, there hasn't been a moment when we couldn't see the ocean. Indeed, throughout most of that time, if we had fallen out of our bedroom window, we would have got wet. So with a week free between charters, we decided to rent a sturdy four-wheel drive truck and venture into the rugged highlands of Viti Levu to explore a side of Fiji few visitors (or locals, for that matter) ever get to see. Armed only with a map with little more detail than Captain William Bligh had over 200 years ago, we set off into the remote interior of Fiji's biggest island. If our 3-year old nephews had collaborated on drawing a green blob with a white line down the middle, it would have been slightly more helpful. We had no plans, no destinations and no reservations. We had but One Rule: to be back on NAI'A by Friday for our next charter. So breaking down in the middle of a vast, uninhabited wilderness was not an option.
After stocking up on provisions (we can't go anywhere without chocolate) and having our only meal of the week while seated in chairs, we cruised down the highway towards Nadi before pulling off onto a dirt road at the village of Sabeto. This road was sandwiched between the Sabeto and Nadi Rivers and climbed ever deeper and higher into the Nausori Highlands. There were no signs so we made a couple of wrong turns, but there were inevitably a few local villagers whom we could ask directions. By late afternoon, we arrived at the end of the road and the village of Navilawa, which sits inside a large volcano crater. Surrounded on all sides by mountains, this verdant valley lies at a comfortable altitude for growing more temperate fruits like mandarin oranges. And, for the first time in Fiji, we couldn't see the ocean in any direction! Upon arrival in the village, we were greeted by former headman, Viliame, who offered to show us around the village and through the surrounding forest. Because it was late in the day and this village was so pleasant, we decided to spend the night there too.
Vili welcomed us and led us into the forest to a nearby cave. The forest was dense and so full of fruiting orange trees that it was impossible not to step on them as we walked. We snatched any that were low enough and not already claimed by birds and bats. The fresh mandarins were very juicy and refreshing. As we walked, Vili called out to unseen persons, who responded with unique calls that identified them in the forest. After about a half hour, we arrived at the "cave" which was really more of a large overhanging rock. While not very impressive to look at, the history and significance of this cave is particularly important. During cyclones, villagers would seek shelter beneath this overhang where they were always protected from storms. Vili explained that up to 100 villagers would huddle in the overhang as recently as 100 years ago. The space looked big enough for only 30-40 people lying side by side, so we could only imagine how the locals would be wrought with fear and doubt as the violent and destructive winds of cyclones closed in. On our way back to the village, Vili took us to a large boulder that stands right in the middle of the village. Climbing to the top of this rock afforded us an excellent view of the entire mountain range and the charming village nestled in the middle of it. The top of this rock is also the only place for many miles where villagers can hope to receive a cell phone signal. Vili's daughter-in-law tidied up an old house that doubled as a visitor's lodge where we had our own bedroom, bathroom and cooking facilities.
Early the next morning, the roosters informed us that it was time to wake up and make the most of the day. We loaded up our truck and rumbled back down the dirt road for a brief foray onto pavement before again turning off onto an increasingly rough dirt track, this time aiming deeper into the vaulted Nausori Highlands. Along the way, we caught dramatic views of the surrounding mountains, cloaked in lush forests and dotted with remote villages. The only road signs were occasional speed limit signs, which marked a limit of 50kph (30mph) when passing though villages. This was hilarious because, if we had sped up to 50kph on these rocky and windy roads, we would have careened off the edge of a cliff! A clear violation of our One Rule.
The vegetation varied over every mountain and around every turn. Mostly, it was dense, old growth forest, but there were also sprawling pastures on the hillsides and plenty of secondary-growth forest as well. Interrupting this undulating sea of green were the vibrant blooms of jacaranda trees, which erupted in bright orange crowns. Whenever we got lost (which was regularly), we stopped to ask for directions at the nearest village and, whenever we stopped, we were immediately surrounded by curious villagers. Being the quickest, the children usually arrived first, mobbing the truck, poking their heads inside the windows and "wowing" at our belongings, the unimpressive-to-us clothes, food and primitive old map. Next, the adults ambled up and stuck their hands in the window to greet us. In Joshua's hometown of Chicago, he would be terrified if a huge, burly man with a long machete approached him, but here in Fiji, the frightening scowl always melts easily into an inviting smile and a hearty "BULA!"
By late afternoon, we pulled into the village of Navala, the last traditional village in Fiji and certainly its most picturesque. Here, the local community continues to build bure (traditional houses) using only bamboo, vines and thatch. Maria welcomed us and led us on a tour around the village and explained how her people build houses using the same materials and methods as her ancestors a thousand years ago. Teams of ten work together for up to three months to complete a house, which should then last 15 years. Subsequent houses are then built on the same elevated stone foundation. The houses are identical, approximately 50x20' (15x7m) with the apex of the roof about 30' (9m), serving as the sleeping, dining and gathering space. Separate buildings house the toilet and the kitchen, which consists of little more than an open wood fire and basic utensils. The "shower" was really just an exposed tap leading from a nearby spring. In other words, villagers here are bathing in the same Fiji water that you pay $4 per half liter back home!
Amanda and Joshua have traveled for a combined 24 years in more than 85 countries. In order to do that, we have managed to squeeze the most out of our budget by always sleeping, eating and traveling "local". The guesthouses we stay in have never even heard of the star rating system. By these standards, accommodations in Fiji can be quite expensive. The only hotel near Navala charges $40 per person to sleep in a ten-bed dorm and $110 per night to have a private room. This would certainly not do for us. We discussed our options with Maria and agreed to sleep on the floor in her family house for $11 each, including dinner and breakfast. Now we're really roughing it! The floor consists simply of a woven bamboo mat stretched over dirt. It was hard and lumpy, to say the least. As we had driven all day, we were grimy and in need of a shower. Because the tap is fully exposed and smack in the middle of the village, we were obliged to bathe in full view of any passersby, of which there were many since it was 5pm. For Joshua, this wasn't a big hindrance because he was allowed to wear boxer shorts for the process, but Amanda was forced to bathe under a sulu, a Fijian sarong. A word of advice ladies, this is not for the faint-hearted, and best practiced first in private!
Forest outside Navilawa
View of Navilawa from cell phone tower (big rock)
Hillside around Navilawa
Our truck and rental house (on left) in Navilawa
Roadside viewpoint
Roadside viewpoint
Traditional bure of Navala
Women of Navala
Traditional bure of Navala
Men constructing new bure Navala
Traditional bure of Navala
Maria & Patere preparing kava in Navala
Grandma & grandson in Navala
Morning mist over Navala
Grandma cooking breakfast in kitchen hut - Navala
Spectacular roadside viewpoint
Joshua & Amanda at Monasavu Dam
Monasavu Dam & Reservoir
Jagged mountains
Tiny village in river bend
Jacaranda tree bloom among dense forest
Drying kava in Navaicini
Children of Navaicini
Joshua with people of Navaicini
Our hosts, Joe, Andiviti & Tomeli, gathered around the kava bowl
Tomeli with dried kava roots. At about 1' growth per year, these are about 6 years old and very valuable.
Shack at foot of rugged mountains
It is said that toddlers who have not yet started talking begin to talk when they bathe in this river.
Captain Johnathan, his wife Mavis, Amanda & Joshua enjoying some live music (kava free!) in Suva
Once it was agreed that we would spend the night in Navala, we sat down for the traditional sevusevu ceremony. Sevusevu means "offering" and it is always essential when visiting a Fijian village. Of course, as Cruise Directors on NAI'A who regularly bring our guests to villages, we have witnessed many sevusevu, but this would be the first one that we would conduct. We sat down around the tanoa, a large wooden bowl decorated with a woven coconut-fiber rope with two sparkling cowries on the end as our hosts filled it with kava, a beverage that forms the cornerstone of Pacific Island culture. Joshua presented a waqa, a bundle of dried kava root, to Maria's father, Suli, the man of the household. In the sevusevu ceremony, still practiced throughout Fiji, the visitor must clap three times, then introduce himself to the host and ask that he accept his sevusevu and himself into the community. Joshua had only heard our faithful dive leader, Big Mo, conduct this ritual, which is of course done in Fijian, but he paraphrased the best he could, which we guess was good enough because we didn't get eaten! Suli responded by accepting our offering and us into his home, his village and his community. Then, it was time for the kava to flow! By this time, their son Patere and a couple more friends had joined us. We drank up all of their already prepared kava powder before Patere excitedly leapt up and hustled out the door to pound our offering.
Fijians are crazy about kava; it is normal for them to engage in 6-12 hour sessions. Because we're not crazy for the taste and we wanted to get an early start the next morning, we warned our hosts that we wouldn't be into the kava for the long haul. Of course, that didn't hinder them at all. After we turned in, the villagers continued to pound kava and swap stories and laughter well into the night. We went to sleep on the hard floor, tossing and turning now and again, but getting a surprisingly good sleep until the early morning.
Even if we had wanted to and even for those who had stayed up later than us drinking grog (colloquial term for kava), sleeping in is just not possible in a traditional village. There were several things that prevented it: cockerels, lali (hollowed out tree trunk that is struck like a drum creating a loud noise) alarm call to prayer, village crier, all these things started happening from 6am onwards. We certainly never imagined we'd be in a place where the village crier is currently a form of communication. The previous evening as we sat around the tanoa (kava bowl), the loud mouth himself came past our bure spreading the word. Our hosts calmly nodded and said, "Oh yeah, there's a village meeting tomorrow at 10." Well, with no cell reception, it gets the job done!
Rising early somewhere that beautiful is never a mistake. Layers of mist hung low over the thatched roofs, mixing with the smoke from wood fires as the sun made it's gentle journey over the mountain tops and into the dew drenched bowl that housed the village. It was truly a picturesque scene.
After a breakfast of Fijian style pancakes, we got back on the road. An hour or so later we rejoined a hard road for about 20 minutes before turning off to a gravel track that would take us all the way from the north to the south coast, right through the interior heartland of Viti Levu. We rose steeply for the first hour into lush green forest, passing breath-taking viewpoints and small villages along the way that were no more than a collection of 2 or 3 visible houses. The further we delved into the interior, the worse the roads became. Roads made of small gravel gave way to tracks with large pebbles and steep inclines. We were happy we had the 4WD capability at our fingertips, especially because we only very rarely saw any people… If we broke down it could be a while before we were rescued!
By lunchtime we had reached one of Fiji's most important, but seldom viewed facilities, the Monasavu Dam. A fierce Fijian guard (kindly looking gentleman) informed us that to drive down to the waters edge we had to go and get a permit and directed us towards the office. Although slightly surprised to see kaivalangi (foreign people) out this far, they were very helpful and even showed us a short cut so that we could get to the waters edge and admire the source of 90% of Fiji's energy.
If we thought the road had deteriorated before Monasavu, we'd seen nothing yet. It wasn't until a few hours later that we managed anything above second gear and by then our shoulders were aching from the constant jerking of the steering wheel. Luckily, the amazing views and a good selection of Jimi Hendrix, Groove Armada and some downright dirty Delta blues played at volume stopped us worrying any more about it.
With no signs marking villages, we had only a vague idea of where we were. We finally found someone to ask directions from, a group of 5 or 6 hefty, bearded fellas who all looked like they could handle themselves. They immediately approached and politely shook our hands and asked us how we were, informing us that we were actually far further along than we thought! So we carried on into the fading light heading for the next village, Navaicini. Along the way we picked up a hitchhiker who, it turned out, was a cousin of the person we'd been sent to meet in the next village. Small world!
When we finally pulled up in Navaicini, it was at a house with a group of women sitting outside on the grass. We wearily got out and asked if there was anywhere we would be able to spend the night, any villagers who might be kind enough to take us in? Their nominated spokesperson immediately said "Here! We have 3 bedrooms, plenty of room. Do you like Fijian food?" Once again we were blown away by Fijian hospitality.
This lady turned out to be Andiviti (Lady Fiji) and although it wasn't actually her house, there was no doubt that she was the host. She got straight to it and busied someone to tidy a bedroom while another aunty, Una, got the kava bowl out and started welcoming us the Fijian way. When the men returned from the fields an hour or so later, they looked no more surprised that their womenfolk had invited a couple of complete strangers to stay than if we'd been lifelong friends. Which was lucky, since Andiviti and Una had briefed us to greet them by saying "Bula vinaka, leo vuga" (an inside joke which apparently means "Hello, tall tree") instead of the more polite "Bula vinaka". Obviously this meant nothing to us, but each time we said this the ladies absolutely fell about laughing, while the men looked suitably startled before their faces also creased with laughter. This is another universal yet extremely endearing Fijian trait that we've recognized in our time here: the ability to give and receive jokes and belly laugh.
We had another great evening filled with conversation, laughter and stories, surrounded by warm, friendly people. At around 8pm, we feasted on homemade pumpkin curry, fresh tilapia fish caught that afternoon from the river that ran through the village and rice. In the Fijian tradition, the men carried on drinking kava until it was all gone before eating (which didn't happen until 2am!), but luckily we were allowed to eat with the women – phew! A surprising amount of people turned up, having heard that there were some exotic foreigners to hang out with.
The next morning we left with a much fuller car than usual. It turns out Andiviti, Una and another older gent wanted a lift to Suva, so we slung our bags in the back of the truck and headed off, trying not to turn up the A/C too high for our new island friends who apparently feel the cold a lot more than us! Given that we suddenly found ourselves with 3 local guides in our backseat, we took the long way round through some more breathtaking scenery before arriving, with a little sorrow, on the outskirts of Suva city. Having bid goodbye to our new friends, we got out our mobile that had come back to life and called an old one. Captain Johnathan generously said that yes, we could stay with him tonight and he'd meet us in 10 minutes to show us the way. No sevusevu required!
We made the most of our day in the big city by buying new pillows for our bed… sleeping village style on the floor was fun and everything, but nothing beats a good soft pillow… and catching a film in the cinema. That night we performed our own modern form of sevusevu by taking John and his wife, Mavis, out to dinner before they showed us some of the bars.
The last day was spent cruising along the Queens Road that follows the southern coast all the way around the island back to Lautoka. It's a pretty drive and reacquainted us with our old friend the Pacific Ocean before welcoming 16 new guests onboard NAI'A the next day. What a trip!
Comments
"Lomaiviti is nationally significant for its important role in reseeding Fiji's reefs and providing fish refuges."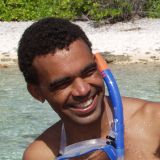 ~ Dr. David Obura, Cordio and WWF Marine Biologist