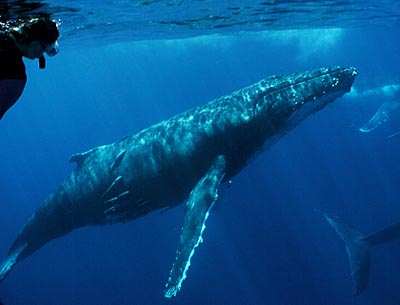 Whale calf with diver.
FROM THE GUEST BOOK
Great boat, great food, great crew, great people, GREAT WHALES! A great time.
Wally & Nancy Carlson

Apart from the wonderful whales and reefs, Suliana's smile and Rusi's kindness made me feel happy and at home.
Lloyd Stuart

We came to experience whales - NAI'A and the crew delivered BIG TIME. The ship is a great platform for photography, both underwater and topside.
Jim & Aldara Peacock

The experience of swimming with whales far exceeded our expectations. The diving was outstanding and the service was great. I will never forget swimming next to the whales.
John Steiner

These 10 days went by far too rapidly - I truly loved swimming with the whales. Rob's expertise took the experience far and beyond my wildest hopes. Thank you for a first class operation.
Elaine Steiner

Along with swimming with whales, what made the trip for me was being welcomed by the warm crew into their hearts, as they were welcome into mine. I thank you for that. Your knowledge of whales added tremendously to the total experience.
S & S Jones

The whales, the crew, the sunsets, the crew, the great shore trips, the crew - oh, and did I mention the wonderful crew? Rob, thanks for your photographic pep talks and whale enthusiasm.
Susan and Glen Dashotel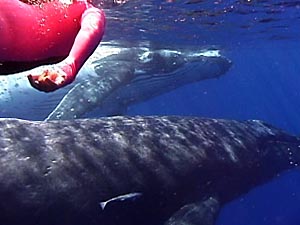 Jackie with whales.
Two at play.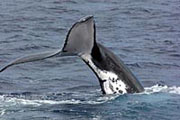 Peduncle.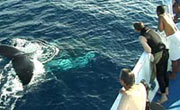 Deck view.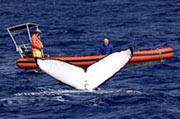 Skiff bliss.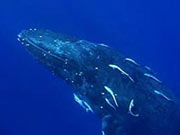 Whale & remoras.