Another successful week diving the now famous "Nai'a Triangle", starting in the Northern Bligh Waters, looping up to Namena island's incrediblely rich, vibrant bommines then heading South to the Sharks of Gau, and finishing the passage in the Vatu-I-Ra reef system.

The Digital Guru's -- Jack and Sue Drafal amazed all with their pixilated antics, Jack set a new underwater shooting record: 207 photos on a single dive WITH A SINGLE CAMERA! When we could pry them from the water they shared outstanding digital slide shows, and converted most of us dinosaurs to digital, instead of still using film.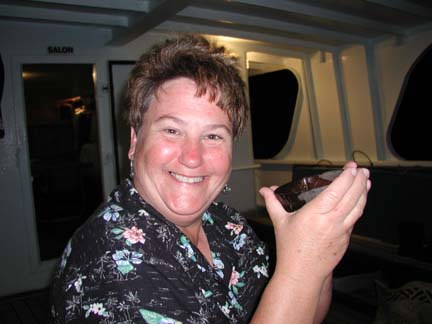 The taste of grog is growing on Sue after 5 trips on Nai'a.
Wednesday saw us at the Island of Gau, south of the main island of Viti Levu, the resident Grey Reef population has exploded in the last several month with a litter of babies that are now about 3.5 feet in length -- as many as 30 regularly patrol the passage. Another very good sign seen at Nigali was the coming back the life of anemones, water temperatures have been cool -- a good sign that balance is being restored.

The guest list was made up of veteran Nai'a groupies -- Video Whizz Jim Forbes, Jerry & Helen Palmquist and gadget-man Ken Tucker - the only newbies were LA natives, Donna Morris & Gina Schuchard. They were welcomed as one of the family by the crew and loved every minute until the "Kava Initiation" - they could not believe people drink the stuff for fun and still maintain it was a practical joke!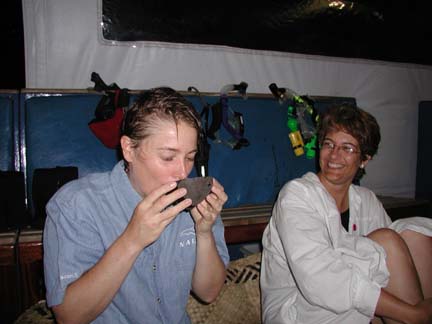 The Initiation ceremony for Donna & Gail.
Along with the great wide angle scenics, Rusi & Richard found some unusual macro life - the most photographed being a pair of emperor shrimp on a "hairy" cucumber -- the shrimps had the most beautiful markings -- blood-red body with speckled white poke-dots. We'll see if they can be persuaded to hang around!

Best Fishes,

Kev & Val
Cruise Directors