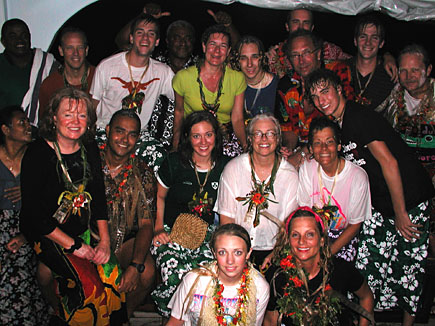 3:00am on New Year's morning, soaking wet after the revelry at Lovu Village


Fiji sits just west of the International Date Line, so our guests this week were the first to ring in 2004. The celebrations began with champagne onboard, before riding the skiffs to Lovu Village on the island of Gau. We joined other villagers at the tail-end of their late night church service, just in time to catch a bit of fire-and-brimstone preaching and some beautiful choir singing. Then the clock struck midnight and the revelry kicked off. Under the light of millions of stars, we headed through the darkened village to the community hall -- passing men as they pounded fresh kava and lit bamboo firecrackers. In the hall, our hosts welcomed with cakes that had been baked in earth-ovens. NAI'A's divemaster / movie star, Rusi, and one of the village leaders performed the traditional sevusevu, and the villagers put on a fabulous meke -- during which we were repeatedly dusted with talcum powder and given plenty of kava. Immediately upon leaving the hall, the village children chucked buckets of water at us to celebrate the New Year. There was no escaping it! -- they followed us all through the village and back to the beach, where everyone tackled each other into the ocean. Back on board, the NAI'A crew kept up the water pranks all through the rest of the trip ... and probably still haven't stopped.


Willie Smith and Twinkle Daniel
celebrate their 25th wedding anniversary...

...while friends and family help Wally Vaughan ring in the Big 5-0.
But the celebrations didn't end there, as Willie and Twinkle were aboard for their 25th wedding anniversary, while everyone helped Wally ring in the Big 5-0. And in between kava opps, everyone kept themselves amused by jumping from the monkey island, raiding islands, climbing the mast, sampling the Vegemite, making possible Nicole Kidman sightings, and witnessing a freakish pair of movable scalps. But, let's not forget that we also came here for the diving, right? There were more Hammerheads than ever at North Save-A-Tack (sorry, Kat) and Twinkle filmed some very graphic "shark porn" at Vatu-I-Ra. Wakaya's famous lone Helfich's dartfish reportedly now has a friend... although the only one who really saw him was Josh at 122' (was it narcosis-induced double-vision, perhaps?). Wally, on the other hand, made a confirmed discovery of a couple of bandfin frogfish on a night dive at Two Thumbs Up. Fiji's reefs were as colorful as ever... as were some of the dive skins: Doug donned his Superman costume for one dive (complete with cape), while Willie gave us eye-sore with a [mercifully] one-time-only sporting of his garish geometric design!
| | | |
| --- | --- | --- |
| | | |
| Identical twins Dustin and Doug Borg climb up to the crow's nest. | | Vicki and Cres Kreiser: we're also here for the diving, right? |
FROM THE GUEST BOOK
To the crew of NAI'A -- thank you for making this trip BETTER than the last one! This is definitely a New Year's to remember. Hope to see you again.
Twinkle Daniel, Montgomery AL

What a way to ring in the New Year -- ahead of everybody else. The diving was excellent, the accommodation very comfortable, but the crew made the trip what it was. We'll bring a lot of fond memories back home with us.
Greg & Lisa Borg, Montgomery AL


This tour of the pristine Fiji islands was an excellent experience. The sight of Fiji's natural beauty heightened my appreciation for the environment. Good luck in your future endeavors.
Doug Borg, Montgomery AL

You guys are the best. The laughter and kindness of the crew was infectious. I'll be back to see my hammerhead.
Kat Fox-Winokur, West Palm Beach FL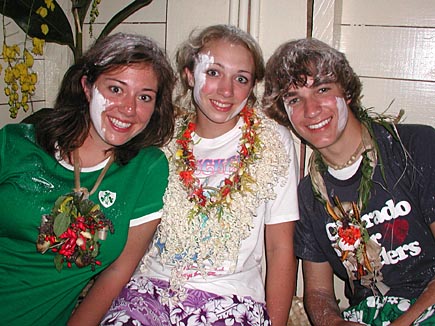 Starr and Katie Smith, and Wallace Vaughan dusted with talcum... and soon to be soaking wet.
As your youngest and therefore most fun and favorite charter, we thank you mucho. We hope we brought a bit of a different pace to NAI'A during our ten days. We couldn't have planned a better New Year's. The diving was incredible and the crew AMAZING! We'll always love Fiji! Perfecto! Fantastic!
Starr & Katie Smith, Montgomery AL



This trip has been everything we had hoped! Cannot say enough good things about the entire crew. They have been a delight. Every wish has been granted, I hope to be back.
Chris Vaughan, Montgomery AL

Woooo! Woooo!
Wally Vaughan, Montgomery AL


Thank you all for making our dive holiday such a memorable one. The NAI'A crew are very knowledgeable and professional each and every one of you, from the divemasters to the kitchen staff, and the trip directors and captain. All of you made it great for us -- everything was superb! We will return!
Cres & Vicki Kreiser, San Diego CA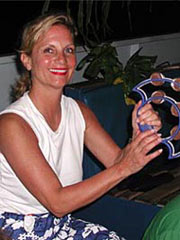 Kat Fox-Winoker shows her musical side.

Chris Vaughan, talcum-free... but not for long.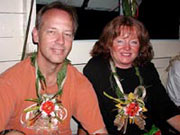 Greg and Lisa Borg at Lovu Village.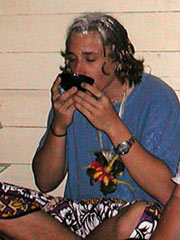 Chapman Smith, with locks designed by our Suli.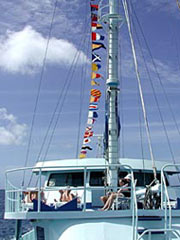 NAI'A flies flags to celebrate New Year's.