| | | |
| --- | --- | --- |
| | | |
| Jay Torborg adds more photos to his collection. | | Harlan Cohen snaps an underwater Fijian landscape. |
Another dose of Fiji's finest diving and a cast of wonderful characters... David Demming Sr discovered that you really can get by without luggage for 10 days, while son David Jr finally found his blue ribbon eel. Speaking of which, Stan Ross scored some enviable footage of a free-swimming blue ribbon, while onlooker Richard nearly jumped out of his wetsuit with excitement. David Benlolo partied with the NAI'A boys for his 26th birthday. Diana Dickinson pontificated, Harlan Cohen tested the distance vision of our skiff drivers, Jay Torborg wow-ed us with his fabulous photos, and Laurel Ross was too lovely for words - even when forced onto a diet of plain rice. The macro vs pelagic battle was humorously played out between Paula and Doug French. And, after finding a halimeda ghost pipefish, a robust ghost pipefish, and a hairy ghost pipefish (twice!), the NAI'A dive guides were accused of sourcing the little critters from a supply in their BC pockets... er, I guess we'll take that as a compliment?!
| | | |
| --- | --- | --- |
| | | |
| David Benlolo celebrates his 26th birthday. | | Dave Demming Sr knocks back the kava. |
FROM THE GUEST BOOK

Richard, Joe, Josh and Liz all were great on the dives! Someday I hope to spot as well as they do! Mo and Joiji yanked anyone in the boat with ease. Second stay on NAI'A just as pleasant as the first, which is damn good.
David Demming Jr, Hudson HO

Thank you for another great trip!
Jay Torborg & Diana Dickinson, Sammamish WA


We had such a wonderful time -- we'll definitely be back! Liz and Josh are great as is all the crew. Couldn't be better.
Laurel & Stan Ross, Afton MN

Excellent trip. See you again.
Harlan Cohen, New York NY


Good boat, crew and trip.
David Demming Sr, Hudson OH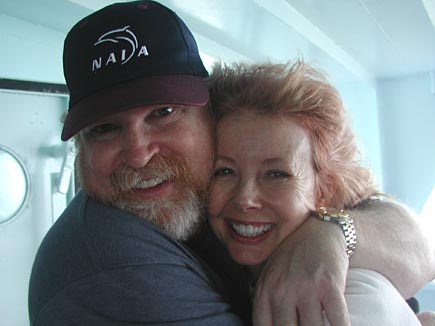 Stan & Laurel Ross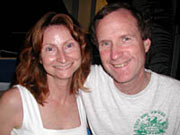 Paula & Doug French.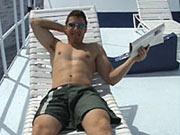 David Demming Jr doing his homework.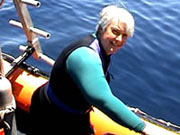 Diana Dickinson, back again for more..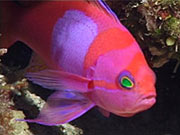 Square spot anthias.