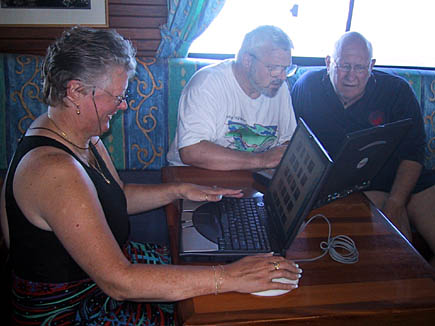 Jack Drafahl helps
Karin and Glenn Butler in the digital darkroom.
Photographers Jack & Sue Drafahl and Larry & Denise Tackett were onboard again to host Round II of the Fiji Islands Photo Adventure. It was standing room only as the many lenses, strobes, housings, chargers, and such, filled every inch of the camera room. David and Jean Noren braved the new digital world and turned out some fine work, whereas film fan Dennis Della-Croce stuck to his Motor Marine II. After an early flood, mismatched air consumers Karin and Glenn Butler played tag team with their one remaining rig. Nancy Foreman bravely battled current and surge to score a shot of the Cyerce negricans nudi at Thumbs. Volker Junge joined the Nitrox fold, Jack Drafahl was re-united with his old friend the Nigali sea cucumber, and smiley Jacky Staub make a point of making her grin impossible to document. Charles Buckner and Joanne Watson, meanwhile, served as the trip's official wine tasters, while scoping out the Fiji waters for their planned 3-year South Pacific sailing trip (how jealous are we?!)
J

ean

Noren goes digital.

..

...while Nancy Foreman sticks to old-skool film.


.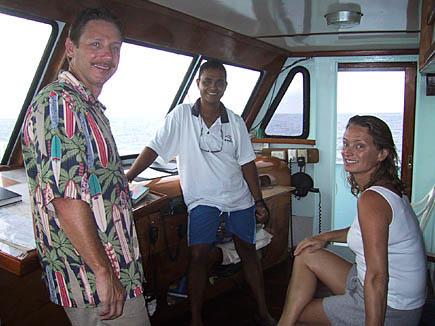 NAI'A's captain, Johnathan, gives Charles Buckner and Joanne Watson a tour of the wheelhouse.
FROM THE GUEST BOOK
We had a great time -- fantastic crew, good food, great diving, and we loved the village. We will be forever grateful to Josh for teaching us how to read the tides and currents... we had no idea there was so much information to be found up a sea cucumber's butt!
David Noren, Gaston OR

Great food, great dive service.
Peter Streule, Switzerland

Food, people, crew and overall experience were excellent. I would come back.
Sandi Pennypacker, North Wales PA

This was our first liveaboard and the experience was great! The diving, crew, guests and food were the best. The village was a great way to meet the people, they are so friendly. I would love to come back.
Dennis Della-Croce, Willow Grove PA

Liz and Josh did a fine job, and Steve was a great help with equipment problems.
Glenn Butler, Emery SD

Excellent overall service and hospitality of the crew, plus the dive sites were great.
Charles Buckner, San Pedro CA

So glad to be back on the NAI'A -- crew attitude and service were tops!
Karin Butler, Emery SD
Fantastic cruise, super crew, wicked diving Vinaka!
Volker Junge, Germany
Joanne Watson, Josh and I were diving at Maytag, where we shared appreciation of a scorpionfish, a lionfish, a moray eel, anemonefish by the dozen, and a brilliant display of hard and soft corals. It was a truly wonderful experience! This I will remember in the days and months ahead, and dreaming of our return. The terrific crew made the trip extra special -- Richard can find anything, and Johnathan showed us around top-side. Thanks!
Joanne Watson, San Pedro CA

These underwater digital photos were taken by Jack & Sue Drafahl during this trip:
nembrotha

sp. nudibranch

close-up of a titan triggerfish's mouth

common lionfish

Cyerce negricans

nudibranch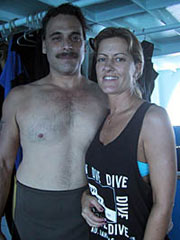 Dennis Della-Croce & Sandi Pennypacker.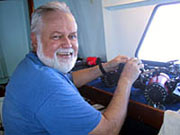 Larry Tackett in the camera room.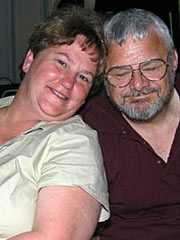 Jack & Sue Drafahl.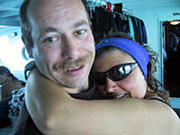 Peter Streule & Jacky Staub, from Switzerland.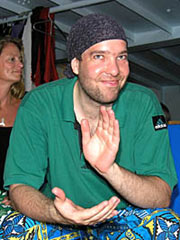 Volker Junge, from Germany, at the kava party.

Denise Takett.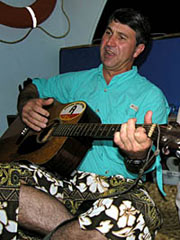 David Noren performs during the kava party.