| | | |
| --- | --- | --- |
| | | |
| A villager at Lovu helps unload one of the sacks of rice. | | Josh delivers some emergency medical supplies to Somosomo village. |
Fiji suffered though a tropical depression a couple of weeks ago. We were at sea when it happened, so we speak from first-hand experience when we tell you it was very nasty indeed. It caused severe flooding on the mainland, and wiped out crops on the islands. With limited time to prepare, NAI'A and Resort Support pooled their resources to gather emergency food and medical supplies; during this charter, guests and crew visited three villages on the island of Gau, delivering the goods. Our guests turned out to be an enormously generous bunch, and they donated clothes and medicines right out of their checked luggage. Vinaka vaka levu to all of you!
Clarissa Eastham, budding digital underwater photographer.

Chris Brokke heads out for his 1000th dive... wearing a Fijian

sulu.
But that's not the end of all the do-good activities this trip -- Helen Sykes, of Resort Support, in addition to preparing the village supplies, did a fair bit of reef monitoring research. She shared her knowledge with our guests, and everyone left with a keener sense of concern and passion for our reefs.
And, this being a NAI'A trip, there was also plenty of great diving and good times to be had. Elena Lyadina racked up some frequent diver miles by making a record number of laps around Maytag, in addition to putting her explorer's hat on as castaway on Vatu-I-Ra; Hank Houser keep us smiling with his dry humour and sharp wit; Clarissa Eastham was this trip's budding underwater digital photographer, while Richard Welsh kept things old-skool by toting a Nik II; Robb Rossio proved that you don't actually have to be on the dive site to have a good time; Donna and Rick Edelen were back on NAI'A for a second time; and Chris Brokke did his 1000th dive while wearing a Fijiain sulu!

FROM THE GUEST BOOK
This trip was my best liveaboard experience ever! I have been on mnay boats in the tropical Atlantic and Palau. The crew have been fantastic, expecially Richard who is an awesome dive leader, Joe who is the best skiff driver, Sterling who gave an excellent engine room tour, and Sereana and Suli who were wonderful. Josh and Liz are the perfect cruise directors too! The boat quarters are comfortable and functional. The dive sites fantastic. I would give the best reference for you to any serious diver. Vinaka!
Clarissa Eastham, Santa Cruz CA

Great diving -- I was well taken care of.
Richard Welsh, San Bruno CA
Great crew and great diving! This was our second time with you, and it was as much fun as the first time. We'll be back again.
Rick & Donna Edelen, Thornton CO

Great job!!! Awesome crew and boat -- my new favorite liveaboard. Thanks for everything. Hold on to those anchors!
Robb Rossio, Chicago IL
We had a fantastic time. Diving superb, staff even better. We will be back!
Hank & Sandy Bollenback, Treasure Island FL

Great crew all around.
Chris Brokke, Hillsboro OR

| | | |
| --- | --- | --- |
| | | |
| Sandy Bollenback & Hank Houser knock back the kava. | | Donna & Rick Edelen at the kava party night |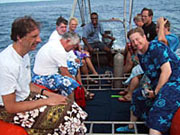 in the skiff heading to one of the villages on Gau.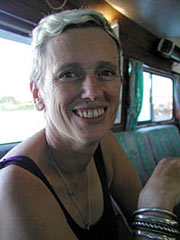 Helen Sykes, of Resort Support here in Fiji, joined guests this week.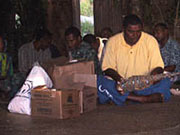 NAI'A's bosun, Mo, performs the traditional sevusevu at Somosomo village, presenting medical and school supplies along with the yaqona.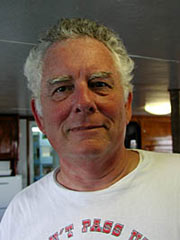 Richard Welsh, the man with the Nik II.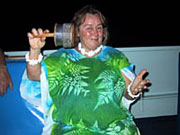 Elena Lyadina shows off her musical talents.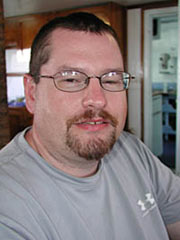 Robb Rossio