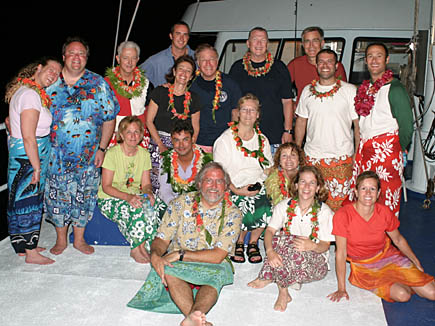 The gang after visiting Somosomo village. Photo by John Ronciak.

Sixteen guests accompanied NAI'A for the most perfect 10 days of diving imaginable. Glassy calm seas, excellent (and still improving) visibility, combined with fluorescent dive suits, snorkeling with manta rays, and some amazing critter spotting -- it all added up to an unforgettable trip. Sandra Rudnick wore out a couple of tank bangers throughout the trip, while husband David officiated the hermit crab races on Vatu-I-Ra Island. Craig Rudnick (a.k.a the Vegemite Kid) and med school buddy Scott Friedman (a.k.a. the PB & J Bandit) tortured each other -- and the crew -- with their escalating practical jokes. Kurt and Lynn Spaugh lightened the load for our dive guides by spotting a robust ghost pipefish for all to shoot at Thumbs. Not to be outdone, NAI'A's own Richard out-spotted everyone with two undescribed pygmy sea horses on a drift dive, at night! Larry Essenpreis had no trouble keeping track of wife Sarasue who, not surprisingly, has never lost a piece of dive gear. Mary Beth Bright celebrated her 60th birthday, while husband Bill became another NAI'A convert to the wonderful world or rubble. Dave Bernstein (another birthday celebrator) and Susan Williams took a break from teaching weekend Open Water courses in Boston's mirky, alien-filled ponds, and (understandably) barely missed a dive. Lori Wyatt completed a Nitrox course on her first live-aboard experience, while Doug Richardson was finally successful in the long-time quest for his holy grail: the ever-illusive freckle-faced blenny. Javier Colado, all the way from Madrid, searched out the strongest currents, climbed mountains (a small rock actually) and survived aerial bombardment to capture some close-ups of a booby chick. And, John Ronciak did the first leg of his round-the-world diving "Radical Sabbatical" in style -- aboard NAI'A, of course.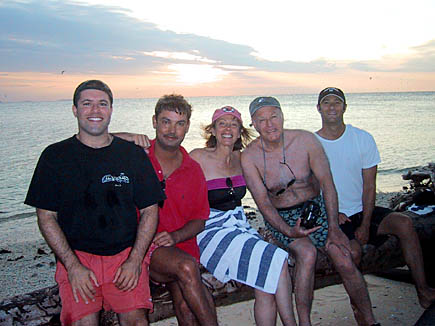 The Vatu-I-Ra hermit crab racers:
Scott Friedman, Javier Colado, Sandra & David Rudnick, Craig Rudnick.
FROM THE GUEST BOOK
What a great trip! The crew is fantastic, the food is great, and the diving is out of this world. Clown triggers, ribbon eels, pygmy sea horses, ghost pipefish, bobtail squid -- just to name a few of the great creatures we saw below. Now we're going to have to find a time to come back for a cruise to Tonga aboard NAI'A to see the whales. NAI'A is terrific.
Dave Bernstein & Susan Williams, Boston MA


The NAI'A family set a new liveaboard standard for competence and congeniality. They tolerated every foible with a smile, and took away every last shred of urban stress. Meanwhile, the onboard ambiance was matched only by the endless wonder and beauty beneath the sea. Fiji rocks, and the NAI'A rules!
Sandra & David Rudnick, Calabasas CA

Despite the Vegemite in my mouthpiece, I had a wonderful trip. NAI'A certainly has the best liveaboard crew in the world!
Craig Rudnick, Tuscon AZ

The people of the NAI'A are what made this trip special. The entire crew is helpful, easy going, and fun to be with. Great food, too! Oh, yeah, and the diving isn't too shabby either. I would love to join you all again at another NAI'A destination in the future.
Scott Friedman, Tarzana CA

It seems like every piece of potential travel info we've ever received talks about how warm and friendly the local people are. Finally, the Fiji travel info was right! Your beautiful islands, songs and faces will forever be carried in our hearts. We hope that the little children we visited at Somosomo grow up to be just like you. The diving was pretty good, too! The boat, the crew, and our wonderful host and hostess were the greatest. We have been on a number of dive boats, but NAI'A is the best.
Larry & Sarasue Essenpreis, Toluca Lake CA

It's been a wonderful trip in every single aspect. Superb diving, excellent organization, good food, and especially a fantastic crew. Un consejo adiconal: si lees esto a tiempo, contrólate con el kava!
Javier Colado, Madrid, Spain

We can't say enough about how wonderful this trip has been. The diving was great -- we knew it would be -- but what made this trip so fantastic was the crew. Every crew member did their very best to ensure that we had a perfect trip. The crew who tended the skiffs were so attentive, we never had to wait to be picked up when we surfaced. The divemasters found critters and fish that we would never have seen without their help. To add to our pleasure, the meals were fabulous and our rooms were made up before we returned from our first morning dive. We have been on many enjoyable liveaboards, but NAI'A is A+++++. We intend to return.
Mary Beth & Bill Bright, Cary NC

The diving was great! This was a great way to start my "Radical Sabbatical". Thanks to the crew for making this trip unforgettable.
John Ronciak, Portland OR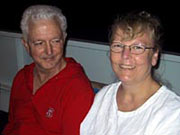 Bill & Mary Beth Bright.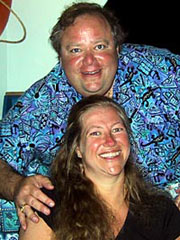 Dave Bernstein & Susan Williams.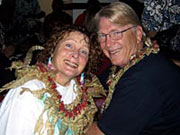 Larry & Sarasue Essenpreis.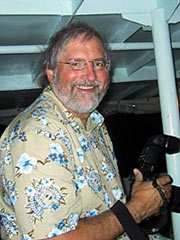 John Ronciak.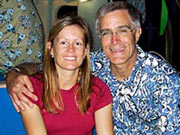 Lori Wyatt & Doug Richardson.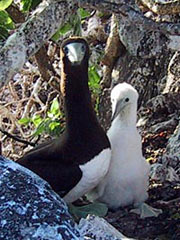 Booby & baby.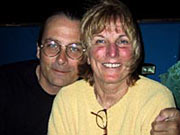 Kurt & Lynn Spaugh.