Date: July 19-29, 2004
Destination: Bligh Triangle, Fiji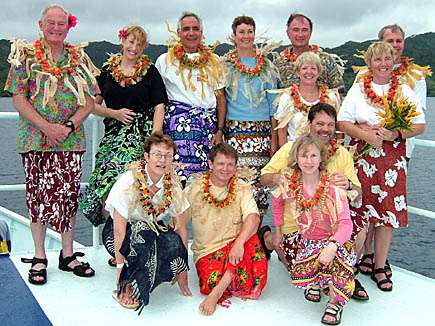 The gang after visiting Levuka village on the island of Gau
.
| | | |
| --- | --- | --- |
| | | |
| GoMo. Photo by Leslie Richter. | | Scorpionfish. Photo by Leslie Richter. |
Glassy seas, breaching humpbacks, and a cameo from NAI'A legend Rusi are just a few the things that kicked off a fab ten days for our twelve NAI'A virgins. NAI'A's quick revisit to Fiji waters (in between Vanuatu / New Caledonia and Tonga trips) was as good as it gets: smallish currents (almost always going in the right direction!), a new and wonderful village (Levuka), and more critters than you can poke a stick at. Bob & Leone Woods enviably scored the best views -- above and below the water line when a couple of wayward humpbacks decided they could fly. Airborne whales were about the only thing that could get Fred Khuns -- armed with a pony bottle and a camera out of the water early. Heather Drury won the trip's Purple Heart, with sunburn and carpet burn, a banged toe and assorted "mystery" bruises. Julie Glennon could have made a fortune in split-fin rental, while husband John donned his fins prematurely then proceeded to try out a moray manicure. Margaret Pommert snapped some sweet-sweet dragonet love, but Leslie Richter was this trip's undisputed photo junkie and turned out some incredible shots. Gerry Rolfe and Craig Davis joined the Nitrox fold, Joe Danks learned the main disadvantage of having a smaller wife (that wetsuit was never going to fit, mate!...), and Carol Danks overcame her night time fears to be rewarded with a hairy ghost pipefish... courtesy of chief officer Jioji -- our burgeoning dive guide.
| | | |
| --- | --- | --- |
| | | |
| Gerry Rolfe catches some rays on NAI'A's sundeck. | | Heather Drury said she liked the flowers... |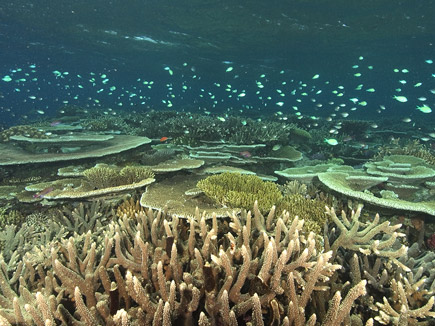 Reef top. Photo by Leslie Richter.
Carol and Joe Danks at Levuka Village.

Craig, John and Gerry take in the view from the crow's nest

.
FROM THE GUEST BOOK
Many thanks to a great crew that made this trip very special. The dive sites were truly exceptional (with "moderate currents" according to Josh!!) We felt very pampered and would love to do it all over again.
Leone & Bob Woods, Hillsborough CA
Awesome trip -- consistently good dive sites -- and thanks for showing us your boobies!
John & Jules Glennon, Sydney, Australia

Vinaka to all of the crew of the wonderful NAI'A! The trip lined up to -- no, exceeded our expectations for our first diving in the Pacific. From the quarters to the food to the crew to the diving, everything was outstanding. Thanks for a wonderful trip!
Carol & Joe Danks, Silver Spring MD

Loved the camera room!
Margaret Pommert, Marina del Ray CA
Friendly, courteous and considerate staff -- especially the guides; Josh's knowledge of marine biology; the luxuriance of Fiji's soft and hard corals, and variety of fish population.
Gerry Rolfe, New York NY

Excellent, excellent trip! The food was outstanding, the crew was superb, the guides were very knowledgeable, and the fish cooperated nicely. Nothing negative to say -- the best liveaboard we have ever had.
Fred Kuhns & Heather Drury, St. Louis MO

Great staff, food, dive set-up, and quality of the reefs.
Craig Davis

Many thanks for an absolutely wonderful first NAI'A trip -- more are sure to come! The diving exceeded my expectations, as did the service provided by all crew. Comfortable and spacious cabins, on-board E6, good critter spotting, and I've become used to eating every 2-3 hours something I'll have to quit when I get home. A special thanks to Rusi for coming out of retirement for this trip! Many thanks, and see you again.
Leslie Richter, Mill Valley CA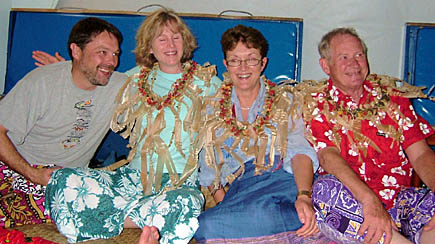 John & Jules Glennon with friends Leone & Bob Woods
.