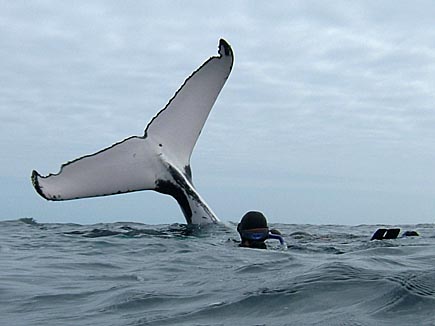 Snorkellers get up close to a humpback's fluke.
| | | |
| --- | --- | --- |
| | | |
| Lance & the Whittemores, ready for action. | | Josh scores some close-up video. Photo © Aaron Whittemore. |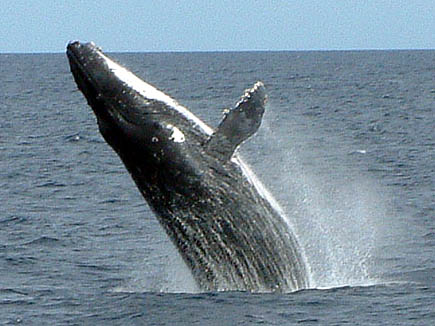 Breach. Photo: Lance Carlson.
The Tonga humpback whale season started off with a bang -- an in-water encounter with a mother and calf on the first afternoon, followed the next morning by a youngster's forty-breach display before we sat down for breakfast. And all this before we even had the bulk of our passengers on board! Our "Team Thailand" were having their own adventures with abandoned domestic terminals, late night fried chicken, and the prince's own DC-3's. Finally we were all aboard and the action heated up with another mother and calf attracting a lot of attention from three large and extremely excited males battling with our group for the best look at the calf ... fortunately for us, mum thought us much less threatening and shared her little one with us. Things just got better and better, right up to the last day when three adults circled the boat and spy-hopped ad infinitum. The trip's absolute highlight, though, was a two-hour encounter with a lone juvenile female... she seemed to revel in our attention, lolling around on the surface, diving through us, and slow-motion surfacing in between us. She was so close that we could see her eyeball roving, and the details on her barnacles; often we had to back-peddle to avoid being bumped as she approached ever closer. Magic!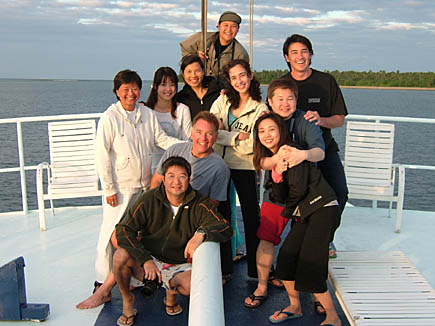 "Team Thailand", fully recovered after their airport adventures.
| | | |
| --- | --- | --- |
| | | |
| Sasha & Alex, our intrepid beachcombers. | | Lance and Chim provide the percussion section. |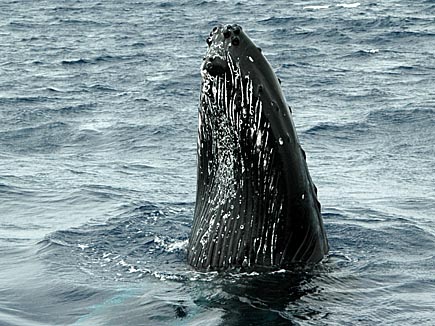 Spy hop. Photo: Monica Liberati



FROM THE GUEST BOOK

To the wonderful crew of the NAI'A ... we had a fantastic trip with the whales of Tonga, and of course with all of you! We really enjoyed the welcome feeling you provide to all of your passengers, and the great service, too. The whales were truly outstanding, an experience not to be missed! Also want to thank Liz and Josh for doing such a great job on the trip video. Hope to be back again before too long!
Lance & Chim Carlson, Colorado


So much fun!
Kate Osathanugrah & Toom Viraphanich, Thailand

Terrific trip. Loved all the wonderful whale encounters. Excellent crew. Hope to return.
Deana Whittemore, Montana


Great experience!
Aey Archyasithiwat, Thailand

To the best crew in the Pacific ... "grazie ragazzi"!
Monica Liberati, Italy


Great boat. Great crew. Thanks for a great trip.
Poo Snidvongs, Thailand

Wonderful trip! I loved getting to see the whales and listening to the crew singing!
Sarah Whittmore, Montana

We'll be back.
Willie McIntosh & Yelly Ricordel, Thailand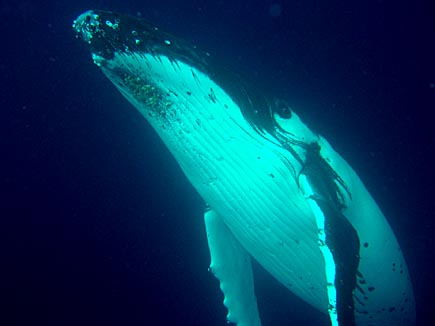 A shot of that very friendly juvenile female.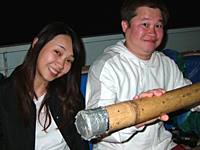 Cat shakes things up at the kava party... Ple is impressed.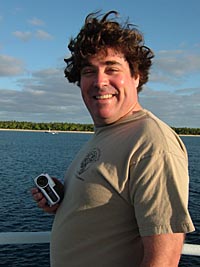 John Jo wonders why he didn't pack his submarine.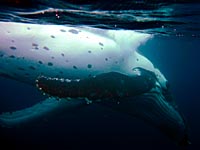 Snorkeller's view.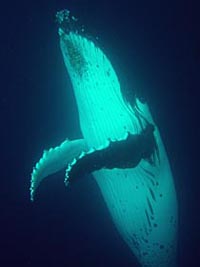 Close encounter.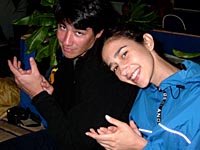 Willie & Yelly keep the beat for the NAI'A boys.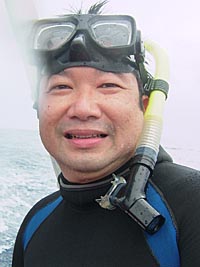 Poo takes a break from his galley duties.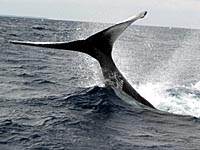 Fluke. Photo: Alex Baev.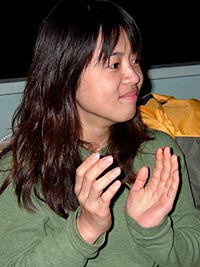 Aey claps for her kava.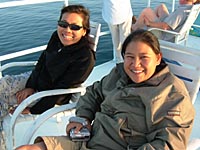 Toom & Kate keep an eye out for breachers on the horizon.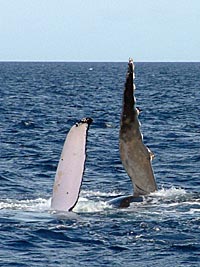 Pectoral and tail fins. Photo: Lance Carlson.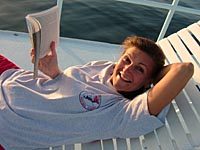 Monica soaks up some Tongan sunshine.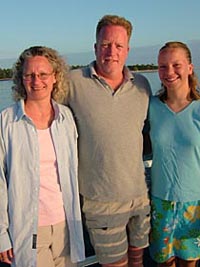 Dean, Aaron and Sarah enjoy the sunset.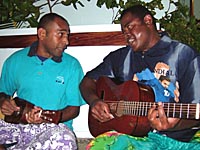 Peni and Mo lead the NAI'A band.