Date: September 25 - October 2, 2004
Destination: Bligh Triangle, Fiji
Returning Passengers: David Jarnutowski, Andrew & Susan Wiens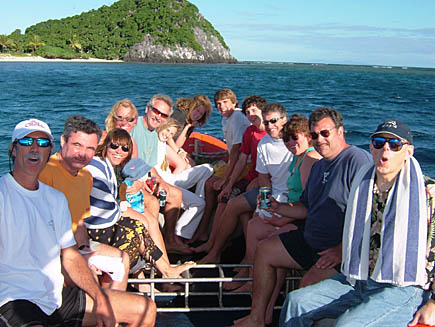 The gang preparing to hit Vatu-I-Ra Island.
| | | |
| --- | --- | --- |
| | | |
| Brigg Edwards volunteers for the 'man overboard' drill. | | David Philips learns that grog doesn't pound itself. |
After being away in Tonga to visit the humpback whales, NAI'A is now back in Fiji and what a welcome we received – 14 happy guests including NAI'A's Edwards family, repeat guests Jarno and Kathy, and a unique mix of US, Scottish, Fijian and a wise-cracking, water-throwing Aussie were treated to some of the best conditions our little part of the underwater world can offer. The fish were teaming, the soft corals were pumped and the visibility superb. David Jarnutowski made his second NAI'A expedition with his trusty VX1000's, this time bringing along partner Kathy Kirwin. Donna Lattin, with her simian travelling companions, finally came aboard to see what she has been selling for so long… and almost Mr. Jones in a vicious anemonefish incident. Andrew Wiens rose to the challenge of the 'chocolate mousse tower', as well as managing to put together a cracker trip video in between dives. Meanwhile, Andrew's wife Susan churned out some beautiful digital images… and invented the exciting new sport of hooded vest wrestling. Dave Philips took time out from building bridges in Fiji to see what the underwater side of the country is all about, keeping the nocturnal critters well illuminated. Dave Griffore kept the crew's energy levels up with an endless supply of chocolate, while Randy Kava managed to overcome unrelenting equipment problems on his 6th live-aboard. And, the heirs to the NAI'A throne – Wrenn and Brigg Edwards – impressed us with some high diving action, with their mates Tandra Lawrence and Nick Lawley taking the plunge even further down on their first ever SCUBA dives.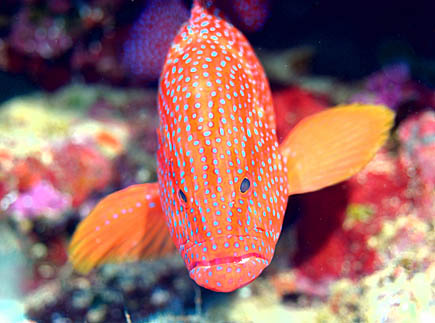 Coral cod. Photo: Susan Wiens.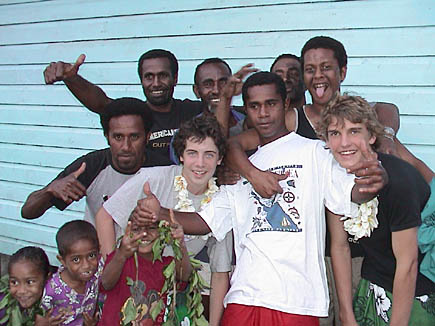 Nick & Brigg hang with the boys from Lovu.
FROM THE GUEST BOOK
A great trip! I had the greatest time and met the best people and had my first dive! Fabulous! The food was great and even the service! I enjoyed myself! Thanks!!!
Tandra Lawrence, Fiji
Thank you NAI'A for a wonderful trip. The best diving in Fiji. Wonderful crew and food... Monkey Boy's favourite boat of all.
Donna Lattin, South Pacific Island Travel, USA
Thank you for the wonderful trip. The crew were the best, the food was great, the other guests super. Best regards to all.
Kathy Kirwin and Dave Jarnutowski, USA
Thank you for my best ever live aboard (of six)! Josh and Liz and the entire crew were excellent in hosting for me twenty great and safe dives! Food was superb, attention to detail great, and friendliness the best. Hope to return.
Randy Kava, USA
Stunning diving matched with great service, unbelievably good food and some of the nicest people I've ever met diving. A trip of a lifetime. Thanks to everyone for making it so special. I wish we could stay longer! We will be back.
Andrew and Susan Wiens, USA
Excellent dive sites, great food, plenty of space, crew and staff very helpful and friendly.
David Philips, Scotland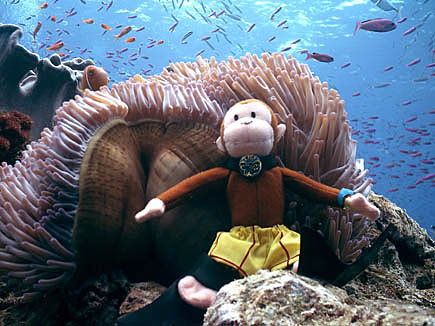 Monkey Boy Jones. Photo: Donna Lattin.
| | | |
| --- | --- | --- |
| | | |
| Even the pigs in Fiji greet you with a smile. | | Nick wonders what the drinking age is for kava. |