Date: October 23-30, 2004
Destination: Bligh Water, Fiji
Returning Passengers: Craig & Evelyn Cook
Bill & Kathleen Harrigan.
Bill Harrigan, with wife / underwater model / "sponge expert" Kathleen, led fifteen NAI'A newbies and veterans Craig and Evelyn Cook on a seven-day expedition that was as much a reunion tour as a shoot-out of Fiji's finest diving. The JOBO processor didn't know what hit it as seven old-skoolers (film lovers) blasted away at anything and everything our dive sites had to offer. Craig Cook led the final processing tally without breaking a sweat (or blowing a bubble), while Mike Bond ran a very close second with his trusty Nik V. Mike also scooped the 'most improved' award, thanks largely to the tutelage of photo guru Bill. Dave and Marie Harrigan showed that photographic flair runs in the family – even through marriage with their MX10. After having processed many 1000's of rolls himself, Mike Waters wasn't quite ready to cross the digital bridge… unlike partner Heidi who amassed an impressive number of instantly gratifying masterpieces.Don Lewis and Donna Knott seemed to have no problems making the transition from dive resort to live-aboard – but probably won't want to go back. Bill and Annabel Weidinger tussled over who would get the newer of their two digital rigs, and even managed to squeeze in some business with the onboard couple-to-be. Skip Seger and Jim Feffer survived pre-trip Fiji highway dramas and liquor store supply problems, Bob Lipinski did his utmost to stay on for another week, and Gary Ponto added an international flavour to the whole affair. Sawaieke Village topped off the trip with the best church choir / meke/ guest powdering session we have seen all year.



Craig & Evelyn Cook.
| | | |
| --- | --- | --- |
| | | |
| Don Lewis | | Donna Knott. |
FROM THE GUEST BOOK
This was our first liveaboard experience and it was absolutely wonderful. The ship was comfortable, the food great, and the diving was absolutely superb. The whole experience was great! But far and above everything else, the crew was what made the vacation! Everyone always had a smile and absolutely 'can do' attitude. We will be back sometime in the future and will pass on to everyone who listens how great the trip was.
Donna Knott, Kenedy TX

My dive buddies and I had a great time this week. Highly organised yet extremely comfortable and accommodating, the crew is great, the food wonderful, and the NAI'A is a splendid ship. The diving is most spectacular in color, diversity and abundance. Dive masters were great; I found a wonderful new way to find macro subjects – just look where Liz's finger points. Josh and Liz are wonderful. Rui totoka!
Mike Bond, Clermont FL

Crew was fabulous. See ya next time!
Craig and Evelyn Cook, Severna Park MD


| | | |
| --- | --- | --- |
| | | |
| Heidi Waters smells the frangipani. | | Jim Feffer. |
Bill & Annabel Weidinger.
What will live with me from Fiji will be the people…. The trip was wonderful, the food great and the best E-6 south of Frink photo?
Mike and Heidi, South Riding VA

Everything we expected and so much more! The Caribbean will never be our first choice again. The color below and the abundance of fish is outstanding. The crew are wonderful. We will be back – and I hope again and again.
Annabel & Bill Weidinger, Dublin OH

| | | |
| --- | --- | --- |
| | | |
| Mr. Bond. | | Gary Ponto. |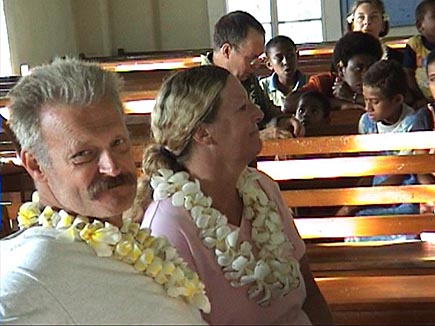 Dave & Marie Harrigan listen to the children's choir at the Sawaieke Village church.
| | | |
| --- | --- | --- |
| | | |
| Bob Lipinski. | | Mike Waters. |
| | | |
| --- | --- | --- |
| | | |
| Kids at Sawaieke Village love Skip's camcorder. | | |