Date: October 30 - November 6, 2004
Destination: Bligh Triangle, Fiji
Group Charter: Carl Waxman and friends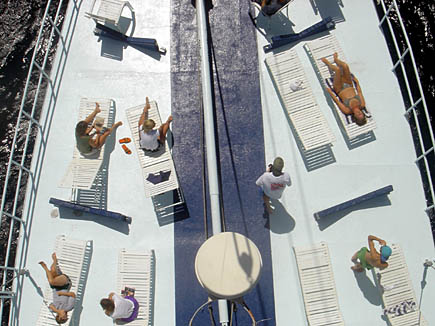 View from the crow's nest. Photo by Holly and Ray Atcherson.
Starfish; Whip coral goby. Photos by Holly and Ray Atcherson.
Carl Waxman (on rare wakeful moments) and his brother Gary led 16 friends, medical colleagues, family members, and miscellaneous Waxman groupies on their first NAI'A adventure. Along for the ride were Bethany and Steve Merrett, ring-ins that quickly became part of the family as the group gelled into a lean, mean, kava-swilling, diving machine. The weather started and ended in fine Fiji style while the in-between bits tested the resolve of our hardcore divers. Among the hardest of the hard was Blair Andrew with his trusty pointer and magnifying glass at the ready for anything the NAI'A guides could spot. Also right up there in the keen diver category were Jim and Edrianna Stilwell, along with brother-in-law Stan Bysshe and their collective arsenal of housings and strobes at the ready… and always in the right place when the odd eagle ray or other shootable subject would appear. The old-skool photgraphers were well represented with the Waxman boys having mixed success – Gary unintentionally enjoying life as an unencumbered diver – and Steve Kletz tackling the tricky NikV 15mm for the first time. Ray and Holly Atcherson, along with Stilwells, managed to keep the group in touch with the 21st century and produced some incredible images with their trusty little digital rigs. Ed "the mountain man" Carter was the undisputed "I've-got-more-stuff-hanging-off-my-rig-than-anybody" champion of the trip. Kevin Callahan was in danger of losing wife Lisa to the Fijian school of dance at Somosomo village, but managed to get her back on board in time to celebrate her birthday. Kim Radvan and Zina Novak had to be closely watched while packing to ensure our dear chef Peni wasn't going to be smuggled away for their own culinary desires. And, Peggy and Sarah Bellows kept the NAI'A guides on their toes, and even ensured Mo had his weekly session of bubble blowing.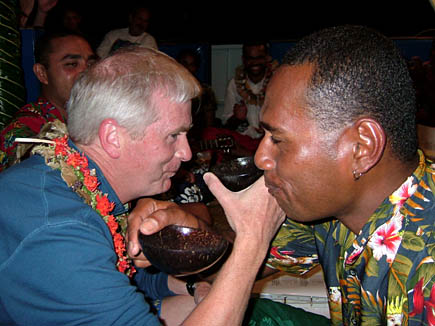 Stan Bysshe and NAI'A's Eddie down the kava.
| | | |
| --- | --- | --- |
| | | |
| Holly and Ray Atcherson | | Zina Novak and Kim Radvan. |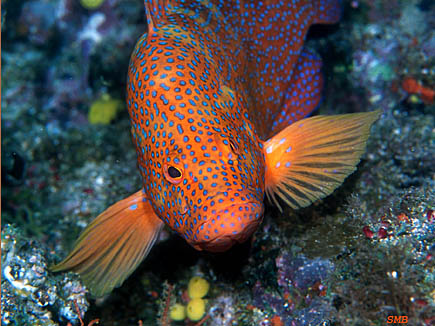 Coral cod. Photo by Stan Bysshe.
FROM THE GUEST BOOK
Diving on the NAI'A was a fantastic experience. The crew took excellent care of all of our needs. There was a great variety of diving and very good cuisine coming out of the kitchen. The NAI'A "family" welcomed all of the divers / guests into their family with open arms. I couldn't ask for more. I hope to see you on another dive trip someday. All the best,
Carl Waxman, Baltimore MD

Vinaka NAI'A – wonderful diving and the friendliest crew we've ever met. We will really miss you guys! Thanks for wonderful memories, reef education, PM singalongs with kava, and beautiful reefs. I never took the time to find the small stuff until this trip – you really opened my eyes to a world I never knew existed. I couldn't have asked for a better trip. Thanks,
Holly Atcherson, Annapolis MD

Thanks a million for a great week. It was wonderful to learn so much about such a far away place from such a great group of people.
Peggy Bellows, Columbus OH

The crew made everything easy, I didn't have to think about anything but diving.
Steve Kletz, Reisterstown MD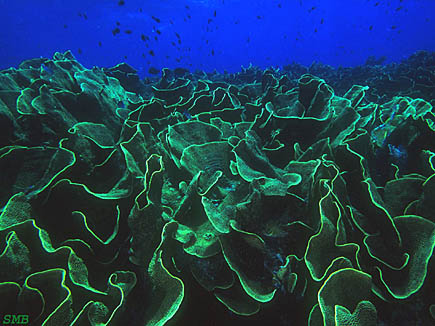 Cabbage coral at Nigali Passage. Photo by Stan Bysshe.
| | | |
| --- | --- | --- |
| | | |
| Steve & Bethany Merrett. | | Jim & Edrianna Stilwell. |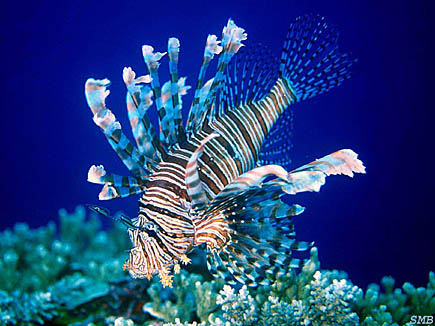 Common Lionfish. Photo by Stan Bysshe.
The crew made every concern of ours a concern of theirs. Your family was truly a part of ours! Thanks for everything!
Gary Waxman, Baltimore MD

Thank you, NAI'A family for a wonderful trip. Peni – reconsider a job in Annapolis?? All the best,
Zina Novak, Edgewater MD
This was one of the best trips I have ever been on. The crew made the trip! I also would take Peni home to Annapolis – I'm spoiled now!! Thanks,
Kim Radvan, Annapolis MD

Great diving, great staff, and thanks for a great trip.
Blair Andrews, Baltimore MD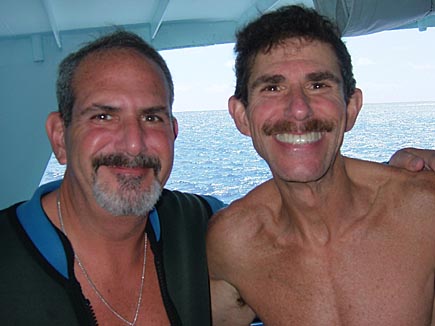 Brothers Gary and Carl Waxman.
| | | |
| --- | --- | --- |
| | | |
| Blair Andrew. | | Sarah Bellows. |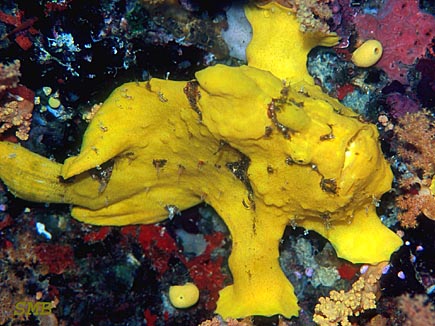 Frogfish. Photo by Stan Bysshe.
Thanks for a wonderful week. Diving, food, staff were all really great. Hope to return someday.
Kevin & Lisa Callahan, Oxford MD

Thank you for the wonderful diving. The crew was incredible and more than exceeded expectations. We are really going to miss everyone onboard, but look forward to seeing everyone again in Tonga. Thanks for everything,
Sarah Bellows, New York NY


Rui totaka!!
Edrianna & Jim Stilwell, Boca Roton FL
The crew was awesome, the diving spectacular. Josh and Liz are the best, Mo is my hero, and Peni, Sere, and Suli are culinary geniuses.
Bethany Merrett, Suwanee GA

On the bow.
Photo by Stan Bysshe.
Ray Atcherson up in the
crow's nest.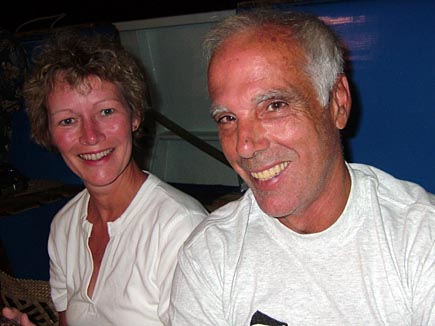 Lisa and Kevin Callahan.