Date: November 6-13, 2004
Destination: Bligh Water, Fiji
Returning Passengers: Stephen Frink, Gary David & Maria Patron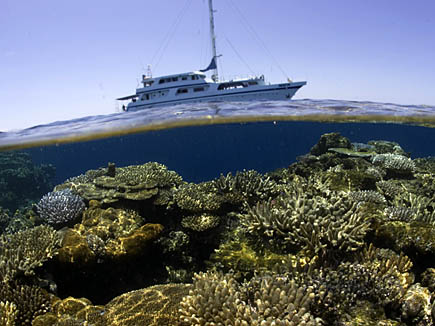 NAI'A approaches Howard's Diner. Photo: Stephen Frink.
Scalefin anthias; pink anemonefish. Photos by Stephen Frink.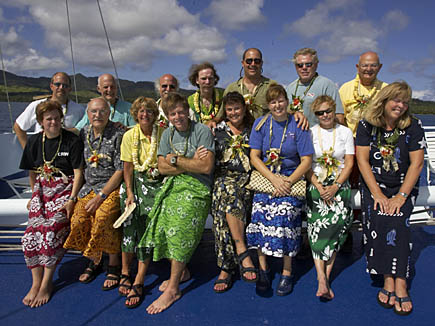 The gang, on NAI'A's sundeck.
It could have easily been a Pelican Case, SeaCam or AquaLung convention, but it was in fact a Stephen Frink trip. Steve, along with ten of his trigger-happy groupies, a client/overseer, and a couple of honeymooners – complete with best man – joined us aboard for the best week of weather and diving of the year thus far. The sun and wind gods were on our side as we managed every setup for our shooters – from beautiful wide angle with clean incoming currents, to macro opportunities, to glassy seas and perfect sunshine for those ever-elusive over-unders.
Returning passengers Gary David and Maria Patron were back onboard to celebrate Part One of their Fiji honeymoon, even bringing along their best man Josh Chapados. Both Gary and Josh blasted through their fair share of film, with Josh earning a nod from us as most improved shooter. Robbert Bruins got out of the offices at Aqualung HQ to ensure we all were properly attired in the latest and greatest gear. He also acted as camera caddy / prop man / gambling pushover, and all around gear guru. Beth Goodiel and Lenny Rosen filled their quota of shots while attempting to blend in with the most multi-coloured of Fijis piscatorial inhabitants. Paula Selby took the never-miss-a-dive title for the week, dodging a bullet on the last one after a close encounter with a stonefish. Ann Bennett made the most of Steve's presence and expertise to finish the trip with some beautiful images. Charles Lipari decided to leave the currents to the fishes, and managed to hide on the lee in most cases… although a weight belt would have helped. Mark Mintz found the currents easier to tackle – even with his double rig photo / video combo, his only struggle was deciding which one to use first. Art Schumer managed to belt out some wonderful digital images, while wife Tracy mastered the art of Nitrox and how to (narrowly) dodge lionfish. Phil Napoli took the JOBO award – shooting a ton of slide film, almost every image a winner. Ana Maria Avila helped take the boys to the cleaners at the poker table, and also snapped some great macro critters. And finally, the man that put it all together, Steve Frink blasted at least two rolls per dive (or the digital equivalent) to embellish the Aqualung catalogue, a story for scubadiving.com, and one for an upcoming edition of Scuba Diver magazine… as well as helping all with their underwater photography techniques. A busy man indeed.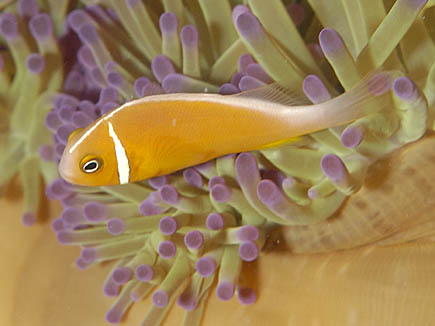 Pink anemonefish in ball anemone. Photo: Mark Mintz.
| | | |
| --- | --- | --- |
| | | |
| Blue-and-gold fusiliers: Photo: Ann Bennett. | | Spotted shrimp goby. Photo: Ana Maria Avila. |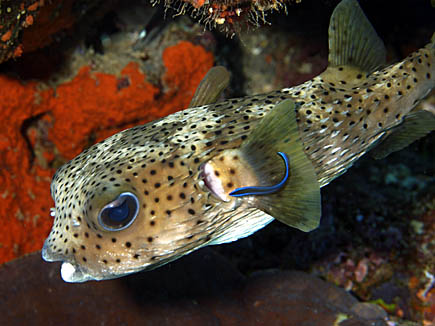 Spotted porcupinefish with cleaner wrasse. Photo: Lenny Rosen.
FROM THE GUEST BOOK
It has been too long since I cruised aboard NAI'A. I now remember all I missed. The crew was extraordinarily gracious, and ran a safe and professional operation. We appreciate the photo ops. See you again soon… for sure.
Stephen Frink, Key Largo FL
www.stephenfrink.com
The diving was spectacular and the crew was awesome! You made an incredible trip even better. This has been without a doubt the best dive trip I have ever been on, and is firmly embedded in my memory as one of life's greatest experiences!
Robbert Bruins, Oceanside CA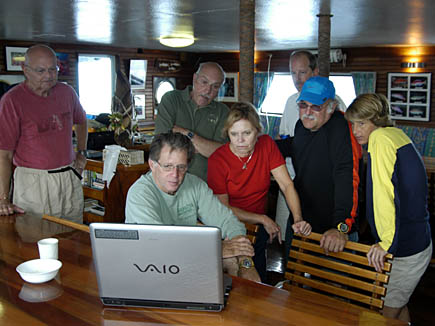 Stephen Frink runs though the group's shots.
| | | |
| --- | --- | --- |
| | | |
| Robbert Bruins, the man from AquaLung. | | Beth Goodiel at Lovu Village. |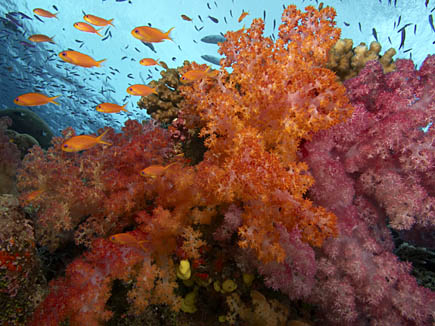 Fiji seascape. Photo: Stephen Frink.
The crew is excellent and the sea is beyond beautiful!
Beth Goodiel, Fairfax VA

Proffessional, knowledgable, courteous, outgoing staff made the dive experience, a wonderful experience.
Lenny Rosen, Fairfax Station VA

Thanks again for another amazing week on the NAI'A! yet again we had the time of our lives, and as we said the last time we were aboard… we'll be back!
Maria Patron & Gary David, Redwood Shores CA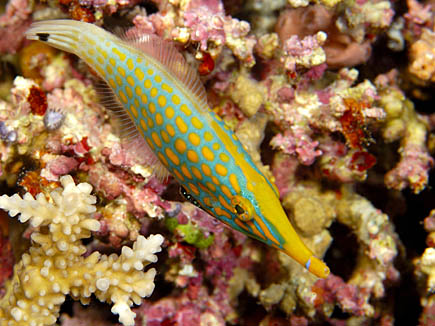 Longnose filefish. Photo: Mark Mintz.
The 'window' at Kansas; Golden sweepers at Two Thumbs Up. Photos: Stephen Frink.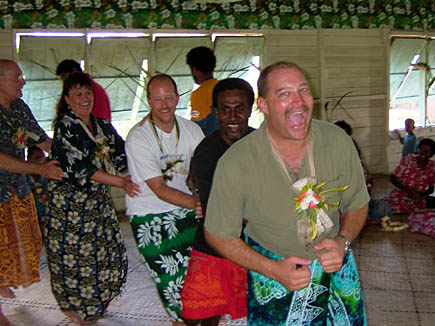 Gary David gets the party started at Lovu Village.
Thank you for an enjoyable week of diving. You did an outstanding job looking out for us and seeing to our needs. The NAI'A is one of the best liveaboards in the world, and the crew makes it so. Special thanks to Josh, Liz, Mo, Steve, Richie and Captain John.
Phil Napoli, Westchester OH

Vakacova tiko! Nunu vinaka! Rui totoka! This was a great and wonderful week of diving – definitely the best diving week of my life. The underwater scenery was fantastic. The crew of the NAI'A was very professional … and they even took time to teach me Fijian! Thanks for this wonderful week.
Josh Chapados, Canada

You are all fabulous. All who dive after us are so fortunate. The ripping current was like a ride at Disney – maybe better. You all were such a gift.
Beth Goodiel, Fairfax Station VA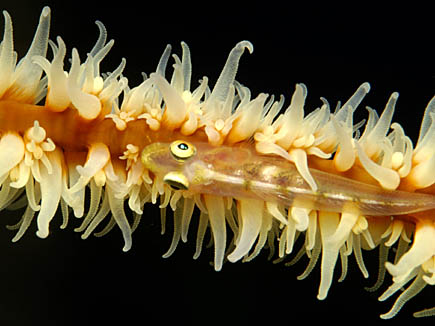 Whip coral goby. Photo: Ana Maria Avila.
| | | |
| --- | --- | --- |
| | | |
| Cabbage coral. Photo: Stepehn Frink. | | Sea fan and diver. Photo: Paula Selby |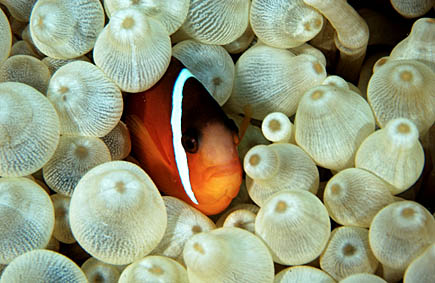 Tomato anemonefish in bubble anemone. Photo. Lenny Rosen.
NAI'A is a proud ship and her crew has much to be proud of. Art and I have been on many boats around the world but NAI'A has and will continue to hold a special place in our hearts.
Art & Tracy Schumer, Ocala FL
Thank you NAI'A crew, it has been a terrific week – crew, dive sites, meals, everything. I hope to return soon.
Ana Maria Avila, Key Biscayne FL

Wonderful crew, wonderful food, wonderful diving! And of course, mother nature is certainly at her finest here in Fiji! Thanks to all for a great adventure, you all do a superb job. Hope to join Steve again some time in the near future onboard the NAI'A.
Paula Selby, La Mesa CA

Cruise directors Josh & Liz with Stephen Frink.
Pacific double-saddle butterflyfish;

Regal angelfish. Photos: Stephen Frink.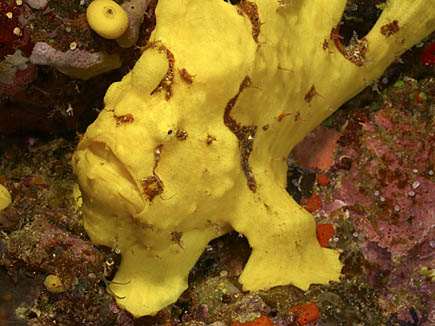 The enormous yellow frogfish at Mellow Yellow. Photo: Stephen Frink.