Date: November 13-23, 2004
Destination: Bligh Water, Fiji
Returning Passengers: Stan Waterman, Nancy McGee, Jerry Apple, Al & Kathy Knoblock
Stan Waterman: Up the crow's nest; at the kava party.
He came back for more, NAI'A's favorite sesquipedalian octogenarian (look those two up) Stan "the man" Waterman returned for his millionth trip hosting a mixed bag of veteran NAI'A travelers and rookies to the NAI'A way. As usual, Nancy McGee came along and as usual was the nicest person on board, while keeping a tight rein over a unnamed older gentleman's dive profile. 'Twas a week of high adventure, especially for Jeff Aaberg who managed to remind us all about the value of DAN insurance, and taught us that no matter how poorly you feel at the time, ALWAYS take your camera with you on a seaplane ride. While Jeff was off jet setting, getting his toe bandaged and keeping his feet up, his good mates Klaus Pernat and Steve Throne kept the underwater video footage rolling in… while being careful not seem too happy about the diving. Becky Dickinson, not to be out done by Jeff, did a number on her own toe, while coming up with new material for her various media projects. Sandy Kates timed her dives well to be rewarded with the hammerhead show she'd been hoping for. Jerry Apple kept up his NAI'A averages with a ton more Fijian photos and some fancy moves on the kava dance floor. Paolo Scotti rarely missed a dive or photo opportunity, coming all the way from Italy for the privilege. Ralph & Sue Youngs partook in some "nudibranch Peeping-Tom-ery", and even came away with the photos to prove it. Bob & Gail Mapes caught a flu but battled on to capture the week's only turtle shot. And, it was immediately obvious that two of our return guests were back onboard: inventive nail polish use was an instant warning that the Knoblock's (Al and Kathy) are back for more one-liners on their buddy-comms.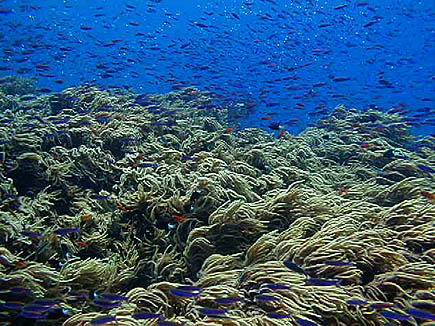 Anthias and sinularia soft coral at 'Kansas'. Photo by Ralph Youngs.
| | | |
| --- | --- | --- |
| | | |
| Crinoid. Photo: Ralph Youngs. | | Scalefin anthias. |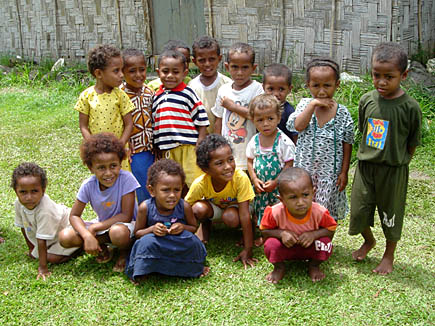 Kindegarden children at Somosomo village. Photo: Nancy McGee.
FROM THE GUEST BOOK
Thank you very much for a great time, I will try to return to NAI'A.
Danke schon!!
Klaus Pernat, Sheboygan WI

Everything was fantastic – the boat, the crew, the diving. Thanks for a very special trip.
Bob & Gail Mapes, Scotts Valley CA

What a wonderful time. What a wonderful island with superb diving. Never to be forgotten. Hope to return some day.
Steve Throne, Madison WI

As usual, a fabulous crew, boat and diving. We truly enjoyed our days with Stan Waterman. The dive buddies – all of them were wonderful. Looking forward to our Phoenix trip. Till then, thanks bunches.
Kathy and Al Knoblock, Littleton CO

Bob and Gail Mapes.
| | | |
| --- | --- | --- |
| | | |
| Jeff Aaberg. | | Jerry Apple. Photo by Nancy McGee. |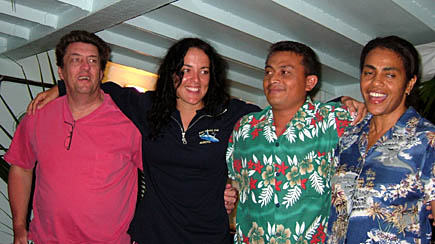 Steve Throne, Becky Dickinson, and NAI'A's Kafua and Sereana dance up a storm.
What an exceptional crew! EVERYTHING just PERFECT!!!
Vinaka,
Becky Dickinson, Fiji

Thank you all for a fantastic voyage on NAIA. This was our first liveaboard experience and it certainly wont be our last. The entire crew went out of their way for us. Now we have new friends and great diving memories.
Ralph and Sue Youngs, Annapolis MD

Trip #6 – and I still love it!!!
Jerry Apple, Delray Beach FL

Sincere thanks from the bottom of my heart to the NAI'A family for making me feel that I too am part of your family!
Nancy McGee, Lancaster TX

Grazie a tutti per la stupenda crociera sul NAI'A. Immersioni bellissime e paesaggi indimenticabili! Uno staff professionale e simpatico e la cucina e' veramente ottima! Spero di tornare presto… chissa', forse per la crociera a Tonga…
Paolo Scotti, Italy
Sue and Ralph Youngs at the kava party.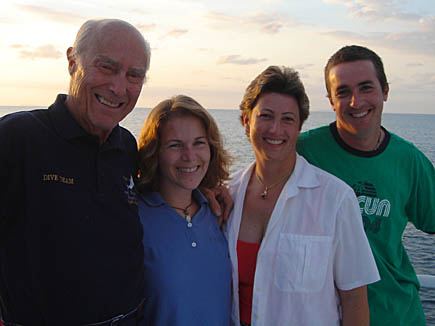 Stan Watermand and Nancy McGee with Liz and Josh.