Date
: February 26 - March 8, 2005
Destination:
Bligh Triangle, Fiji
Returning Passengers:
Juan & Donna Zumbado, Don & JoAnne Lightner,
Tom Lathrop, John Broyles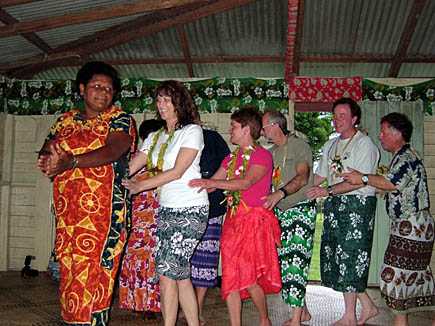 Ah, what a wonderful thing is the latter stage of the Fijian summer… blue skies, light winds, a balmy 84F underwater, surprisingly good viz, moderate currents and enough daylight hours for 5 dives a day – and this group of divers made the most of it all. Surface intervals were spent soaking up the rays, and our kava party was held on the sundeck for the first time in ages.
Joining us on their 4th NAI'A adventure, Juan and Donna Zumbado kept their reputation as diving machines alive and well, with a solid performance of four dives a day in a warm up for their upcoming NAI'A Phoenix Islands expedition. Joining the Zambados were friends John and Deane Ware – the digital duo who, after ironing out the bugs with the digital thing (Deane), and giving a presentation on the effects of climate change on coral reefs (John), opted for the low-level scenic flight home – and were missed by all.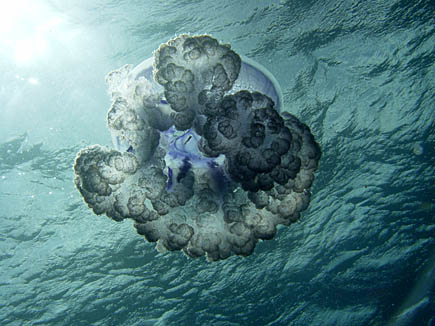 Perennial dive buddies Tom Lathrop and John Broyles, also NAI'A veterans, found the conditions and the new dive sites very much to their liking. They also showed us that size DOES matter when it comes to safety sausages.
A slight luggage hiccup didn't slow Don and JoAnne Lightner down too much. Their handy little digital camera was fortunately in their carry-on, and survived an unfathomable workload as these two meanderers rarely made it around the whole dive site… (Nice spotting on that decorator crab!) And congrats to JoAnne for clocking her 500th dive.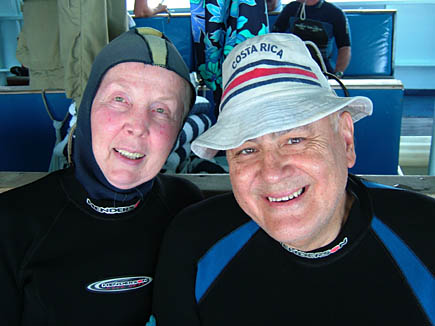 Not so lucky were Bob and Connie Struse, the trip's "eco-divers" who had to re-learn what diving without a camera was all about… although Bob made up for lost time with some beautiful wide angle shots when at last the missing bags were found. And when the ladies' diveskins arrived, oh, the colours!

Filip Bruggeman & Bieke Glorieux, all the way from Belgium, entered the world of 3CCD video and digital still cameras and managed some wonderful footage with their shooter-and-lighting teamwork.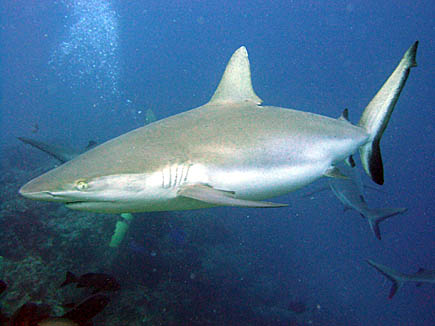 Kent and Debbie Fischvogt lead the old skool brigade with their Nik V collection – you can't beat that 15mm, perfect for those lovely Fiji seascapes. Oh, and the mantas too. Did we mention them? There were plenty enough of them to go round.
The brothers Weiss - Marc and Robert - were hard to miss with their yellow pony bottles and four video lights between them. Both captured some great footage (Robert, in particular, scored some top notch dolphin action), as well as drinking plenty of kava with the NAI'A boys. And, Robert, thanks for the PopTarts.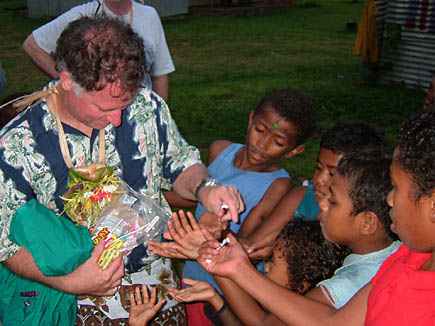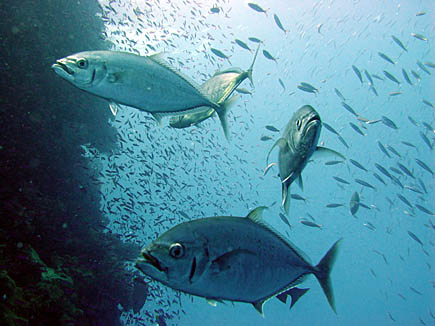 FROM THE GUEST BOOK

We are some of the luckiest people on earth to dive in the most beautiful seas, visit a wonderful country, and enjoy meeting the Fijian people. The pictures we take home are mere shadows
of the experiences we have had onboard the NAI'A. Thank you, thank you – we must return some day.
JoAnne & Don Lighter, Pittburgh PA

Thanks so much for sharing your hospitality, your beautiful water, your friendliness and kindness with us these last ten days. We have truly enjoyed our trip and hope to definitely return.
Kent & Debbie Fischvogt, Columbus IN
Thanks for an incredible week of diving and fun. In 18 liveaboard trips I've never had such an education on local culture – the crew is the BEST!! They entertained us and gave us a true taste of the Fijian hospitality. Lovely people!!!
Marc Weiss, Cincinnati OH

Thanks for another great trip, you're wonderful to be with.
Tom Lathrop, Palm Desert CA

Great trip! Worth the 26 hours of travel and the jetlag!
Bieke Glorieux, Belgium
Thank you, thank you, thank you for an outstanding venture to your islands and dive sites. The attention given by the crew was unparalleled. You made my trip spectacular and unforgettable. I have new friends, new memories, and a trip that will not be forgotten. Words can't express my gratitude enough. Ya'all are great!
Robert Weiss, Gerogetown TX