Date
: March 26 - April 2, 2005
Destination:
Bligh Triangle, Fiji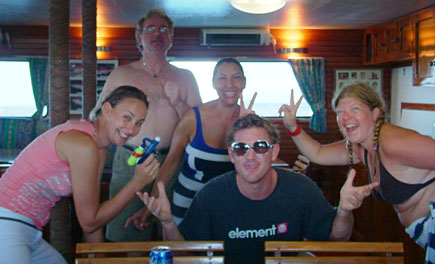 The good times just keep on coming, and with near perfect conditions persisting throughout the entire month … hot, Africa hot, both above water and below. Shorts and bikinis were enough for some, shorties and the odd 2-3mm good for most. We enjoyed plenty of great sights this week – from the first ornate ghost pipefish in quite a while, to the mantas and hammerheads. The charter treated twelve NAI'A newbies to Fiji's finest diving, permanently spoiling them – we hope their usual Caribbean dive spots aren't too disappointing from now on.
The unusually varied group kept things interesting. From Ireland, Jack Keane showed us how to destroy a birthday cake, as well as keeping the rest of the guests and cleaner shrimp fairly well entertained. From that same part of the world, one Londoner took a break before starting her new job with Part One of her South Pacific getaway; she fine tuned her diving skills, dodged baby moray eels, and kept the boat rocking with her trusty iPod. Tracey Ditterich, this one from Oz, kept us busy by never missing a dive, was always the last one still conscious around the kava bowl, and still managed to wake up early enough to get Jack out of bed for the first dive – no easy feat.
Greg and Sue Peterson made a great team as photographer and spotter/editor, blasting through a hundred of so shots every dive and mastering their new digital rig. Tim Turansick, armed with his trusty underwater scooter, covered more square footage of Fiji's reefs than most, easily kept up with the jellyfish, and managed to attract a hammerhead for a close encounter.
Close encounters seemed to be the theme of the week for Wayne Korteweg … getting within inches of an enormous black manta which he blasted away at with is vintage NikII. The closest encounter, however, was with the friendliest hawksbill, who showed up at Kansas and casually swam between divers and through bubbles – even accepting a caressing hand from Lois Smith while husband Charlie looked on, secretly wishing he was poking around in the rubble. Speaking of rubble-lovers, never has there been a bigger rubble fan than Kelley Beck, asking for its whereabouts at every dive brief. Ah, the rubble...
The trip also had a memorable and enjoyable routine: the post-dive wine tastings, lead by five friends – Bonnie, Kelly, Dana, Charlie and Lois… and eagerly joined by everyone else, the perfect way to end a great day's diving.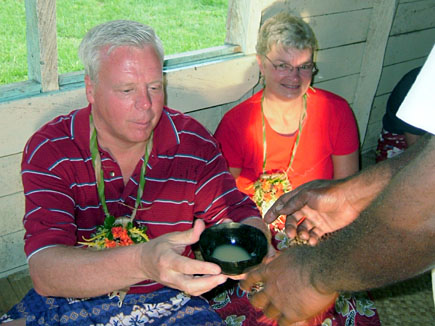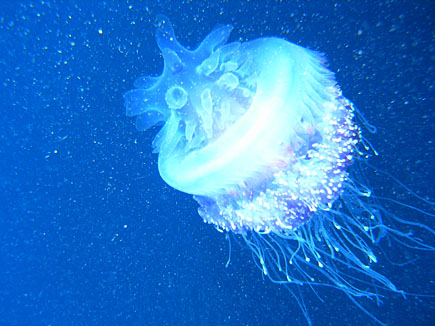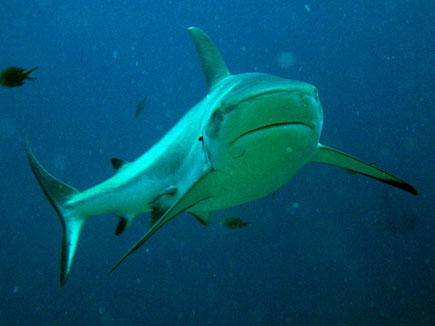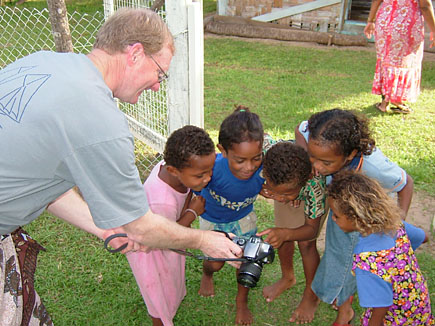 FROM THE GUEST BOOK

What a wonderful week – you guys were great! Food, service and crew were outstanding. We are looking forward to booking a trip to Tonga with NAI'A for the whale watching.
Greg & Sue Peterson, Marshall WI
Amazing diving – top class. Best liveaboard yet. Thanks a million everyone. I'll be back for Tonga.
Jack Keane, Ireland
Thank you for all your hospitality. You have shown us all love and compassion, safety and enjoyment. I am gifted to share your pleasure of life.
Wayne Korteweg, Glen Ridge NT

Fantastic dive trip! Everything I wanted and more. Thanks for the awesome meals, and happy, smiley faces all the time! I'll be spreading the NAI'A word around Oz! The diving is amazing, and the NAI'A crew are all such wonderful people! Love your work guys!
Tracey Ditterich, Australia

Everything was great.
Tim Turansick, Oceanside CA
Thanks for a delightful liveaboard experience - first rate crew, lovely boat, great environmental education and village visit.Exceeded expectations.
Dana Howells & Kelley Beck

Wonderful diving, outstanding crew, fantastic boat, excellent food, beautiful kind warm people… any more superlatives? Thanks for everything.
Charlie & Lois Smith, Supply NC

What a great trip and wonderful hospitality.
Bonnie Ram, Los Angeles CA