Date: June 25 - July 2, 2005
Destination: Bligh Triangle, Fiji
Returning Passengers: Mindy Cooper-Smith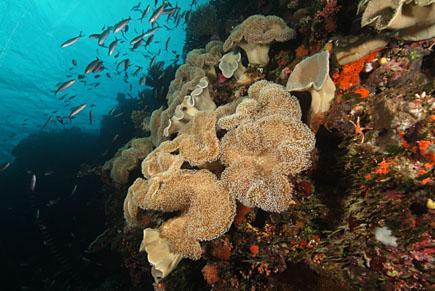 A week of mixed weather – from as good as it gets, to rather nasty indeed – greeted this group of friends and acquaintances, led by Andy Marias, as they dived their way through Bligh Water and beyond, exploring new sites as well as finding the NAI'A favorites in their best possible condition. And surface intervals were spent polishing off our entire supply of cookies. Plenty of special underwater sightings kept everyone happy and jumping in for more – from the tiny red painted frogfish braving the current at Nigali, to the lone hammerhead patrolling the wall at School House, to the goliath Queensland grouper parked in the swim-through at Cat's Meow. Oh, and a few mantas were thrown in for good measure, with Howard Herron and Christopher Blanchard finally enjoying their first manta encounters.
| | |
| --- | --- |
| | |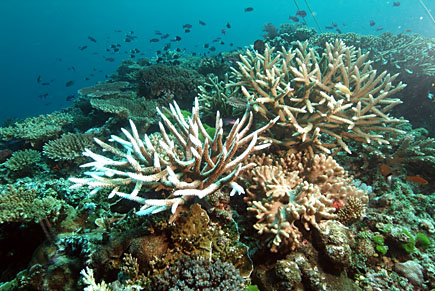 | | |
| --- | --- |
| | |
NAI'A veteran Mindy Cooper-Smith enjoyed looking at Fiji's reefs for the first time through the lens of her new digital camera, and stayed down long enough on every dive to get her money's worth… and then a bit longer just to be sure she had captured the entire dive site. Steve Wightman got wet four times a day in order to clock his 100th dive on the last dive of the last day – and a friendly cuttlefish made the benchmark dive extra memorable for him. Allison Cadena won the affections of a remora while diving the new wreck of the MV Ovalau, Richard Costello should have been billing as he solved the legal issues of crew and passengers alike, while Vegas buddy Bruce Handleman just couldn't believe how many sharks were around (he he). Donna and Morgan Bennett proved to be a mother-son diving machine, while Brandon Johnson read books faster than anyone we've seen. Henry Soloway almost missed his birthday, until the NAI'A galley and band came to the rescue. And John Gonda kept the night dive boat operational, and filled his harddrive to near bursting point with top quality shots for all to enjoy in the last night's slide show.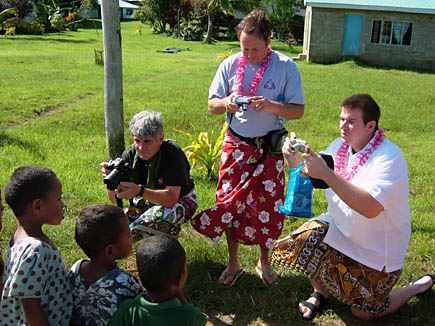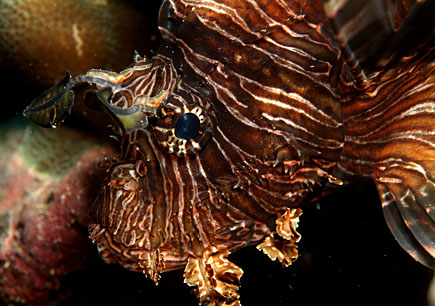 FROM THE GUEST BOOK
The trip was a blast! The divemasters really knew their stuff, and there was a lot to know. The skiff drivers were unbelievable. The food was incredible. Josh and Liz were unbelievably incredible. And, the skipper was a great singer. What more could you need? Thanks a lot.
Morgan Bennett, Santa Monica CA
Another wonderful dive trip! Beautiful, healthy reefs and many fish!
Mindy Cooper-Smith, Ventura CA

Great crew, great food, great diving. See you again soon.
Howard Herron, Sherman Oaks CA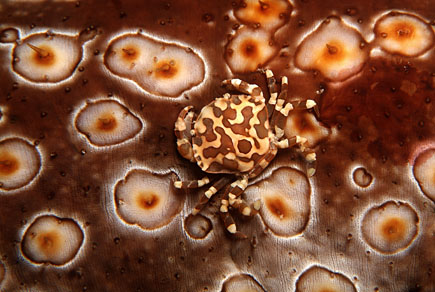 Awesome time! Best dive trip yet!! Nice dive sites, much variety. Divemasters always there for you. And Peni and Eddie should open their own restaurant. Thanks to all the crew for the excellent service.
Steven Wightman, West Hills CA

Thank you for all the smiles, the adventures, the critters, and always being there when I surfaced. Fiji is all about the soft corals and the friendly people.
Donna Bennett, Santa Monica CA
Best crew on any boat I've been on. Thanks for a great trip.
Henry Soloway, Las Vegas NV

Great quantity of dives and diversity of sites.
Brandon Johnson, Costa Mesa CA

I had the best dive of my life at Nigali Passage.
Chris Blanchard, Chatsworth CA

Overall – great crew, great service, great diving!!!
John Gonda, Westlake Village CA