Date: July 5-12, 2005
Destination: Bligh Triangle, Fiji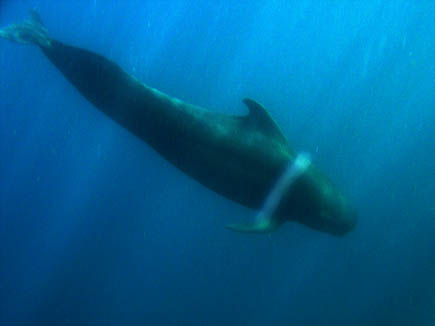 Schooling hammerheads and barracuda, pods of pilot whales, loads of lionfish, and a chance to see the ship under full sail – it all greeted and thrilled this week's voyagers in what was for all seventeen guests a first time on the good ship NAI'A.
Dave and Rachael Kasper, leading eight of their Huron Scuba posse, were able to celebrate their first anniversary together in years. Lynn Krzys led the conga line and rocked up a storm at Lovu, but underwater she stuck like glue to buddy Beth Loesch – who finally saw her first clown triggerfish in the flesh … much more active than the one on her fridge. And it was a week of milestones for Terry and Brenda McGlothlin, each racking up their 200th dives, and just checking in again with Fiji's reefs before putting down some roots in Taveuni. Likewise, Cathy Armstrong clocked her 200th dive – and one year of matrimonial bliss with hubby Pete Ward. While still a fair way from the 200 mark, Sarah Bacheler doubled her dive tally and mastered the art of current diving, albeit with a bit of help from our Richie. Tricia Douglas worked dilligently to acquire a taste for kava (with little success) much to husband Jim's amusement. Fresh from the Red Sea, Grant Searancke and Sonia Goggel came to do a reckie of Fiji's reefs, had some luck with hammerheads, and started an ongoing quest for the elusive soft coral crab. Ross and Di Young popped up from Down Under and declared the diving in Fiji to be "Bonza cobber". April Tenney, on her way to study marine biology in Oz, got a taste for the underwater diversity and wonders of the South Pacific. And, finally, Bob Freedman showed us all how not to tie a sulu.
| | |
| --- | --- |
| | |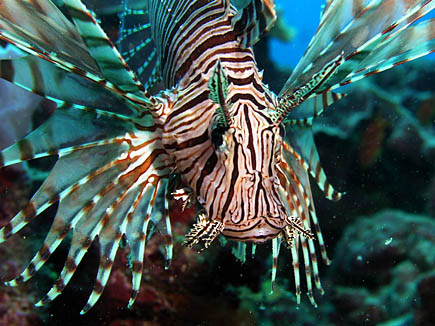 | | |
| --- | --- |
| | |
But the best was yet to come… Last year, on the last charter in Fiji before we sailed to Tonga for the humpback season, there was a pair of humpback whales in the area as we surfaced from a dive. This year, on our last Fiji trip before Tonga, it got even better. After a wonderful dive at Mount Mutiny, as we travelled in the skiffs back to NAI'A, we found ourselves surrounded by pilot whales – who were themselves accompanied by a few dolphins and at least one minke whale. We managed to swim with them for a short while before then moved on. What better way to wrap up a week of glorious sunshine, calm seas and world-class diving.
Next stop for NAI'A: Tonga.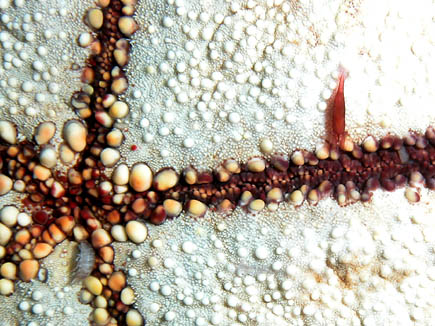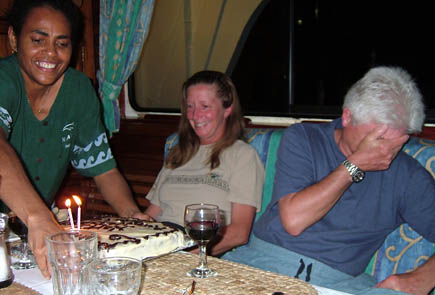 FROM THE GUEST BOOK
Thank you for a wonderful, beautiful trip – very well run, superb food, excellent dive team. Excellent diving – wide variety, greatly facilitated by divemasters. Will recommend NAI'A to all my diving friends.
Bob Freedman, Ann Arbor MI


The diving was world-class, being the only boat on the dive sites a huge blessing, the crew is the best ever, the food to die for, and the cruise directors top of tops and very knowledgeable!! And… of course, what a beautiful, comfortable and excellent boat!!
Grant Searancke & Sonia Goggle, New Zealand
Vinaka to the fine crew of the NAI'A. You did a fine job showing us the best Fiji has to offer.
Rachael & Dave Kasper, Ann Arbor MI

The crew and the NAI'A surpassed our expectations. The experience will not be forgotten. Thanks to the crew for their kindness and attention to detail. Josh and Liz made the trip special. We hope to return!!
Jim & Tricia Douglas, Saline MI
This trip set a new standard for us in terms of comfort, efficiency and competence – which all combine to make diving and being aboard a great pleasure. We especially thank all the crew whose friendliness and cheerfulness was wonderful. The diving was great… but the people were fantastic.
Ross & Di Young, Australia
I was expecting beautiful reefs, clear waters, blue skies – but all my expectations were exceeded. Thank you everyone for a wonderful, wonderful trip – I couldn't have picked a better place to double my dive count.
Sarah Batcheler, Philadelphia PA


Vinaka vaka levu to all the crew of the NAI'A. You're all very special, and made our trip very special. You will remain in our memories for many sunsets. We will miss you.
Terry & Brenda McGlothlin, Gilllette WY

Fiji was great – however, the crew and service was outstanding and made the trip memorable. The leadership was excellent, and the friendly smiles and interaction with passengers were genuine. The kava party was fun – we even started cultivating a taste for it.
Jim & Tricia Douglas, Saline MI

Great diving, great crew, great food.
April Tenney, Monterey CA