Date: July 23 - August 1, 2005
Destination: Ha'apai, Tonga
Returning Passengers: Stan Waterman, Nancy McGee, John & Karen Ellerbrock, Ann Beisser, Fred & Peggy Heiman, Mel Condos, Sandy Kates, Bill Warmus & Pat Driscoll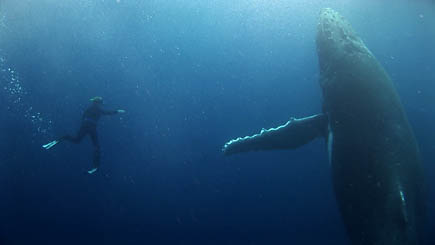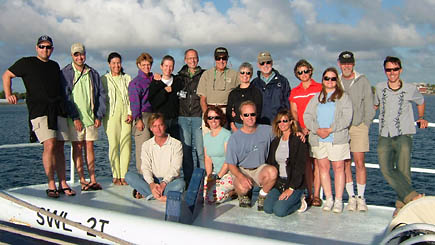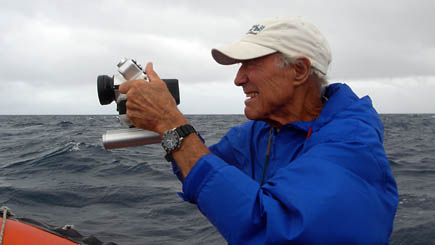 "We won't get to swim with calves" and "We probably won't get in the water with whales on the first day"… words that made liars out of us on our first Tonga trip for 2005. Not surprisingly, nobody complained. We rocked and rolled our way around the Ha'apai group of islands on a 9-day adventure with a great mix of old NAI'A friends and some NAI'A newbies. Stan "the man" Waterman, dive legend and all round hero to all that go below the surface, was one of the star attractions – battling with the new age of hi-def cameras and the complex buoyancy characteristics of 7mm wetsuits when free-diving. Keeping a watchful eye over the great man was the wonderful-as-always Nancy McKee on her millionth NAI'A trip, showing off her newly acquired super-macro capabilities – we are not jealous at all. From the old skool videography to the new, John and Karen Ellerbrock, of Gates Housings, were co-hosting this adventure with their excellent new housings for all to try – and in hi-def no less. The new XL-1 housing proved hugely popular, with the group getting very intimate while crowding around John's laptop to look at the footage after every in-water session.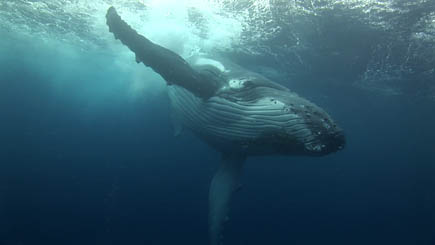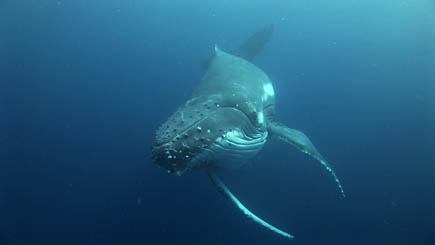 Fred Heiman, proud owner of one of the first Gates XL-1 Housings off the production line, put his machine to good use and entertained us with many wonderful video presentations, nicely narrated by wife Peggy. If big hi-def cameras are your cup of tea, Rob Stewart has a machine for you, on loan from the New England Aquarium; Rob pushed the great beast around day and night and managed to capture some great humpback action. On the smaller scale of things, John Richards toted his tiny new 3CCD video to great effect, capturing amazing footage of a yawning, and then SUCKLING calf – it just goes to show, bigger ain't necessarily better. Ann Beisser stayed warm and dry in her DUI, much to the envy of the chilled masses, allowing her plenty of stamina to brave the elements on deck doing lookout with the crew. Another regular in the lookout scene was Valentina Russack, always at the ready with a positive thought and a zoom lens; husband Tom Hively must have been impressed.
| | |
| --- | --- |
| | |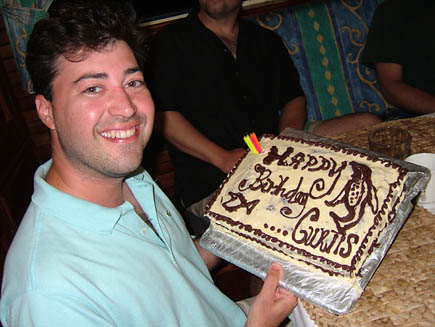 | | |
| --- | --- |
| | |
NAI'A regulars Bill Warmus and Pat Driscoll collected information for Bill's next writing project – and Bill scored some lovely snaps with his "Crackerjack" camera. One person that needed no help to stay warm was NAI'A first-timer-and-converted-forever Curtis Kates who, seemingly oblivious the chill in the air (and water), was always the first one to splash – fins optional. Curtis' was onboard with his mum Sandy – along on her second NAI'A trip, and attracting plenty of cetacean interest … whether it was her swim cap, or simply birthday well-wishing, we will never know.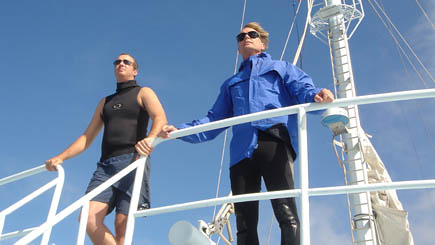 FROM THE GUEST BOOK
My hand trembles with scurvy. My body racked with pain from the lash at the grate. Still, the NAI'A comes through as the finest liveaboard I have the pleasure of sailing with.
Stan Waterman, Lawrenceville NJ
To the wonderful NAI'A family – Once again you have treated me to an exceptional trip! I thank you from my soul. I can hardly wait to return.
Ann Beisser, Scottsdale AZ

What an amazing adventure! We had only been on the boat a few hours when we encountered the first of several wonderful encounters with humpbacks. The crew is fantastic, and the diving was very rewarding with so many healthy reefs. Of course, the humpbacks, whether viewed tail slapping and breaching from the deck, or having them pass so close you could reach out and touch them in the water is what we came for. The unbelievable excitement of seeing, what appears to be, whales playfully engaging with a few lucky people who are wise enough to visit with them from the best liveaboard ship – the NAI'A was fantastic!
Karen Ellerbrock, Escondido CA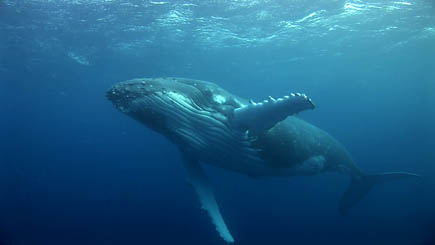 Thanks to the NAI'A crew for an outstanding liveaboard experience, and most of all, thanks to the sweet graceful whales for allowing us to swim with them.
Tom Hively & Valentina Russack, San Diego CA

This was my first NAI'A trip and won't be my last! Thanks for an amazing experience with the whales and those fantastic Tongan reefs.
John Richards, Davis CA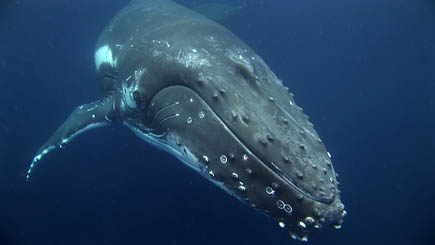 Thank you so much for the wonderful service and for a great trip. The crew is outstanding. This is the best dive boat we have ever been on.
Sandy & Curtis Kates, Los Angeles CA

Where to begin… Trip No.6 for me on the NAI'A – so many things to love, I don't know what I love best. The crew – always smiling, always helpful – a joy to be around. The food – amazing. And this trip, a very special treat of whales – flirting and flapping and playing with us, what fun. Thanks again.
Mel Condos, Pacifica CA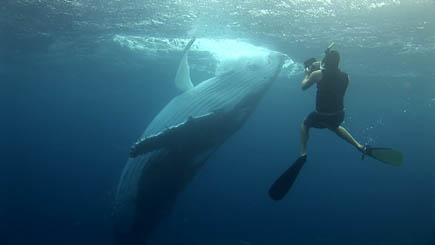 NAI'A is the finest of liveaboard dive operations. 26 years of diving on 6 continents – I have found no better. Already I await trip number 4 aboard NAI'A.
Nancy McGee, Lancaster TX

Thanks so much for an incredible trip. You have the most amazing crew on any boat! I hope we get to travel together again, and have fun in Tonga!
Rob Stewart, Toronto, Canada
Rob, Cat (in Australia), Josh, Liz and the crew: Another warm and wonderful trip on the NAI'A. Despite the chilly weather, the temperature inside was always warm, friendly and filled with joy. Our fourth trip on the NAI'A and not the last!
Fred & Peggy Heiman, Los Gatos CA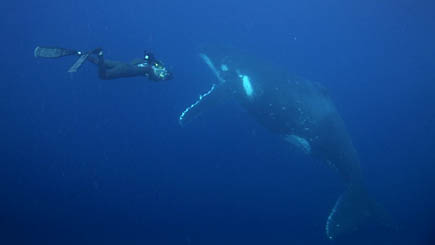 LINKS

Stan Waterman: www.stanwaterman.com
Gates Housings: www.gateshousings.com