Date: November 12-19, 2005
Destination: Bligh Triangle, Fiji
Returning Passengers: Jay Burreson, Mark Luzar & Peg Rumaine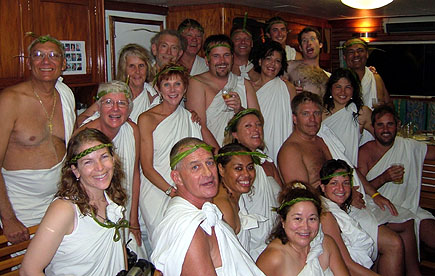 There is a well known rule in the livaboard dive biz strictly forbidding women with two broken toes from joining a two week trip. The reason is simple: too much idle time… and this spare time is all too often used for evil. We made an exception this week and allowed Peg Rumaine to join us and, oh, how we suffered… well, one of us anyway. To the entertainment of all, Peg instigated cryptic treasure hunts, vegemite tainted regulators, phoney night dives, and the mother-of-all cocktail-toga parties to be remembered by all.
| | |
| --- | --- |
| | |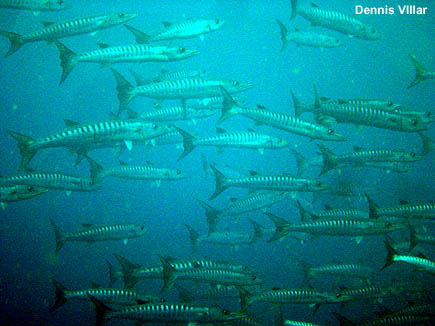 | | |
| --- | --- |
| | |
Peg's evil deeds were not without the assistance of hubby Mark Luzar and old friends Dennis Villar & Kathy Allen, and let's not forget the help of the pineapple gang. Local residents Jay Burreson and James Mathias dropped in for the photo ops, each wrestling their old-skool slide film rigs. Gerry Meral was here for the fish… his dive slate and ID books getting a good workout; while wife Barbara politely accepted Gerry's near obsession, and saved the day on a near tragic wind and paper incident. Erika and Christian Viertler, better known as "Team Brazil", were the never-miss-a-dive team this trip, staying toasty in their semi-dries … especially when zipped up. Cyndee Zebe got used to the currents and even jumped in on a ripping Maytag… husband Don spotting the elusive NAI'A pipefish.
Jake Renals was the walking wounded with blisters, muscle strains and ear woes… nothing that excessive kava drinking and village idiocy couldn't cure (or aggrevate). Jake's moves at Lovu village meke are sill being talked about, and not far behind with the fancy footwork was Phil Ohri. Phil and his wife, Wanda, discovered the benefits of plastic bags when it comes to wetsuit donning, and each had their manta moments. Jeanie York seemed to be cursed with equipment failures (but Derek Hodovance kept her in good spirits) and discovered the importance of checking ones air before the roll in. Syndi Paape was a ray of sunshine, always with a smile and pleasant word and right on the spot whenever a guide had a critter to point out.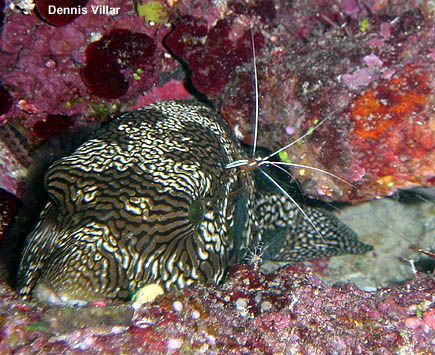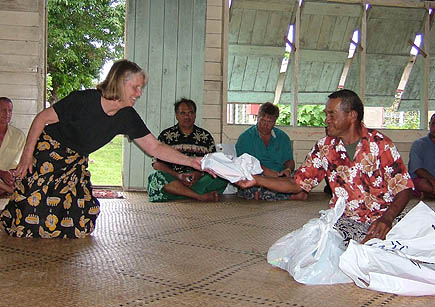 OUR ROMAN PSEUDONYMS


PHIL & WANDA: Paired silverhairdius
JAY: Geriatricus
JAKE: Horniest maximus
DENNIS: Peruvian sniffiluffigus
PEG: Boness toe brokeus
SYNDI: Tinker bellius
DON: Senator hornicus
CYNDEE: Princess smileicus
JEANIE: Equipment failicus
GERRY: Fish learnicus
DEREK: Senator intraverticus
BARBARA: Clumsicus maximus
KATHY: Winus drinkus maximus
JAMES: Photographicus fishicus
MARK: Mostus maximus exposecus
ERIKA & CHRISTIAN: Mostus divus brazilicus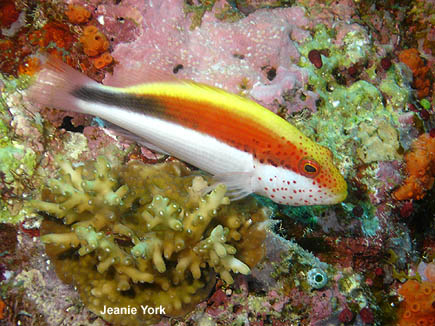 FROM THE GUEST BOOK


"Team Brazil, are you diving?"... Yes for sure! Thanks for all the great times we had here.
Christian & Erika Viertler, Brazil

To Josh & Liz, Rusi, Suliana and the whole NAI'A crew - a mile high thank you!! ... Are you guys hiring?
Jake Renals (AKA Village Idiot), Golden CO

Tanks for the memories!
James Mathias, Toronto, Canada
I had a fabulous week with a terrific crew, excellent diving and wonderful new dive friends.
Syndi Paape, Dearborn MI
Thanks to everyone. Too much fun and good experiences!
Mark Luzar, China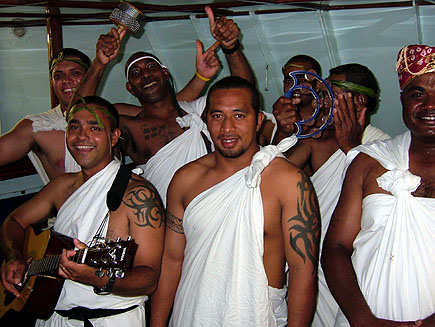 MENU: ROASTED JOSH
(sung to the tune of Elvis Presley's "Hound Dog")

YOU AINT NOTHING BUT A FISH HOUND
WHINGING ALL THE TIME
YOU AINT NOTHING BUT A FISH GEEK
NAGGING ALL THE TIME
YOU AINT NEVER DONE A NIGHT DIVE
YOU AINT NO FRIEND OF MINE

YOU CALL YOURSELF AN AUSSIE
YOU DON'T DIVE WITH VEGEMITE ??
YOU COULDN'T GET YOURSELF A SHIELA
YOU HAD TO GET A GIRL MORE RIGHT
YOU'RE SUPPOSED TO GUZLE BITTERS
BUT ALL WE'VE SEEN YOU WITH IS SPRITE
YOU'RE AINT NOTHING BUT A POMMI
YOU AINT NO FRIEND OF MINE
YOU SAID YOU PISSED IN YOUR WET SUIT
WE REALLY THOUGHT IT WAS A LIE
WE KNOW YOU PISS IN YOUR WET SUIT
NOW THEY CALL IT YELLOW TIDE
THE FISH ARE FLOATING BY THE DOZENS
NOW THEY CALL IT GLOBAL TIDE
CHORUS
YOU SAID THERE WAS NO CURRENT
BUT THAT ALL WAS JUST A LIE
WELL THE CURRENT WAS RIPPING
WE THOUGHT WE GONNA DIE
SUPPOSED TO REACH KANSAS
WE ENDED UP IN SHANGHAI
CHORUS
YOU TOOK US TO THE VILLAGE
BUT NO ONE SEEMED TO KNOW
YOU SAID YOU CALLED IN AT THE POST
BUT SHE WAS JUST A LITTLE SLOW
WE WERE HAPPY JUST TO BE THERE
SIPPING OUR TSUNAMI BOWL
THE PIGS WERE HAPPY TOO
DOING EACH OTHER IN THE HOLE
CHORUS
THE NEXT TIME WE GONNA BE HERE
YOU WISH YOU COULD FORGET
YOU THINK THIS WAS TORTURE
YOU AINT SEEN NOTHING YET
WE'LL BE DIVING IN THE NUDE
GIVING YOU THE 18 BUM SALUTE