Date: May 11-30, 2005
Destination: Phoenix Islands, Kiribati
Passengers: Mark Alexay, Peter Buijs, Vivien Dorsey, Michael Jöst, Wendy McIlroy, David Obura, Sangeeta Mangubhai, Bob & Doris Schaffer, Jim Stringer, John Tresemer, and Juan & Donna Zumbado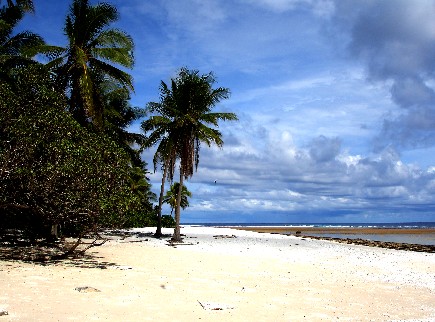 "It is true that nature tears down what she has herself built up – yet she builds it once again. At first we cannot see beyond the path that leads downward to dark and hateful things – but no light or beauty will ever come from the man who cannot bear this sight. Light is always born of darkness, and the sun never yet stood still in heaven to satisfy man's longing or to still his fears."
C.G. Jung, as pointed out by John Tresemer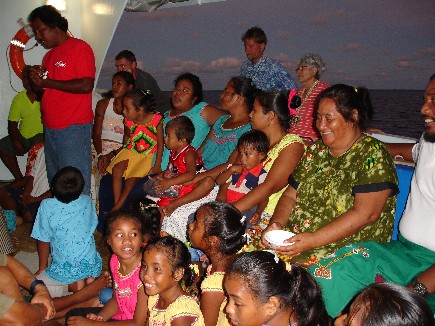 Okay, here's the deal:
It is always a pleasure to write the Divemaster's Diary for the NAI'A website following a charter. It is our chance to wax eloquent about all the great stuff we found and how wonderful our passengers were, and the whole thing is illustrated with glorious pictures of fantastic, healthy reefs.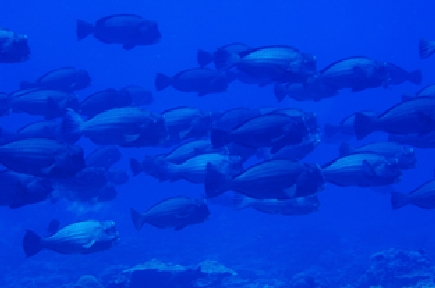 This one is different, and I've postponed writing the report for as long as I can. In fact, our passengers were wonderful; NAI'A behaved (almost) flawlessly over several thousand miles of ocean passage; no one got hurt or sick; and the ocean was calm for more consecutive days than I have seen in 30 years of sailing.
But the Phoenix Islands are gravely ill and it sickens me even to think about, much less write about. For nine years I've been talking about the Phoenix Islands in terms of the primal ocean – islands entirely untouched by the ravages of mankind. Reefs the way they're supposed to be. This year we made our third diving expedition to the isolated archipelago of eight islands belonging to Kiribati. We found utter devastation. The shallow-water, fast-growing coral had almost entirely died, taking a significant number of fish along with it.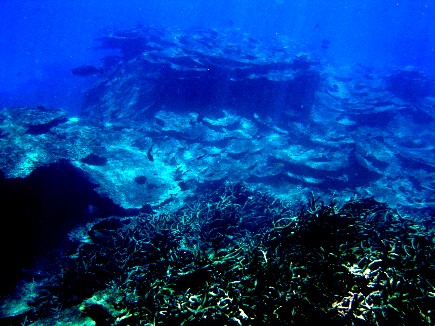 We first dived the Phoenix Islands a decade ago during an expedition to search for the remains of flyer Amelia Earhart on Nikumaroro Island. The marine life that we witnessed during a few short dives to set a mooring convinced us to organize diving expeditions in 2000 and 2002, during which we documented and videotaped reefs in their primal glory, which in turn encouraged us to launch this year's expedition.
We did have warning. Late last year a vessel belonging to the Planetary Coral Reef Foundation sailed through the Phoenix Islands and reported extensive coral bleaching. Based on their reports, five of the people signed up for this year's expedition decided not to come, but the remainder decided to go for it anyway. So we knew, intellectually, that there would be coral damage. But for me, the emotional anguish of seeing such devastation was almost more than I could take. To my fellow participants, I apologize if I seemed remote and quiet during the trip; I now realize that I was in mourning.
Coral reef biologists Dr. David Obura and Sangeeta Mangubhai, both veterans of our previous diving expeditions, joined us to accurately document the extent of the damage and the level of recovery. While they noted that the deep water coral was still in good shape, that some species of fish remained robust, and that there were signs of regeneration on even the most badly hit reefs, they too shared the general mood of resigned disappointment.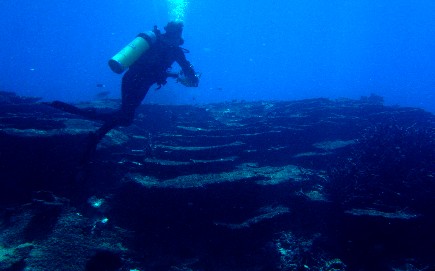 If there is a message to be taken away after this expedition, it is: DO IT NOW! Don't wait to visit the dive destinations you've always wanted to see: coral bleaching may get there before you do.
The reefs of the Phoenix Islands were previously untouched by man, but we now realize the extent to which man's reach extends beyond his touch. Global warming is real and we cannot continue to pretend it isn't. As I write this Tony Blair is in Washington asking for some acknowledgement of the Kyoto Protocol as a bit of political payback for his support of the war in Iraq. But George Bush still doesn't take global warming seriously and is unwavering in his determination not to do anything real about America's contribution.
Unfortunately it is probably too late to turn the tide of reef destruction during our lifetimes. But as a new father I now have a longer view and I would hate for Malia to grow up knowing coral reefs only through the video and photos that her parents took back in the last millennium. So please join me in doing all you can to, literally, clean up your own lifestyle and put pressure on our leaders to do the right thing.
Best fishes,
Rob Barrel
P.S.: To everyone who voyaged to Phoenix this year: Vinaka Vaka Levu ! You were the very best shipmates imaginable with whom to share such a disappointing expedition….