Date: February 18-25, 2006
Destination: Bligh Triangle, Fiji
Returning Passengers: Dave Griffore, James Mathias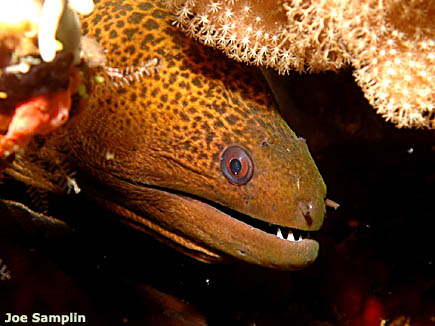 Less than perfect weather greeted this weeks list of passengers, but underwater the conditions were great and the unusual wind direction led, by necessity, to the discovery of a gem of a dive site – Connie's Wall.
Dave Griffore returned for his second NAI'A adventure, this time bringing with him his band of merry men and women for company. Among them was Dave's wife Connie (of Connie's Wall fame) and the 'butt crack' boys, Bob Maiberger and Steve Hayden. Steve took care of the photography side of things, relieving Dave of the need to battle with his rig. Steve was ably assisted by his wife Linda the crystal musician. Bob battled his way through the TDI nitrox course, overcame his shark inhibitions, and fascinated the villagers with some fancy dance moves – no doubt inspired by the Connie, Linda and Mo show on kava night. Jerry Neibert and Nikki Bobo nicely rounded out Team Griffore, and kept the chocolate supply steady.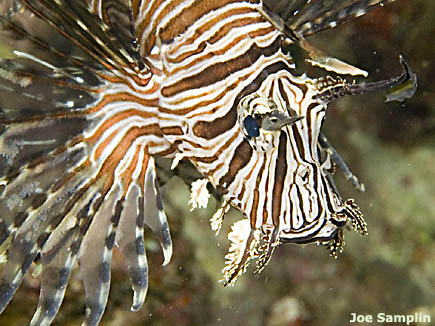 | | |
| --- | --- |
| | |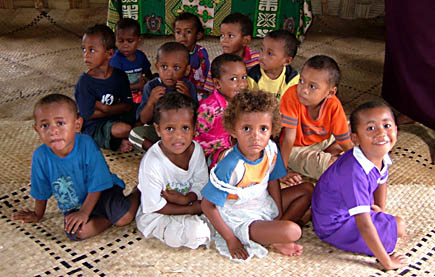 James Matthias returned for his forth trip in three months and continued with his art photography. Kurt Kappus and Jai Pal Khalsa limbered up at the dawn of each new day, Kurt got a buzz from the sharks in Nigali and Jai Pal captured the reef on video and digital stills despite a close call with some unwelcome salt water… and still managed time to sqeeze in a Nitrox certification. Rick Ditmars, his wife Barb, and their friend Becky Yambor came down from the mountains and snow for Part One of their Fiji dive adventure and have earned their resort rest.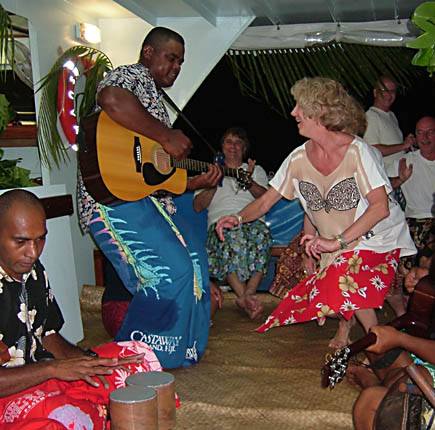 Nobu Suwa added an international flavor to the trip and was kitted out with the latest and greatest gadgets from Tokyo. Dive buddies Joe Samplin and Michael Dershowitz were among the keenest divers of the trip, each dragging around their mighty camera rigs and enjoying Fijis finest beers. And Kelly Hoffman managed to get her Advanced Open Water and her Nitrox certifications this trip.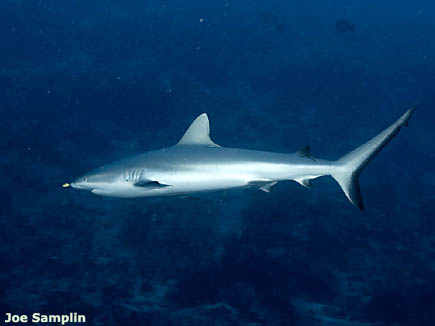 FROM THE GUEST BOOK


This was the best ever. We have been to other places around the world, but the quality of the sea life here is outstanding... only proceeded by the whole crew. (Too bad you have a Cummins engine and gen sets, they do run good though.) Love and vinaka,
Dave & Connie Griffore, Northville MI
Good trip, thanks!
Rick & Barb Ditmars, Boulder CO

Bula, bula, great trip. Everyone was fabulous. Love to all!
Linda & Steve Hayden, Orchard Lake MI
Loved the "0" viz with Fast Eddie. The shark dive was cool.
Kurt Kappus, Sic UT

For one week I was living the dream! Happy Birthday to me - it was fabulous.
Becky Yambor, Lafayette CO
Nikki and I enjoyed the fabulous diving, the unexpected educational sessions, the dancing at Lovu, and your enduring smiles... especially the smiles. Your positive attitude and infectious humor made the trip one that will be indelibly imprinted on our memories. Vinaka.
Jerry Neibert, Orlando FL

Thank you NAI'A. My first liveaboard, and I had a great time, a week I will never forget.
Bob Maiberger, Grand Blanc MI
IV tanks for the memories!
James Mathias, Toronto Canada