Date: March 25 - April 1, 2006
Destination: Bligh Triangle, Fiji
Returning Passengers: James Mathias, John Sterling


The weather was perfect for the fourth trip in a row, and once again a fun-loving group of divers descended upon NAI'A. Apart from the great weather and company, a range of unusual critters were also in attendance. And if eagle-eyed divemaster Richie's fine form wasn't enough (five ghost pipefish on a single dive, a cockatoo waspfish on another), everyone from guests to captain chipped in with great finds of their own, ranging from giant frogfish to juvenile dragonets and pygmy seahorses.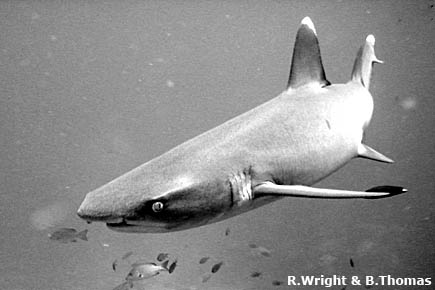 John Sterling returned for his second NAI'A adventure, this time accompanied by girlfriend (at the time) Karen Jeffrey. John's hidden motives for the trip materialized early with a surprise birthday party for Karen… and a much larger surprise when a shell opened underwater revealed a diamond the size of a small donkey. After recovering from the shock, regaining breathing control and giving an OK to a concerned divemaster, Karen accepted the proposal. Congratulations to them both!
Joining the newly engageds were old friends Greg and Fran Parr; if they were in on the secret they hid it very well. In keeping with the wedding theme, newlyweds Dan Auker and Debbie Ryan were on their South Pacific honeymoon after their Hawaiian nuptials.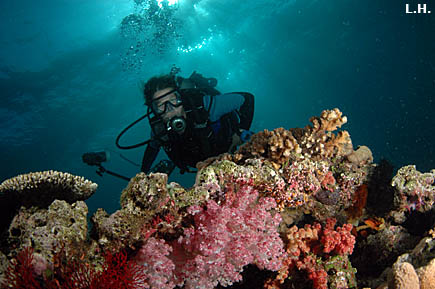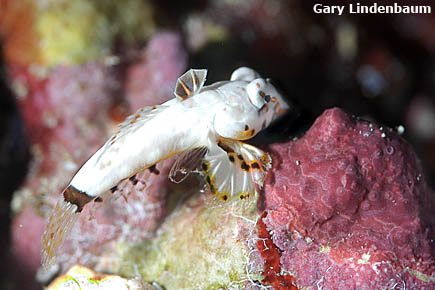 Mark Strickland was onboard to check things out for his upcoming NAI'A charters. He kept our eyes popping with fabulous slide shows, and our smiles wide with his tales from 17 years working on liveaboards. James Mathias also chipped in with his slideshows on his fifth NAI'A trip in as many months. Fellow Canadians Terry and Livia Goossens enjoyed the hunt for whopping great nudibranchs, overcame shark concerns, and generally had the time of their lives.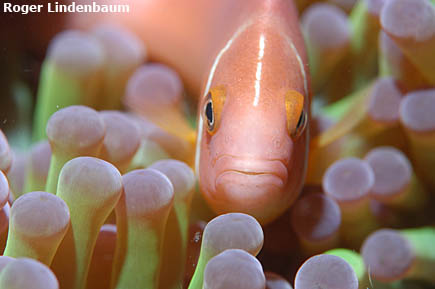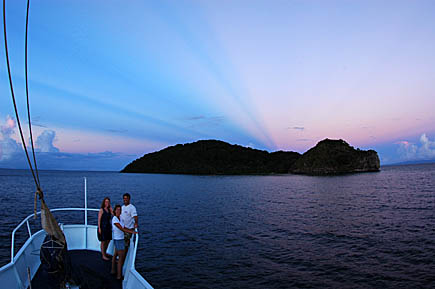 Roger Wright and Barbara Thomas dived hard with their matching digital cameras and captured some great images for the end of trip slideshow. Ditto for Gary Lindenbaum, with his housed system adding to his already impressive photo collection. Gary was ably assisted by his fiancée Kay Myers, who found the tiniest ever dragonet – on two consecutive dives no less.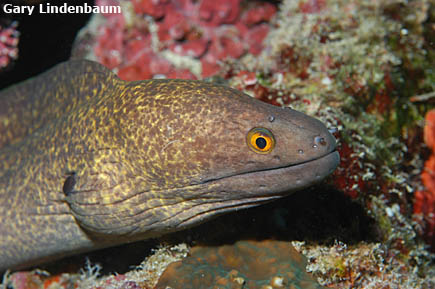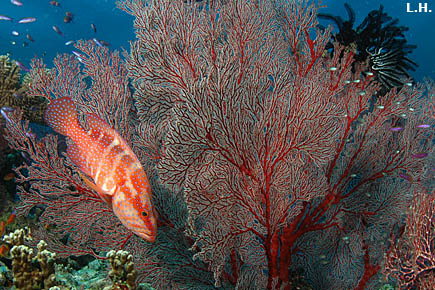 Representing Europe on our international guest list, were biologists Herwig Stibor and Winfried Lampert, and the life of the party Ludger Fuest and Silvia Pezzali. Herwig snapped the reef's inhabitants with his homemade (and very impressive) medium format rig, while professor Winfried captured the critters on video… finally getting the shrimp-goby behaviour. Ludger (aka Ludges aka Ledge aka the German sludge) had to deal with his never-ending curse, while Silvia was laid (actually salusalu-ed) by the almost the whole group.
– Josh & Liz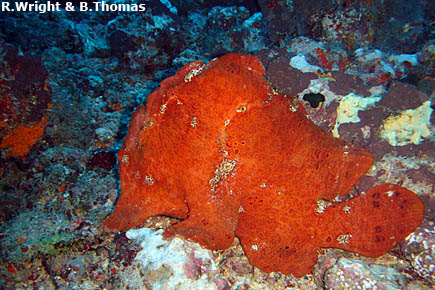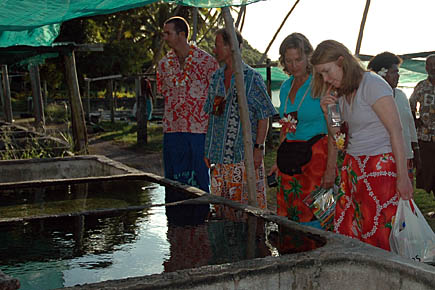 FROM THE GUEST BOOK


I had very high expectation for this trip, but the entire experience exceeded what I'd hoped for. The reefs are among the most lively and colorful I've seen anywhere, the crew is exceptionally helpful, dedicated and conscientious. And the food… fantastic! Thanks again to Josh, Liz, John, Suli and the entire crew… Bravo!
Mark Strickland, Malibu CA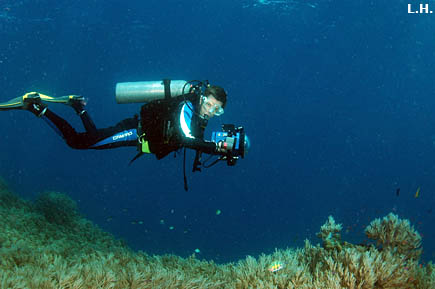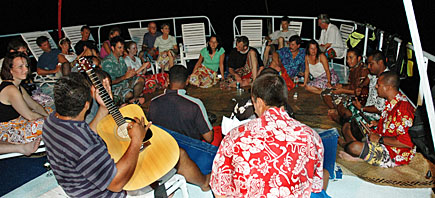 Europeans are different, they tend to understate. But when they say "this was a great trip" they really mean it. This was a great trip!
Herwig Stibor, Austria

Thanks for a wonderful time in Paradise! The crew and guests were awesome!
Greg & Fran Parr, Palos Park IL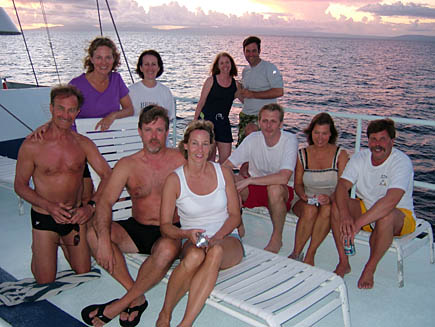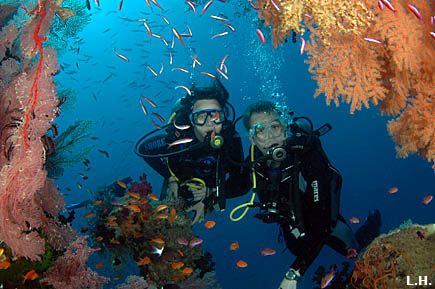 Thank you for a wonderful week of diving. Great boat, terrific food, amazing crew who looked after us, and an extraordinary group of divers. From the nudis to the sharks, there was something for everyone.On top of that, we now know the "Fijian three-step" which I'm sure will be a big hit at weddings and bar mitzvahs for years to come. I know we'll be back, and we look forwared to our next trip, although this one will be tough to top.
Kay Myers & Gary Lindenbaum, Philadephia PA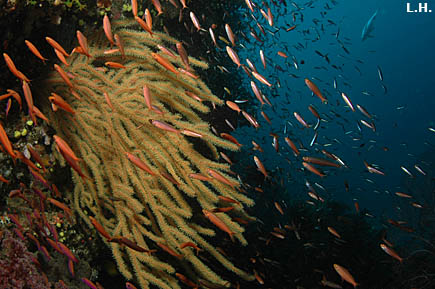 Thank you for making our honeymoon a great experience. We didn't start as the most experienced divers, but never felt uncomfortable or stressed. I can't really pay a higher compliment. The NAI'A is a great boat, the food was top notch, the cabin was comfortable and although the days were full and fun, the schedule was never hectic. Great dive sites, excellent maps and briefings, good dive leaders all made for a really enjoyable experience. Above all, a really excellent crew and shore staff – friendly, professional and helpful at all times. Thanks!
Dan Auker, Oakland CA

What a fantastic week! Dan and I loved everything about the trip. A wonderful way to spend our honeymoon and get to a big 33 dives. Thank you!
Debbie Ryan, Oakland CA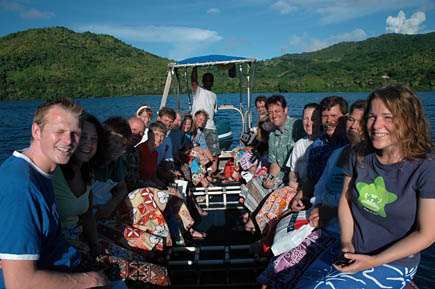 This was our first liveaboard and I have to admit I was skeptical about the whole scenario. l that skepticism however was very short lived and a truly wonderful and exciting experience transpired. Terr and I have had the best week ever – great people, exceptional crew, awesome food (we'll be working off the calories for months!) The diving was beyond all expectations – we will definitely have to return for an encore! Josh and Liz, you are both truly gifted with shining personalities and an abundance of knowledge. Captain John, thank you for the calm seas and always having a helping hand. Suli, your smile lights up the entire ship, you are truly a warm and caring person (thank you for looking in on me when I was ill.) Richie and Eddie, thanks for all the fun and smiles! To all the crew, all I can say is that you are SIMPLY THE BEST! We will miss you all and hope to see you soon!
Terry & Livia Goossens, Canada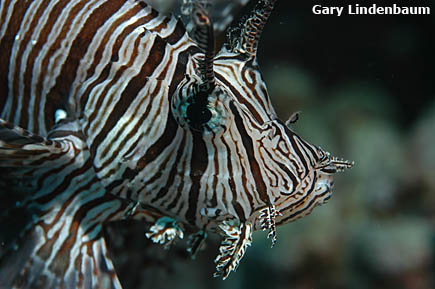 We will carry this corner of paradise amongst our most treasured memories. Thank you NAI'A and thank you Fiji.
Silvia Pezzali & Ludger Fuest, England
Thank you NAI'A crew for a wonderful dive experience. We had many great experiences including our underwater engagement! Hope to see you again!
Karen Jeffrey & John Sterling, Palos Heights IL
V tanks for the memories!
James Mathias, Canada
www.belowthebluehorizon.com