Date: April 22 - May 6, 2006
Destination: Bligh Triangle, Fiji
Returning Passengers: Scottie Franklin, Suzanne Schauwecker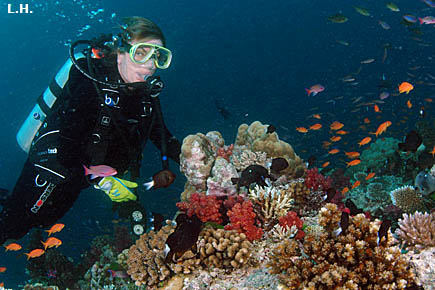 Fourteen days at sea is potentially a very long time. Fortunately for guests and crew, this past two weeks was bliss thanks to great weather, great diving, and even better company. The charter provided plenty of time to see everything Fiji has to offer – from leaping sharks, to a not-quite pygmy seahorse, to exploratory dives and a Fijian lovo.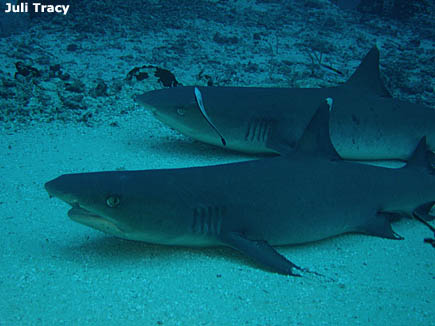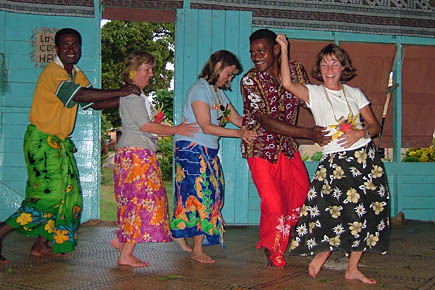 NAI'A veterans Scottie Franklin and Suzanne Schauwecker joined us again, and ever armed with magnifying glasses they found a leaf fish and a hairy ghost pipefish, before settling into their respective post-dive T&T and needlework routines.
Michael Higgins proved to be our most acrobatic village idiot yet (loved the rolling entrance and the jumping jacks). Michael and his "spousal command unit" Sherry were first to be ready for every dive, back in the water for a swim after every dive, and straight back in again when the dolphins came to play. Top effort!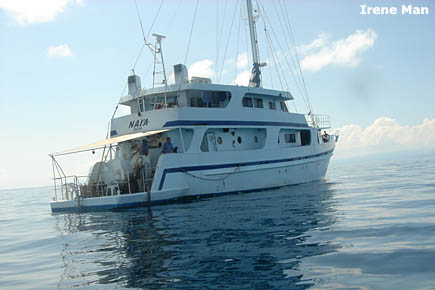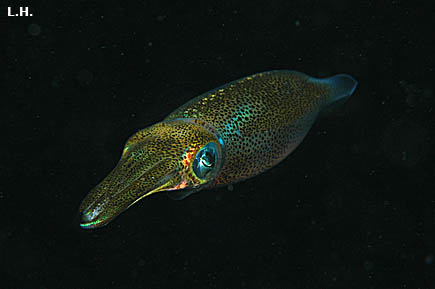 Dick Gamble racked up his 1000th dive and kept on blasting away with his camera rig, adding to his already impressive photographic collection – maybe for his next Smithsonian show? His missus, Juli Tracy, was likewise snap-happy, and put together a great end of trip slideshow.
Dan O'Donnell started the trip with his birthday, and the extra year lead to failing eyesight or mental capacity – "where's my dive mask??" But that didn't interfere with his filming of Fiji's finest dive sights for the end of trip video presentation. Dan's other half, Irene Man, ended the trip with a birthday of her own, and bought enough gourmet food to fill a suitcase (thanks for the foie gras). The pair have already signed on for next year's birthday onboard NAI'A – the Big 5-0.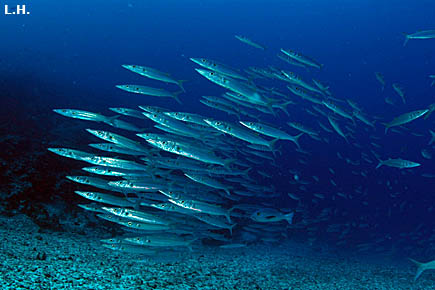 Joining Dan and Irene on NAI'A again next year are long-time dive buddies Karlheinz and Mary Sittlinger. Mary beamed her perpetual smile underwater (must be that Pisces thing), and above water the smile was still there… probably a result of the "boom de la boom" husband of hers constantly cracking jokes – despite the fact that "a German joke is no laughing matter", of course.
As much as we could fit into fourteen days, it will probably take much longer to get this group up to scratch on the "WWI" toaster. Come on, guys, it's really not that complicated, honest…
– Josh & Liz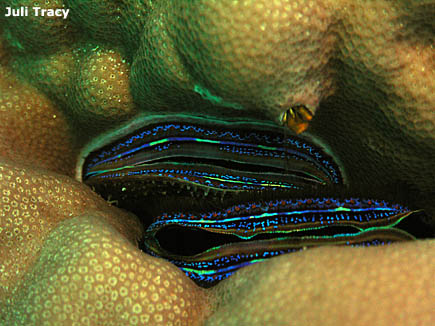 FROM THE GUEST BOOK


We have dived off liveaboard boats all over the world for many years, and some have been a disaster. But if the crew of the NAI'A suddenly took over the worst boat, we would definitely go to it.
Dan O'Donnell, Ireland
Irene Man, Hong Kong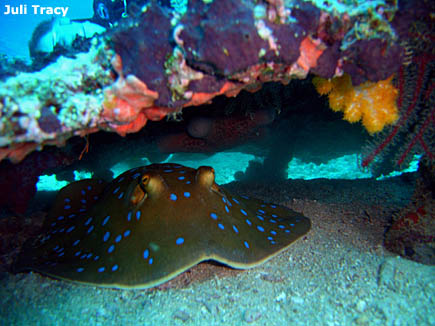 For once in my life I am speechless!! Together with Dan and Irene, we have dived all over the world and never have we had such a perfect dive holiday. We arrived without luggage, but nothing was too much trouble for NAI'A to arrange – dive gear, and even clothing (compliments of Captain John!). Thank you for your genuine hospitality, and thank you for sharing paradise with us. The NAI'A is the ultimate in liveaboards – SIMPLY THE BEST! We loved the crew, the kava and the singing, the educational sessions, the food, the boat, the diving, the weather… OK, OK – and you call this speechless… See you again next year.
Karlheinz & Mary Sittlinger, South Africa


You're the best – all of you. Thank you.
Scottie Franklin, Avon-by-the Sea NJ
Thank you for your warm and wonderful hospitality – you all made this the most memorable trip of a lifetime. Thanks from the bottom our hearts for sharing your knowledge, culture, and expertise with us. It just can't get any better than this… don't change a thing!
Michael & Sherry Higgins, Nigeria

NAI'A crew – you are truly wonderful! Vinaka for all of the service, topside and in the water, and thanks for a two-week tour that was the best we've been on. You even ordered great weather for us! We'll be back (although that might be considered a threat!)
Juli & Dick Gamble, San Diego CA