Date: July 8-18, 2006
Destination: Bligh Triangle, Fiji
Returning Passenger : James Mathias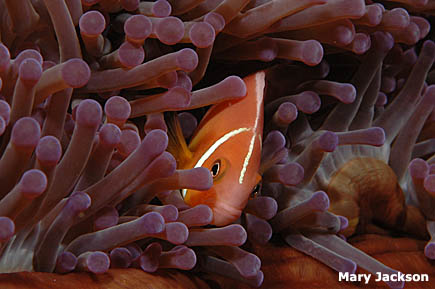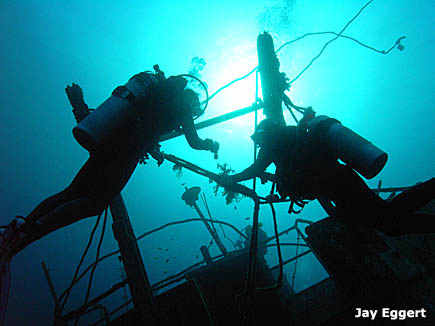 Well that's it for another winter in Fiji, and we couldn't have ended on a more pleasant note. Some unusual sightings spiced up the trip and although a bit on the chilly side, our keen divers made sure the skiffs got their fair share of work. A great mix of divers combined with great underwater conditions ensured plenty of post-dive chatter on the dive deck.
Ben and Mary Jackson filled their half of the camera room with video and housed SLR respectively, and came up with some great shots for the end of trip entertainment; Ben found the elusive ribbon eel especially friendly. Richard Akhtar joined us all the way from Kadavu to check out the other side of Fiji's finest diving, and it brought out the fish geek in him – plenty of new species to add to his list. James Mathias was back for his 6th trip and brought along Abe Avraamides to help out with his art.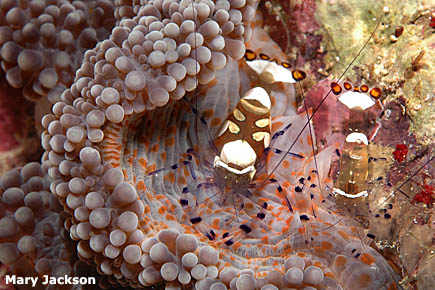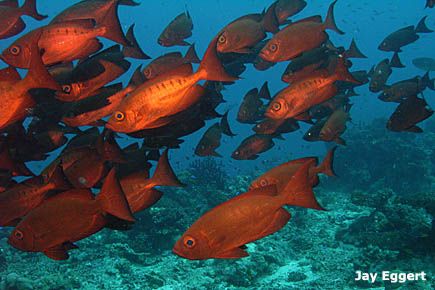 Douglas Klassen chose plenty of sun over too much bottom time, while wife Linda Bialecki was too impressed with the diving to sit on the sun deck for too long. Ditto for Deb Stith, not only rarely missing a dive but staying down until the cows came home, getting the most out of each fill. Great rewards come to those prepared to wait and a close encounter with a sailfish certainly qualifies… a first for us.
Lori Eggert got through a record number of novels in between her diving schedule, and still managed time to get hooked on 'The 4400'. Her husband Jay discovered the "instant disappointment" that only digital photography can provide, but put together a great collection of keepers for the end of trip slide show – including the rarely shot NAI'A pipefish.
Finally, Bill Roschen had a toss up between bull fighting school and NAI'A for his 70th birthday celebrations – wife Tory made sure he made the right choice – a no-brainer really. Along with Bill and Tory was long-time chum Bonnie Drewes, who conquered her fear of public speaking while keeping up her grueling swimming training… fighting off sharks the whole way.
Next stop…Tonga. Bring on the whales!
– Josh & Liz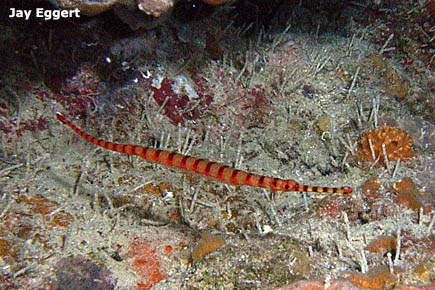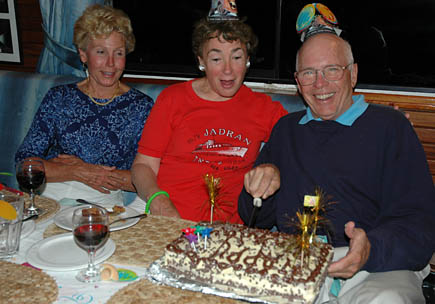 FROM THE GUEST BOOK
The diving was awesome, which, being from Fiji, I expected and I wasn't tempted to miss a single dive, even foregoing the comforts of the boat for a cold, wet wetsuit. Even more than the diving, however, the crew made the trip for me. They are all amazing, friendly yet completely professional at the same time. To cap it all, the outstanding knowledge of Josh and Liz was a real treat for this 'fish geek' and I learned a lot from morning 'school'. It is no wonder guests come back time and again – I hope to some day. Vinaka vaka levu to everyone.
Richard Akhtar, Kadavu, Fiji
matava@connect.com.fj
Vinaka for making our first liveaboard as a couple a smashing success! It will be hard to top this trip. Long live the NAI'A pipefish.
Jay & Lori Eggert, Columbia MO

Tanks for the memories! VI
James Mathias, Nadi / Toronto
Magic! Vinaka vaka levu!
Deb Stith, Fort Collins CO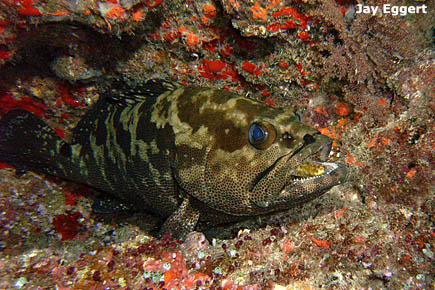 The air was cool.
The seas were sometimes rough.
But the diving was fantastic
We could never get enough.
Thank you for a fabulous ten days.
Abe Avraamides, Toronto, Canada

Dive heaven, Vinaka!
Tory & Bill Roschen, Sherman CT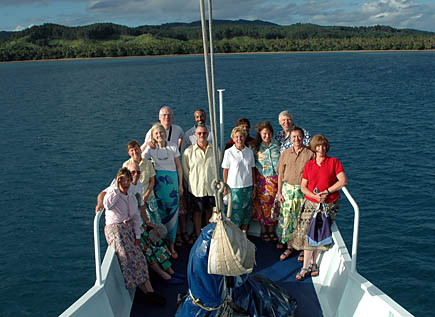 Josh, Liz and the entire NAI'A crew: Thanks for making our first trip to Fiji absolutely fabulous! It was everything we had hoped for and more! We will have to come back soon so that Ben can get his teeth cleaned properly by shrimp. Josh and Liz you are both wonderful guides and 'Dive Gods'.
Ben & Mary Jackson, Tacoma WA