Date: September 20-30, 2006
Destination: Bligh Triangle, Fiji
Returning Passengers: Erika Rogers, Steven Genkins
Congratulations: Ivan van Heerden on completing your nitrox course. Also, Josh Jenkins on completing the Evolution Rebreather course.
Happily afloat again, NAI'A is once more a home to eager divers exploring Fiji's unique underwater visual symphony of life, color, variety and abundance.
Mauricio Handler's group of enthusiastic photographers brought with them more cameras than the crew had ever seen in any one charter before, and they have seen quite a few. Put together in their housings, the cameras filled most of the dive deck in a happy congregation of fat, shiny bodies and strobed arms. The skiffs made extra runs to fit them all in, and everyone went off happily to capture all the usual and the unusual underwater suspects.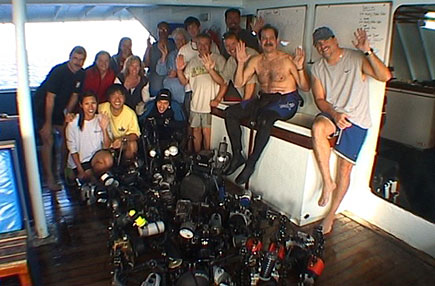 Strong winds, high seas, and pumice attacks, did nothing to subdue the photographic and diving zeal of this intrepid group.
Julia Handler won the award of top underwater model to Mauricio. Grant and Josh tried hard to live up to her modeling standards, but could not keep up, although they did look quite smart posing with their fully closed Evolution rebreathers. A few, albeit unsuccessful, conspiracies were organized amongst the photographers to relieve them from their precious bubble-free and fish friendly wonder equipment, but they seemed to be surgically attached to their units. The rest of us mortals had to keep blowing noisy bubbles and holding our breath while we clicked away…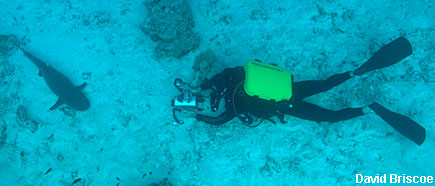 Mauricio worked extremely hard under water and above. He must be the only passenger ever, who did not gain a single pound of weight on the NAI'A, skipping several meals, spending whole days underwater and every spare minute in front of his computer or giving highly appreciated advice to his fellow photographers. How he could spend five consecutive hours in the water and not freeze, will remain a mystery … maybe he has a way to heat his wetsuit that we have not yet discovered ...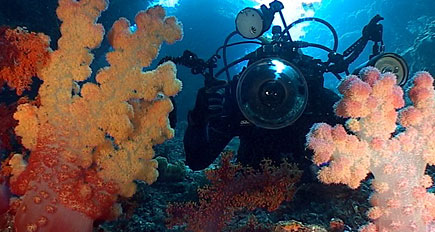 Sam Lam, Helena Li and Manuel Sam, the dynamic trio from Hong Kong/NY/Cuba, always with smiley faces… Helena was definitely in charge, even though Sam and Manuel tried hard to be the heads of the family… keep trying… Also, professional card players, when critter hunting photography and videography allowed.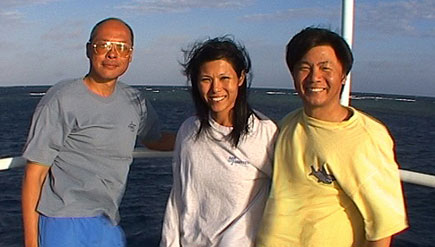 Another trio was Southafrican, Valda & Steve Bromfield and Ivan van Heerden, wannabe pirates turned into sea bears in Virgin Islands. Always ready for lots of laughs and teasings, under which Ivan's sensitive heart suffered immensely, bleeding lots, which attracted heaps of sharks, and made everybody very happy. Did not put them off diving either…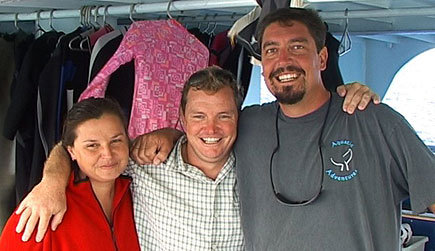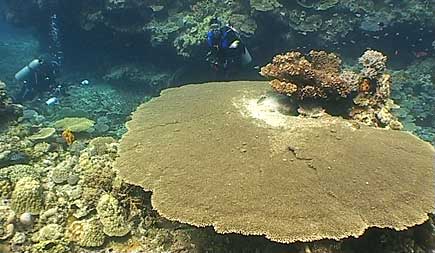 Although Roger Kirkpatrick is young in years, his photography produced lots of "ahhhhhs" and "ohhhhhhs" during the slide show at the end of the trip, especially some of his interesting photographic ideas, like shooting wide-angle through a diving mask… definitely looked great.
Rusty Childress did not miss a dive and turned out to have priceless massaging skills, unfortunately only discovered during the last days of the charter… long waiting lists formed anyway, but he usually escaped to his cabin in time to work on his photographs. He was awfully grateful for every 10 feet, that Bob J. Paterson's knowledge in applied pharmaceutics could add to his depth and suffering ears...
Bob J. Paterson was everybody's choice of pharmaceutical advisor in the battle against a small but nasty syndrome of stuffed up sinuses and blocked ears, that had the impertinence of being an uninvited guest on the ship and attack several passengers aboard NAI'A. Bob won the battle and offered comfort to many sufferers.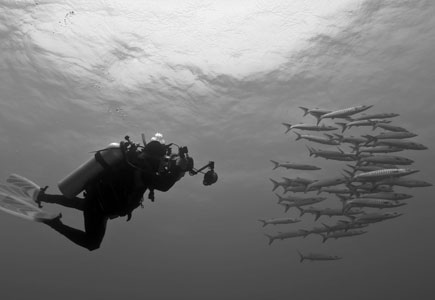 Dave Briscoe preferred to blend in with the anthias, damsels, fusiliers, jacks and soft corals at the currenty side of the reef, shooting away, while Ellen Briscoe, was never far, patiently hovering, while enjoying a camera free view. Close buddies under water and above, they studied the outcome of each day's photography on the computer together.
Welcome back on NAI'A to Erika Palmer Rogers, after last year's trip to visit the Humpback whales in Tonga. Her pink outfit was matched perfectly by her blue, funky computer with the huge screen everybody admired. Thank you for the music and the smiles.
Steve Genkins, welcome back, as well, to the NAI'A and Fiji after 3 years of dreaming with huge schools of fish, amazing critters, forests of soft corals, smiling Fijian faces and kava... We still don't know, which of these he missed the most. And… that pink hood definitely is as visible as a safety sausage if not more so...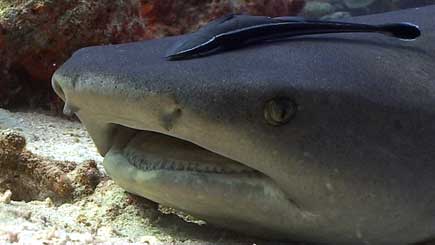 FROM THE GUEST BOOK
Dear NAI'A Crew! Thanks so much for having me aboard again. I've once again had a great time, thanks to you. Despite its recent Tonga Adventure, NAI'A remains an awesome vessel, with its crew her heart and soul. Thanks for all your hard work to make this a wonderful cruise for me and my fellow guests. Vinaka Vaka Levu! Stay happy and well!
Until the next time, best regards,
Steven Genkins, Charlotte NC
We had a wonderful and fun trip – my sincerest compliments and gratitude to the excellent crew of the NAI'A who worked so hard, and to the staff who adapted the trip plan in spite of adverse conditions to get us to some really awesome dive sites. It was truly a breath of fresh air to dive as you pleased for as long as the air held up, so as to better rake in the sights of the soft corals and Anthias, which in my experience, are the best I've seen. Best of luck to all!
Manuel Sam, Boston MA
To all of the NAI'A Crew
The Diving…… Awesome!!
The Weather….. Sucked!!!
The Pumice….. 'Nuff said!!!
But all of you put all of that in the shade with your hard work and enthusiasm. Thank you so much!!
See you for the "say no to bubbles" course
CHEERS,
Ivan van Heerden, S. Dartmouth MA
One of the top trips of my photo career!
Thank you NAI'A Crew.
Simply Amazing!
Sincerely,
Mauricio Handler and Julia Handler, Durham ME
The combination of a friendly, talented, and wonderful crew with beautiful reefs is simply unbeatable. You have combined the best reefs in the world with the best crew. Thank you for everything. This is a trip to remember and I am definitely coming back for more!
Roger Kirkpatrick, Muttontown NY
Thank you NAI'A Crew – awesome diving, great food, etc. but you guys made the trip with your enthusiasm and excellent service.
Hope to see you again,
Valda Bromfield, St John VI
We had great fun and we totally enjoyed Fiji waters. Although the pumice has brought NAI'A and the crew some problems, they have managed to pull it off and we greatly appreciate their services and hospitality. NAI'A is one of the best!!!
Helena Li and Sam Lam, Roslyn NY

LINKS
Mauricio Handler
www.handlerphoto.com