Date: September 30 - October 7, 2006
Destination: Bligh Triangle, Fiji
Returning Passengers: Randy Kava
Congratulations: Carl Arnoult, Rick Crandall and Brett Crandall on completing your Nitrox courses, and Steve Belbin on completing your Draeger Semi-closed Rebreather course.
After 3 years of cruise directing aboard the NAI'A, a heartfelt "Isa Lei" (so very sad to see you go) to Josh Jensen and Liz Harlin. All of us at NAI'A wish you the best of luck for your future adventures. A big thank you from us, the incoming Cruise Directors, Grant Searancke and Sonia Goggel, for all your help and enthusiasm showing us the "NAI'A ropes", we could not have had a better ship hand over. You rock!!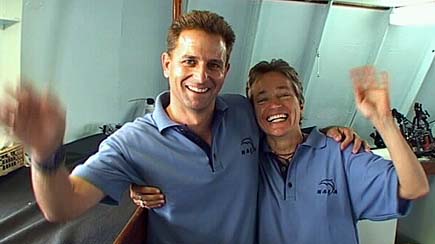 Old friends of Fiji, Steve Evers & Jan Hathaway are not new to Fijian underwater treasures, although the NAI'A was a first for them. We hope Jan's ear kept the pace on the following week's diving at Namena Marine Reserve. Steve, we miss the jokes…
Smiley and keen photographers, Scott and Nancy Barnett, were excellent at spotting shrimps and nudibranchs. Scott even found an orange hairy frogfish at Yavena passage, which made everyone want to go back and find it again.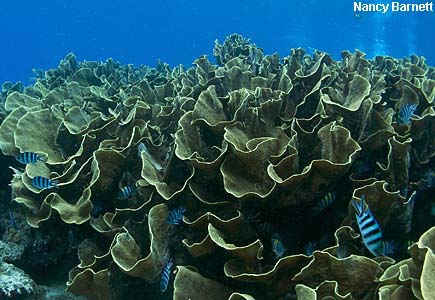 While her husband looks after the cats, Cecilia Giambalvo goes off diving, God bless him. Cecilia likes soft corals and Anthias, who can blame her? Fiji is the right spot for that. She even had two stonefish chin to chin, at a little dusky rendez-vous, and a manta ray for her birthday, what else could one wish for?? Happy birthday, again!!
Cindi Gassaro did not miss a dive, in fact, we invented some more dives for her… and introduced underwater meals, too… Surely she is still dreaming about the octopus that came to wrestle with her console, trying to eat the beeping computer for dinner. It was not successful, but lots of fun.
Paul DeVagvar and Cindy Lu, did not miss a dive either, they even tried some bubble-free ones with the Draeger Semi-closed Rebreather, which broadened their usual smiles by a few inches.
Either diving or mountaineering, Rick and Brett Crandall like the smell of nature and the big outdoors. First time visitors to the South Pacific and already planning a return trip.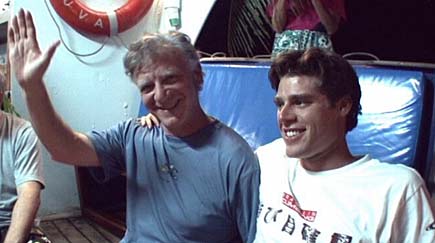 Everybody's hero this trip was James Monaco: we all want to be like him when we grow up. One has to wonder how he manages to swim into the current and hardly budge a fin…Maria Monaco does not dive, but accompanied us on all the dives by listening to all our stories, and enjoying the videos and photographs almost more than we did. Happy birthday again, to you!!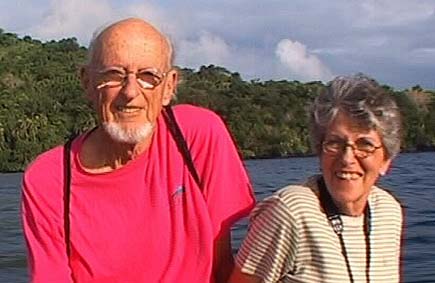 Carl Arnoult, thank you for the music and congratulations to your nitrox certification!! His mellow guitar tunes made our surface intervals seem agreeably short. Accompanied by Aurora Pan and his camera, they were passionate admirers of all those special critters Fiji has to offer. Scorpion Leaf-fish and Ribbon Eels in all their colors were especially obliging this time.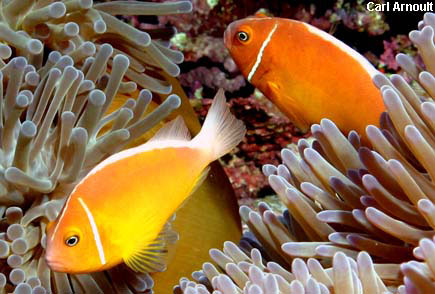 Welcome back on the NAI'A to Randy Kava. He honored his name and had more than one cup of the precious liquid. He kept us all in good spirits making us laugh many times a day. Great dancing at Somosomo village, too!! You will be remembered as a man of many talents. And…we will definitely miss your socks…
Steve Belbin, accomplished no small feat, combining photography and a Draeger Semi-closed Rebreather course. Fiji does have quite some currents once in a while…Congratulations!!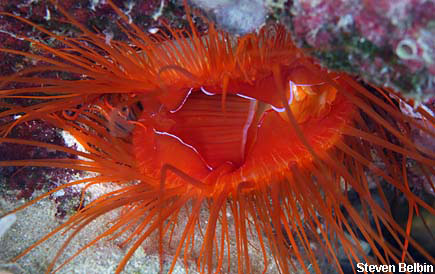 Our friend the volcanic pumice from last charter is still around, trying to create mayhem by surrounding the NAI'A and the skiffs with occasional big carpets of floating rock, and keeping us watchful… we were blessed with good weather, though, mild winds and quite some sunshine.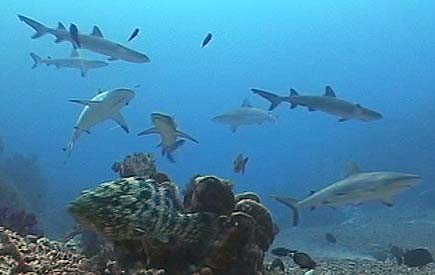 Somosomo village, looking tidy as usual, hosted us with a great show and excellent hospitality. Josh and Liz said good-bye with a tear in their eyes, and they were offered a beautiful hand-woven matt as a farewell present.