Date: November 11 - 18, 2006.
Destination: Vatu-I-Ra, Gau and Namena Marine Reserve, Fiji.
Returning Passengers: Aod and Tik Boonyavairoj.
Congratulations:Joke Jongchaisittikul and Mod Anucrohdilok on completing the Nitrox course.
Welcome back Aod and Tik Boonyavairoj to Fiji and the NAI'A after ten years.
They came accompanied by Joke Jongchaisittikul and Mod Anucrohdilok, Kan Tulyanan and Su Rasamimongkol, Wallop Pornpithayalert and Rapeephon Kunjara-Na-Ayudhya, Jan Pongprapai and Chanpen Choprapawon, Pam Jaitrong and Nit Manomaiphibul, Tipawan Tangtrakul and Supanna Thamasri, Prasit Tapananont and Bundit Saowan, and Nuek Chakthee and Lek Karuchit… It took us a bit longer than an evening to learn the names of the group this time…
They all definitely lived up to the national Thai fame of very happy and smiley people. They laughed all day and part of the night, and chattered all at the same time and still, successfully, understood each other. They cooked delicious Thai meals every day, and exchanged many recipes with our Chef Eddie. They watched lots of movies, and taught us Thai dances during the Kava Party, getting Rotuman dance lessons from Suli in turn. They organized a Thai evening with traditional dresses for everyone, including all the crew. They even had time to make amazing watercolor paintings of fishes, critters, and the NAI'A…. So many talents…. How we could still squeeze in 3-4 dives a day in between all other activities remains a mistery… Never a dull moment!!!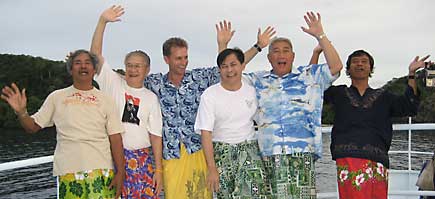 Fiji blessed us once again with awesome diving. The School House produced a school of 20+ hammerheads, of which the biggest came up to about 4 feet of the divers, yeepee!! Teton I's blue ribbon eel decided to free swim for us, we had manicures and mouth hygiene done by eager cleaner shrimps, and, as if not enough, a school of at least 100 Chevron barracuda circled the top of Teton I closely two times during the safety stop…. Back at School House for another dive, the hammerheads did not make an appearance, but a Thresher shark did instead…Can it get any better than this?
Fantasea did honor to its name by spoiling us with soft corals and fans in full splendor, clouds of reef fish of all sizes and colors, humphead parrotfish in the blue, grey reef sharks, a black ribbon eel, and great visibility. In 27 years of diving, Bundit rated this dive as one of his top ones.
Nigali Passage welcomed us with great grey reef shark action, up close and personal, and Jim's Alley had its lush purple soft coral forest fully puffed up. Everybody surfaced raving!!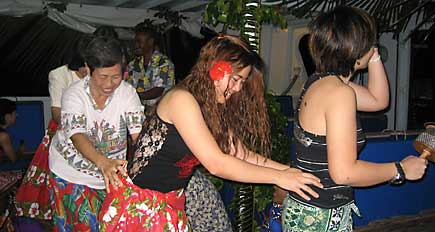 The cavern system of E6 (top of tops on Bundit's scale) was its usual gorgeous self in the morning sunlight, and eagle-eyed Nuek spotted a magnificent Leaf-gilled slug (Cyerce nigricans). Finally, the cherry on the cake was the impressive appearance of a Silvertip shark at Mount Mutiny.
Special thanks to God Poseidon, who at last rewarded our patience with fine weather and flat seas on most days….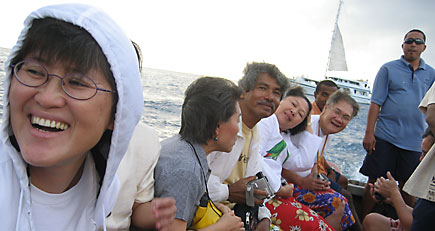 Surrounded by lush vegetation, and tidy as ever, the village of Somosomo and its friendly inhabitants hosted us with their usual very lively and heart-felt Meke. Everyone gave Fijian dancing another try, and had some more of the most beloved kava. All stars were out for our skiff ride back to the NAI'A…Paradise found!!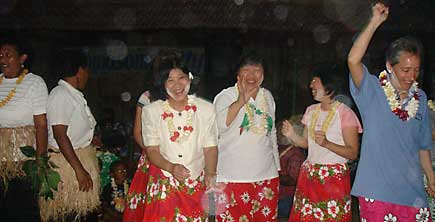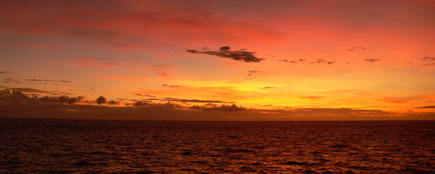 Guest Comments
With love from all of us. We're traveling very far away from home (Bangkok-Sidney-Nadi), but all crews made us feel at home; warm hospitality, helpful (especially during dive time, party and meals). We will never forget this joyful time and all wonderful dive sites. Many of us have left our heart for U!! Thanks million bunch.
Thai group
Vinaka!! Thanks so much.
Hope to come back again.
Aod Boonyavairoj, Samutprakarn, Thailand
Thanks for my second time.
Tik Boonyavairoj, Samutprakarn, Thailand
To everyone on board NAI'A,
I was very much impressed for every thing aboard. Thanks to all. Hope I can come back again.
Nit Manomaiphibul, Bangkok, Thailand
Fantastic memory!! Diving, Crews, Food!!
Rapeephon Kunjara-Na-Ayudhya, Bangkok, Thailand
Bula!
This is the best trip!!
(not one of the best)
Thanks for everything, Vinaka
Bundit Saowan, Bangkok, Thailand
To the Crew and Divemasters,
You are so nice and very helpful. Thank you.
Su Rasamimongkol, Bangkok, Thailand
To Sonia, Grant and Crew,
I really had good times with you all. Very impressed with your very warm hospitality. I surely will come back some day in the future, but if you cannot wait until then, go meet us all in Thailand. NAI'A in Thailand, Yeah… Hooray…. Hooray… Good-bye & C you soon.
'Miss Thailand', Lek Karuchit, Samutprakarn, Thailand
It's such wonderful trip with NAI'A ship and staffs
Kan Tulyanan, Nakornratchasima, Thailand
I love Fiji!
Mod Anucrohdilok, Bangkok, Thailand
Very nice trip!
Joke Jongchaisittikul, Samutprakarn, Thailand
Bula Bula!!
The most wonderful diving trip of my life…
Not only great diving experiences (especially the hammerhead sharks), but also excellent hospitality of all crews and ***** (5 star) food on board. Thanks to everyone … Sonia & Grant & Richie & Jonathan, Ben, Ed, Suli, Jioji, Russell, Mo, Joe, Charles, John, Sefenaia….. who helped me to complete my mission (hammerheads)!!!
Vinaka,
I love Fiji and NAI'A
Supanna Thamasri, Bangkok, Thailand
Excellent diving trip and please keep your standards of service.
Jan Pongprapai, Bangkok, Thailand