Date: November 21 - 28, 2006.
Destination: Vatu-I-Ra, Gau and Namena Marine Reserve, Fiji.
Returning Passengers: Jenny Kanefsky and Tom Callen on completing the Nitrox course. Christie Moore on completing the Open Water and Advanced Courses. Jeff Yonover on completing the Evolution closed-circuit rebreather course.
No better place than Fiji for a honey moon. Best wishes and welcome back on the NAI'A, Jenny and Peter Kanefsky. Hope to see you back for your anniversary!!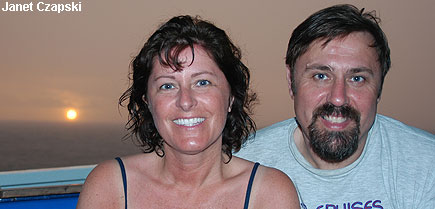 Jeff Yonover enjoyed bubble free diving with the Evolution rebreather and impressed us every day with his collection of bula shirts. Smoking cigars on the back deck was always a good excuse to have some more of that kava with the boys.
Welcome back on the NAI'A, Jeff.
Christie Moore did a great job. She started out as a snorkeler and developed into a Master Spotter and Advanced diver, well done!!!
Diving veterans, Joyce Baer and George Socha, have been diving longer than most of us have been alive, and are still fitter than most of us. George even ventured a few South Pacific jigs during the kava night.
Tom Callen and Rick Halaska never missed a dive, and Linda Halaska had an excellent eye for hammerheads.
Terry Rose was mainly after big fish, but got the taste for Fiji's symphony of soft corals and small fish on the South Save-a-Tack bommies, loving it.
Jeff Rose's pirate head-covers attracted many sharks and created some confusion in the clownfish community.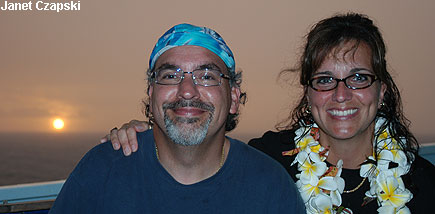 Rich Barnard and Lynn Hsu smiled a lot, underwater and above, and hardly ever missed a dive.
Starting on the NAI'A, Janet and Bob Czapski are on a six weeks diving tour around the western South Pacific. Sheeeesh, are we jealous!! We wish you happy bubbles and lots of excellent diving!
It was a great experience to share the magic of Fiji with you all!! Thank you!!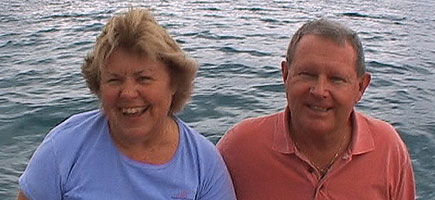 A few highlights included pre-breakfast mantas greeting us, flapping their fins on the surface, at Anthias Avenue in Gau. We could not resist the call, hit the water and had one black manta circling a few of us closely for a gorgeous while. Plenty of nudibranchs and a sea whip with six tiny color-blended shrimps running back and forth along it, added to our morning dive joy.
Wakaya welcomed us with especially many schooling fish, excellent visibility and a lovely green leaf fish sitting proudly on a hard coral.
Grey reef sharks and a hammerhead made rounds for us on Grand Central Station, were we finally found the home of the evasive Splendid garden eels. An Orangutan crab also peered at us from its little hole at Kansas.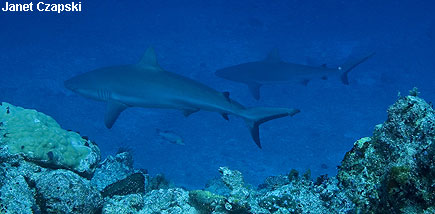 Leaf fish were everywhere at South Save-a-Tack, and E6 was as good as it gets in the midday sunshine.
We are especially glad to announce that we finally got our Fiji weather back: flat calm seas and plenty of sunshine, great visibility, and, even better, hardly any pumice …
We enjoyed the excellent hospitality of Lovu village on this trip. To everybody's joy, the children were the centre of the meke.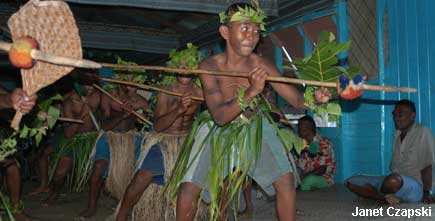 Guest Comments
Dive Travel Services Group
BULA! BULA! BULA!
We can't say enough about how fantastic this week has been … absolutely beautiful boat, fantastic food … wonderful, wonderful crew and the diving! Oh, the diving! Each dive site was more beautiful than the one before and we saw lots of new critters, too! Sonia and Grant are delightful and their enthusiasm is contagious.
Vinaka vaka levu for a very memorable week. Fiji has a very special place in our hearts.
Janet & Bob Czapski, Northville MI
Bula, Bula, Bula, Bula, Bula, …
This vacation was by far our best ever!
From fantastic accommodations to superior diving to the "out of this world" crew, we had it all! Sonia and Grant really made us feel at home here … and the crew – Suli, Eddie, Richie … and of course Capt. John, were an absolute delight and fun to be around. You all will remain in our hearts and hope to see you all again! Take care, enjoy life and thanks for allowing us to be a part of your family – forever!
Terry & Jeff Rose, Harrison Township MI
Bula! It's great to be back on the NAI'A! I was here 6 years ago and my husband was here years ago before we knew each other, and when we got married we thought this was the perfect place for our honeymoon, so here we are! It's great and Grant and Sonia are wonderful tour directors. Their personalities are ideal for this job and we have so enjoyed their company.
Lovu Village was especially special to me, because I have been writing letters to a lady there for 6 years and I was able to see her family while I was there. We will have to visit NAI'A again – maybe on our anniversary!
Thank you for a wonderful time!
Jenny and Peter Kanefsky, W Bloomfield MI
This has been a trip the Lord has made – Let us be glad and rejoice (Joyce & George :06). Sun and warmth, no current – what could be better! We know, a marvelous crew – always smiley, cheerful, and helpful beyond expectations.
Vinaka, Sonia & Grant,
George Socha & Joyce Baer, Marshall WI
Bula, Bula, Bula
The great crew, wonderful diving, happy music, delicious food, fun fish, and splendid corals!
What a great trip! Vinaka,
Rich Barnard & Lynn Hsu, Fremont, CA
Awesome!
The diving – the crew – the music – the kava
I had a wonderful time - Thanks especially to Sonia, Grant, Richie, John, Suli and the rest!
Tom Callen, Farmington Hills MI
To our dear friends Sonia & Grant:
Sonia - THANK YOU!!! For making me a real advanced open water diver!!! I couldn't have had a better experience! Your patience, humor, enthusiasm, and total competence will never be forgotten! I can't wait until we dive together again!
Grant – THANK YOU!!! For training Jeff so well on the beautiful, reliable, yellow turtle rebreather. It was obvious that he was in good hands. And for the amazing trip DVD!!! Can't wait to show it to family and friends …
To our dear friends, the NAI'A Crew:
Bula, bula, bula! Thank you SO MUCH!!! For the excellent food, friendly attention to detail, excellent dive assistance and all in all, the best vacation ever!
See you in TONGA!!
xoxo Christie & Jeff, Portland OR
Links
Janet Czapski
www.divetravelservices.com
Jeff Yonover Photography
www.jeffyonover.com