Date: December 2 - 9, 2006
Destination: Vatu-I-Ra, Gau, Wakaya, Makogai and Namena Marine Reserve, Fiji
Returning Passengers: Randy Burge
Congratulations: Nicole and Thomas Green on completing their Nitrox course.
Welcome back after 5 years to Randy Burge. Great flame hawkfish face shot, Randy!!
Best wishes to Rick Calvin and Carolina Cole-Calvin. May our captain's underwater blessings in the Cathedral of E6 contribute to an everlasting love. Together with Eve Ackerman, they formed the core of Fiji loving diving enthusiasts, emerging from each dive assuring that it had been the best dive of their lives.
Happy birthday, Nick Arismendi. He and his wife, Julie, and their friends Kathy Friesen, Bruce Mabrey, Jeff Owensby and Annette Lorenzi, always had big after-dive smiles on their faces, and were as enthusiastic about diving as they were about kava, although while Jeff preferred to be a purist and drink it as it came, preferably high tide, some needed gins and tonics to wash it down. Great dancing, Jeff and Bruce!
Christa Engelmann and her partner enjoyed the bubble-free Evolution rebreather almost as much as they loved the kava, although adding rather large quantities of Fiji Rum to it might not have been his best idea, yet…Nevertheless, it did not diminish their eagle eyes, when it came to spotting all sorts of minute critters and fish.
We thought we knew our fish until Roberta (volunteer for R.E.E.F.) and John Simonton came along and taught us, how to look at our fish friends with a completely new eye. We are very grateful!!
Nicole Greene was grateful for every layer of wetsuit she could find, Fiji's waters can be fresh… She did all the dives, although when it came to night dives she did the "hesitant leaf fish impression" at times, promising to herself, that she would only go for half an hour, but staying one hour anyway. Thomas Emilson and Nicole were often seen flooding their masks giggling over some new underwater sign they had just invented to describe some fish behavior or another.
Alan Evans did not miss a dive, including night dives, and had the biggest underwater smile ever…he especially enjoyed the musical talents of our crew during the kava night.
More grey reef sharks than ever, from foot-long juveniles up to big pregnant females, made their appearance at Nigali passage, accompanied by a cruising manta ray. North Save-A-Tack also welcomed us with more fish and grey reef sharks than usual.
Several large banded sea snakes were hunting and mating at Jim's Alley, an impressive sight.
Makogai had a robust ghost pipefish in store for us, as well as numerous orangutan crabs.
Although we started out with a rough day, the sea was nice and calm for the rest of the week. Thankfully the announced bad weather front never reached us. The visibility was still going for miles, but our old friend the pumice made another appearance.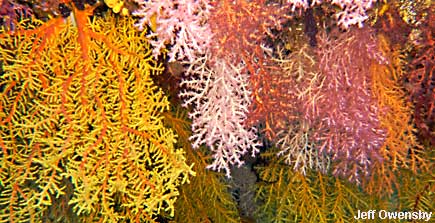 The Somosomo villagers greeted us with their usual warm hospitality. It is the smallest village on the island of Gau, and it is nestled in a little valley between lush green hills. Kava roots and Pandanus (voivoi) leaves, for making mats, were laid out to dry in the bright afternoon sun, which was great for everyone to see. The children, back for Christmas holiday, were the stars of the meke, dancing to the unique harmonies of the adult choir. Everybody enjoyed the celebration and the sharing of cultures.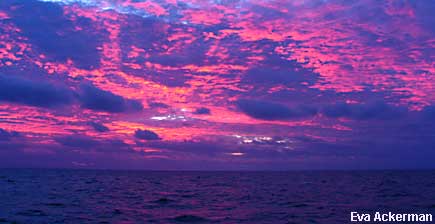 Guest Comments
Thank you Sonia and Grant for a wonderful trip! The NAI'A is a beautifully organized luxury liveaboard, which has no peer in the industry. The crew is simply fabulous and anticipates everyone's needs. The diving is the best I've ever experienced! I'm sad to leave but look forward to another trip with NAI'A et al. (maybe next year?)
Warm regards,
Eve Ackerman PADI CD#35240, Richmond, VA
Yeah, NAI'A crew:
We will miss you and the great diving. See you next year.
John and Roberta Simonton, Denver, CO
Our heartfelt thanks for a fantastic week! All helped us and welcomed us in countless ways. Air (borrowed) in shark passage, warm muffins, Suli's smile, fabulous meals, never lifting a tank, environmental lessons, the singalongs, Mo's irrepressible humor and spirit and the hard work of the crew made our first live-aboard a magic experience. We look forward to our next voyage with you.
With our warmest regards and Christmas Greetings,
Jeff and Annette Owensby, Sacramento, CA
PS: An extra special thanks to Sonia and Richie for taking such good care of me. You are the best!!!
Annette
To the NAI'A crew, one and all,
Thank you for everything. Whatever I write will inevitably leave out far too many of what are memories that will leave me feeling good and happy for years to come. Still I'll try: Dive briefings were the best I've ever had; The creature comforts were perfect: great food, a spacious cabin #10 (loved the walk in closet!); Sonia and Grant's layed-back professionalism and cheer; the heart-warming music, smiles and friendliness of the Fijian crew (my first and hopefully not last Fijian friends). The diving was terrific, the night dives, well, I'm not able to describe them (sorry, getting emotional here…)
I hope to return one day to this magical place.
Thank you, respectfully, and with great joy. xxx
Alan Evans, Amsterdam (Netherlands) and San Diego, CA
Another fantastic job! Excellent diving, fun crew, great food.
What more could a diver want. It won't be 5 years before I return!
Thanks for a great week,
Randy Burge, Seattle, WA
We had come on this trip with high expectations, but I must say, they were EXCEEDED!! The NAI'A is a wonderful ship, but a ship is only as good as its crew, and they were magnificent. Service with a smile and a warm "Bula" each day, serenades by the crew at night, best food of any live-aboard we've been on, and memories to last a lifetime … or at least until we return.
Bula Vinaka,
Julie and Nick Arismendi, Clements, CA
PS: Seeing my husband in a sulu was one of the highlights!
Thank you. One of my best trips. Will always remember this one. Had a great time and great divings.
Thanks again
Bruce Mabrey, Bakersfield, CA
What a great trip – the crew is what makes the trip – "Mo & Joe" thanks for always being there when we popped up wherever. Fish taco exceptional. Thank you all for a wonderful trip.
Kathy Friesen, Bakersfield, CA
Thanks to the crew of the NAI'A for a very memorable "Life" experience. Great work, enthusiasm and professionalism. A very tight and musical group. We will fondly remember you all and recommend this experience to all our friends.
We love Fiji
Nicole Greene and Thomas Emilson, Telluride, CO
Dear NAI'A,
Words can't possibly express our gratitude for helping us make our underwater wedding dreams come true! Turtles and the Cathedral will never be lost in our hearts and memories. Please, consider our Waisali Village on Koro open to you all, just as all of you have opened your "NAI'A village" to us. We look forward to diving with all of you again soon. Maybe next time on Koro!
Much Love and Hugs,
Vinaka vaka levu!
Caroline and Rick Calvin, Seneca, IL and Koro, Fiji