Date: December 9 - 16, 2006
Destination: Vatu-I-Ra, Gau, Wakaya, Makogai and Namena Marine Reserve, Fiji
Returning Passengers: Wendy McIlroy, Addie Berliner and Chuck Ray, Andrew and Susan Wiens
Congratulations: Jill Meents on completing the PADI deep diver specialty course. Wendy McIlroy, Jill Meents, Jon Dube, Andrew Wiens and Todd Edwards on making a Evolution Rebreather experience dive.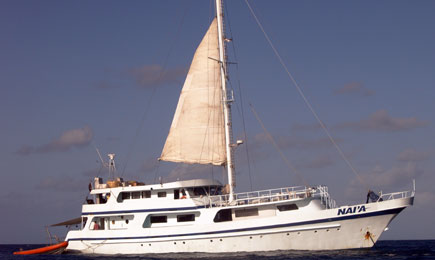 It was a real treat to have Alexx, Todd, Wrenn and Brigg Edwards on board this week. Such a gentle, loving, smiley and fun family. Thank you, Alexx, for all the old NAI'A stories, which everybody enjoyed thoroughly. Todd is a born rebreather diver, thank Heavens Xmas is around the corner…Great Isa Lei singing, Brigg.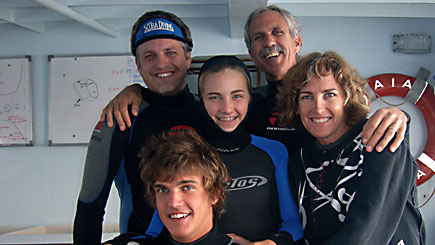 The Fijian fish know Wendy McIlroy by name already, we have lost count of how many times she has been on the NAI'A, and we hope this time was not her last one. Welcome back, Wendy, and hope to see you again very soon.
Addie Berliner smiled us much above water as she did while diving. Chuck Ray and her make a great photographer team, enjoying the little critters as much as the soft corals and sharks. Welcome back to the NAI'A, Addie and Chuck.
Susan Wiens saluted the sun, yoga-style, in the mornings, while her partner Andrew was extremely pleased to discover a new species of nudibranch, which we eagerly named in his honor, Flabellina broccolata andrewiensis. How it ended up looking like a crepe, with a line of broccoli sprouts on top and two thyme leaves looking like rhinophores, we will never discover. Anyway, as it looked very scrumptious, he could not resist and had it for dinner… much to the distress of the Nudibranch Protection Association…. Welcome back to the NAI'A to, Andrew and Susan.
Jill Meents polished her deep diving skills during the specialty course, and especially enjoyed the pressure exercise with the water bottle, and that hairy red algae that actually looks green in the torch light, and not the other way around, one never stops learning…
Clint and Jayne Carlson, left their corner of paradise, Fijian island resort Lalati, behind for some days, to explore the Fijian waters off-shore with us. Thank you ever so much for the crew's sulus. We will wear them proudly, while we drink kava, only high tides, of course, and think of you.
Happy birthday, Kerry Levin. We celebrated in style, with a scuba cake…It was great to share your passion for the underwater world!!
Neither nudibranchs nor flatworms escaped the keen eyes of Brenda Nieb, while her partner Jon Dube inspected them all closely with his set of underwater prescription glasses pinned on the nose of his mask. You are right, Jon, empty clam shells make such fitful hats, a pity they are a bit on the heavy side.
Mary Carney, a very happy Kiwi, did not miss a dive…and can see the Poor Knights from her bedroom window every day… aren't we jealous…. Very enthusiastic and smiley, her twinkling eyes were unmistakable under water. It was a joy to meet you and dive with you, Mary!!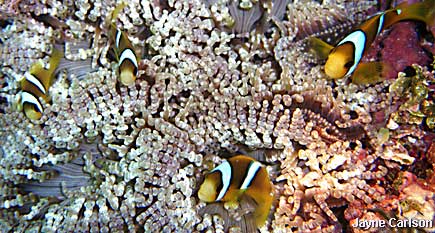 Jim Fikes and Nina DiPinto came with Wendy. If cows could breathe underwater, wouldn't they make the loveliest fish…. But can you imagine the dive sites full with cow pads… maybe not… the parrotfish make already enough of a mess as it is…
A few highlights this week included more than normal grey reef sharks at Nigali passage again, as well as at North Save-A-Tack, where they were joined by a school of twenty hammerheads. The buoy rope at Kansas was very busy with plenty of egg laying, yellow and blue spotted, Aplysia sp. sea hares, really amazing sight…Robust ghost pipefish and a few orangutan crabs were still at home, at Makogai. Leaf fish in all colors and sizes were still thriving in Wakaya, Makogai and Namena Marine Reserve. We also had quite a few sightings of huge octopi mating, and of NAI'A pipefish at Namena and Vatu-I-Ra. E6 was stunning as ever, with all its huge soft corals nicely puffed up and plenty of schooling chevron barracuda in the blue.
We had quite some sunshine, and quite some days with strong wind, but that never stopped us from diving. The visibility was a bit reduced at Namena, but great everywhere else. Our old friend the pumice decided to stay for yet another week… aren't we grateful....
Sawaieke village, home to the chief of Gau island, gave us a warm welcome, with all the children escorting us and holding our hands throughout the village walk-about. The children, again, were the centre of the meke, presenting well rehearsed choreographies, dancing to Boney M. The kava flowed and everybody had a try at Fijian dancing.
We wish you a very Merry Christmas and a very bubbly 2007. We hope to see you again soon, and to share some more of the magic of Fijian waters with you on the NAI'A.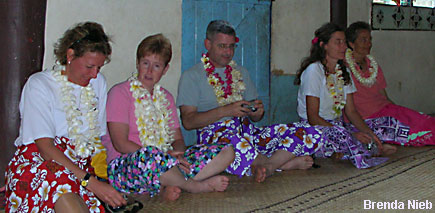 Guest Comments
Could the week go by any faster? I guess the old expression of "time flies when you are having fun" really applies to my NAI'A trip. The diving was great, the staff so friendly and helpful and the company of great friends make NAI'A my favorite place away from home. Sonia's smile and enthusiasm were priceless. Grant, the silent yellow turtle, pointing out little critters along the way, making for nice macro shots. I always hate to go, but count the time until I return again – so much thanks and hugs
Love, Susan Wiens, South Pasadena, CA
Stunning diving paired with world class service makes for a perfect week.
NAI'A delivers the very best of the Pacific!!
Thanks to the staff, crew and onshore team for making it a perfect week
Andrew Wiens, South Pasadena, CA
A wonderful trip. Superb diving, very obliging and friendly crew, great company altogether and a very special boat. Dive guides very thoughtful and excellent at finding special critters.
Many thanks,
Mary Carney, Whangarei, New Zealand
I think the words "Diving Bliss" must be synonymous with NAI'A. Incredible diving, wonderful company and fantastic food made our time on NAI'A much, much too short. We cannot wait to come back! It's been one of our best vacations ever.
Thanks so much!
PS: extra special thanks to the crew, Grant & Sonia! Their enthusiasm, knowledge and thoughtfulness is unparalleled. By the way, how the heck does Richie see those tiny things?
Nina DiPinto and Jim Fikes, Ijamsville, MD
You mean I have to leave again already?? Guess I'll just have to sign up for another!!
I never seem to get enough of NAI'A… the crew, the atmosphere, the diving…
Until next time.
Vinaka Vaka Levu!
Wendy McIlroy, Koloa, HI
What distinguishes a good liveaboard experience from a great one is attention to detail. The crew of the NAI'A are second to none when it comes to the details – big and small. From the most delicious meals, to spotting the tiniest of creatures, to being serenaded by the crew during the Kava ceremony, and always with a smile. Our first trip to Fiji and the NAI'A won't be our last.
PS: we had the pleasure of Grant and Sonia's hospitality in the Solomons, and were excited to find them on the NAI'A. We would follow them anywhere!
Brenda Nieb and Jon Dube, Benton Harbor, MI
The NAI'A is a wonderful magical Dive Boat. The sites are stunning, the food delicious, and the crew is funny, kind and take great care of us. This is our second trip and I don't know if we could ever use another live-aboard.
Vinaka and Aloha,
Chuck Ray and Addie Berliner, Waikoloa and Pahoa, HI
The NAI'A experience was spectacular – the crew, the dives, food, laughs & fun! Congratulations on a great business.
Jill Meents, St Louis Park, MN
Jayne and I have been on many other live-aboards the world over and this is by far #1. The crew was warm and helpful, the diving was spectacular. A wonderful experience.
Clint and Jayne Carlson, Lalati Resort, Fiji
It's a good boat … had tons of fun!
Wrenn Edwards, Pacific Harbour, Fiji
Links
Jayne and Clint Carlson
Lalati Resort & Spa, Beqa, Fiji
www.lalati-fiji.com
Andrew Wiens
www.scubadiving.com