Date: February 3-10, 2007
Destination: Vatu-I-Ra, Makogai, Gau and Namena Marine Reserve, Fiji
Returning Passengers: Rod Klein
Congratulations: Sophie Moreau on completing the TDI Basic Nitrox course. Grant Narby on completing the Evolution Rebreather course. Rob Hogarth, David Hinman, Joe Inzerillo and Sam Guido on completing a Digital Photography and Editing course with Rod Klein.
The NAI'A, shining white and bright after the dry dock, started the year by welcoming Rod Klein back onboard to teach a Digital Photography and Editing seminar for two consecutive charters. He did warn us of his ability to attract bad weather, which arrived on day three in the form of a Cyclone, forcing us to take shelter between the islands in Magokai. Just as well it only lasted four hours. Cheers for that one, Rod, we hope the Cyclone will not make a come back during the second charter…
| | |
| --- | --- |
| | |
A group of diving friends, Rob Hogarth, David and Jan Hinman, Joe and Lisa Inzerillo, Bob and Diane Grabo, and Sam Guido made us laugh during the whole charter with ever so many funny stories, and kept our spirits up with their infectious enthusiasm and love for critters. It was ever so rewarding to point those underwater goodies out to them!! Bob became our "Kava King", singing along with the boys like a true professional, accompanied on the dance floor by Joe and Lisa, swinging their hips in true South Pacific fashion. Lisa kept impressing us with her underwater modeling outfit and skills, which were very much appreciated by photographer Todd Mintz.
Todd, Rob and Sophie Moreau proudly represented Canada, and Todd made our mouths water with stories of spectacular cold water diving in British Columbia.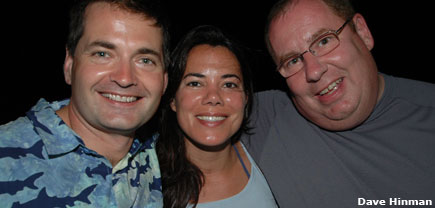 Greg Tartaglia kept working photographic wonders with his little point and shoot camera, congratulations! Some talent!
As keen as they come, Mike Millet was always first on the dive deck and ready to go. Surface intervals can get so long at times, and anyway, life is too short to miss a dive!!
The "Twisted Deep Wall Diver Kiwi", Grant Narbey, turned into an Evolution Closed-Circuit Rebreather freak during the week, and convinced everybody that Vegemite definitely is the thing to put on your toast. Good on you, mate!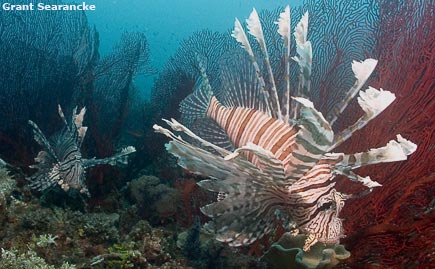 Excellent to be back amongst our Fijian friends and fish friends, spectacular soft corals and critters.
Highlights of the charter included a group of yellow tail coris juveniles at different stages of development at Howard's Diner, really nice to see the whole ageing progression in one spot.
Following Rod Klein's suggestion, we fed the sharks and fish at Nigali passage, who reacted quite hungrily to the chumming, circling our heads closely and in great numbers.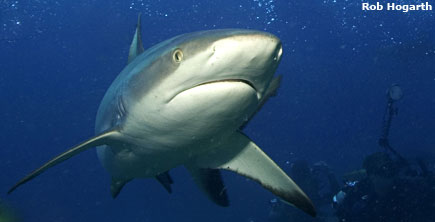 The robust ghost pipefish, orangutan crabs and leaf fish in all colors and sizes are still at their homes in Makogai and Namena Marine Reserve, as are the ribbon eels. A tiny ½ inch yellownose goby living with a very tiny shrimp in an even tinier hole amazed us at Two Thumbs. The flame hawkfish on the tops of Namena's pinnacles seem to have been thriving over Xmas, as have the stonefish at the Mushies, who are bigger than ever.
2007 also welcomed us with schooling longnose filefish on top of many reefs with hard corals. They seemed to be whole families of a few adults accompanied by numerous juveniles. We counted up to 20 on any one coral head, quite spectacular sight. The cherry on the cake, though, was a winged pipefish at Humann Nature.
Even though the visibility was not at its clearest, the amazing puffed up soft coral display on most reefs thoroughly made up for it!!
Going back to Somosomo village for a walkabout and meke (custom dance and singing) was like coming home. Ever such a special experience for everyone.
Guest Comments
Thank you for making my first to Fiji such a great experience. Everyone of the crew was fabulous. The music was truly enjoyable! Can't wait to be back.
Greg Tartaglia, Atlanta, GA, USA
Great Boat! Great Crew! Great Diving! Great Food! Vinaka Levu!
Mike Millet, Dublin, CA, USA
Great way to spend our 30th Anniversary. Diving was a blast! But singing with the crew was an unexpected, terrific bonus. We loved the traditional Fijian songs. And of course, the KAVA was really fun!! Can't thank you enough for a wonderful vacation!
Fondly!!
Bob and Diana Grabo, Scotia, NY, USA
Many thanks for an incredible week! Great diving with a terrific group of people. The crew was awesome!
BULA!
Rob Hogarth, North Bay, ON, Canada
BULA!
Sam Guido, Yorkville, NY, USA
Bula!
I came for images but leave with great new friendships! Loved the village visit. Many thanks to Grant and Sonia, and crew!
Todd Mintz, Regina, SK, Canada
Bula!
Thanks for a wonderful 1st liveaboard experience! Excellent crew, gorgeous diving, fantastic company. Loved the village visit…. Viva Fiji! 'Til next time.
Vinaka!
Sophie Moreau, St Lambert, Quebec, Canada
Vinaka to the best crew in the world.
- Friends diving with friends worldwide -
Dave and Jan Hinman, Delta Divers, Rome, NY, USA
Great trip from the Twisted Kiwi. Awesome! Fiji Rocks!
Deep dive and survive – Diving the "Evolution Vision Rebreather" is the most exciting thing I've done; Thanx to Grant, Sonia & all the Crew
PS: always know your PPO2. "Rebreather Mad"
Grant Narbey, Global Dive, Auckland, New Zealand
Great Crew, Great Guests, Fun Time!
Rod Klein, Venice, CA, USA
The Diving was great! But the captain and crew were even better. Thanks for an experience of a lifetime. I will always remember how kind and friendly the Fijian people are. God bless you all!
Joe and Lisa Inzerillo, Salisbury, MD, USA
Links
Rod Klein
Digital Images, Venice, Ca
www.rhkuw.com
Todd Mintz
Land and Underwater Photography, Regina, Canada
www.pbase.com/yahsemtough
Jan & David Hinman
Delta Divers, Rome, NY
www.deltadivers.com
Grant Narbey
Global Dive, Auckland, New Zealand
www.globaldive.net