Date: February 10 - 20, 2007
Destination: Vatu-I-Ra, Namena Marine Reserve, Makogai, Gau and Wakaya, Fiji
Returning Passengers: James Mathias, Abe Avraamides, Victor Zucker, Juli Tracy and Dick Gamble, as well as Rod Klein.
Congratulations: Abe Avraamides and Victor Zucker on completing a Digital Photography and Editing course with Rod Klein.
Richie, our Fijian Divemaster, is a ghost pipefish magnet. This charter's repertoire included a hairy ghost pipefish, a juvenile ornate ghost pipefish, and plenty of robust ghost pipefish. Great job!!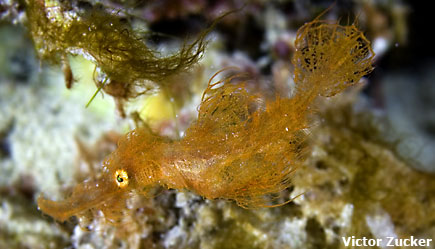 Welcome back to James Mathias and Abe Avraamides, who have created a new home for themselves in Fiji and on the NAI'A, visiting us every few months. Great slide shows with extraordinary color experiments and outstanding composition, really artistic, thank you for sharing!!
Vatu Vai, "Ray Rock", treated us to many close up sightings of feeding mantas by the wall, and mantas being cleaned hovering above the pinnacle, how lucky can one get. We even found three thin robust ghost pipefish there, as well….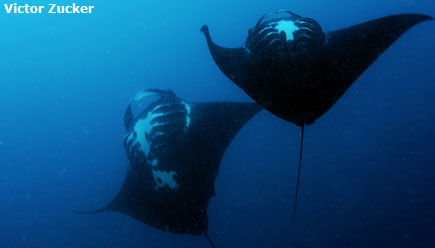 Victor Zucker clearly came back to the NAI'A to dive, not missing a single chance to get wet, and enjoying Richie's awesome critter finding skills, especially at night, diving in the light of flashlight fish and observing the boxing matches of the skeleton shrimps. Welcome back, Victor, and thank you for your enthusiasm !!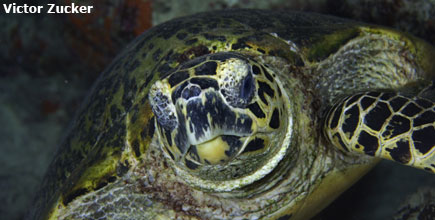 Maytag welcomed us not only with a leaf-gill slug and a huge school of big-eye jacks, but also with unexpected shark action on the ridge, when five grey reef sharks chased a big school of yellowtail fusiliers, that were themselves trailing a giant trevally.
Three dive buddies, Philip Minnion, Dave Reekie and Tor Wiik, switched their spectacular Canadian cold water diving for some warm tropical delight. Three dives a day and some resting and sun bathing was their diving strategy. The reefs and critters looked truly magnificent in the light of their powerful torches. Dave even took a day off bubbly diving, using the semi-closed Draeger Rebreather instead.
Diving with you was brilliant !!
The new moon got us at Nigali passage with ripping currents, treating us to a very "fishy" experience. Plenty of sharks and schooling fish circled leisurely in front of our eyes, while we had to hold on to the rocks for dear life to be able to stop and take the superb scene in.
The currents not only kept us happy, but the soft corals as well, as they were puffed up everywhere we went in awesome color display. There is no soft coral growth in the world that could possibly compare to the one in Fiji … you have to see it to believe it….
Welcome back Juli Tracy and Dick Gamble. Excellent photos of the ornate ghost pipefish and wonderful slide shows. Thank you !!
Teton One's blue ribbon eel, which was missing in action since November, made a shy appearance again. Leaf fish were still plentiful, as were the longnose filefish, still schooling in groups of up to twenty around the hard corals. The, thankfully non-stingy, jellyfish also decided it was time to clean up the sea and materialized out from nowhere in great numbers feeding on the plentiful plankton.
Welcome back, Rod Klein, on this second of his two consecutive trips. He calls himself the "Bad Weather Man" … please Rod, could we possibly avoid the Cyclones on this trip.
In fact, the weather was still quite stormy and overcast during the first half of the trip, but then the sunshine pushed through and the seas went flat. Only on the last day did the strong wind and pouring rains catch up with us again. Did Rod make another rain dance?
This time we did the village visit at Makogai and it turned out to be a great idea, as the villagers put a lot of effort in their "meke", the traditional kava ceremony and celebrations. They surprised us with outstanding costumes and really well rehearsed custom dances and singing. They run a government funded clam and turtle breading program for conservation purposes, which was an added bonus to the visit.
Vinaka vaka levu villagers of Makogai!!
Guest Comments
"Tanks" for the memories VII
To the crew of the NAI'A,
Vinaka vaka levu !
James Mathias, Nadi, Fiji and Toronto, Canada
As always one of the best dive boats around.
No matter the weather, the diving is fabulous.
Victor Zucker, Granada Hills, CA, USA
My second trip on NAI'A
And the weather was not great
But the diving and the crew
Were as always – First Rate
10 days at your village
Was like home with family
I leave you with great memories
And will come back happily !
Vinaka vaka levu !
Abe Avraamides, Toronto, Canada
Links
James Mathias
Under the Blue Horizon Ltd.
www.belowthebluehorizon.com
Rod Klein
Digital Images, Venice, Ca
www.rhkuw.com