Date: March 10 - 17, 2007
Destination: Vatu-I-Ra, Namena Marine Reserve, Gau, Fiji
Returning Passengers: Vivien Dorsey, James Mathias, John Broyles, Tom Lathrop.
Congratulations: Bob Aurbach for completing the TDI Nitrox course.
We must have made the right sacrifice to the weather God on this charter, as it could not have been more ideal, with blue, sunny, skies, absolutely flat calm seas every day, and just enough gentle current on the dive sites to have the fish out and the soft corals puffed up and dressed in their best outfits….
Paul and Theresa Doran, June and Jess Stahl, and Vivien Dorsey, a group of friends and happy campers, talked fish and soap all week with a passion. Welcome back to Vivien and happy anniversary to Paul and Theresa!!
Welcome back to James Mathias for the 8th time on the NAI'A and hopefully not for the last one. He must be in the book of NAI'A Guinness records by now.
Our E6 sea mount was an especially exceptional experience this time, with the morning sunlight beaming in a perfect angle into the caverns, almost a meditative joy.
John Broyles and Tom Lathrop have also been with us a few times by now, and we still don't know if they come back for the diving and the NAI'A or for the kava…. Anyway, Tom is definitely our new Kava King!
David, Marita and Bianca Wright were a happy diving family, can it get any better? Happy 18th birthday, Bianca.
Mount Mutiny was awesome with its chironephthya soft corals under the overhangs in crystal clear visibility.
Happy birthday, Bob Aurbach, our master drummer during long night singing and kava drinking sessions, thank you!!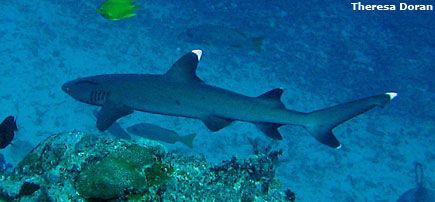 Kent and Karen Engle enjoyed Fiji's underwater world through several photo and video camera lenses and smiled a lot.
We found yet another leaf-gill slug on Maytag and two mantas circled us several times at Anthias Avenue.
Chris and Marci Ekberg, very enthusiastic cold and warm water divers, had constant happy faces behind their masks. Great diving with you, and happy birthday, Marci.
Ari Requicha, an accomplished year long Portuguese spear fisher, has left the gun behind to enjoy the ride along the reefs and admire the beauty of it all instead.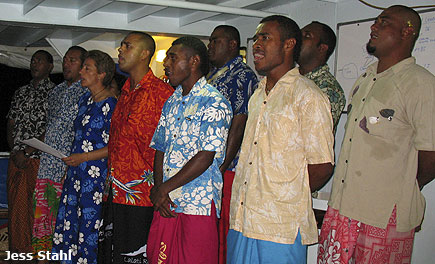 Somosomo "city" hosted us for a great village visit and a very hospitable "meke" or feast. We all danced to the beautiful Fijian harmonies and had some more kava, of course, much to Tom's delight.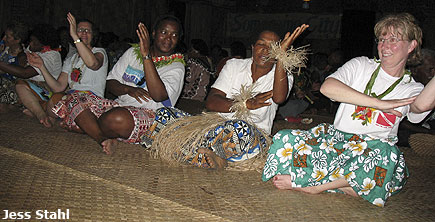 Guest Comments
Bula,
Our first trip to the Pacific. Of all the places & boats we looked at, we chose the NAI'A and are glad we did.
Everything has been superb. The service and enthusiasm of the crew can't be beaten. And the diving was excellent. We look forward to coming back. Vinaka!
Theresa and Paul Doran, Chicago, IL, USA
Third trip and it is also great – The crew on the NAI'A have been on the boat for years and it is nice to see them each time back – Thank you to all - Sonia and Grant make a nice addition – You can count on this boat year after year and the diving is GREAT.
Tom Lathrop, Palm Desert, CA, USA
"Tanks" for the memories VIII
As always, the best -
James Mathias, Nadi, Fiji and Toronto, Canada
We were a cloud of anthias
Bunched for a time off a picture perfect reef.
Time, the looming pelagic, casts a shadow
And soon we will scatter, forever.
Like the images we capture, or the warmth of the Kava circle
The memories linger, enriching our days …
Vinaka for a fine birthday, and chance to think,
And just be, in beauty and friendship.
Bob Aurbach, Albuquerque, CA, USA
Great trip – Thanks for making this a marvelous vacation – Great crew, great boat, and great diving –
June Stahl, Mahwah, NJ, USA
Grant and Sonia and all the Crew!
Thank you all for making it a great trip. Top boat, diving, food and perfect weather and perfect birthday.
Marita, David and Bianca Wright, Noosaville, Australia
Vinaka for everything. We had a fabulous 1st trip and can't wait to come back!
Thanks for making it so special, we'll miss you all!!
Marci and Chris, Franklin, MA, USA
Links
James Mathias
Under the Blue Horizon Ltd.
www.belowthebluehorizon.com