Date: March 17 – 24, 2007
Destination: Vatu-I-Ra, Gau, Namena Marine Reserve, Fiji
| | |
| --- | --- |
| | |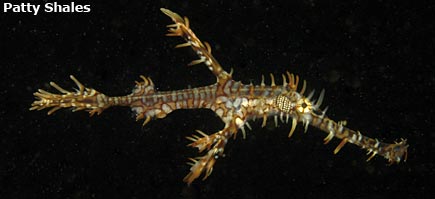 Coral Corner in Vatu-I-Ra was THE star dive spot of this charter ... best dived with a slight current coming from the south and flat seas, we had four grey reef sharks and several whitetips leisurely cruising around us, while schools of barracuda, snapper and surgeons mingled in, and streams upon streams of about five different species of fusiliers mixed with each other and everybody else… we all hovered above the pinnacles staring full of wonder and enjoying the unique underwater symphony of color, shape and movement, Beethoven would have loved it. Upon our return to the main reef, we were welcomed by clouds of anthias and puffed up soft corals in all the colors of the rainbow, like only Fiji can offer …last but not least, we ended the dive on the hard coral garden on the reef top, watching a million damselfish and yet another million anthias floating above it all … what can we say.... Definitely, as good as it gets.... ;-)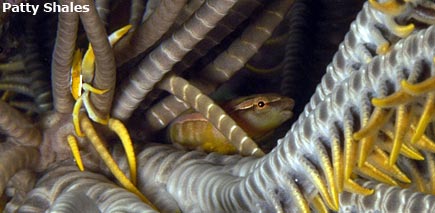 Nancy and Phil Brisack, Carolyn and Clay Grubb, Gloria and Mike Sullivan, Bob Little, John Platz, and Jolynne Whitney dive the world together, make excellent dive buddies and are a great laugh! Clay did extremely well in keeping up with Phil's expectations and did not miss a single dive… just as well….he would not have heard the end of it otherwise…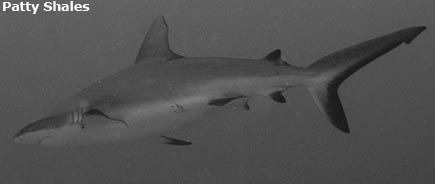 Tim Nugent definitely came on the NAI'A to dive (small note to his family: he missed you loads and cried all day every day…). He also found out that mixing kava with beer is not the worst idea…and…that the little safe air cylinder would work so much better if it had air in it instead of water …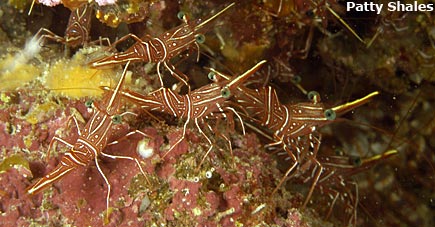 The ghost pipefish are still out there, much to our joy. We had an Ornate ghost pipefish at Yavena passage and, even better, a Halameda ghost pipefish on the night dive at Charlie's Garden in Vatu-I-Ra.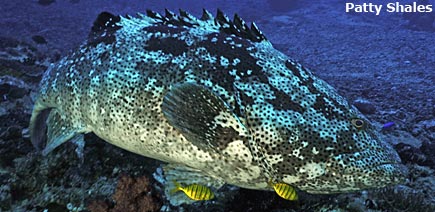 Patty Shales kept us all going with her big smiles and her bubbly enthusiasm. Nothing better than diving to keep the heart happy !! Take care and huge sea hugs !!
The kids of Lovu village were cute as ever and the village very tidy and beautiful. Jolynne did a very excellent job keeping the kids occupied with games on the beach, much to everybody's entertainment. Thank you !!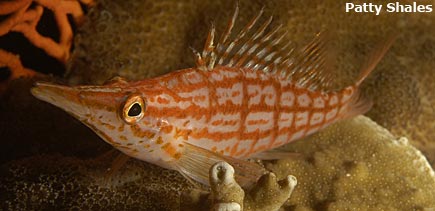 On the last day we went back to Vatu-I-Ra and had an absolutely magnificent dive on Mellow Yellow, while it poured down with rain outside. Its yellow soft corals, all puffed up, could not have looked better, while around the reef clouds of fusiliers of all sizes were herded in and out in huge waves by a pack of five big Spanish mackerel and several jacks. We hovered by the reef in awe and watched this spectacular display. We thought it could not get any better so many times before… but that is Fiji for you …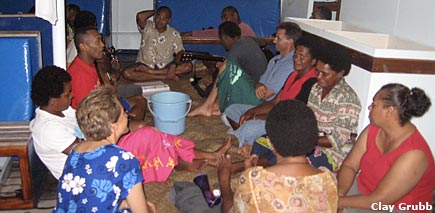 Guest Comments
Grant, Sonia and all the wonderful Crew,
Thank you for your hospitality, great service, exceptional food, diving, etc.
I am glad I waited 363 days for this vacation and will be back !
Jolynne Whitney, Huntington Beach, CA, USA
Vinaka Sonia, you are the best Cruise Director in the world. Your kindness is only surpassed by your generosity of spirit.
Grant, thank you for the great diving and good spotting of critters.
The crew are wonderful musicians and all friendly as well.
I had a great dive week.
Thank you Captain John for all the smooth sailing and for diving, too.
Lovingly,
Patty Shales, Los Angeles, CA, USA
Thank you Grant, Sonia, Captain John and all of the Crew of the NAI'A for an unforgettable cruise. The diving, food and company was awesome.
Bula – Vinaka !
Clay and Carolyn Grubb, Stateline, NV, USA
It's been a wonderful trip !
Sonia, Grant and Captain John were a friendly, expert and talented team.
Much thanks. Bula !
Bob Little, Newport Beach, CA, USA
Thanks to the Crew of the NAI'A for a special week of diving, especially to Sonia for holding my hand after I lost my weights !
Thanks to Grant, Sonia and Richie for pointing out many special creatures and thanks to Captain John for smooth sailing !
The Kava party with the Crew's music was great.
Nancy and Phil Brisack, Gardnerville, NV, USA
VINAKA to all the NAI'A Crew ! We had a great trip – the weather was … interesting and varied, and the current was … exciting. Mellow Yellow was the best, and NAI'A is a fabulous dive boat. You all made it special.
Thanks again.
Mike and Gloria Sullivan, Corona del Mar, CA, USA
Great Trip – 1st time back to Fiji in over 30 years !
Next time won't be such a long interval.
Best Boat I've been on.
Happy Birthday Mom & Roxy.
Tim Nugent, Huntington Beach, CA, USA
Best Dive Boat I've been on.
Crew great, food excellent, diving very good.
John Platz, Costa Mesa, CA, USA
Links
Patty Shales
www.aquaticimage.com