Date: April 7 - 14, 2007
Destination: Vatu-I-Ra, Gau, Namena Marine Reserve, Bligh Waters, Fiji
Returning Passengers: Paul Blakely and Robert Sternlieb
Coming out from the last day dive in northern Vatu-I-Ra area, Renee Lange spotted a whale blow and they quickly went to check it out with the skiff. Sure enough they saw a Minky whale, and when they slid into the water, they were surrounded by krill and three Mobulae circling and feeding on it for several minutes… great cherry on the cake!
Afterwards, we saw a few more whale blows and a group of pilot whales, and then we were escorted for half an hour by a huge pod of Spinner dolphins on the way back to port…. Beautiful !!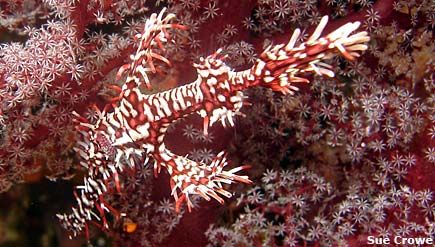 Sarah Fisk and Paul Blakely had the happiest faces ever under water and above, and would have stayed down there amongst the nudibranchs forever, if possible…. Who invented surface intervals anyway?? You two are turning into awesome divers !! Welcome back Paul!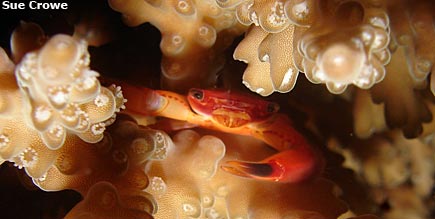 Bob Stewart managed to take great photographs even after a few major equipment failures. Nothing beats bringing lots of cameras with you on a diving trip! Better safe than sorry… Happy Birthday, Bob !!
Welcome back, Rob Sternlieb! "I like small small small … Please tell me, this is going to be a macro dive…. Is E6 really wide-angle?? Thank Heavens, every dive site in Fiji is excellent for both…"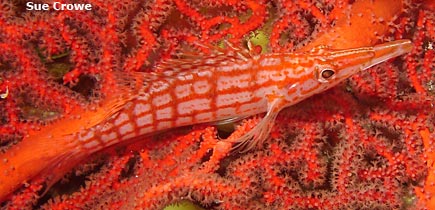 For Howell Lowe (Buddy) every dive was the best, and we have to agree with him, it does not get much better than Fiji. This week was one of those with crystal clear visibility and just enough current to make the soft corals display all their beauty and thousands of fish vibrate around the reef.
Congratulations Bob Cresko, for finding that huge and pregnant Ornate ghost pipefish on Cat's, which on the next dive multiplied into two. Cathy Cresko was never far, always eager to see all the small critters, too.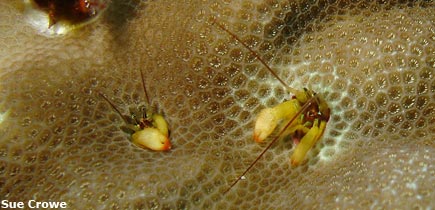 Jerry Katler and Bill Mihram have been diving together for 38 years and make an excellent buddy pair, teasing each other relentlessly. Their enthusiasm for the underwater world seems to have grown with the years, as it is impossible to get them out of the water.
The Halameda ghost pipefish is still on Charlie's Garden, this time we found the white, male, version of it.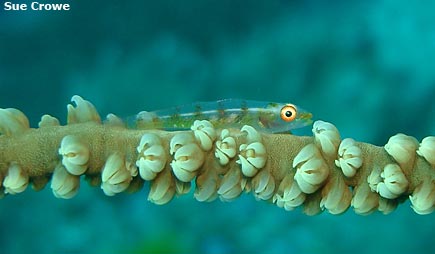 Sue Crowe and David Bilbow came from Australia to dive amongst Fiji's wonders. Sue is linked to the NAI'A by faith … They managed photographic wonders with their little point and shoot camera. Great job and thanks for sharing !!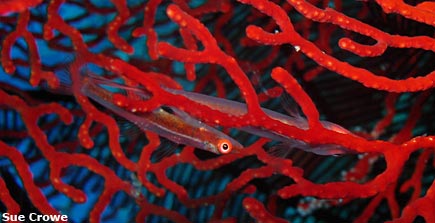 A dive site is never the same, no matter how many times one dives on it, and sometimes they show themselves in their very best light. Howard's Diner did it for us this time
Not only were all the usual suspects at home, like the Popcorn and Thor shrimps on the adhesive anemone and the, juvenile up to adult, Yellow tail coris family, we also found a few huge soft coral crabs walking about on the Dendronephthya branches, plenty of Skeleton shrimps boxing each other and one little coral with about ten Sea spiders, last but not least, a male Robust ghost pipefish with red eyes shining in the flash light. Macro paradise… A special treat for you, Rob Sternlieb…
Nothing beats diving with family, say Brad and Chris Phillips, two brothers that always go on diving trips together.
Fiji had the best flat calm weather in store for us all week and lots of sun. Very much appreciated by everyone.
Somosomo village spoiled us with a great meke, as usual. The villagers also manufactured lovely fiber mats and a Lali for our kava nights on the NAI'A. Thank you ever so much. You are the best!!
Guest Comments
Well, after all these years I finally made it !
And it was every bit as brilliant as I imagined !
Thanks for looking after us so well, it has been a magical week.
Sue Crowe and David Bilbow, Sidney, Australia
Dear Captain John, Sonia, Grant, Richie, Suli and Crew,
Thanks for all the great diving this week.
Thanks for keeping your eyes on me. It helped put me at ease.
Your Chef should publish his recipes for all of your guests. The food was as excellent as the diving!
Cathy and Bob Cresko, Huntington, NY, USA
Great Trip !
Bill Mihram, Corona del Mar, Santa Ana, CA, USA
PS: Sonia is amazing !
Lucky Me,
The Fiji Aggressor was going to be in dry dock this week.
I looked on line for a different liveaboard – I found the NAI'A and booked it. What a wonderful trip –
Grant and Sonia were just fantastic, as well as the whole Crew.
Sonia's knowledge of the reefs and creatures is unbelievable.
Sonia, thank you for your wonderful care and attention to my ear problem.
Being the senior diver (70) on the trip could cause some problems. Don't forget "Old Men Rule" –
I hope to see you all next year.
Jerry Katler, Palm Desert, CA, USA
I would like to express my most sincere thanks and appreciation for the really wonderful job the whole Crew did to help make this trip so fantastic!
Sonia especially is a shinning star.
Grant's video was really great.
Day after day it just got better. The varied dive sites, the devotion of the crew, were absolutely great.
Richie and Captain John are finders extraordinaire !
I was invited by our friends and neighbors, Rob and Cat, to come along on a private trip on the NAI'A last year. Cat took me on my first dive ! I came as a novice on this trip and have learned and gained so much experience !
This trip was wonderful beyond my dreams.
Vinaka Vaka Levu.
Paul Blakely, Pacific Harbour, Fiji Islands
One of the best weeks of my life ! Vinaka !
Nunu vinaka every day.
As a novice diver I was treated with the utmost respect and care. Saved from myself underwater by Captain John and Richie, helped to learn the nuances of diving above water by Sonia and Grant.
The Crew was always gracious, helpful and friendly, as if we were their cousins whom they had been waiting to meet for so long… they included us in their village and took incredible care of us, from special requests for food to teaching us the words of the songs.
I loved the diving, I learned so much and I laughed a lot – every day.
Vinaka Vaka Levu – Sonia, Grant, John and everyone else, that was some "Pletty" awesome nunu vinaka.
See you soon,
Sarah Fisk, Merlin, OR, USA