Date: April 14 - 24, 2007.
Destination: Vatu-I-Ra, Gau, Makogai, Namena Marine Reserve, Bligh Water, Fiji.
Returning Passengers: Michael Joest, Joan and Larry Eggert, Jan and Steve Houts, Sara Leonard.

Everybody is looking for Richie's Magic Ghost Pipefish Wand, he MUST have one… How could we otherwise explain the explosion of Hairy Ghost Pipefish he found on this charter…. Being so rare as they usually are…. He actually found NINE this time…to which we have to add one Ornate, three Robust, and two Halameda Ghost Pipefish… fifteen in total….what can new say…. In Richie's own words…."awwwwwesome awwwwwesome"…
Sara Leonard, this time with partner Randy Leonard, brought a group with her. Very happy bunch, Bill Schneider, Gene McNany, Mary Getz, Gig Sims, Joan and Larry Eggert, and Geoff Savage. Welcome back Sara, Joan and Larry, and thank you so much Joan and Larry for all the medical advice and care. Congratulations Sara on your 400's dive and happy birthday Joan.
Welcome back Jan and Steve Houts and happy 16th Wedding Anniversary. They have been coming "home" onto the NAI'A for the last ten years, and this time with friends Scott and Elane Martin. We will remember Elane's dancing forever…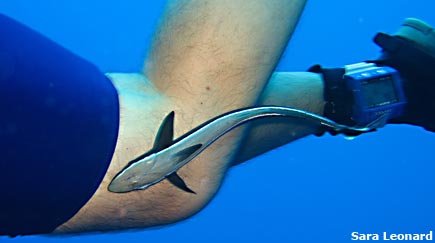 They all turned into masters of Poker, playing until late at night and loosing all their belongings to Randy, and they created a celebrated Martini Bar. We are still wondering, how they managed to squeeze in some diving in between.
Welcome back, Michael Joest, always up to great laughs with the Boys.
David Heath and Sue Topham did most of their diving courses in Scotland's heavy swells…. Nothing like Fiji's flat and warms seas…. Most of the time…. Wonder why there is no Monty Python underwater story…. Bubbly knights in full armour swimming around under water to the rhythm of coconuts would surely be a sight to behold!
Congratulations Lillian and Hank Epstein on your 16th Wedding Anniversary. Their love for each other is only rivaled by their love for diving.
The "meke" presented by the villagers of Makogai must be one of the best rehearsed ones of all times. Everybody was very much impressed by the professional and very enjoyable performance of young and old, and by the turtle and clam breading station.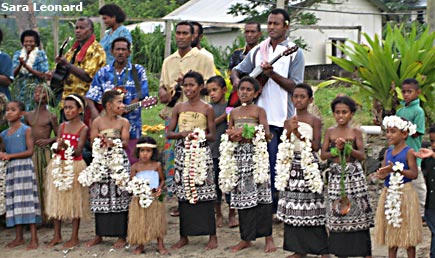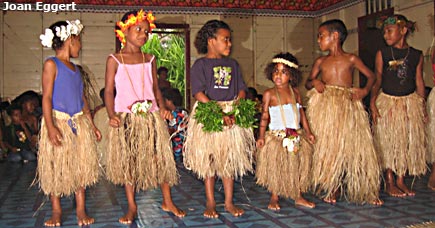 Guest Comments
For our Crew
We've come far and wide
Across the seas to the South Pacific side
On the NAI'A we did board
To spend special time on a live-aboard
To see the world beneath the sea
What a special time this will be
The best parts of the deal
Are the crew and great meals
The care, concern and how they make us feel
As the days passed by
We had some blue skies
The clouds gave us rain
Without too much pain
The crew was there for us, each day, rain or shine
To help us enjoy the fish and listen to some whine
Speaking of wine…it flowed by the glass
At dinner time of course, and when anyone asked
Without the excellent care and feeding from the crew
There wouldn't be repeaters here with you
We hear you're planning a big trip
To a far away place that's not a jump and skip
Cairo, Egypt is the place you plan to go
Come January '08 and '09 if you have the dough
Here's a bit of help for you all
And a big THANK YOU from the short and the tall
You earned this reward
Have a marvelous time
Hope you enjoy this amateur rhyme
The "Martini Bar" Gang
Lots of swimming, "varmints" and good eats.
Big thank you (hug)
Scott and Elane Martin, Husband and Wife, Brother and Sister, Barstow, CA, USA
Thanks for a great week. We'll be back.
Sue Topham and David Heath, Naarden, The Netherlands
Thanks for a great trip.
It was a blast –
Enjoyed singing with Mo and diving with Richie.
Mary Getz, Redondo Beach, CA, USA
Lovely trip – Great education from Sonia and Grant.
Richie, excellent finding all the "goodies" underwater.
All the staff kind, helpful, caring –
Thanks for the boost out of water, over and over again –
Beautiful coral,
Breath-taking view to fill my mind for a long time –
Thanks –
Lill – 598 dives !!! Yahoo !!
Lill and Hank Epstein, Clearwater, FL, USA
Great trip !
Great food !
Great diving !
Thank you,
Geoff Savage, Redondo Beach, CA, USA
Best of times!
Bula and good luck!
Randy and Sara Leonard, Redondo Beach, CA, USA
Tha NAI'A crew is the best!!
Gregory (Gig) Sims, Redondo Beach, CA, USA
Bula Crew,
Thanks for the friendship.
Gene McNany, Palos Verdes Estates, CA, USA
Thanks to everyone.
Great trip!
Joan and Larry Eggert, Saint George, UT, USA
Links

Off We Go Travel, Redondo Beach, CA , USA
Sara Leonard

www.offwegotravel.4MyDeals.com