Date: April 28 – May 8, 2007
Destination: Vatu-I-Ra, Namena Marine Reserve, Gau, Makogai, Bligh Water, Fiji
Returning Passengers: Irene Man and Dan O'Donnell, Karl-Heinz and Mary Sittlinger, Alice Lonfat-Chu, Liz Harlin and Josh Jensen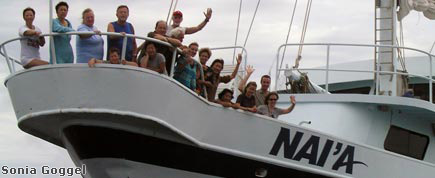 HAPPY 60th BIRTHDAY IRENE !!!
How we all wish we will look and be like you when we get there!! Fat chance…
Irene Man and Dan O'Donnell came back on the NAI'A with a group of fourteen fun and snacks' loving friends, and enthusiastic divers, to celebrate Irene's 60th birthday during a ten day party. What a remarkable, kind and smiley bunch, we miss them all terribly already!! Always welcome back Irene and Dan. This time, Ruth, Dan's mermaid daughter, was with them.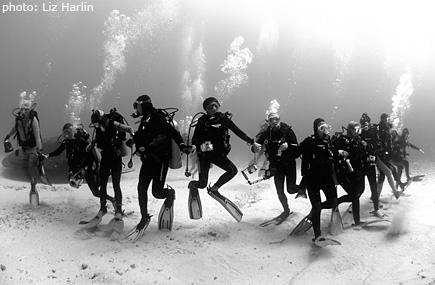 Charlie's Garden was one of the star dives on this charter, welcoming us with crystal clear visibility and three lionfish hovering around a table coral with fusiliers streaming about it, and a colorful array of soft corals and fans all around, one of those spots that make you want to stay glued in one place for the whole dive…
Last charter's Martini Bar was replaced by Irene's Snack Bar… very much to everybody's delight and content…. Cookies, nuts and chocolates, sweet and salty goodies, Western and Asian, something for everyone… and the Martinis had to give way to sunset G&Ts on the top deck…never a dull moment.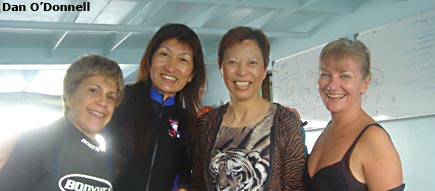 Welcome back Alice Lonfat-Chu, after a long break since the NAI'A Millenium charter. She did not miss a dive and kept us all in line with a smile and mountains of charm.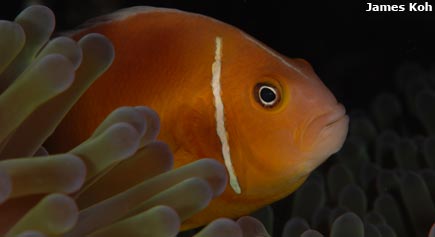 Karl-Heinz Sittlinger was definitely our manta man on this charter. He saw them all, and if not mantas, then huge and rare stingrays, but then again, he also has a, not too secret, crush on colourful nudibranchs, his favourite one being his gentle wife Mary, who smiles a lot, above and under water. Welcome back anytime, Mary and Karl-Heinz! We will never forget your jokes, especially the ones about the Swiss and the parrots…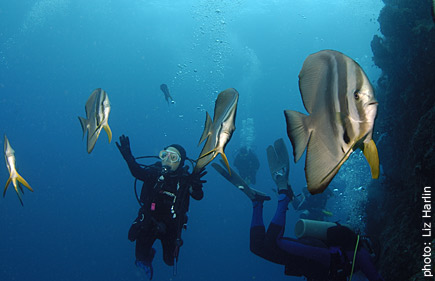 Nigali passage's huge Malabar groupers were particularly friendly this time, coming up to some of us and sitting only inches away, for a little tete-a-tete. It also bestowed three mantas on us, as well as a huge marble stingray, and an even larger white stingray. Jim's Alley also had a manta in store for us sharing the safety stop with Captain John and Josh Jensen.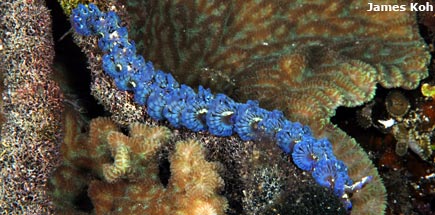 Welcome back to your second home NAI'A, Liz Harlin & Josh. Thank you for the uniquely spicy Ozzie humour, Josh, and for the extraordinarily filmed and edited HD trip DVD. The environmental presentations by the Grand Master himself were also a most welcome pleasure! Good work on the amazing slide show, Liz, and especially that "moon walking" photograph of the whole group down Nigali passage, looks awesome!
Good to have you back on board guys!! Hope to see you again soon, and the best of luck to you for your filming adventures!!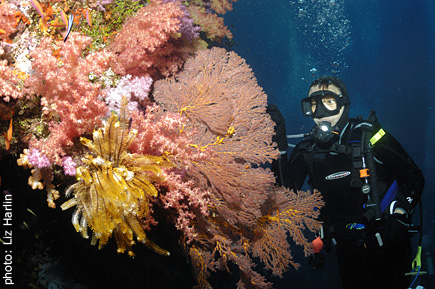 Patty Dilworth's beautiful underwater images calendar left us wondering if we will be lucky enough to see the Fiji version for 2008. Her dedicated partner "Dr.Bruce" Miller, made sure that all our ears were fit to dive, and helped with medical advice throughout, even inspecting our MFA boxes in great detail… and he thought he was going to be on holiday…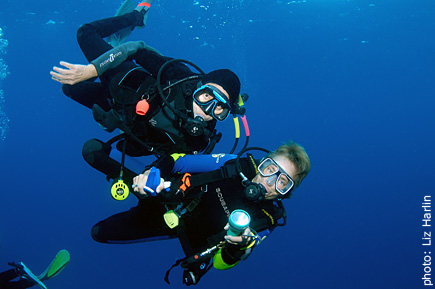 The Ghost pipefish are still there, much to everybody's joy. We had four Hairy ghost pipefish, two Ornate and five Robust, really amazing!!! We found most of them at Cat's Meow, Humann Nature and the Cuts in SE Bligh Waters area. There we also came across the biggest soft coral crab ever, a real monster. Being about one inch in diameter, it had to bend almost half the soft coral to hide properly. Crab on steroids?? One never knows…
Micaela Krumholz comes from Brasil and added lots of South American lively atmosphere and swing to both the diving and the above water activities.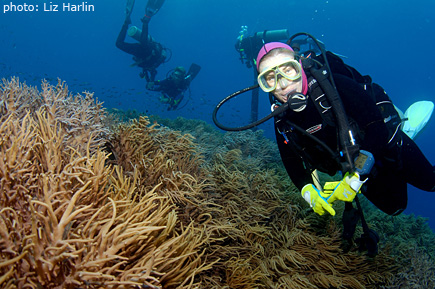 More than one of us enjoyed (or suffered through) one of Michelle Beck's famous foot massages. Congratulations on finding the white Leaf fish, excellent spotting!
Our village visit and custom dance took us back to Somosomo village, where we relished in the lovely harmonies of the songs, and joined in with the ladies for a try at Fijian dancing, looking almost like the professionals… we wish…
Selina Tsui & Yeng Pong, two fine ladies from Hong Kong, left their grandchildren at home to join Irene and enjoy Fiji's outburst of color and movement. It was an absolute pleasure to share time with you under and above water.
Also from Hong Kong Sandie Chung & James Koh were lovely company. James made our jaws drop repeatedly with his amazing photographs, and Sandie was an excellent critter spotter.
Maytag at Vatu-I-Ra was fantabulous yet again, busy with schooling Big-eyed jacks, surgeons and fusiliers, sitting in the current, while big Spanish mackerels were chasing along the reef. Looking small we found Nai'a pipefish, Corallimorphs, a white Leaf fish, a huge blue Chinese dragon nudibranch, plenty of dragonets, a juvenile Papuan scorpionfish with long spikes on his head, and amazing yellow and brown colouring, and, to top it all, a quite sizeable Leaf-gill slug flapping its many leafy appendages as it moved along the reef.
Pure magic!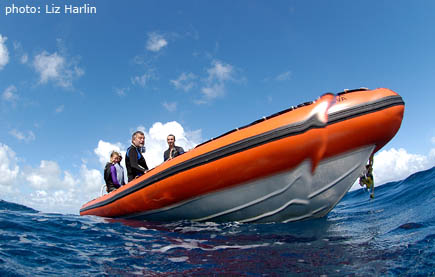 Guest Comments
This was an amazing trip!
Thanks for working so hard to take such good care of us!
We had a fun week with old friends !
Great Crew, good food, dive buddies, wonderful diving – what more could you ask for!
Patty Dilworth and Bruce Miller, Bond, Oregon, USA
Guys, thank you for the most fantastic time. Mo was the best dive buddy ever! And Richie was such a fun guide, although he made me laugh too much and I kept having to clear my mask.
I hope to hear your songs in my head for years to come and wish Fiji well for the Rugby World Cup 2007 in France – If I go … I will support Fiji for you!
Love, Ruth O'Donnell, Godalming, Surrey, United Kingdom
The only feedback I have is "Keep doing what you are doing". Everything was excellent. And what was best of all – the people who are NAI'A. May we meet again on land or in the water. Thank you!
Love, Michelle Beck, Singapore
Thank you Sonia and your terrific Crew for a wonderful time. You are the best guide I have ever come across. You have created such a harmonious and happy atmosphere that it is the most unforgettable experience, which I shall treasure for years to come.
Hope to see you again soon.
Yeng Pong, Hong Kong
This was the most wonderful trip – the diving, the food, the service, all put together by an A1 divemaster and crew! My most memorable both birthday trip. A BIG THANK YOU!!!
Irene Man, Hong Kong
God woke up feeling good and created Fiji.
He then created Kava, the NAI'A and rested and sang a while in celebration.
The following day he woke up, was feeling like s..t, and created the rest of the world!
Dan O'Donnell, London, United Kingdom
After having been on NAI'A and Crew, I think I am SPOILED FOREVER!!!
Superb diving, great cooking, smiling and extremely efficient Crew, singing Fijian songs and drinking Kava. Will be back for sure after this incredible trip invited for Irene's birthday.
All the best,
Love, Miki Krumholz, Sao Paulo, Brasil (the other side of the world)
Thank you for welcoming us back into the NAI'A "village", where we have spent the best and most memorable days with the greatest Crew: Dear Sonia, Captain John and your great team. The diving, singing, kava, food, village tour added to the memories of Irene's 60th birthday bash, and have made this one of our happiest and most memorable trips.
VINAKA!
Until we meet again.
Mary and Karl-Heinz Sittlinger, Cape Town, South Africa
Wonderful to be back in Fiji and back on our second home. The ship's in good hands – Sonia runs a great trip.
Liz Harlin and Josh Jensen, Lucinda, Queensland, Australia
Dear NAI'A Crew,
Thank you for showing us the underwater treasures of Fiji. I shall return asap.
Without a doubt, you are a great team.
Best, James Koh, Hong Kong
Thank you Sonia and all the Crew.
I had a wonderful time. I enjoyed both above and under the water. The songs, the people.
Bula.
Selina Tsui, Hong Kong
Thank you Sonia and the Crew.
I've the best experience ever on a dive cruise. A real memorable trip.
Hope to be back again soon.
Sandie Chung, Hong Kong
Great to be back on NAI'A after 2000 Millenium cruise.
Can it be better?
Yes, thank you Sonia and the Crew!!!
Of course Irene, Happy Birthday!
Alice Lonfat – Chu, Hong Kong
Links
Liz Harlin and Josh Jensen
Under Sea Productions

www.underseaproductions.com