Date: May 12 - 19, 2007
Destination: Vatu-I-Ra, Gau, Namena Marine Reserve, Bligh Water, Fiji
Michaela Velasco & Roberto Arzate own a dive centre in Cozumel, but decided to try some Fijian diving with us on the NAI'A for a change. They came with a group of fifteen friends and excellent divers, whom they know from Mexico.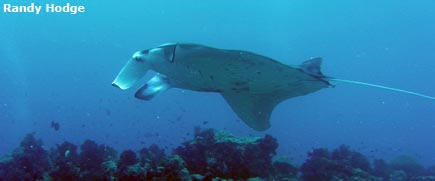 Gomo at Vatu-I-Ra never ceases to surprise us. Not an easy dive, as currents are often strong, but fish and coral action is always guaranteed. A big White-tip greeted us on descent, followed by at least four frisky Grey reef sharks circling about and mingling with huge schools of Big-eye jacks, Pinjalo snapper, barracuda, and streams of fusiliers, awesome!!! We managed to stay about 15 minutes in front of the reef, riding the current pressure wave, before drifting back along the amazing soft coral and tunicate wall. The effort was definitely worth it … anyway, nothing a hearty breakfast can't fix…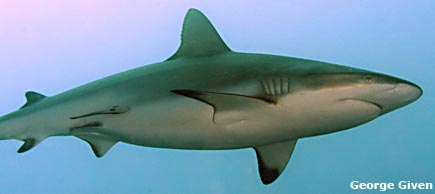 Happy 60th birthday, Mike Borenstein. His wife Kathy and him almost never missed a dive and delighted us with their gentle ways.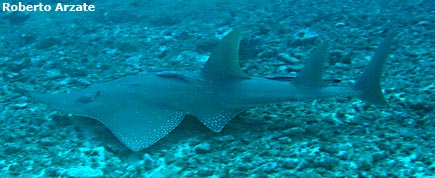 Richie's Ghost pipefish luck is still holding up, as he spotted yet another new Hairy ghost pipefish close to a fan at Alacrity Passage, Vatu-I-Ra, and added another Robust ghost pipefish to the two that have been at E6 for the last two charters.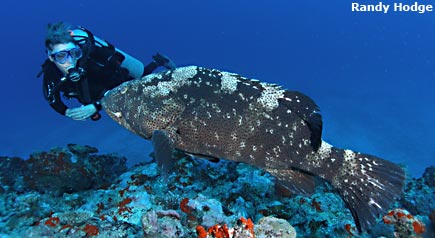 Linda Crouse managed the only photograph of the very close encounter with a Scalloped hammerhead at School House in Namena Marine Reserve, and this with only a little point and shoot camera. Good on you, Linda "Crouse"!! Was great to dive with such a happy camper!!
Deb Frost, Billy Wawak, and Cindy and Ed Stroup, switched sky diving for ocean diving…. almost the same, they say, except for the free fall…. Hope that is a good thing…. Never a dull moment with them around!!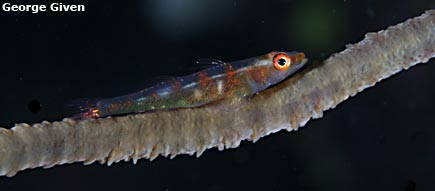 Billy and Roberto drifted into Nigali Passage at Gau ahead of everybody else and saw a big Guitar-ray, not a common sight, a first one for us anyway. To top that one, they spotted a frogfish the size of a fist on his nightly walkabout at Jim's Alley, also at Gau, another first one for us… As if that was not enough, we watched three mantas feeding in circles on a plankton patch for ages at Jim's… what an experience!!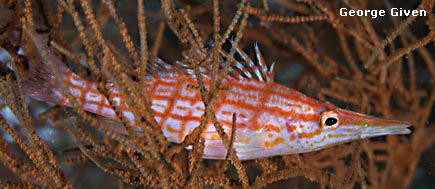 We even had a little back-deck "leper colony" going, founded by cigar smokers Randy Henson, Randy Hodge and Billy, joined occasionally by Mo Kennedy. Remarkably, neither the rest of the group nor the crew could withstand their irresistibly charming natures, so we all joined them on the last night, crammed together on the little back deck, mixing kava with cigars, cigarettes and cocktails… can't believe we are still alive to tell the tale…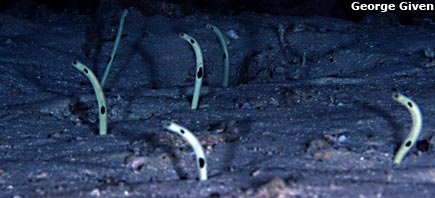 As if we had not had enough strong emotions for one trip, some of us saw a big manta and a marlin as we were descending at Grand Central Station in Namena…. No comments… can't get much better than that…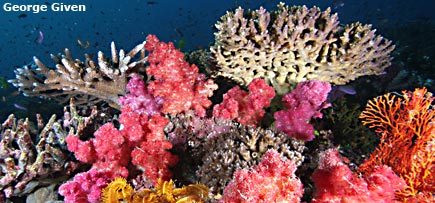 Kansas offered entertainment of a different kind, as we watched a couple of Tambja morosa nudibranchs and a couple of Chromodoris lochi nudibranchs mating.
Paula de Baleau & George Given could not stop smiling under and above water… Fiji does that to people… and George became a specialist in fixing cameras, always successfully. Thank you again for the hooded vest, Paula, nice and toasty…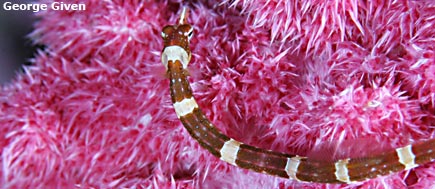 At Mellow Yellow, Vatu-I-Ra, all crinoids got abandoned by their clingfish, and had whole families of color coordinated shrimps hoping around on them instead. Not so at Kansas, were the biggest yellow clingfish ever covered almost the whole inner bulb of a yellow crinoid.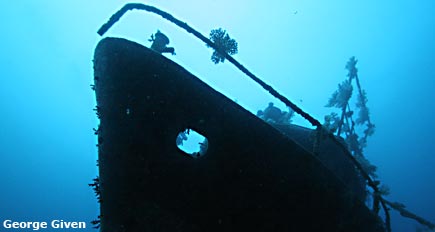 Nina Hodge did not join her husband Randy for cigar smoking sessions, but never missed a dive with him. To everybody's delight, guests and crew, she gave the most amazing shoulder and foot massages, helped by Cindy. God bless them!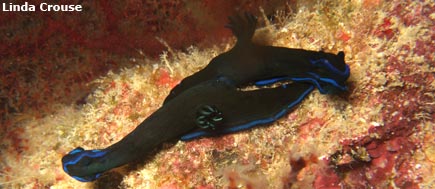 Nancy Gould got saved many times by her "piggy" safety sausage from drifting off indefinitely, as she went on huge exploratory excursions away from the dive sites. How she managed to navigate her way back from Cat's Meow, past Humann Nature and surface close to the NAI'A mooring, will forever remain a mystery to all of us… Her husband Marc Lieberman was everybody's favorite ship's doctor, fixing ever so many ears and other ailments, joined in this duty by Ed, who practiced his ER skills on Randy Hodge's wedding ring… saving both his wedding ring and his finger, and, I guess, his marriage as well…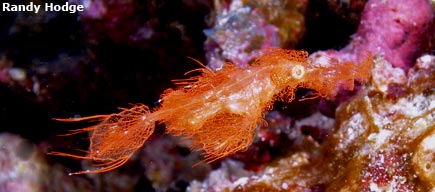 Fiji had its best sunny and calm weather in store for us, and Sawaieke village in Gau produced a very entertaining meke, which challenged everybody's dancing skills.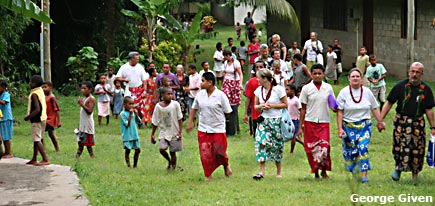 Guest Comments
The boat is wonderful – The diving and food and sights were wonderful –
But your Crew is what made everything so spectacular! This trip surpassed anything I could have imagined –
Thank you, NAI'A !
Deb Frost, Sugar Grove, IL, USA
Awesome trip – great boat, spectacular diving, excellent food, but most of all a fantastic and friendly Crew who made us feel like royalty.
Vinaka!
Ed Stroup, Spokane, WA, USA
It's me, it's me, It's Billy B. ("It's all about him")
Vinaka kemuni noqu i tau
Billy Wawak, Rosemont, IL, USA
Thanks so much for ALL the care, fun and making my first liveaboard so wonderful. It surpassed anything I could've imagined. Fiji and the NAI'A will always hold a special place in my heart. I came, I saw and forever amazed.
Vinaka!
Linda Crouse, Wataga, IL, USA
Thank you so much for making this such a wonderful experience. You all have touched our hearts and made this trip spectacular – Fiji has been more than I could have possibly expected or imagined it could ever be. Thank you so much for allowing us to become part of your family and welcoming us into your home – You are all wonderful.
Vinaka!
Cindy Stroup, Spokane, WA, USA
Nicest Crew ever!
Awesome Diving!
Incredible Critters!
Amazing Experience!
Thank you!
Nina ("9a") Hodge, Orlando, FL, USA
It was wonderful and we will be back!
Michaela Velasco, Liquid Blue Divers, Cozumel, Mexico
Captain John, Jioji, Suli, Peni and Peni 2, Sonia, Grant, Richie, Joe, Mo, Ed, John, Russell, Sefa My favorite boys, We could have never had this much fun without you. Thank you from the bottom of our hearts, Vinaka!
PS: I loved the tour of the bridge, and we'll see you next year – Cheers!
Stay warm and stay afloat.
George Given and Paula de Baleau, Sacramento, CA, USA
Great crew, good food.
Thanks!
Randy Henson, Alexandra, VA, USA
The trip couldn't be better!
Great Crew, Great diving, Great food!
Perfect!
Thank you!
Marc Lieberman, Vero Beach, FL, USA
Links
Roberto Arzate and Michaela Velasco
Liquid Blue Divers, Cozumel, Mexico

www.liquidbluedivers.com
Randy Hodge
www.h2odigital.com