Date: June 2 - 9, 2007
Destination: Vatu-I-Ra, Gau, Namena Marine Reserve, Bligh Water, Fiji
Returning Passengers: Stan Waterman, Nancy McGee, Ron Dion and Linda Erkelens, and Lynn and Richard Barnard
Congratulations: Tracy and Mathis Weatherall, and Stella Dion on completing the TDI Nitrox course, and to Christina and Tony Hepburn on making an Evolution Rebreather experience dive.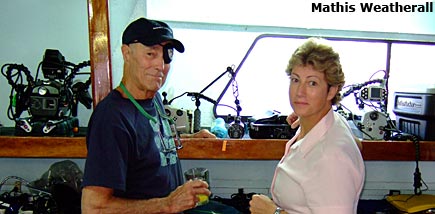 Welcome back Stan Waterman, what a treat and an honour to have you back on the NAI'A yet another time!!! Your gentleness, your borderless enthusiasm, your bubbly sense of humour, your immense knowledge and your unique and wonderful videographic "Bijous" are a treasure, which we always feel ever so grateful and lucky to be able to share. Vinaka vaka levu, dear Stan!!

Rob Barrel joined us as well, leading us around secret passages of ever so many reefs, like the shallow reef top of the corner of Charlie's Garden, with its little gulley covered in yellow, brown and blue staghorn coral, and clouds of blue chromis hovering above it all in the current. It was so stunning, we had to go around twice!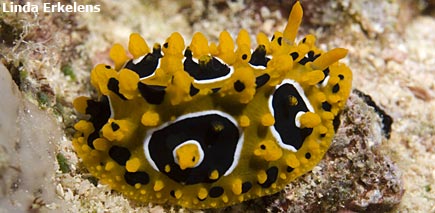 Welcome back, Nancy McGee. It was a real pleasure to meet you and to dive with you, and we look very much forward to seeing you again very soon. Stan could not have a more amazing right and left hand in you!! Congratulations on the outstanding Splendid garden eel footage, really excellent, and thank you ever so very much for sharing that unique "snorkeling" elephant experience!!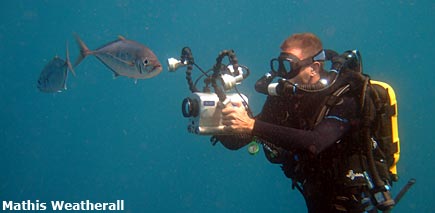 Ron Dion and Linda Erkelens, welcome back. So nice to meet your family this time, Stella and Jim Dion. Thank you for your medical support at Somosomo village, your help means so much!!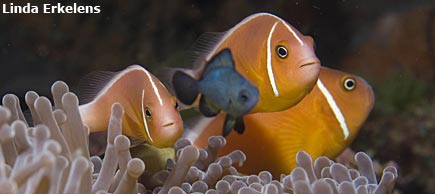 Jim's Alley showed its best face yet again, with clear visibility, its stunning soft corals in fully blown up beauty and abundance. It even had cruising mantas in store for us.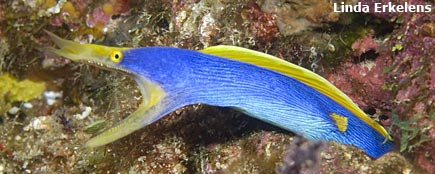 Welcome back, Lynn and Richard Barnard. So great to have your contagious enthusiasm and your smiley faces back on the NAI'A!
Fantasea at Namena was hard work, because of the strong currents that sweep over it quite often, but definitely worth the effort. The wall is beautiful with its display of fans in great variety of colors, and clouds of Square-spot anthias and Black-spot angels hovering amongst them. Strong currents produce awesome soft corals, and the coral ridges on top of Fantasea bear witness to that fact, as they display the densest and most colorful soft coral growth possible, definitely one of Fiji's many highlights.
Wendy Benchley followed the guides' every step and cheered each and everyone of our finds. Thank you so much for your kindness. It was a pleasure to share your passion for the underwater world!
An exploratory dive on the corner of the barrier reef, north of Fantasea, revealed a mind-blowing set of pinnacles completely covered in puffed up soft corals of all colors and myriads of fish… one of Fiji's many miracles…
Congratulations, Ron Moore, to the Stan Waterman Award. Thank you so much for sharing your beautiful video on Catalina Island diving, a real treat!! You just added another diving destination to our long wish list.
John Crossley did not miss a dive and captured big and small on remarkable photographs.

The reef above Nasi Yalodina had a little Octopus sp in store for us, moving slowly along the rubble, blending in perfectly with its very small motley pink body and its long brown tentacles, what a sight!!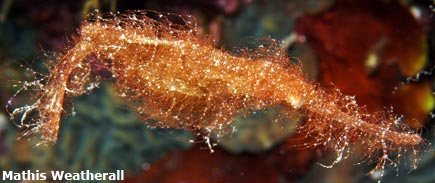 Gentle Margaret Spencer and bouncy Doug were great company! We might be able to organize a cross country coral reef track for when you come back to Fiji, Doug, for early morning work out…
Tracy and Mathis Weatherall only surface, because their tanks are empty… and would rather be fish living in a soft coral home…
The ghost pipefish are still around. Mo spotted a new one, a huge and pregnant Hairy one on Humann Nature, excellent find!! The Ornate, Halameda and Robust are still at Cat's, and Howard's Diner's Hairy one is also still at home.
Tony Hepburn patiently photographed each and every subject that Christina Hepburn found for him, pulling him hither and thither… nothing beats overflowing keenness!
Somosomo village welcomed us as warmly as ever to their lovely and tidy village, and offered us a "meke" difficult to match!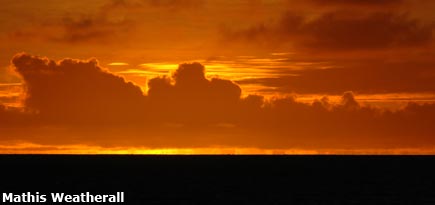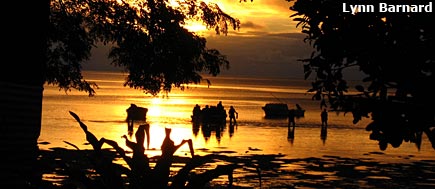 Guest Comments
Thank you for the excellent trip,
Your crew is a model of professional diving.
The best dive trip of our lifetime. You have the best crew of all oceans!!!
Bula, Bula, Bula!
We will be back again and again
Stella and Jim Dion, Cape Coral, FL, USA
In all our travels we have never enjoyed so much service!
The entire staff is friendly and personable.
We will miss the NAI'A!!
Thank you!!
Tracy and Mathis Weatherall, Richmond, TX, USA
Sonia & Grant & All,
Thank you all for another great trip!
It's so wonderful to see you all again and meet Rob and new friends.
Every crew is very nice, helpful, friendly and cheerful.
Bula Bula Bula is additive!
Eddie has been our skiff driver most of the week. He is amazingly skillful and always there picking divers up even in seas. He is such an excellent skiff driver and so helpful.
Vinaka to you all!!!
Lynn and Rich Barnard, Fremont, CA, USA
What a great ship and crew!
Fantastic soft corals!
Vinaka for a great trip.
John Crossley, Fresno, CA, USA
What a bad ass trip!!!
Good Times!!!
Margaret and Doug Spencer, Santa Monica, CA, USA
What a top notch crew and boat, superb food, warm, caring, professional crew, great singers! Razor sharp eyes underwater finding unusual tiny hairy monsters.
It was a top class group.
Thank you for all,
Wendy Benchley, Princeton, NY, USA
To the NAI'A Crew,
Thanks for an amazing week.
You are a great "team" …0
Full "heart" and "kindness"
We'll be back!
Christina and Tony Hepburn, Vancouver, BC, Canada
Links
Stan Waterman
www.stanwaterman.com
Nancy McGee
www.IslandTimeScuba.com