Date: August 13 - 23, 2007
Destination: Tongatapu, Ha'apai Group and E'ua Island, Tonga
Welcome back: John Tressman, Jean and Craig Andreiko, and Dave Dagnillo
Congratulations: Sonia Cherkasova and Sasha Bubnova on making several Introductory Scuba Dives; and to Sarah Andreiko, Stefanie Burgos, Paul Mila and Greg Bubnov on completing the TDI Nitrox course.
After four weeks away in Phoenix Islands with TIGHAR (The International Group for Historic Aircraft Recovery), looking for Amelia Earhart's remains and airplane, NAI'A is back in Tonga for her usual Humpback Whale watching season.
John Tressman, welcome back. He was our "whale man", free diving like a pro and "Dancing with Whales".
Our first encounter of the season was with five whales swimming under NAI'A and breaching very closely. We admired their skills from the ship for some time, and then decided to take the skiffs and join them in the water. They came back to us a few times and both skiffs had quick encounters with them, seeing all 5 swimming together underwater. Also, when free diving, we could hear them singing. Awesome!
Welcome back, Jean and Craig Andreiko, accompanied this time by their daughter and niece, Sarah Andreiko and Stefanie Burgos.
On our next whale swim we had two juveniles stay around us for over an hour, swimming slowly and coming back repeatedly. Everybody saw them close up and from every possible angle, as they kept doing under water acrobatics, rolling around swinging their huge pectoral fins, and displaying the incredible elasticity of their flukes. We finally tired about when they did and off they swam. Playing time with humans was clearly over; it was time to do their own thing again.
Dave Dagnillo, welcome back and thank you for your constant good energy.
Diving on Tongan Reefs is all about good visibility and sea mounts covered in pristine hard coral gardens, built of huge extensions of different species, mainly staghorn and table corals, and corals of the genus Pachyseris. Clouds of fusiliers, schooling barracuda and surgeonfish, and a variety of reef fish have made these reefs their home, with dog-tooth tuna and rainbow runners coming in from the blue. Stingrays and turtles, white tip reef sharks, nurse sharks and grey reef sharks can also be spotted. Critters like nudibranchs, leaf fish and ghost pipefish are also plentiful. And there were always whales singing, sometimes so close, they made our chests vibrate…. such a special experience!
Congratulations to Judy Hemenway and Jon Fellows on your 30 th plus Wedding Anniversary, and wishing you many more years of love!
If you are an eager night diver, Tonga is especially rewarding. Spanish Dancers are abundant, as are flatworms and pleurobranchs, colorful morays, decorator, reef and arrowhead crabs, squat lobsters, slipper and spiny lobsters, lionfish, big octopi, and squids, amongst many others.
Paul Mila, thank you for sharing your books with us!
Our next whale encounter was a group of several adults plus a mother and calf. We swam with them for a long time, one skiff at a time. At one point when the swimmers of one skiff were in the water and the swimmers of the other skiff were on the skiff, one of the adults breached several times, making a circle around the mother and calf and all the snorkelers. What an impressive sight that was!
Olga Emelina, Igor Orlov and Yuri Latov brought Russian atmosphere and smiles to NAI'A, thank you for your enthusiasm and the lessons in Russian.
Walking on Tonga's beautiful beaches and visiting villages is also much fun. Ha'afeva village is one of our favorites. Landing on the wharf, we walked for twenty minutes across the island to get to the village. The walk took us past plantations of root crops, bananas and other vegetables, and many coconut trees, truly beautiful. Everybody in the village was very friendly, and the kids are always lots of fun. Tongan cemeteries are most remarkable as considerable energy is invested in decorating the graves.
Greg Bubnov, and Dima Cherkasov brought their two little daughters along, Sasha and Sonia, skillful snorkelers and free-divers, and even better divers, two real little fish. Congratulations, taking you two diving was a real pleasure!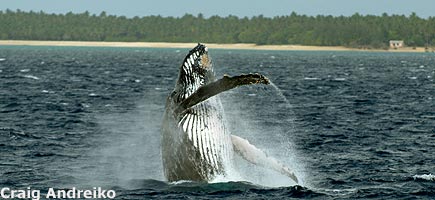 Our whale encounters kept getting better, almost unbelievable. One midmorning a group of friendly whales passed right under NAI'A. That was the beginning of an encounter that lasted three hours, with up to nine whales at a time, although most of the time three whales stayed with us, swimming all around us and playing with us, coming straight at us and then turning away showing us their bellies, or simply hanging there vertically in mid-water letting us come really close, and definitely making eye contact, truly spectacular. Rob Barrel, with eleven years experience with Ha'apai whales, joined his ship for this charter and said that this encounter was "As Good As It Gets"… After three hours, the whales still wanted to keep playing, but everybody was tired and hungry, spoilt enough to be slightly "whaled out", so we headed back to NAI'A. The whales frolicked alongside the ship as we ate our very late lunch.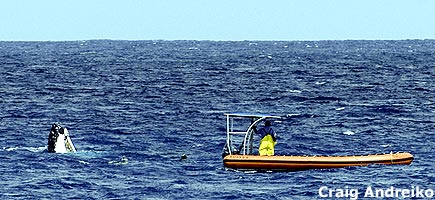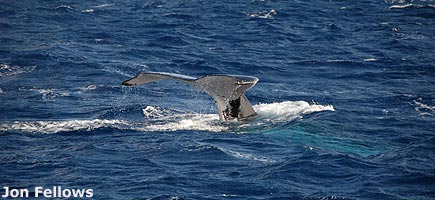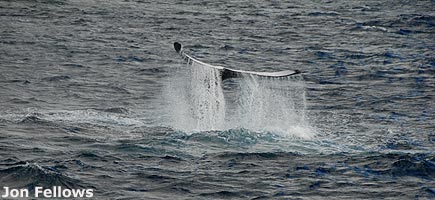 It got even better the next day when a big pod of spinner dolphins as well as a group of whales let us swim with them. The dolphins played around NAI'A for quite some time, and then we jumped in and swam with the whales, who stayed with us for almost two hours, simply hanging there close to the surface quietly and letting us come really close, a truly unique experience. In all his years of swimming with whales, Rob had never been able to stay as close to whales for such a long time. At one point he had a whale's eye three feet away from his own. Words fail to describe the magic… Vinaka vakalevu Tongan Humpbacks!!
Guest Comments
A great big thanks!
My special thanks
To Rob and Sonia for making the swimming with the whales and diving tons of fun.
To Suli for the nice food.
To the whales for swimming with us.
To the captain for being nice.
Sasha Bubnova, Moscow, Russia (11 years old)
To Rob, the Crew and NAI'A:
This has been the trip of a lifetime. The whales couldn't have been more amazing. As usual, the Crew was excellent (Suli has the patience of a saint!).
Love the singing and the Kava.
Thanks for a wonderful time.
Jean and Craig Andreiko, Alta Loma, CA, USA
Thanks to Rob and the entire Crew for everything : the service, the laughs, the friendship and memories that will last a lifetime. What a way to celebrate hitting the big 6-0. For once, this writer is at a loss for words. Couldn't have asked for more.
How lucky we have been to dance with whales! It doesn't get better than this. Going back to reality will be a difficult transition.
Thanks again and hope to see you all again on another NAI'A adventure.
Paul Mila, Carle Place, NY, USA
Rob and NAI'A Crew
Thank you so much for a very interesting experience! Swimming among the whales was amazing, a once in a lifetime experience. The food was very good and Suli was amazing. Thank you Mo and Joe for dropping us off right near the whales for a perfect view. It was an amazing first time out of the country (US) trip for me!
Stefanie Burgos, Claremont, CA, USA
The Crew of NAI'A was really wonderful. The whale encounters were awesome!!! I really enjoyed the Crew curry, delish!! Hope to come on NAI'A again. Next time in Fiji.
Sarah Andreiko, Alta Loma, CA, USA
To Rob, Sonia and all the Crew of NAI'A – vinaka, vinaka vakalevu!
Our experiences with the whales have been beyond our wildest dreams, and you've made us feel a part of your family. Your kindness to me when I got the news about my father meant a great deal to me – I cannot think of a better place to celebrate his life than here, sharing kava, and listening to the songs of the Crew and of the great winged whales.
Bless you all!
Judy Hemenway and Jon Fellows, Del Mar, CA, USA
Unforgettable, amazing, from Russians with love.
Olga Emelina, Moscow, Russia
Links
Judy Hemenway and Jon Fellows
www.divingturtle.com
Paul Mila
www.cozumelisparadise.com