Date: August 24 – September 3, 2007
Destination: Tongatapu and Ha'apai Group, Tonga
Welcome back: Kathy and Mike Schnetzer, Leigh Page and Betty Kasson, Mary Carney, Livia and Terry Goossens, and Josh Jensen and Liz Harlin.
Humpbacks have that special skill of appearing close to NAI'A, inviting us for a swim, as soon as Suli calls out for lunch or snacks … Whales first, of course, so we jumped in for our first whale encounter of the charter with two juveniles coming up to NAI'A and staying around her for quite a long time. They hung under the surface for almost two hours, not moving much, eyeing us as we were eyeing them, surfacing every so often for a short breath, so close, a truly awesome start!
Welcome back to NAI'A, Kathy and Mike Schnetzer. Thank you for your smiles and for sharing your spectacular and Award winning films with us.
The reef opposite Ha'afeva Island provided an excellent check out dive, with the biggest red-legged hermit crab I had ever seen, living in a trumpet shell...go figure.
After dinner we went back to our favorite night dive on Ha'afeva Beacon reef, where two humongous Spanish dancers welcomed us with their resident red emperor shrimps, as well as octopi, slipper lobsters, many flatworms, and a yellow moray eel.
Welcome back Livia and Terry Goossens. Your contagious sense of humor kept us laughing all week. Terry, I will never forget our crow's nest thirty-times-plus-breaching-"Loser Whale"-experience… nothing like watching from a height as this lonesome adult whale breached non-stop for over one hour, as NAI'A followed it, occasionally also fluke flapping and rolling about with his pectoral fins out in the air… surface experiences with whales can be as rewarding as swimming experiences any day.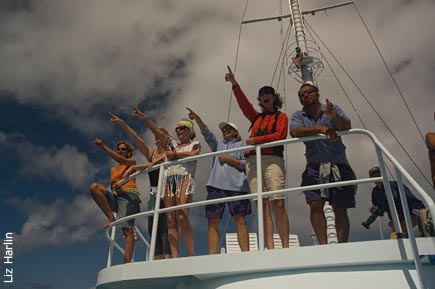 On the second day, a mother, calf and escort bestowed a unique two hour swimming encounter on us, staying very close to a reef, hanging there in mid-water, very still, the mother let us watch the calf nurse under her. The calf occasionally surfaced for a breath, while the mother and escort stayed submerged. On one of those swims back to the surface, the calf opened its mouth up wide, which was a very special sight. The three of them also surfaced together several times, swimming right at us and past us, eyeing us closely. No words can really describe what we felt; thank you again, Tongan whales!
Ana Hernandez and John O'Brien, gentle, cheerful and always helpful, vinaka for your company and your generosity.
Livia, Leigh Page, Betty Kasson, Mary Carney, Liz Monks, Janet Davis, Emma Borrows, Claudia Righetti-Reich, Sonia and Thomas Reich, were Mo's 9 ½ chattering girly group. They were especially lucky when Mo stopped the skiff to allow three juveniles to circle us closely three times, then come right at us before turning away, showing off their white bellies. So excellent. The cheering and squeaking was endless, in the water and above… Welcome back to NAI'A, Mary, Leigh and Betty.
Shozo and Mieko Komura came to see the whales all the way from Japan. Shozo's breaching whale photographs were much admired. Thank you for sharing.
One of our most unique swimming whale encounters was with another lonesome adult, whom we observed coming up to breathe at the same spot for several times and staying down for quite some time in between. Mo advised to go swimming, as it could be a singing whale, so that is what we did, and right he was: the whale was just hanging vertically, about twenty feet under the surface, singing away. He was not bothered at all by us listening in on the surface, and we were all amazed.
Welcome back to NAI'A Josh Jensen and Liz Harlin. Cruise directors on the NAI'A for three years, your whale watching advice was much appreciated.
On our way back from the last dive of the charter, in which Liz Monks had a close underwater encounter with an adult whale, we heard about Mike and Kathy's one hour swim with a mother and calf who kept surfacing close to NAI'A. Mike managed long and superb video footage of the calf swimming around the mother and then straight at him. He even caught the calf speeding up, breaching and falling in again on video. What a special finish to a whale watching experience!
Joe McGlaun did not miss a dive, and enjoyed the swimming with the whales just as much. Thank you for all the movies!
We even had a total lunar eclipse on this charter, which we all enjoyed in a cloudless sky for four hours before midnight.
Guest Comments
To Captain, Sonia and all the Crew,
Thank you very very much,
We had a wonderful time,
Mieko and Shozo Komura, Yachivo, Chiba, Japan
Vinaka Sonia and all the cheerful and caring Crew,
A grand experience with NAI'A and the whales.
Mary Carney, Whangarei, New Zealand
To all the Crew on board NAI'A
Super trip and thanks to one and all
I'll be in touch when Wales whoop Fiji
Oogi Oogi Oogi Oy Oy Oy
I'll be back to dive Fiji!!
Janet Davies, Vienna, Austria
Thank you very much NAI'A Crew!
It was another memorable adventure we soon will not forget.
Beautiful people, beautiful whales – you just can't go wrong with that!
Love you all!
Hope to be back again!
Livia and Terry Goossens, Fort St. John, BC, Canada
Thank you NAI'A for a wonderful trip with fantastic people,
And for providing me with the scariest (in a nice way!) and best experience of a lifetime –
Nothing can beat looking up from an anemone mid-dive to see a whale cruising right over so close I could touch it!!!
Liz Monks, Sunnyvale, CA, USA
To the best Crew anywhere – ever –
Thank you for your care of us and sharing your spirit of joy and adventure.
I feel very blessed to have been a part of this.
Safe travels to all
Leigh Page, Mill Valley, CA, USA
Links
Liz Harlin and Josh Jensen
www.underseaproductions.com
Claudia Righetti Reich and Thomas Reich
www.scubavision.de