Date: September 4 - 15, 2007
Destination: Tongatapu, Ha'apai Group, Tonga
Welcome back: Adra Ross
Tom Campbell came to Tonga to film the Humpback Whales with his production team including Beth Davidow, Dennis Coffman and Jorge Torres. It was a truly unique experience to be able to be part of such a professional filming production, using the latest HD equipment. Thank you for sharing, thank you for all the laughs and all the useful advice in many departments. Happy birthday, Beth.
Our first surface whale encounter was a bull run that went on for two hours: seven whales tirelessly chasing each other, flapping tales, breaching, spyhopping, and blowing huge streams of bubbles. All cameras were going wild!
Neil McDaniel came from Vancouver to film a show for Canadian Television. Tongan Humpback Whales need all the publicity they can get, thank you!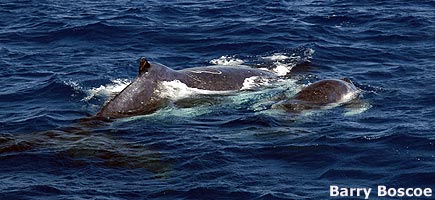 Our favorite swimming encounter on this charter was with a mother, calf and escort, with whom we could swim for more than one hour, after Tom and his filming crew had finished filming them. They were hanging in only forty feet of water, the escort sitting mostly mouth down in the sand and fluke up to about fifteen feet, almost vertically, and motionlessly, while the mother and calf stayed close to the bottom, with the calf coming up to breathe and then going back down again under the mother. She would take the calf under her pectoral fin and keep it there, and then again it would go into nursing position, and then again hang close to her mouth, and then again hide under her, and then again come up vertically from under her to take a breath. Often the calf would swim straight at us, right into the middle of the whole group, which would trigger the mother to come up as well and hang there with it at the surface, right between us for quite some time, eyeing us calmly. Thank you again, Tongan Humpback Whales !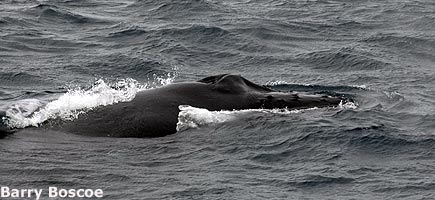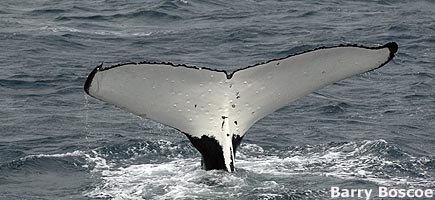 Derrill Ladell, Tom's life long friend, shared priceless secrets of their time growing up together. Thank you for fixing Richie's knee; we will be forever grateful.
The cameras were kept warmed up with whale breaching experiences, as well as with one whale showing off half his body, fluke first, vertically out of the water, very close to the boat for three times in a row.
Mary Jane Loeffler, Adra Ross, and Barry Boscoe, Tom's special guests, enjoyed whales, diving and beach walks, and were ever so patient with the filming crew, observing all set rules closely, thank you very much. Welcome back to NAI'A, Adra.
Tom and his team were mainly interested in filming mother, calf and escort encounters, and luckily the whales cooperated very nicely, granting them some unique swimming encounters, with playful calves swimming straight at the huge HD cameras, mothers being very patient with us, and escorts only getting frisky once. Vinaka again Tongan Humpbacks. See you again next year!
Guest Comments
To NAI'A
This was a very memorable trip for my production crew and myself.
The efforts of the Captain and Crew were exceptional, the food was great as was the whale activity.
I sincerely appreciate the extra work put into making our production a success.
Tom Campbell, Santa Barbara, CA, USA
Dear NAI'A,
Thank you all for a fantastic trip, for your wonderful service and your smiling faces.
Each of you excelled in everything you did and made this trip a great experience for all of us.
Vinaka vakalevu,
Adra Ross, Ben Lomond, CA, USA
NAI'A,
What a fantastic experience, everything was "only" perfect!
The Crew were competent, cheerful, and made ALL things good.
With all the experiences, it's hard to believe that the food was an outstanding highlight… Thank you Suli!
Richard will play rugby again with a GOOD left knee.
Perhaps we will have a chance to say "Bula" again.
Vinaka,
Derrill Ladell, Calgary, AB, Canada
NAI'A and Crew,
Experiencing the humpbacks of Tonga has been a once-in-a-lifetime thrill for me –
And it was only possible due to the professional and wonderful Crew of NAI'A.
I would love to return to dive Fiji waters with you –
My sincere thanks for a great trip.
Vinaka vinaka
Neil McDaniel, Vancouver, BC, Canada
NAI'A,
I thoroughly enjoyed the whale experience and Crew.
The hospitality was exceptional.
Barry Boscoe, Encino, CA, USA
Fantastico!!
Mil gracias!!
Jorge Torres, Altadena, CA, USA
Words hardly describe the experience of seeing a whale up close and personal.
Thanks to the Crew of NAI'A it has made a lasting impression on me.
Vinaka and thank you for all of your effort and hard work.
I will look forward to crossing paths again.
Mary Jane Loeffler, St Louis, MO, USA
To Everyone on the NAI'A,
Thank you for making these 10 days so terrific for our production crew and guests. Your graciousness in filling all of our requests, your good humor, and your superb quality of service – from every person in each department – has been truly appreciated.
The lovely music you shared with us added a special note to a trip full of diving, whales, great food and fun.
Vinaka vakalevu!!
Beth Davidow, St Barbara, CA, USA
Links
Tom Campbell
www.tomcampbell.com