Date: September 17 - 27, 2007
Destination: Lau Group, Fiji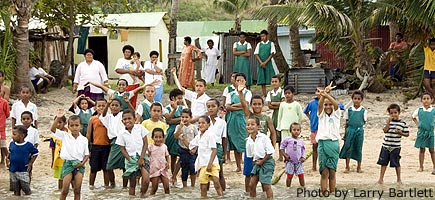 Fijian hospitality and smiles..
| | | |
| --- | --- | --- |
| | | |
| Christmas tree worms.. | | Dick Mobilio. |
On her way back to Fiji from our Humpback Whale season in Tonga, NAI'A spent ten days on an exploratory charter to Fiji's Lau group, the most easterly island group of Fiji. Laurie and Dick Mobilio chartered the whole boat for this adventure. They organize unusual journeys all around the world, mixing cultural experience with diving in a most special way. This charter was one of those unique adventures, as not only did we dive places where hardly anybody dives, but we also visited many islands and villages, not many get to see, and met many very friendly Fijians on the way. Truly a beautiful voyage!
Rob Barrel does not like to miss adventures, so of course he did not miss this one and came along, and together with Captain Johnathan Smith, navigated us safely through narrow passages, and found exquisite dive sites for us to dive on.
| | | |
| --- | --- | --- |
| | | |
| The ship's ladies coming back from a meke. | | Family ties. |
Martin Gaucake, a representative of Lau Provincial Council, also accompanied us, and was extremely helpful in preparing our arrival in all the villages, presenting the "sevu-sevu" (kava root) in NAI'A's name and arranging for us to visit the villages, experience "mekes" (custom dances) and dive the pristine reefs. During these negotiations he had to drink rivers of kava, from which surely he is still trying to recover, hard job!
Laurie and Dick brought thirteen friends along, with whom they had shared many adventures in exotic places before coming to Fiji. They were Lynne and Bruce Noel, Ingrid and Juergen Schmidt, Penny and Larry Bartlett, Lori and Rich Harness, Diane and Andy Jaine, Pat Wiesler, and Eleanor and Mike Gray. All of them very enthusiastic, smiley, kind and compassionate people, with whom I would travel anywhere, anytime, with the greatest of pleasures!
| | | |
| --- | --- | --- |
| | | |
| School children at Tubou Village. | | Future Flying Fijian. |
These were some of the highlights of our voyage across the southern Lau group. Our guests joined NAI'A in Lakeba Island, where we visited the lovely village of Tubou. To get there we took an open truck and also walked part of the way, past taro plantations and pig farms. In Tubou we visited the kinder-garden, where a crowd of smiley kids welcomed us, then the graves of the High Chiefs of Lau, by the sea. We walked to the Chiefly Compound past huge trees and rugby fields and also visited the Methodist Church, as well as the primary school on the way back.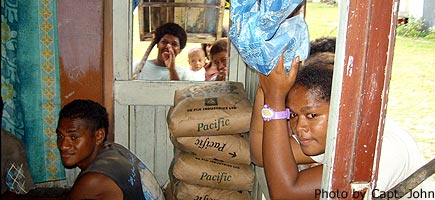 Bula vinaka.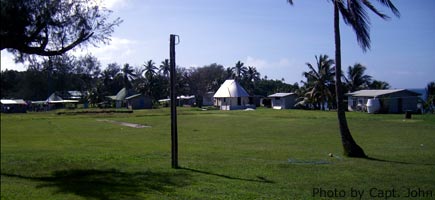 Dakuiloa Village.
Our next stop was Oneata Island, where we went to present the sevu-sevu in Dakuiloa village, after breakfast. We were welcomed by the two chiefs and representatives of Dakuiloa and other villages. Even though they were happy with us visiting the village, they did not want to let us dive, as it is quite hard to understand how somebody would want to go diving just for looking and not for fishing, it would kind of be like going into a supermarket to look and not to do the grocery shopping. We really enjoyed the village walkabout, though, as it lies right by the sea and extends somewhat up a hill, where the church is located, with a fantastic sea view. The primary school was lovely, right by the sea, and meeting the smiley kids was great fun.
Moce Island followed, where we finally got permission to dive at Motu Reef. It was a beautiful, pristine hard coral wall, populated densely with reef fish and some tuna cruising by. We found an Orangutan crab on a raspberry coral, which is quite unusual. Also and quite remarkably so, we found more than normal Flame hawkfish on all the dives in Lau.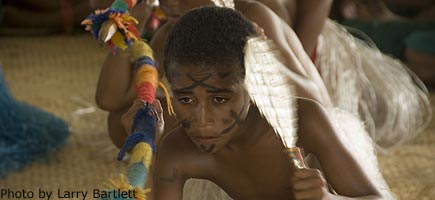 Extraordinary meke at Nasau Village.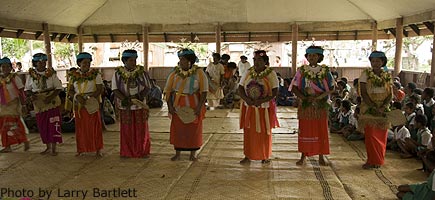 Ladie's meke at Nasau Village.
In Nasau village on Moce Island, we also had our first "meke". The children were the main performers, and it was very well rehearsed and everybody enjoyed it greatly. Suli, being partly from Lau herself, was extremely helpful in being the Master of Ceremonies and making sure we always did the right thing at the right time.
Before leaving Moce, we did another dive at Dakau Levu, where we were welcomed again by a stunning hard coral garden and plenty schooling jacks and rainbow runners, with occasional tuna passing by. The most special feature though, was a garden of green sea fans at depth, and two eagle rays paying us a short visit.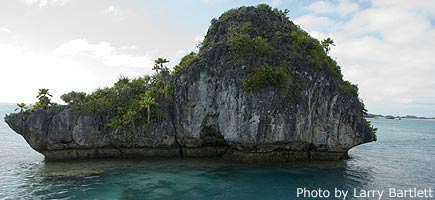 Awesome Lauan rock formations.
| | | |
| --- | --- | --- |
| | | |
| Tricky passage navigation. | Mahi-mahi catch at Ogea. | |
Next on the list was Ogea Levu Island, where we got permission to dive Daveta Levu passage, known to Rob from previous charters to the region. The island itself is of great natural beauty, surrounded by a shallow lagoon with many small rocky islands inside, which gives it a "Palau"-like appearance.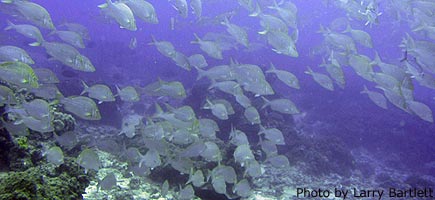 Fishy diving at Vulaga passage.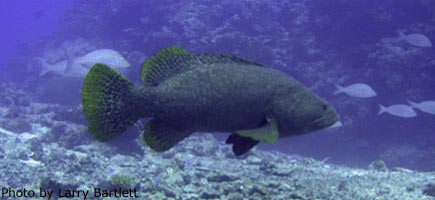 Humoungous grouper at Vulaga passage.
We spent the next two days at Vulaga Island, which easily was everybody's favorite place in Lau. Both the diving as well as the village visits were fantastic. The dives were done in the main, very narrow, channel, and it was like diving in a dense fish soup. The density and variety of fish was astounding. We swam amongst schooling black and red snappers, big-eye jacks, mackerel of different species, barracuda of three species, huge Malabar groupers, and some grey reef and white tip sharks, and even a nurse shark. There were also plenty reef fish, and the outer wall as well as the pinnacles inside displayed prolific purple soft coral growth. A totally awesome dive!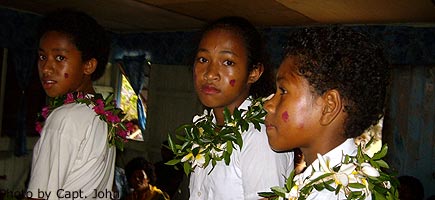 Girls' meke at Naividamu Village.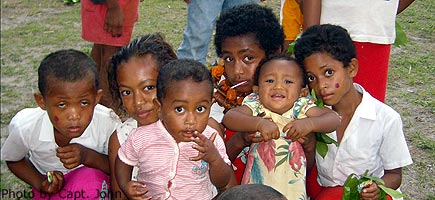 Kids at Naividamu Village.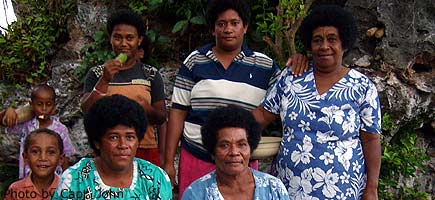 Ladies of Naividamu Village.
The village of Naividamu on Vulaga Island welcomed us with an afternoon meke, and we all enjoyed the friendly people and the village walkabout around the very tidy village. Next day was Sunday, and most of us joined the church goers of Naividamu up on a hill overlooking the sea. The heavenly location and the South Pacific musical harmonies made us all feel closer to God. After church we were invited to have lunch in the village. The villagers had prepared an amazing Sunday lunch for us including octopus, fish and vegetables in coconut milk, casave and the very typical Lauan sticky coconut bread. We all ate a lot and enjoyed every bite immensely. We finished our visit by joining Sunday school, and enjoying the children's singing.
Vinaka vaka levu Naividamu for a gorgeous and most inspiring Sunday!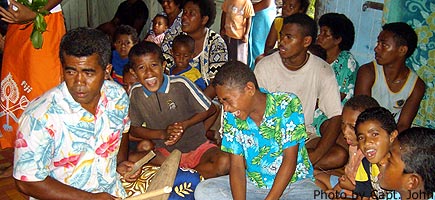 Meke at Naividamu Village.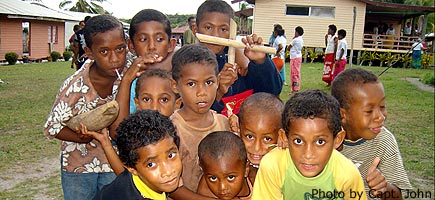 Naividamu Village's future rugby team.
Relaxing in the shade.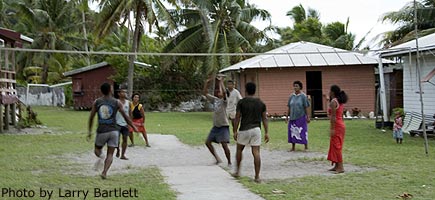 Volley-ball in Naividamu Village.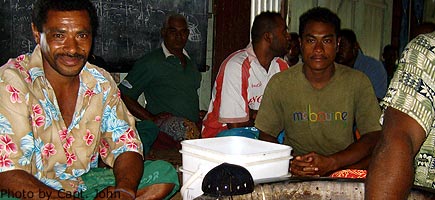 Having kava at Naividamu Village.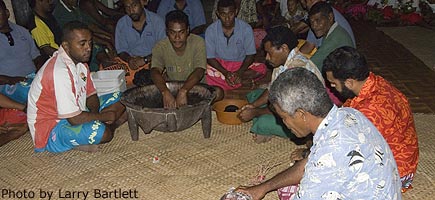 Kava ceremony at Naividamu Village.
Moce Naividamu Village.
We visited Kabara Island next, where we had the chance to buy lovely tanoa wood carvings, and enjoyed beautiful singing and meke dancing performed by the school children. Vinaka vaka levu!! We also sang for them, not nearly as skillfully, but they had a lot of fun.

Next on our adventure tour was Totoya Isl, where Juergen did his first dive at Nadawa passage, the first one of many to come, as he loved it. Udu village was our next visit, and we got a wonderful tour all around, in which we saw a copra oven, ladies weaving mats, drank coconut water, visited the church and school, saw fish being smoked in a kitchen, and marveled over the awesome harmonies of the school children's singing. Dick and Laurie went on a mission to find a pig to cook in our "lovo", earth oven, dinner. The dive at Davetatabusalusalu passage turned out to be really nice, with a school of about twenty juvenile grey reef sharks cruising around on the top of the reef, and plenty Flame hawkfish hopping about in the raspberry corals.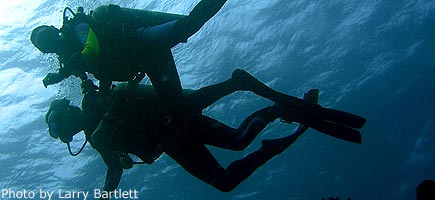 Juergenfish growing gills.
Matuku Island was the last island on our southern Lau adventure tour. We had two beautiful and very "fishy" dives at Matuku Harbour, and we even spotted two yellow-black-white motley leaf fish, so nice! After lunch we were welcomed to the Chiefly village of Yaroi, where we enjoyed a very well performed ladies' meke, and, following tradition, were powdered thoroughly all over the face and head.
In the late afternoon we lifted our skiffs and said good-bye and Vinaka vaka levu to Lau, heading back home to Suva.
We would like to thank the Lau Provincial Council and Martin Gaucake, for making this adventure possible. A big thank you also goes to the lovely people of the villages in southern Lau, who welcomed us so warmly, bestowing such unique hospitality on us and making us feel so much at home.
Vinaka vaka levu, again, and God bless you!!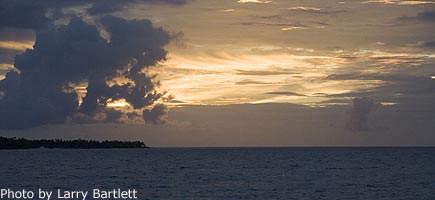 Lauan sunset.
Guest Comments
NAI'A is a wonderful ship with a great Crew.
Fiji was excellent.
Eleanor and Mike Gray, Altadena, CA, USA
It was a wonderful trip from beginning to end. The diving was terrific. The trips to the villages were so enlightening and we left each with the feeling that we had made new friends.
NAI'A was truly a joy! The food was amazing and we had every comfort and convenience of a home away from home.
Truly the most enjoyable facet of the trip was the great Crew. They were so attentive and made us feel like we were family.
Thank you so much.
Di and Andy Jaine, Incline Village, NV, USA
This South Lau trip has exceeded our wildest dreams. Absolutely perfect.
Beautiful dives, beautiful people and an awesome Crew to show us the way … the best way!
Ching Ching to NAI'A Crew.
Lori and Rich Harness, Antioch, CA, USA
To NAI'A's Owner and Crew:
Thank you so much for a most memorable, unusual and comfortable trip …
Your hospitality and service (special care of people with broken feet, especially) made this a cruise of the very highest quality. You even controlled the weather! We will always remember this was the trip where snorkeler Bruce became "Diver Bruce"!
Vinaka , vinaka! You are a fantastic group of new friends.
Sincerely,
Lynne and Bruce Noel, Saratoga, CA, USA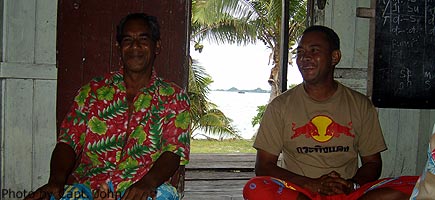 Happy meetings.
Our thanks to Rob, John, Sonia and all NAI'A Crew!
It was a fantastic 10 days journey into the hearts, minds and blue water of Southern Lau! Each member of the Crews' efforts for all of us was appreciated and noticed.
The food was exquisite, unusual and beautifully served by Suli, and plated by a kitchen Crew focused on detail!
The diving was World Class, in Vulaga especially! Giant groupers, Emperor fish, further sharks, and the most diverse fish and coral we've seen! Sonia and Richie, thanks!
Bula vinaka! We will certainly return!
Penny and Larry Bartlett, Walnut Creek, CA, USA
Hard to believe for us our Southern Lau trip is coming to an end. We enjoyed the trip with the NAI'A and her Crew to these beautiful islands and their people so much.
Special thanks for the celebration of my birthday here on board, and the new perspectives which we got going into diving – thank you, Sonia, for that great experience! We will always remember now where it started.
Also a special thanks to all the crew members, who worked admirably together to make this trip such a memorable journey.
Ingrid and Juergen Schmitt, Heidelberg, Germany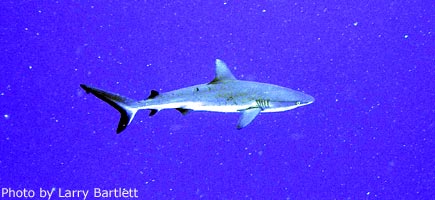 Grey Reef Shark.
Rob, Sonia and Crew of NAI'A
What a wonderful ten days on this beautiful ship. Warm smiles, wonderful food and happiness prevailed through all of our adventures together.
Happy sails to all of you wherever the winds may take you.
Best regards,
Pat Wiesler, Palo Alto, CA, USA
To NAI'A Crew,
Our heartfelt thanks for an extraordinary trip!
After six long years of dreaming about the Lau Islands, you made our dream come true –
We return home with wonderful memories of the welcoming people, the magnificent singing, the special village ceremonies, the beautiful NAI'A and the friendliness and harmony of her Crew. Dick joins me in wishing you all well wherever your journeys take you – Calidex was proud and honored to introduce our friends to this very special part of the world.
With sincere gratitude and affection,
Laurie and Dick Mobilio, Saratoga, CA, USA
Links
Richard Mobilio
www.calidex.com
| | | |
| --- | --- | --- |
| | | |
| Mo in command. | | |