Date: October 6 - 13, 2007
Destination: Vatu-I-Ra, Namena Marine Reserve, Gau, Bligh Waters, Fiji
Welcome back: Julie and Larry Sherwin
NAI'A is back to her usual Fiji itineraries, cruising between Viti Levu and Vanua Levu Islands, visiting all the old fish and critter friends, and happy to see that all the reefs are still looking as gorgeous as ever.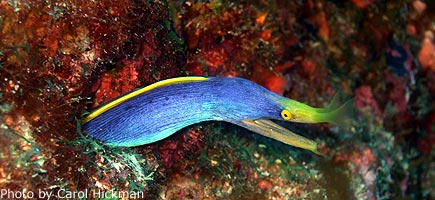 Blue ribbon eel.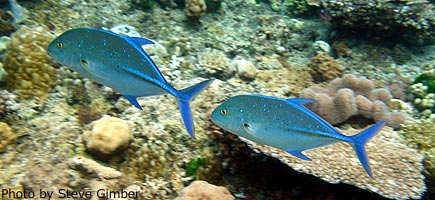 Bluefin trevally.
Our first dives this time were Golden Sunset and Nukuravula, dive sites we have neglected somewhat lately, but will be visiting more often in the future. Truly impressive pinnacle dives, with lush soft coral growth and hard coral gardens, and a high density and variety of fish. Golden Sunset has big resident schools of resident black and red snappers, as well as good possibility of gray reef shark sightings, and white tip reef sharks guaranteed. The Nukuravula pinnacle tops are teeming with small fish in an explosion of color and movement.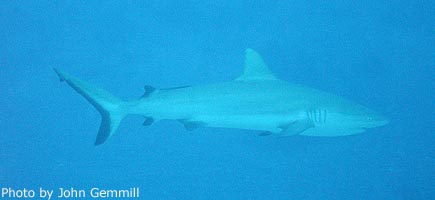 Gray reef shark.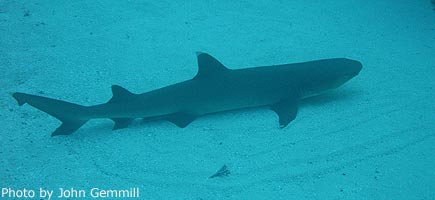 Whitetip reef shark.
Welcome back on NAI'A Julie and Larry Sherwin. They joined us with their friends Vicki and John Gemmill, with whom they travel often. Larry, if in doubt, reef on your right hand shoulder…
Coral Corner at Vatu-I-Ra was a real treat yet again. Its lush, colorful soft coral growth on the main reef, and its outer pinnacles covered in fans and soft corals never fail to astonish. Fish are abundant, and sharks always present. This time we even had the honor of being visited by a hammerhead and a huge school of chevron barracuda really close up.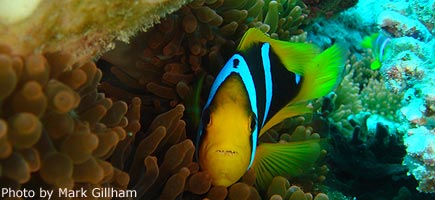 Clark's anemonefish.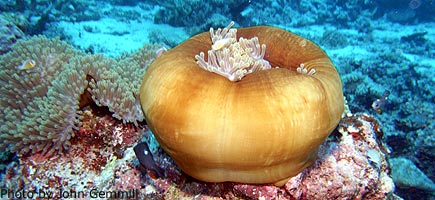 Closed up anemone.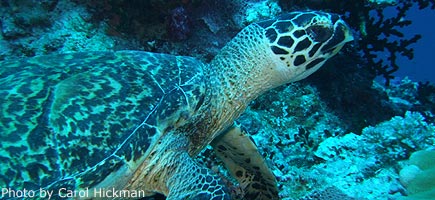 Hawksbill turtle.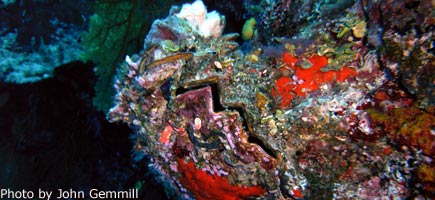 Honeycomb oyster.
Steve Gimber and Joe Blakely are friends who dive the world together. Nothing beats sharing your adventures with a good dive buddy.
We timed Fantasea at Namena Marine Park at tide change and had it with almost no current. A real treat to bimble about amongst the ridges covered in soft corals and small fish. There are also quite a few quite big, red-spotted blennies peeking out of several holes, being their very cute selves. The wall, at the start of the dive, had several decorated dartfish, many square-spot anthias, magenta dottybacks, and black-spot angelfish in store for us.

Mark Gillham and Carol Hickman, thank you for sharing your excellent photos and your happy spirits with us.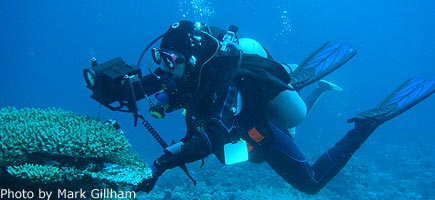 Carol filming.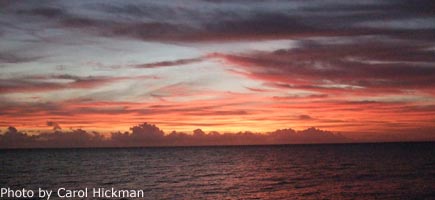 Fijian sunset.
Grand Central Station at Namena blessed us with a school of twenty hammerheads in the deep, of which two came shallower to give us a closer look. A few gray reef sharks, Spanish mackerels and tunas passed by, and big schools of chevron barracuda and big-eye jacks let us swim amongst them. Under the arch, above the field of puffed up pink whip coral hovered a huge school of about one hundred long-faced emperors, what a sight! We ended the dive as usual, taking a nap on the Sinularia soft corals at Kansas, a truly magical dive.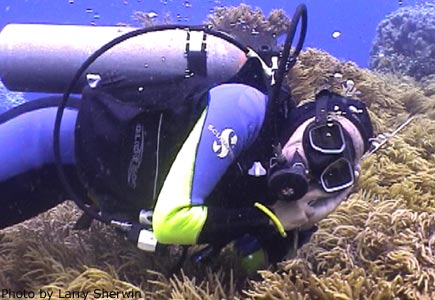 Sonia napping on the job.
Jason Holloway was our lucky shark charmer, attracting even a school of hammerheads at Grand Central Station, where we had never seen one before. The magic might be due to his smiley wife Julie.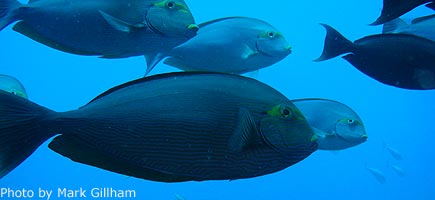 Yellowmask surgeonfish.
Tetons at Namena reminded us yet again of how unique the diving in Fiji is. With just enough incoming current to bring swarms of anthias, fusiliers, surgeons and jacks in, and have all the lush soft corals and fans puffed up, both Tetons welcomed us back home. Our old friends are also all still there. The blue ribbon eels and flame hawkfish, the white leaf fish, and the golden mantis shrimps.
Teri & George McNee followed the guides closely and celebrated our every find.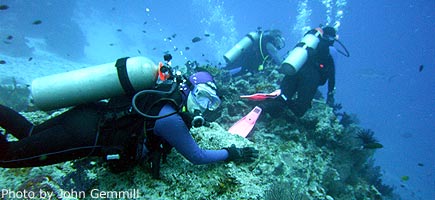 Hanging on at Nigali Passage.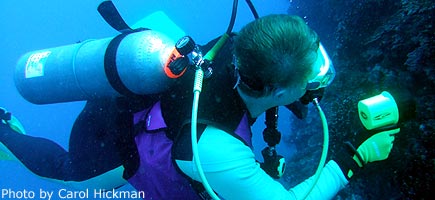 Jason exploring.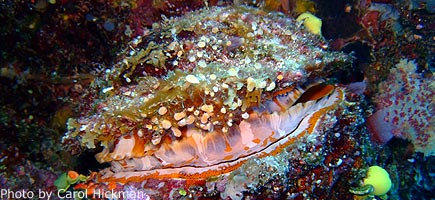 Thorny oyster.
Nigali Passage gave us a grand welcome back, with a school of at least thirty gray reef sharks, and a very friendly Malabar grouper, swimming between our fins and almost taking our regulators off our mouths. Even the monster, white, slashing mantis shrimp has reopened its house in the passage.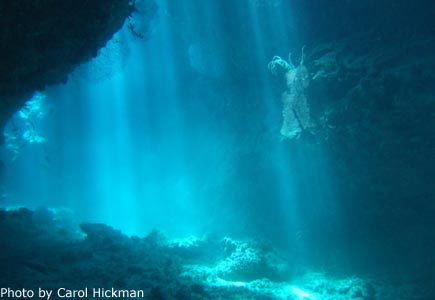 E6 magic.
On the last day we dived the cherries on the cake, our sea mounts Mount Mutiny with its unique rainbow wall of chironephthya soft corals, and E6 with its spectacular cavern system, with the sun rays shining in. Our last dive we did on Gomo, soft coral paradise par excellence… words are amiss to describe… Dear Fiji, so very good to be back. Vinaka vaka levu, Noda Viti.
| | | |
| --- | --- | --- |
| | | |
| Glad to be back to Somosomo. | | . |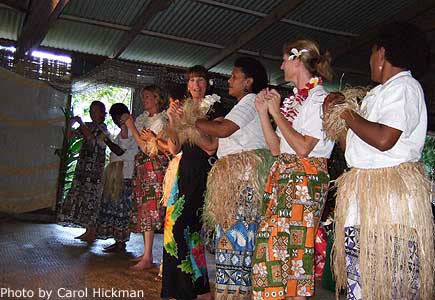 Meke at Somosomo.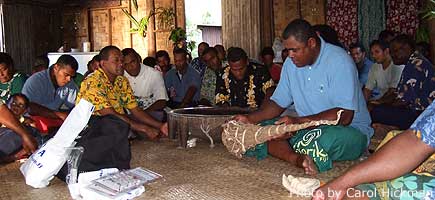 Mo presents the sevu-sevu.
Guest Comments
NAI'A Folks
Vinaka vaka levu
Words come from our souls
You did everything we hoped for,
Exceeded all our goals
You dropped us off
You picked us up
With cheerly smiles and "Bulas"
You shared your songs and kava
Glory Hallelujah!
Our tanks are filled, boats are ready
Count to three go down
And there await corals splendid
And fish that do abound
Back on board NAI'A
Peni dishes out cuisine
Lovingly delivered by sweet Suli
Food fit for kings and queens
Sonia, Eddie and Richie
Our under water guides
Pointed out the highlights
The subjects of our slides
This is our second voyage
Upon the good ship NAI'A
We're looking forward to our next one
When again we'll say "Hi-Ahhh"
Julie and Larry Sherwin, Corona Del Mar, CA, US
NAI'A Crew
Great Trip! Great Food!
Wonderful Diving!
Awesome trip to the village!
We will repeat this trip I can tell you for sure!
Thanks sooooo much Sonia, you are a very talented and beautiful woman!
John and Vicki Gemmill, Dana Point, CA, USA
Bula NAI'A Crew,
Thank you to Captain Jioji and the entire Crew for a great trip.
Thank you for the warm smiles and helping hands.
For the music and conversation and great food.
You are professional and generous and enthusiastic.
Thank you for treating us as part of your family.
Special thanks to Suli with your beautiful smile.
And to Sonia – you are a gem! My favorite dive teacher ever.
This is my first visit to Fiji and to NAI'A – one I hope to repeat.
Bula and Vinaka
Steve Gimber, Kensington, CA, USA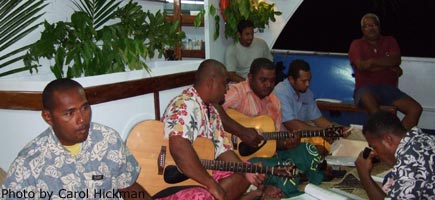 Kava party on NAI'A.