Date: October 13 - 23, 2007
Destination: Vatu-I-Ra, Namena Marine Reserve, Gau, Wakaya, Makogai, Bligh Waters, Fiji
Welcome back: Steve Bailey, Steve Webster, Heidi Munzinger, John Shott, Curt Bowman, Mark Rosenstein, Pam and Tim Burke.
The Whole Shebang.
On this ten day charter, Steve Webster from Monterey Bay Aquarium and Steve Bailey from New England Aquarium came back, yet again, on NAI'A with a group of friends.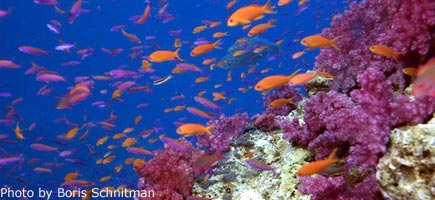 Fijian wonders.
A very warm BULA VINAKA and Welcome Back to both of you. It is always a special treat to have you both on board. Very laid back and extremely knowledgeable always makes a perfect combination.
Steve Webster gave us invertebrate biology lectures every day, with a lot of humor and thrown in stories, a real honor to be able to learn from you, thank you ever so much.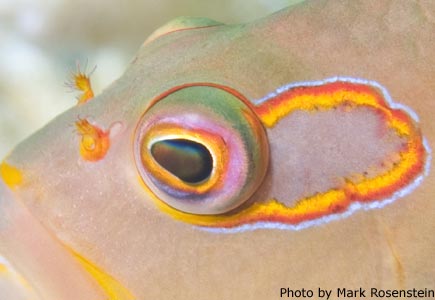 Arc-eye hawkfish.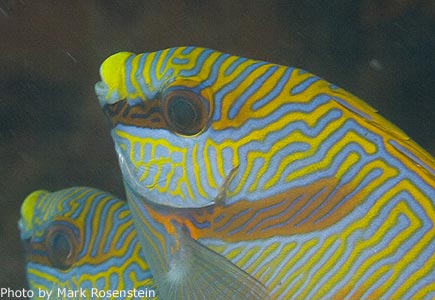 Barred rabbitfish.
Steve Bailey is the "Fish Geek" par excellence; he knows every fish in the sea by scientific name. It was a privilege to go fish spotting with you! Furthermore, everybody looked forward every day to his Diver Awards in the evenings. Vinaka, Bailey!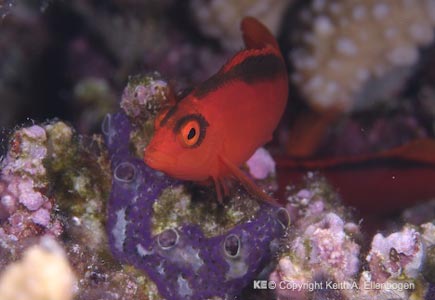 Flame hawkfish.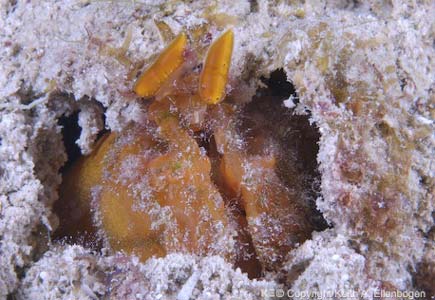 Golden mantis shrimp.
We were happy to return to Cat's Meow, as we did not have the chance to dive this site on the first charter back in Fiji from Tonga and Lau. It is difficult to have a favorite dive site in Fiji, but this one certainly is high up on the list. Its soft corals and fans on the sea bed and on its sides, the red fluorescent anemone field on top, the hovering lionfish and schooling many-spotted sweetlips, the swim thrus and windows, the special critters, and the myriads of fish covering it all, certainly are superb.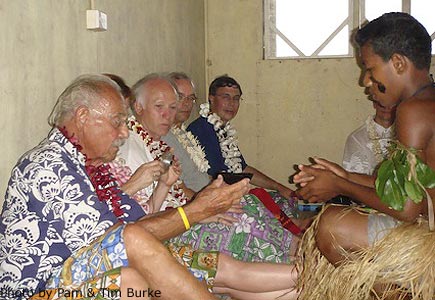 Kava for our Chief Curt.
| | | |
| --- | --- | --- |
| | | |
| Our Chiefly Hero Curt. | | Veni, vidi, vici. |
Curt Bowman, was our Chief during our village visit at Makogai, and is our Hero in all other fields. We all want to be like you, Curt, when and if we get there. Welcome back to NAI'A.
Humann Nature made for a spectacular night dive. Big amounts of shrimp plankton gathered in the light of the dive torches, and, when shining closely at the reef, little, very colorful commensal shrimps would come out of numerous little holes all along the reef to eat the plankton, reaching far out with their long pincers, a very unusual sight that made our night dive special. We also saw many different kinds of nudibranchs, a big flatworm, scorpionfish and lionfish, plenty cocooned sleeping parrotfish, and arrowhead crabs.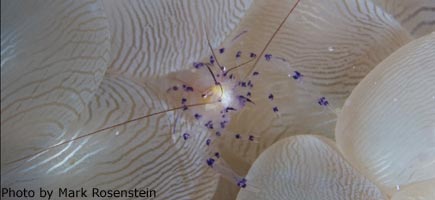 Bubblecoral shrimp.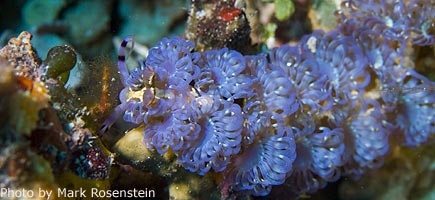 Chinese dragon nudibranch.
Chromodoris nudibranchs mating.
Welcome back, Pam and Tim Burke. Gentle and smiley, it was a pleasure to dive with you. Thank you ever so much, Tim, for your medical assistance.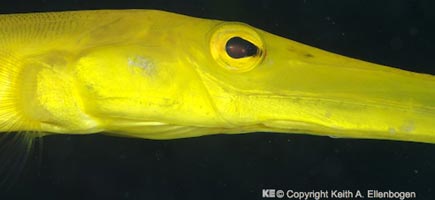 Trumpetfish.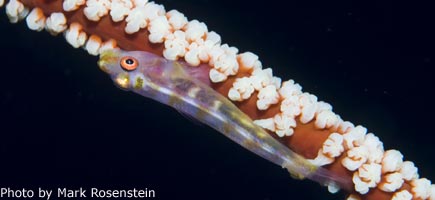 Whip goby blending in.
| | | |
| --- | --- | --- |
| | | |
| Vibrant Fiji. | | Wonderful E6. |
The E6 seamount was gorgeous as ever, with the sunrays falling all along into the cathedral. The already huge soft corals on the outer wall and inside the cathedral seem to grow larger with every charter, and the two robust ghost pipefish are still at the entrance to the cathedral. A really unique dive.
Mark Rosenstein, welcome back. Thank you so much for sharing your truly spectacular photographs with us. We especially loved your fish portraits. Vinaka!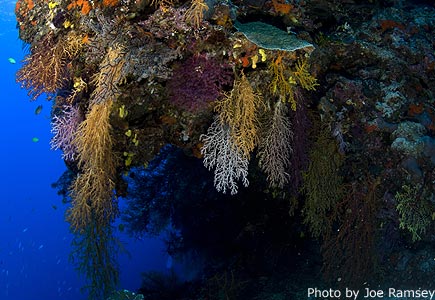 Chironephthya soft corals at Mount Mutiny.
We timed the dive at Gomo in Vatu-I-Ra when the current was mild, and were able to enjoy the spectacular soft coral scenery in all its abundance and variety at a leisurely pace. What a treat!
Heidi Munzinger and John Shott, welcome back. Heidi is following Bailey's 'Fish Geek'-footsteps, and catching up really fast.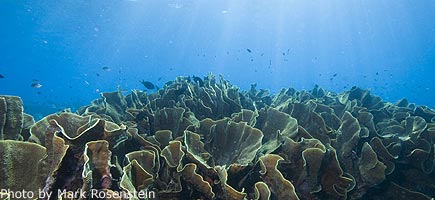 Lettuce coral at Nigali.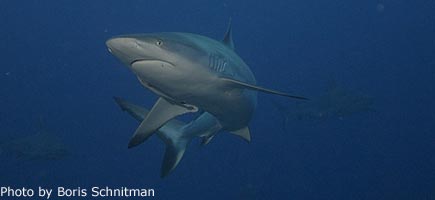 Gray reef sharks at Nigali.
Nigali Passage was its usual awesome self, with the red snappers, which school in the shallows in front of the shark observation area ('the Bleachers'), descending as a group, clearly chasing something, which made the numerous gray reef sharks act out a bit of a feeding frenzy in front of our eyes, darting about very closely. The big Malabar groupers were also very friendly. One especially so, as he accompanied us down the passage swimming amongst us, stuck between our fins and pushing its big face right into our masks.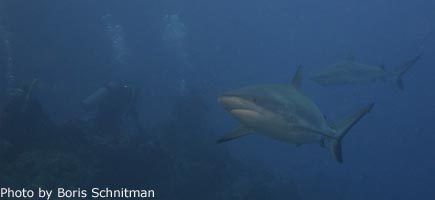 Awesome Nigali passage.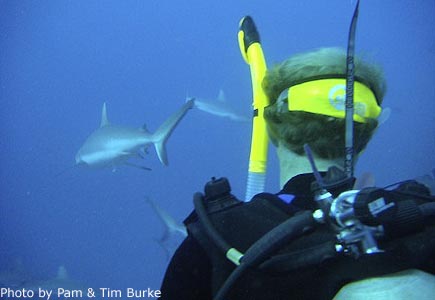 Up close and personal at Nigali.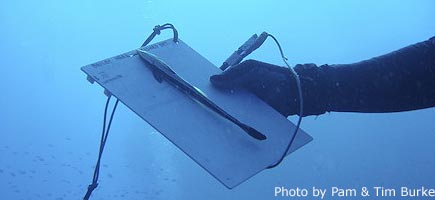 Hang on wherever you can.
Jim's Alley is always a favorite, especially when its lush soft coral growth, mainly in pink and purple tones with some yellows thrown in, is puffed up like it was this time.
Boris Schnittman was out looking for sharks and saw quite a few, although one can never see enough sharks, right, Boris? Are you still dreaming with that quadruple jumping sailfish?
| | | |
| --- | --- | --- |
| | | |
| Fish soup. | | Jumping sailfish. |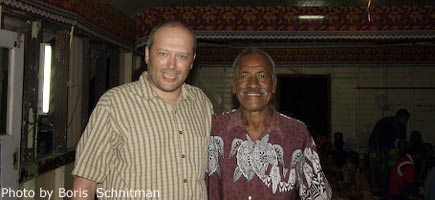 Boris with Chief Watson.
The Wakaya wall has turned into one of our unmissable dives, as the wall has spectacular soft coral and fan growth, and plenty decorated dartfish, as well as square-spot anthias, and a couple of quite rare but resident multibar angelfish. Once at Lion's Den we were surrounded by schooling big-eye jacks, barracuda, batfish, masked and unicorn surgeonfish, and fusiliers. On the pinnacle itself, a few big lionfish hovered about, and we also saw the resident yellow leaf fish, the adhesive anemone with popcorn and Thor shrimps, and a big Napoleon wrasse.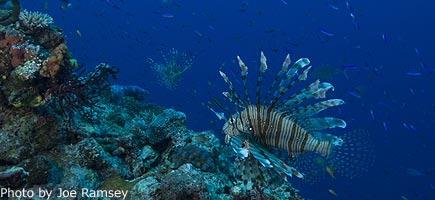 Winged beauties.
Bluefin trevally.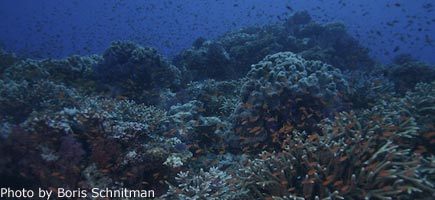 Stunning pinnacle tops.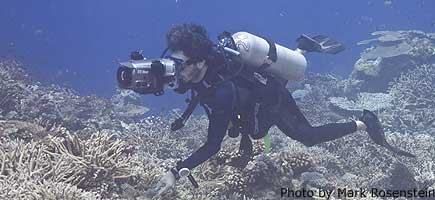 Keith at the office.
On Keith Ellenbogen's photographs the fish and critters seem to move, like in a movie, most awesome. Thank you for sharing.
| | | |
| --- | --- | --- |
| | | |
| Booby-face | | Editors of the NAI'A Newsletter. |
Paul Erickson and Keith had some territorial wrestling going on in the camera room, fencing each other with graffiti stickers on the wall, much to everybody's amusement. Paul was a loving diving buddy, to both his camera and his joyful wife, Susan.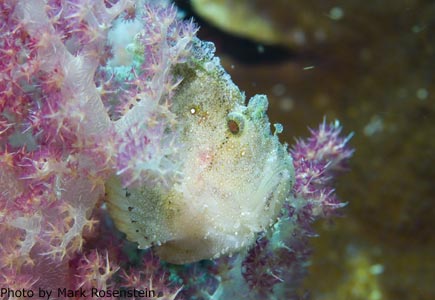 White leaf scorpionfish.
Rick's Rocks at Makogai, had one of its two white leaf fish sitting in a purple soft coral all morning, looking out, providing that perfect face shot and color combination, vinaka! The orangutan crab was also at home, as was a big soft coral crab. Ron's Delight delighted us with a Halameda ghost pipefish, spotted by Richie, and its two resident yellow leaf fish, as well as with an octopus.
We also had our village visit at Makogai again this time, enjoying the always well-performed children's meke and Chief Watson's witty explanations to it. It is also the perfect place to cook our 'lovo' (earth oven) dinner, the covering and uncovering of which everybody always enjoys to watch, and the outcome is always most yummy.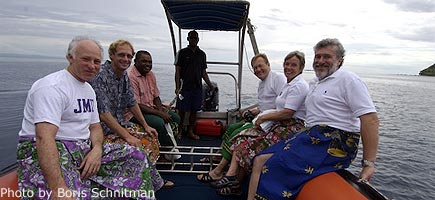 Ready for the village visit.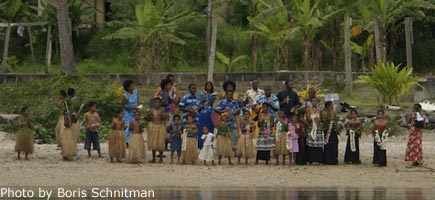 Ni sa bula from Makogai.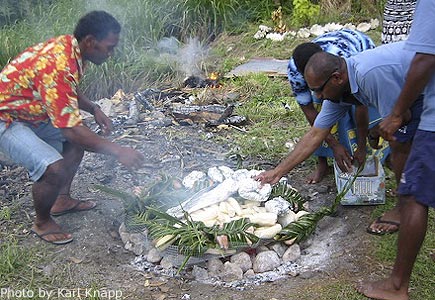 Uncovering the lovo.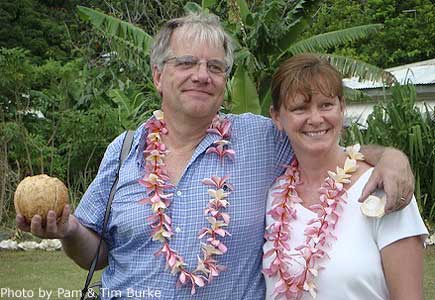 Paul and Susan Erickson.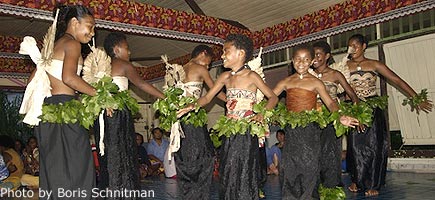 Girls' meke at Makogai.
| | | |
| --- | --- | --- |
| | | |
| Banded sea snake. | | Meke at Makogai. |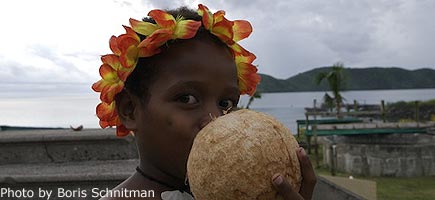 Yummy coconut.
Cemetery at Makogai.
Bob Fondiller and John Kennedy, it was ever so nice to meet you and to dive with you, vinaka!
Grand Central Station at Namena welcomed us with ideal conditions and four gray reef sharks circling low over their cleaning station on the flat rock just in front of the arch. We were also surrounded by schooling chevron barracuda, big-eye jacks, long-faced emperors, friendly batfish and surgeonfish. The small splendid garden eel group is still looking most splendid, and Kansas was so very peaceful with very little current and plenty small fish, mainly anthias and damsels, hovering about it all. We also found an octopus on it, and some of our faithful residents, the great barracuda, the black nembrotha nudibranchs and the cheeky red-spotted blenny.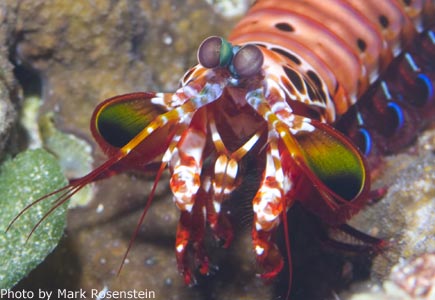 Peacock mantis shrimp.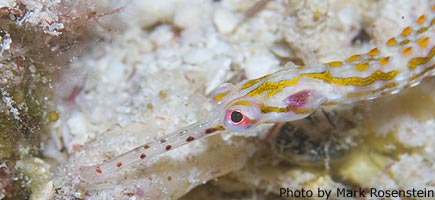 Pipefish face.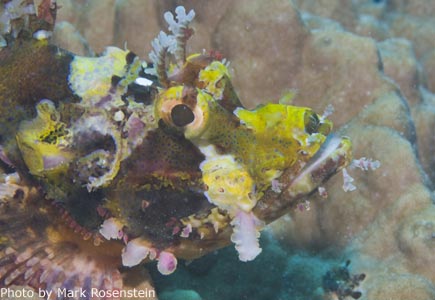 Scorpionfish.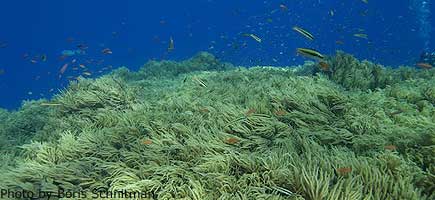 Sinularia soft corals at Kansas.
Joe Ramsey had his special reading and siesta spot on the starboard dive deck area. We have since put a sticker up, marking the place as yours for when you return.
Namena's Two Thumbs surprised us with an almost transparent juvenile ornate ghost pipefish hovering in front of a fan, found by Eddie. The Mushrooms treated us to their resident stonefish and to a couple of unusually obliging sharpnose wrasse, of which Keith managed some awesome photographs.
Karl Knapp enjoyed the kava almost as much as the diving. From observing you under water it would have been impossible to guess that you arrived on NAI'A with only ten dives. Congratulations!
| | | |
| --- | --- | --- |
| | | |
| Juvenile Ornate ghost pipefish. | | Blue ribbon eel.. |
Our resident black, juvenile blue ribbon eels at Namena seem to have abandoned us for the time being, but we have gained a new one at Charlie's Garden in Vatu-I-Ra.
Some go, some come. Vinaka!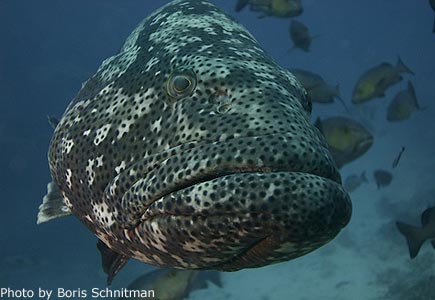 Malabar grouper in need of TLC.
Guest Comments
Superb!!!
Best Crew on planet earth.
Thank you.
Thank you.
Thank you.
Paul Erickson, Beverly, MA, USA
To Sonia, Suli, and all "The Boys",
What can I say about yet another extraordinary experience? This is my fourth trip aboard NAI'A and every one is better than the last!
Don't change a thing, it's perfect just as it is …
I look forward to returning in 2008 to my dear friends and "home away from home"!
Vinaka vaka levu,
Heidi Munzinger, Sunnyvale, CA, USA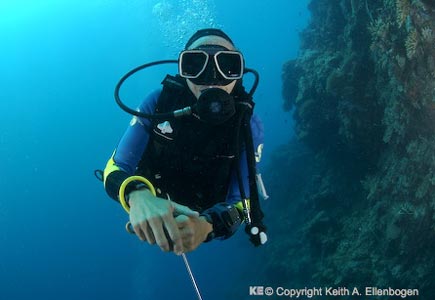 Sonia's best fish face....
To Crew of NAI'A,
Thank you so much.
I really enjoyed myself. You exceeded my already high expectations.
I hope to come back at a future point.
My best to you all.
Your friend,
Bob Fondiller, Fremont, CA, USA
To NAI'A Crew,
Thanks for welcoming us into your lovely home.
Your friendly smiles, fantastic food and terrific music made my first dive boat experience a trip of a lifetime.
If you're in Boston we'd love to welcome you into our home.
It would be an honor!
Sincerely,
Susan Erickson, Beverly, MA, USA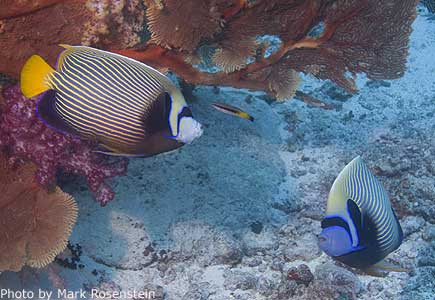 Emperor angelfish tete-a-tete.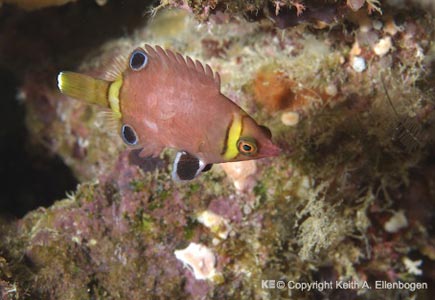 Evasive Sharpnose wrasse.
Bula,
My 4th trip.
Great Crew,
Great dives,
Great food,
Vinaka!
Curt Bowman, Santa Cruz, CA, USA
NAI'A Crew never stops finding ways to improve.
This 5th trip was just wonderful.
Vinaka vaka levu!
Steve Bailey, Braintree, MA, USA
Dear NAI'A Crew,
This experience has been my most memorable trip ever. Your friendly enthusiasm, thorough knowledge, and overall wonderful attitude served to make even the least experienced diver feel right at home with everyone else. Vinaka for all the rounds of kava, and also for the ice cold, Fiji Bitter.
Hope to see you again.
Love the music!
Karl Knapp, Palo Alto, CA, USA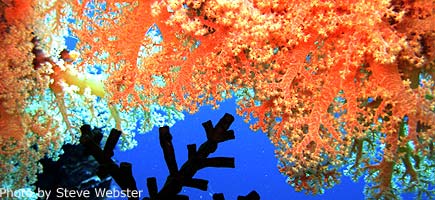 Fiji for you.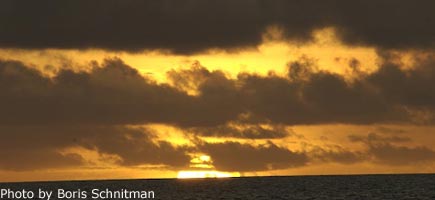 Fijian sunset.
"ODE TO THE CREW" (sung to the tune of "Sloop John B")
We came all the way to Fiji
My dive buddy and me
'Round the Bligh Water we did roam
Divin' ten days,
Doin' what Sonia says
Well I feel so fine here, may never go home!
Chorus:
So hoist up the NAI'A's sail
See where she takes us next
Guided by Capt. John and First Mate Richie
Please let me get wet
I ain't been bent yet
This is the best trip I've ever been on!
Ben and Peni run the galley
Meals and snacks are served by Suli
Mo and Joe run us to and fro in their skiffs
The engineers and cadets (*)
Are absolutely the best
And Eddie knows where the cool critters hang out!
(repeat chorus)
(*) John Gopal and John Naitini, Sefa and Sevu (sorry I ran out of rhymes!)
Heidi Munzinger, Sunnyvale, CA, USA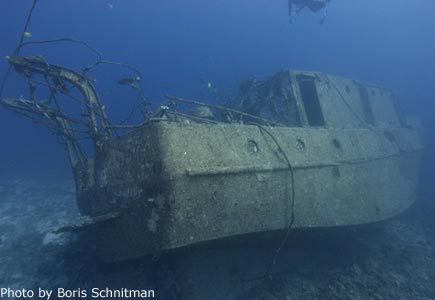 Nasi Yalodina wreck.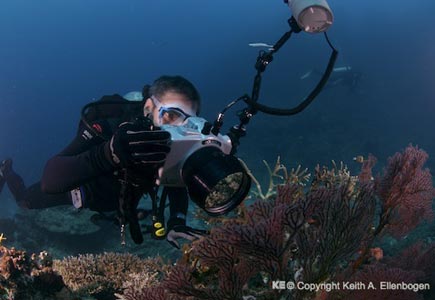 Shhhhhhh, genius at work.
To NAI'A Crew,
Thank you all for a wonderful trip.
Great experience of diving on a very good boat.
The crew were awesome.
Thank you again
Boris Schnitman, Banff, Canada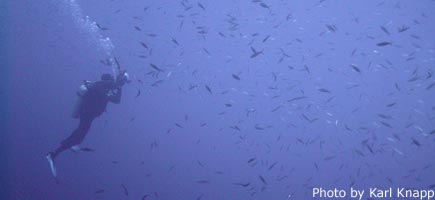 Boris looking for sharks.
To NAI'A Crew
Thanks so much for the wonderful last 10 days!
The diving was great.
The food "yummy".
The Crew is outstanding.
Hopefully we'll see you again next year.
Pam and Tim Burke, Portland, OR, USA
My 11th NAI'A Cruise, and
as superb in every way as always.
Amazingly attentive and supportive Crew; Great dive sites; Wonderful food.
See you all again in April!
Vinaka vaka levu!
Steve Webster, Carmel Valley, CA, USA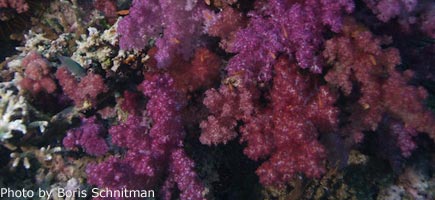 Dendronephthya soft corals.
Feeding frenzy.
A most warm and thankful experience. The Crew on NAI'A are superb and always extending a head to help. The dive sites were excellent with very "fishy" sights.
Vinaka vaka levu!
John P Kennedy, Palo Alto, CA, USA
NAI'A Crew:
Fantastic diving, wonderful boat, and spectacular variety of undersea life!
However, the quality of the NAI'A Crew is easily the high point in this enterprise. I had heard from others about the excellent of the crew, but your performance, good nature and expertise easily exceeded my expectations. I hope that you take great pride in creating so many wonderful memories … you all are the VERY best!!!
John Shott, Menlo Park, CA, USA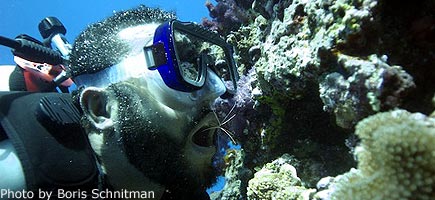 Time for a captainly clean up.
NAI'A,
Fantastic diving, great Crew and spectacular marine life.
I wish I could stay forever!
Keith Ellenbogen, Newton, MA, USA
My third NAI'A trip was just as wonderful as my first time. Sonia and the boys have done a great job and the reefs are beautiful as always. Bula!
Mark Rosenstein, Cambridge, MA, USA
Lady NAI'A and Crew,
Such a beautiful ship,
filled with wonderful personalities,
visiting the wonders of marine life.
Thank you for a great adventure.
Joe Ramsey, San Jose, CA, USA
Links
Steve Webster
Monterey Bay Aquarium
www.mbayaq.org
Steve Bailey
New England Aquarium
www.neaq.org
Mark Rosenstein
www.markrosenstein.com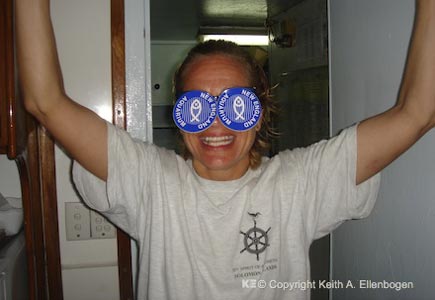 Let them come back, we are prepared....